Companies do not usually like it when customers give bad reviews.
Garuda Indonesia apparently does not like it a lot as it has taken things one step further after a vlogger posted a photo of the plane's handwritten menu on his Instagram account.
The airline's response was swift, releasing a circular that banned passengers from taking photos and videos inside the aircraft cabin.
The airline even made a police report against the vlogger and his fiance, accusing them of defamation.
What happened?
Rius Vernandes, a popular Indonesian travel vlogger, posted a photo on his Instagram of a handwritten menu card, which was distributed to business class passengers on his Garuda Indonesia flight from Sydney to Bali.
Instead of just hoping that the matter will blow over, Garuda Indonesia went on the offensive.
Garuda Indonesia responded to the viral photo by stating that the menu card was not for passengers, and it was merely a personal note for flight attendants that should not have been distributed in the first place.
Dapat kami sampaikan bahwa ini bukan kartu menu untuk penumpang, melainkan catatan pribadi awak kabin yang tidak untuk disebarluaskan. Terima kasih.

— Garuda Indonesia (@IndonesiaGaruda) July 13, 2019
In a statement to Kompas, Garuda Indonesia's corporate secretary vice president M. Ikhsan Rosan refuted the claim that the menu card was distributed to passengers, and stated that it was only for use by the cabin crew.
He also claimed that if the handwritten card was indeed meant for distribution, other passengers should have gotten it as well, and would have shared it.
He also questioned how Rius obtained the handwritten menu and what his intention was in sharing it.
Some commenters online were also suspicious of Rius's intentions, as he had recently participated in marketing campaigns with competitor Singapore Airlines.
Video proof
However, these claims were refuted after Rius posted video proof that he was not the only passenger that was given the handwritten menus.
He also showed proof that he regularly posts photos of his menus during his videos.
In the 21-minute video, Rius gave a comprehensive account of his experience on the flight.
&t=716s
Besides the issue with the handwritten cards, he also mentioned catering issues on board the plane.
When he asked two Australian passengers about their honest opinion about the flight, they noted that although the seats and the food were good, a major problem was that there was a lack of champagne and wine, which ran out quickly after the flight started.
They remarked that although Garuda Indonesia's reputation was improving, the lack of alcohol would make them reconsider taking the airline in the future.
Garuda Indonesia strikes back
Soon after the incident, Garuda Indonesia published an internal memo, prohibiting all forms of photography and videography by passengers and cabin crew.
The memo warned that violating this rule would lead to unspecified sanctions imposed by the airline.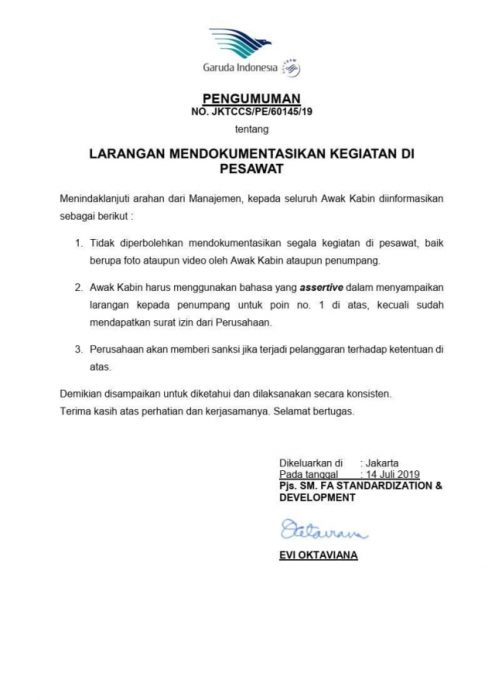 A few hours after the circular was out, it was revised.
The new circular stated that the rule on taking photos and videos was not a total prohibition, but rather to avoid infringing on the privacy of other passengers and cabin crew.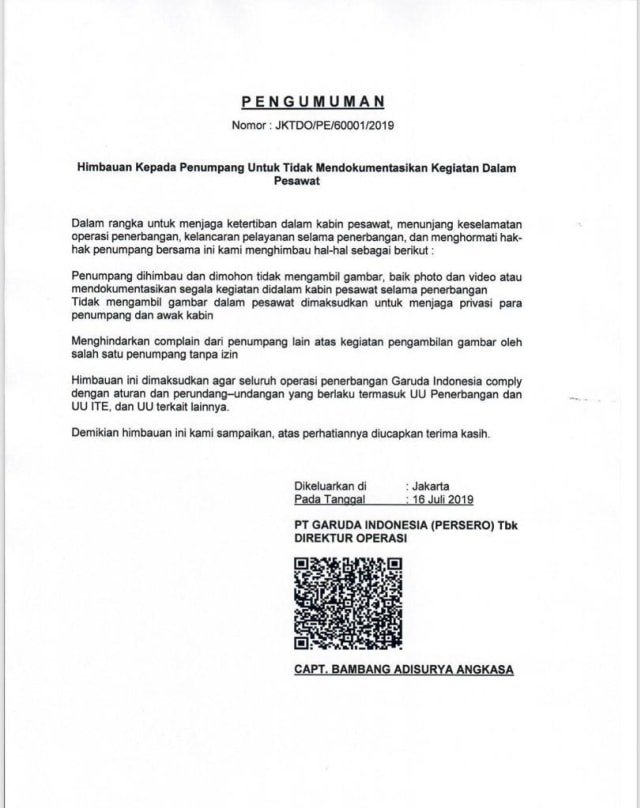 Subsequently, Rius posted a photo on his Instagram, showing brown envelopes that supposedly contains police summons.
The caption said he and his fiance were reported for defamation, and although he will cooperate with the legal process, he did not think that he defamed Garuda Indonesia, and hoped that constructive criticism will not lead to one being criminalised.
It was later confirmed that Garuda Indonesia did indeed report the couple to the police, for alleged violations of the Electronic Transaction Information Act (ITE).
If convicted, Rius may face up to four years in prison for the dissemination of defamatory content online.
Top image via Rius Vernandes YouTube/Instagram.
Content that keeps Mothership.sg going
---
?️?
Do-nothing beach holidays can be stressful for the productivity-obsessed. How uniquely Singaporean.
??
If you're the type that never leaves home without your phone and wallet, you might wanna try this out.
??
Click here if you need some tear-jerking wholesomeness
If you like what you read, follow us on Facebook, Instagram, Twitter and Telegram to get the latest updates.