Singaporean actress Rebecca Lim's Instagram account has zero under her "Following" -- as she has unfollowed everyone.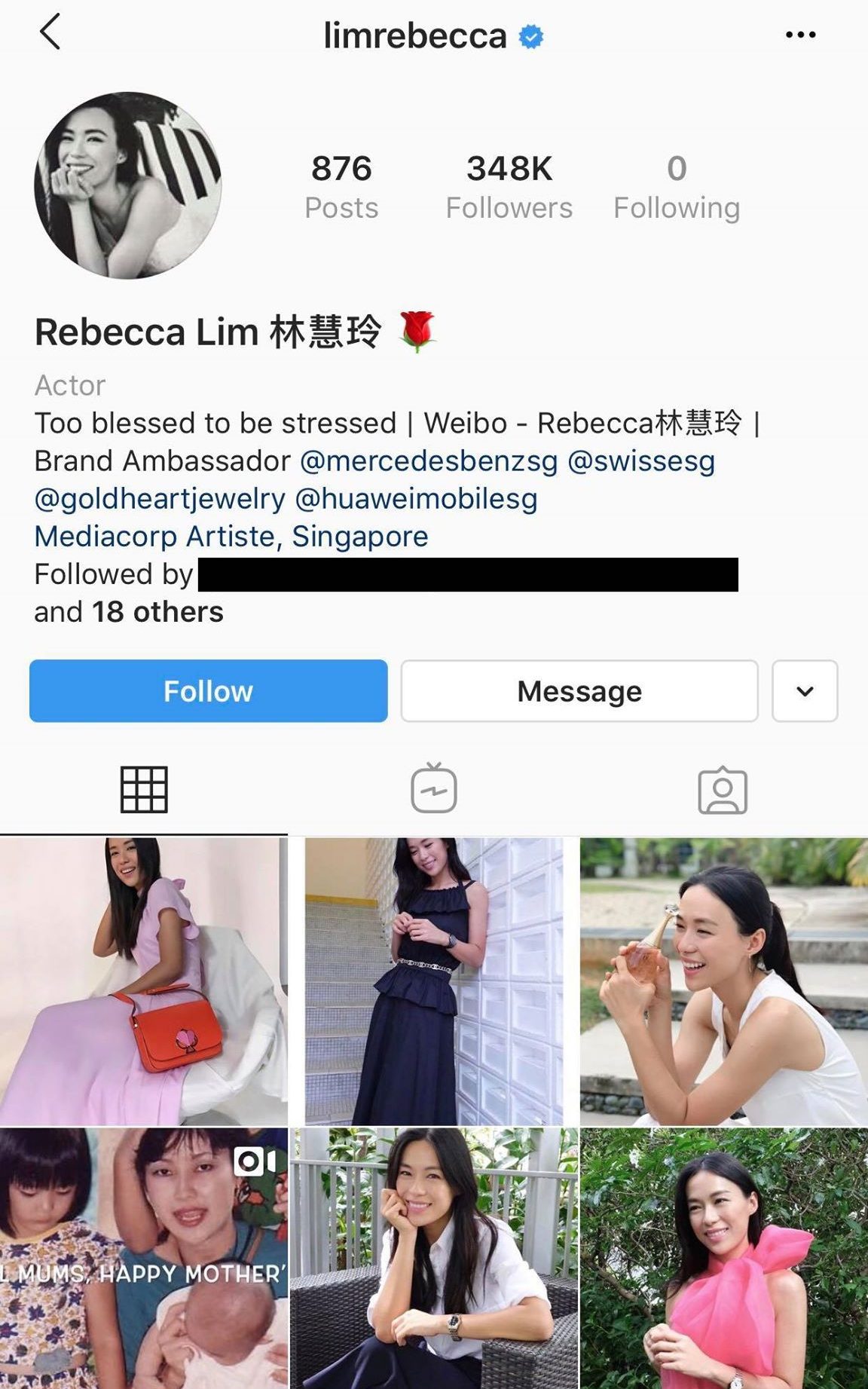 According to social media tracking site Social Blade, Lim had been following 242 people right before the purge on May 8:

It is not clear what led to the unfollowing -- but a fresh sexting leak involving her rumoured beau and another actress has emerged.
In the past couple of years, Lim was rumoured to have been dating fellow actor Ian Fang, who is three years younger.
Lim turns 32 this year.
However, Fang is currently in the spotlight for leaked Instagram messages with another local actress Carrie Wong
The two have apologised for their flirty/ explicit texts.
Rebecca Lim still active on Instagram
Nonetheless, Lim remains active on Instagram even after unfollowing everyone.
Besides several ads -- paid work that was probably scheduled for uploading beforehand -- Lim has also uploaded a photo of herself on May 13, saying: "New week, new goals".
Her most recent post, an ad for Kate Spade, was uploaded several hours after the sexting revelation.
Fang has yet to post anything on his Instagram since the saga broke.
At time of writing, he remains a follower of Lim's Instagram account.
Related article:
Top image via Rebecca Lim's Instagram
Content that keeps Mothership.sg going
---
??
Here's how not to get fat while stuffing your face with Hello Pandas.
?? ?
You think it's easy to be a father? This guy has something to say.
?‍??
Remember when you had to practice ting xie (Chinese spelling) like there was no tomorrow?
?️?
You probably know "Speak of Cao Cao, and Cao Cao arrives". But did you know he sometimes arrives in a Gundam suit?
??
Maybe can steam fish with this and make gr8 ginger recipes.
If you like what you read, follow us on Facebook, Instagram, Twitter and Telegram to get the latest updates.