In a surprise announcement, Circles.Life will discontinue their 20GB for S$20 Data Plus option on March 1, 2019.
The virtual telco, which taps on M1's mobile network, sent an email to all affected users on Feb. 13 to inform them of the change.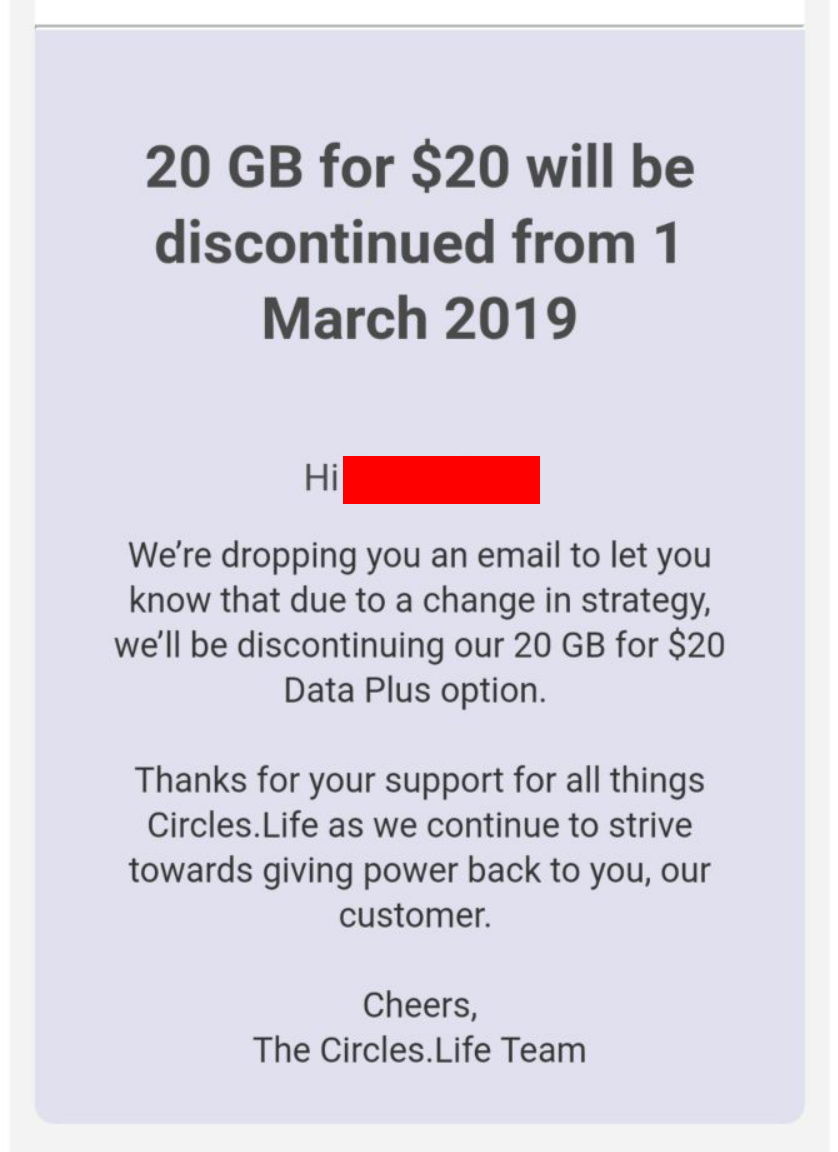 They also shared a Facebook post on Feb. 13 that confirmed the discontinuation of the service.
The add-on, which was
introduced in March 2017
, meant that subscribers can opt for an additional 20GB of data on top of their base plans.
At that point in time, it was one of the cheapest data-heavy mobile plans.
Anger from existing subscribers
Existing subscribers expressed disappointment and anger, with some claiming that they were considering porting over to the next best telco.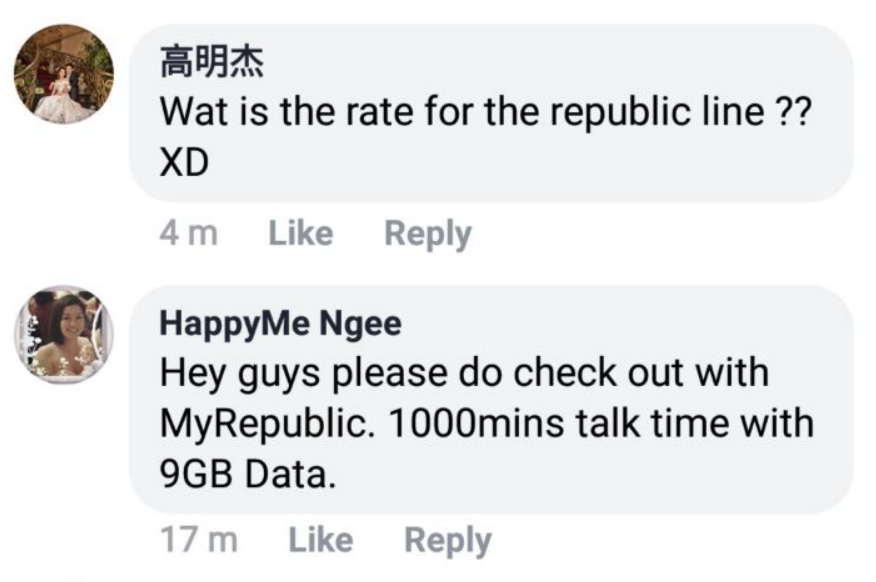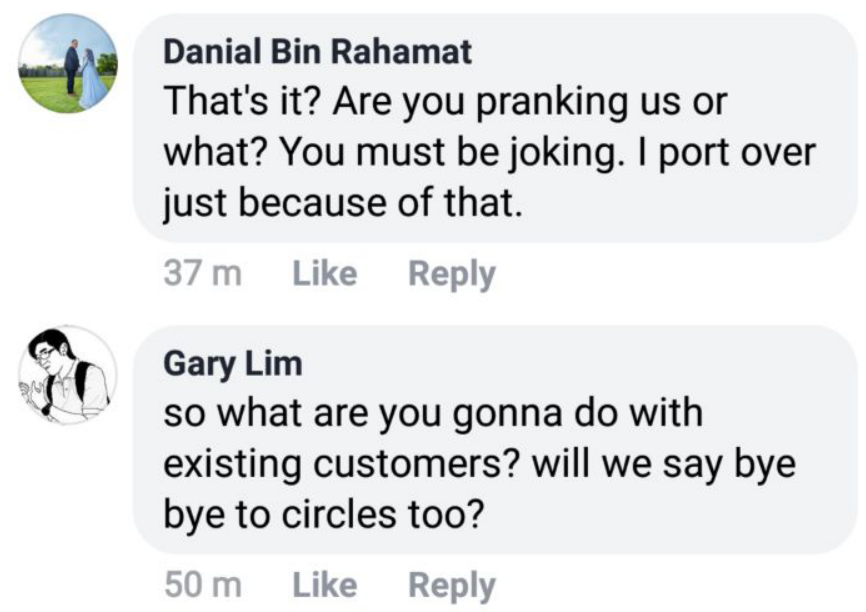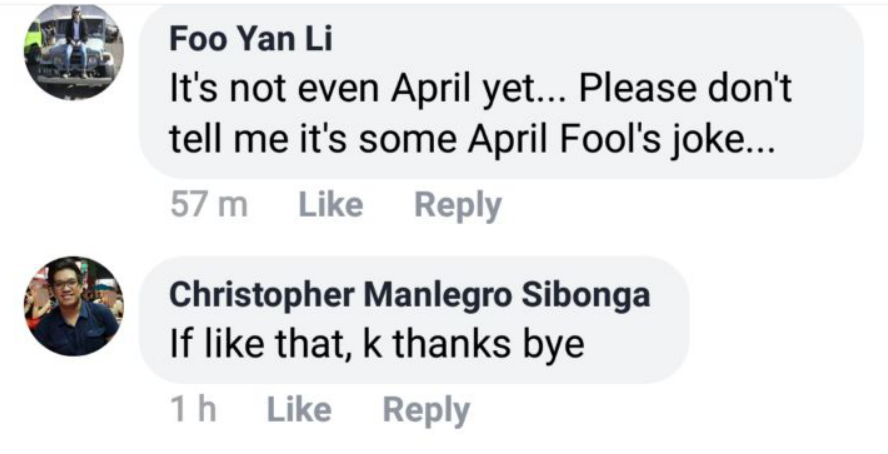 Marketing Gimmick?
However, not all may be as it seems.
The announcement is vague at best, without implying details of new plans, or other add-ons that would replace the 20GB for S$20 plan.
This led to some netizens suspecting the announcement to be part of a greater marketing stunt to promote a new and improved plan, due to competition from other telcos: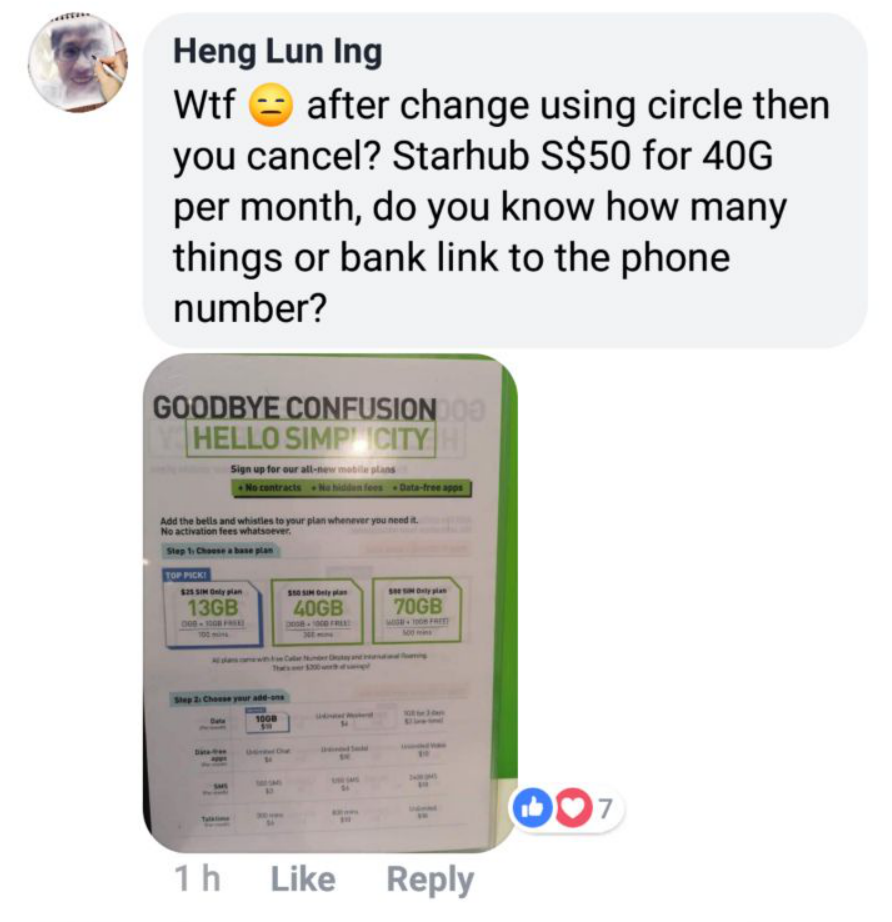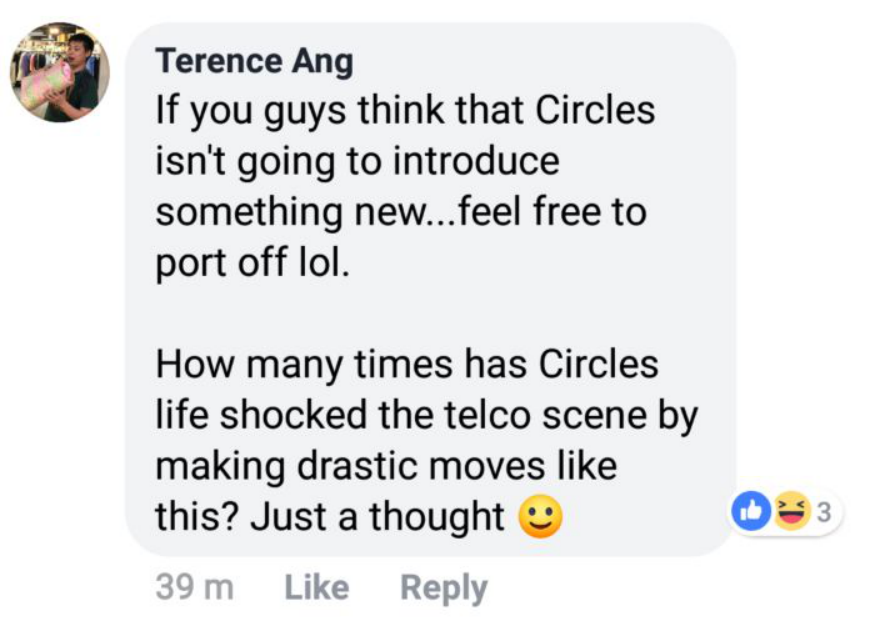 In a holding statement to Mothership.sg, Circles.Life mentioned that they "promise we will make it better for our customers" and will "do our best to attend to all customer queries during this time".
We are aware that many of our customers have queries on our recent announcement on $20/ 20GB discontinuation. We would like to inform you about our official statement regarding this matter. We promise we will make it better for our customers.

--------------------------------------------------

Due to the tight market competition, we regret to inform customers that we will be discontinuing the 20GB for $20 Data Plus option starting 1 March 2019. The add-on option will not be featured on the Circles.Life app and current customers who have purchased the add-on have been notified prior to the plan's removal.

We will do our best to attend to all customer queries during this time.
Previous campaigns
Circles.Life is known to be a fan of unconventional and controversial marketing stunts.
In Nov. 2018, a Circles.Life billboard ad mounted in Raffles Place MRT station that featured former Nominated Member of Parliament and ex-Miss Universe Singapore Eunice Olsen's name was taken down.
She had filed a police report against the ad, which was put up without her explicit permission or knowledge.
The virtual telco was also behind a cash vending machine that gave out S$50 in return for S$3 in February 2018.
It turned out to be a publicity stunt to promote their unlimited mobile data service for $3 a day.
In March 2017, a case of "vandalism" on a fictitious telco's ad in Bugis also turned out to be one of Circles.Life's campaigns.
[caption id="" align="alignnone" width="1850"]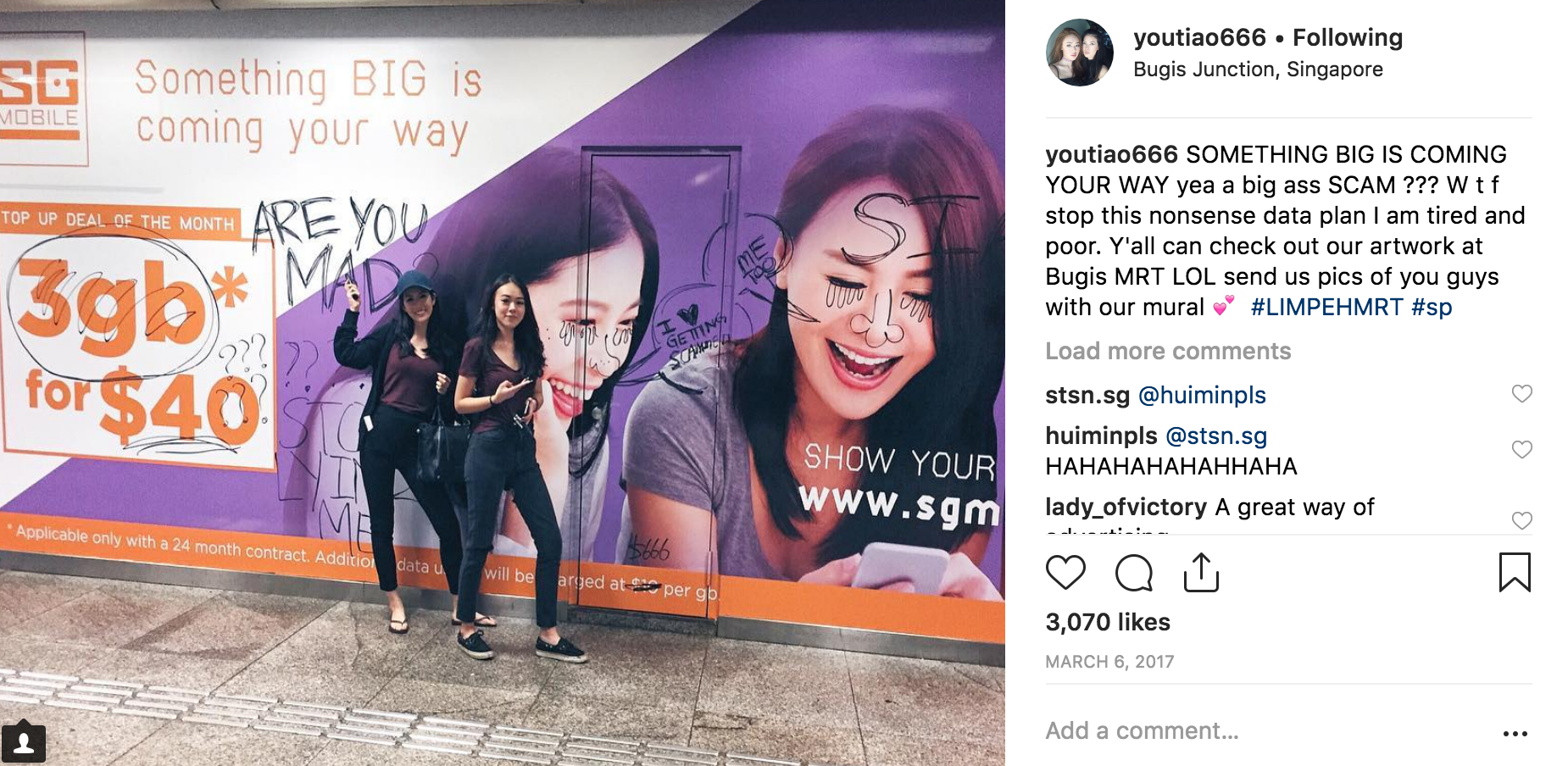 Screenshot via Youtiao666's Instagram page[/caption]
It seems that not that everyone is a fan of their gimmicks, with some viewing the abrupt announcement as bad marketing.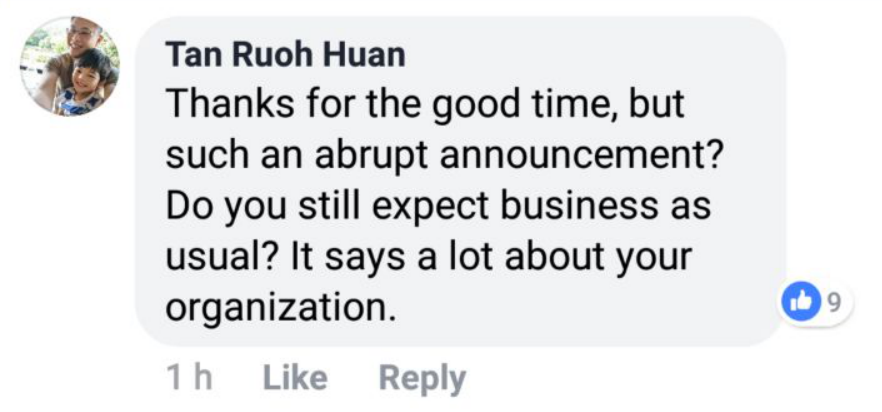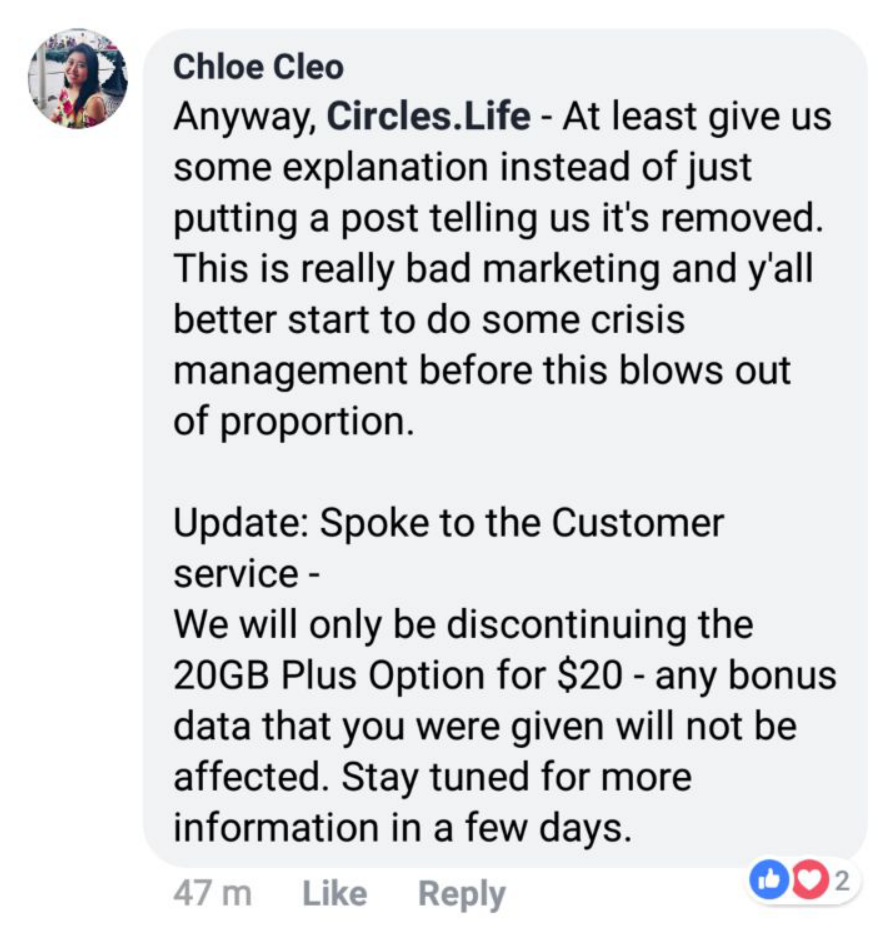 Circles.Life has since confirmed that the service is upgrading to an S$20 for unlimited data add-on from Mar. 1 onwards.
Existing 20GB for S$20 Data Plus option subscribers will be automatically enrolled for the add-on.
Chey.
Top image adapted via Circles.Life's Facebook post.
Content that keeps Mothership.sg going
---
??
Here's how to pair your CNY snacks with beer to look like a true blue connoisseur.
????
What in the world are cashless angpaos?
?⏩?
Finally escape from your CNY fatigue with these heavily discounted cruise fares.
???
Very sick but cannot miss work? This gets you covered $$$.
??
Millennials are strawberries? Can eat one ah?
If you like what you read, follow us on Facebook, Instagram, Twitter and Telegram to get the latest updates.