Mild election fever infected Hong Lim Park on Saturday, Jan. 26.
Some 1,000 or so people showed up in the late afternoon after 4pm to hear several speakers take aim at various issues in Singapore on a makeshift stage with a proper sound system.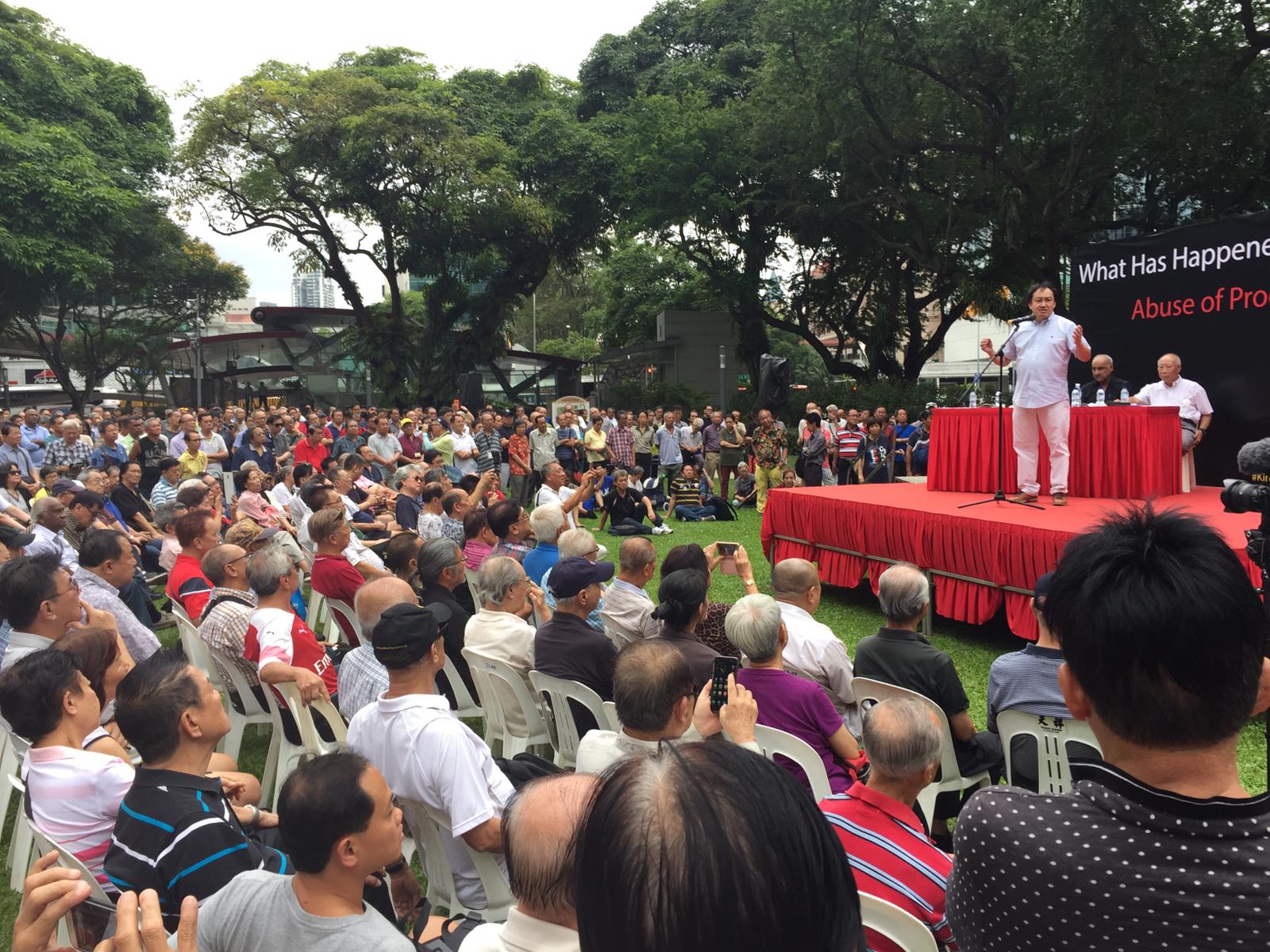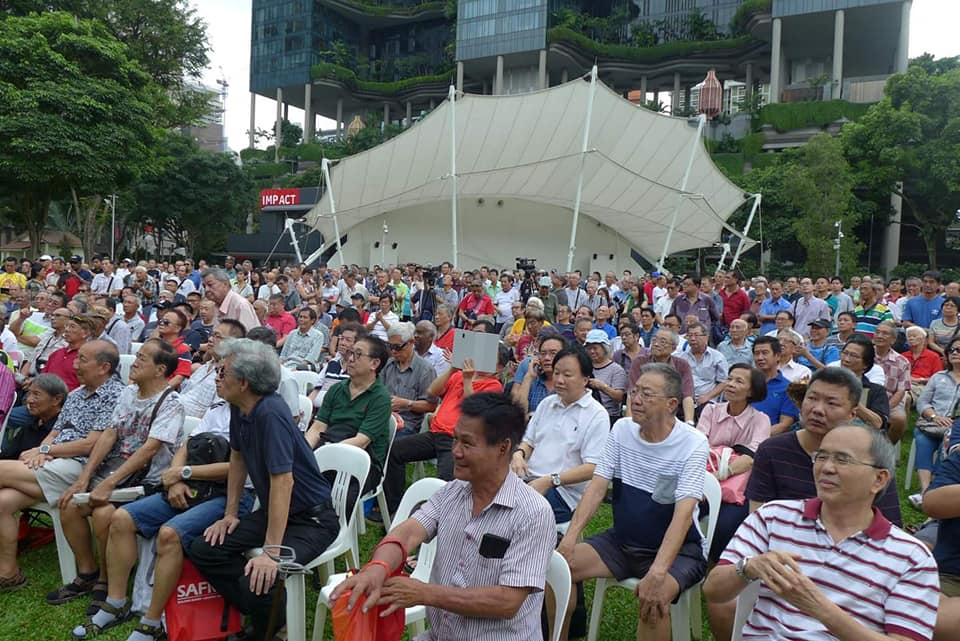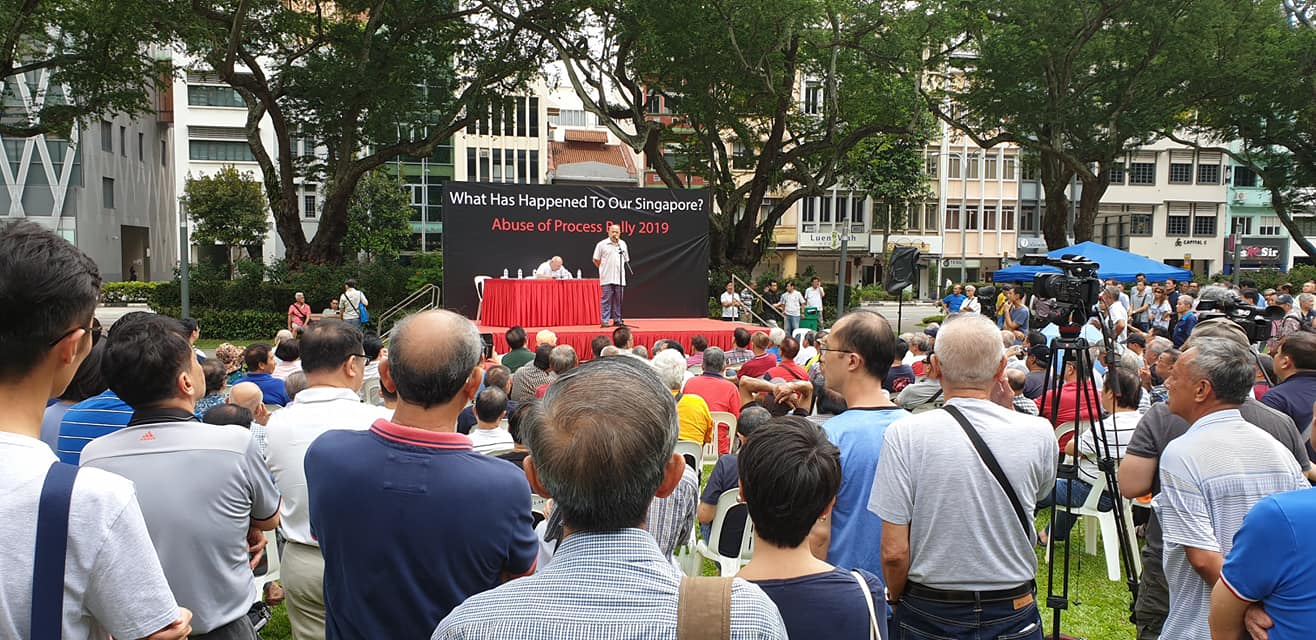 The topics, some perennial, included the lack of freedom of speech here, the lack of firing of the top management of public organisations in the face of mistakes, the problem with meritocracy, and the minuscule Central Provident Fund payouts for the elderly.
Like an election rally
The event, Abuse of Process Rally 2019, was modelled after an election rally.
The speakers included those from the People's Voice party, such as its leader, Lim Tean, who was the rally organiser, as well as former presidential candidate Tan Kin Lian.
Leong Sze Hian, who Prime Minister Lee Hsien Loong is suing for defamation and who is represented by Lim, also spoke.
Reaction to PM Lee's defamation suit
The rally was held after PM Lee sued Leong in early December 2018.
Lim then announced suddenly that he was representing Leong by taking on his case.
PM Lee's lawyers subsequently filed an application to strike out Leong's abuse of process counterclaim.
This then led Lim and PM Lee's lawyers to apply to strike out each other's claims in court.
One day before the rally on Jan. 25, Lim shared that he applied to strike out PM Lee's defamation action against Leong, by citing an "Abuse of Process of the Court" as one of the reasons.
This case is ongoing and will be heard again on Feb. 25.
What the various speakers said
Lim Tean
Lim, 54, spoke off-the-cuff for about 30 minutes.
In his defence of Leong and why he should not be sued by PM Lee for sharing a Facebook post of an article deemed defamatory, Lim characterised the issue as a matter of free speech.
Lim said:
"It takes courage. You have to make a stand, finally. And isn't it so true what Winston Churchill once told us? 'Courage is the first of all human qualities.' Because it is the quality that characterises all qualities. And it takes courage to stand up and speak. In (Leong) Sze Hian's case, it's all about the freedom of expression." [Applause]

"I understand full well the defamation laws. Yes, we must operate within the boundaries of the defamation laws. But how is it possible, that when thousands of people shared that post, Sze Hian is the only one finding himself being sued? Why is it that the prime minister has not sued the writer of The Coverage or anyone else? The authors of what are the alleged defamatory posts?"

"And many people have this misconception that, 'Oh, he's got to sue them overseas.' That's not true. He can, if he wants to, sue them in Singapore."

"I don't want to get other people in trouble, right? By suggesting that he sues so many other people. But these are pertinent questions which all of us will have when we consider this case."
Lim also took aim at the idea of meritocracy in Singapore by pointing out that the search for the best talent is not exhaustive enough:
"Is it meritocracy when someone does not perform and is not removed from his position? As has happened so many times?"

"Meritocracy for it to work, requires two things. It is the law of differences and law of mobility."

"Law of differences, what do you mean by that? It means all of us are different in abilities. None of us are equal. But it also means that you put the best person in position to do a particular job. Are we practising that? Every global search for talent seems to end up in the SAF."
Leong Sze Hian
Leong spoke for about 10 minutes.
He talked about the role of HDB in Singapore, and criticised the inadequate financial help rendered to least well-off Singaporeans.
"We are the only country in the world where the government does not spend any money from a cash flow perspective on pensions, public housing and health care. In other words, the inflows every year, exceed the outflows."
Tan Kin Lian
Tan admitted that he had also shared the same post Leong shared but did not get sued.
He said:
"Now as you know, Prime Minister Lee sued Leong Sze Hian just for sharing an article, when the article was from The Coverage website, Malaysia. And it is just sharing. And as Lim Tean said, hundreds of people shared the article. And I was one of them. [Laughter from crowd]"
The videos of their speeches were uploaded on YouTube.
Among the videos, Lim's video was the most popular.
Lack of young Singaporeans
One observation by an attendee was the apparent lack of younger Singaporeans who attended the rally:
If you like what you read, follow us on Facebook, Instagram, Twitter and Telegram to get the latest updates.