Getting large sums of money back from a debtor can be a very painful process.
And it gets more painful when you come across claims that the debtor is faking his death on his own Instagram account.
Dragging re-payment for months
One such incident in Singapore has come to light on Dec. 12, 2018, when an Abigail Lee wrote a Facebook post on behalf of her friend.
Lee's friend, who is described as "soft-hearted", had lent a total of S$26,000 to a guy known as Teng, despite the fact that she barely knew him.
These are supposedly photos of Teng that Lee posted (but face censored by us):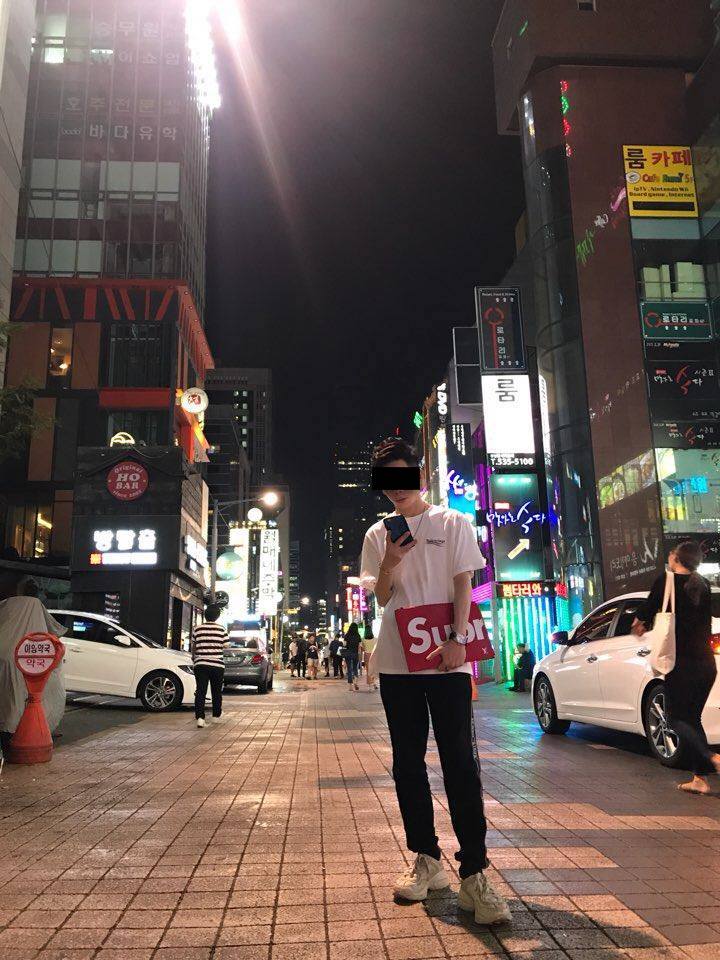 Teng allegedly used the excuse that he had lost his wallet in Korea to borrow money.
However, the debtor has reportedly been coming up with a variety of excuses and dragging repayment for months, despite promising to return the sum to Lee's friend "ASAP".
"Can you trust me one more time :("
In the same Facebook post, Lee also shared the conversation that transpired between Teng and her friend (white speech bubbles for Teng, green speech bubbles for Lee's friend).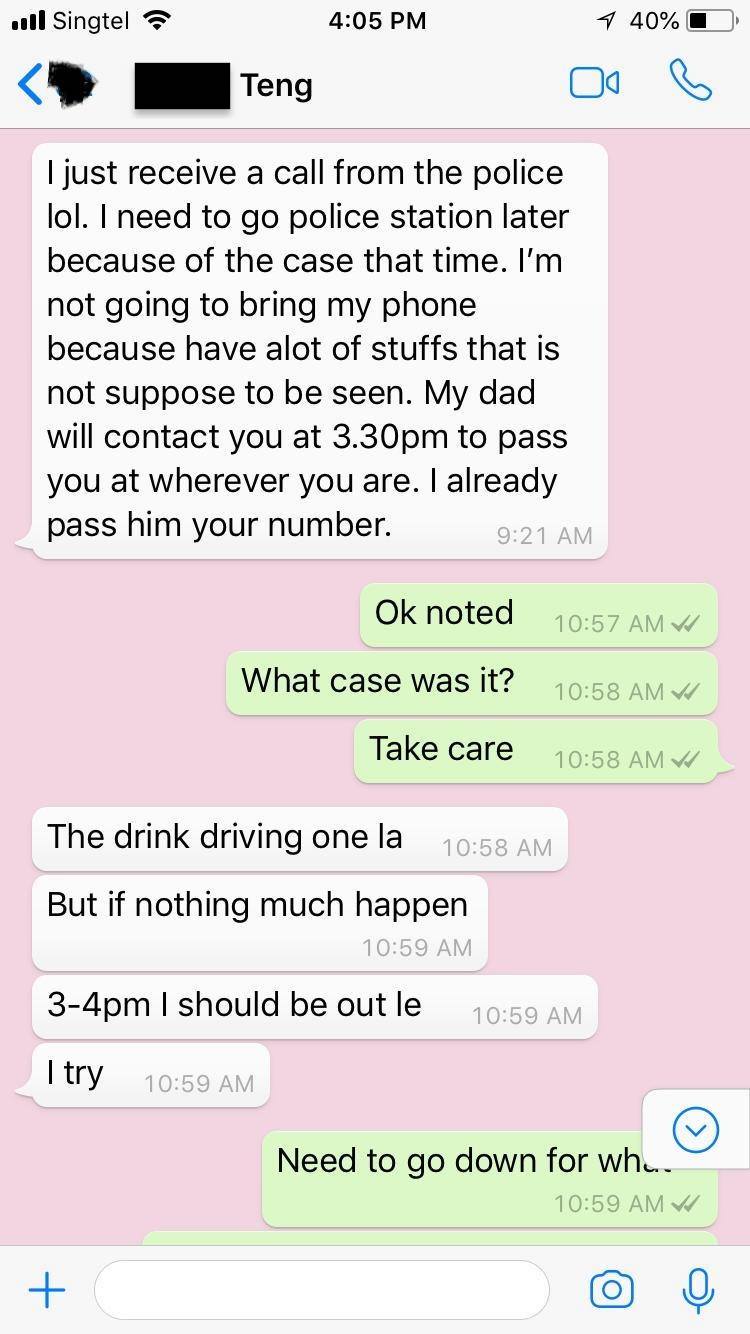 We are not sure if the screenshots are uploaded in chronological order, but one can get the gist of the message quite easily: Teng keeps making empty promises of repayment.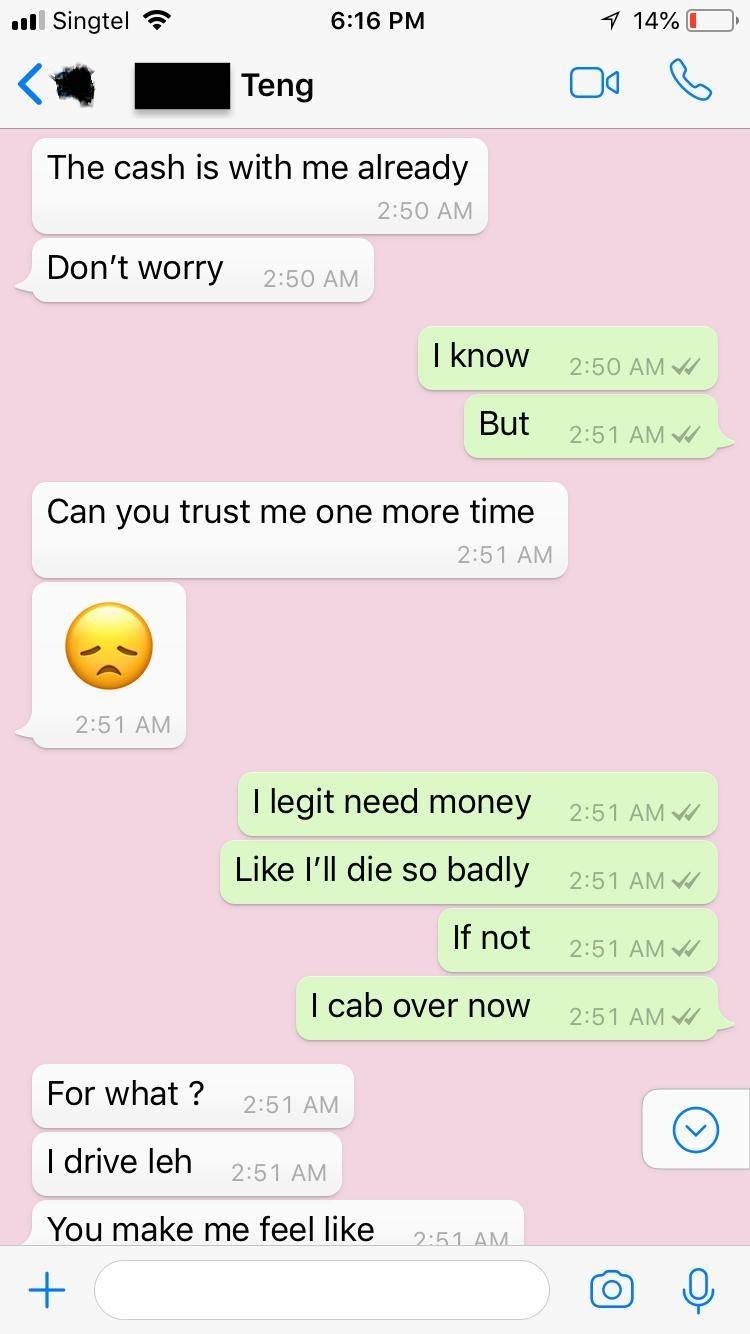 In one instance, Teng claims to have S$20,000 cash on him, and even admits to have gone drinking: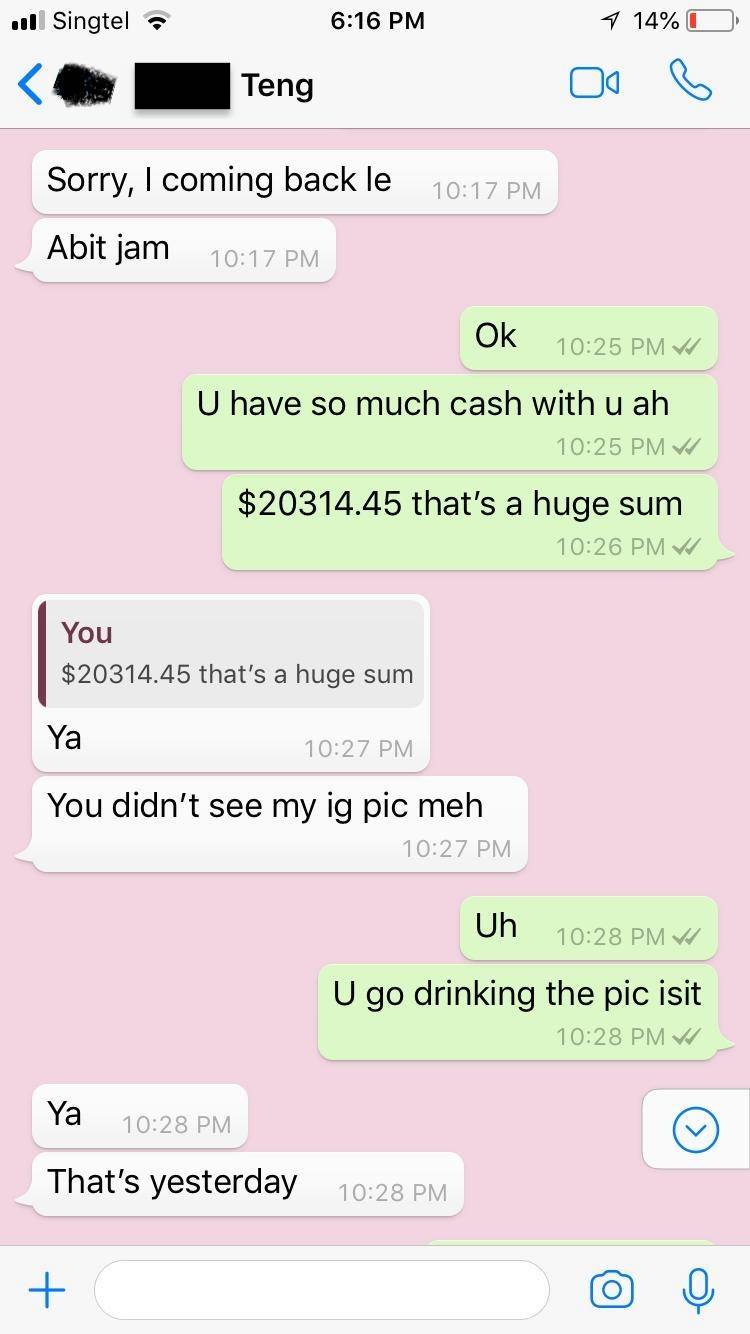 He also promised at least S$25,000 to Lee's friend:
One of the earliest timestamps in the conversation is listed as Oct. 9, but Teng was already getting flaky then: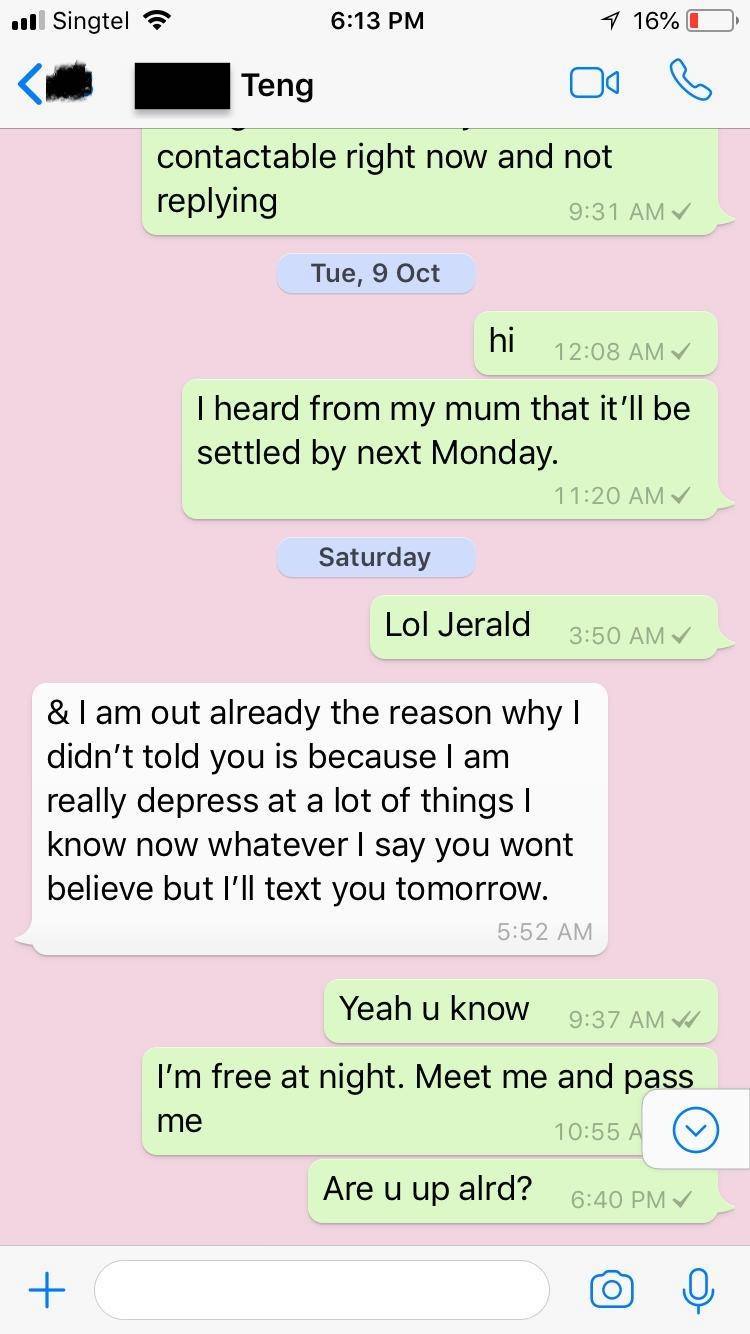 And pushing back their meet-ups at the very last minute: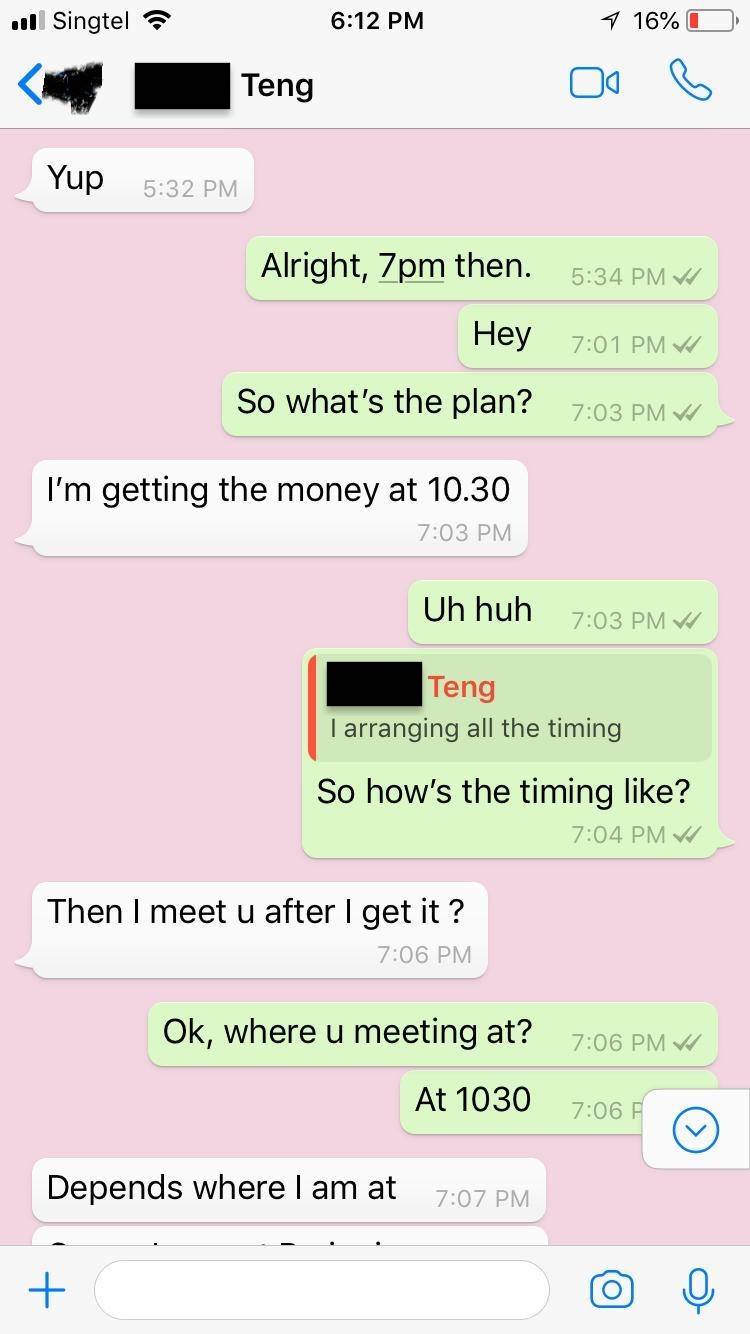 In another screenshot, Teng was supposed to do something, presumably return the money (although it was not stated if it was the full sum or a partial sum), by Oct. 16: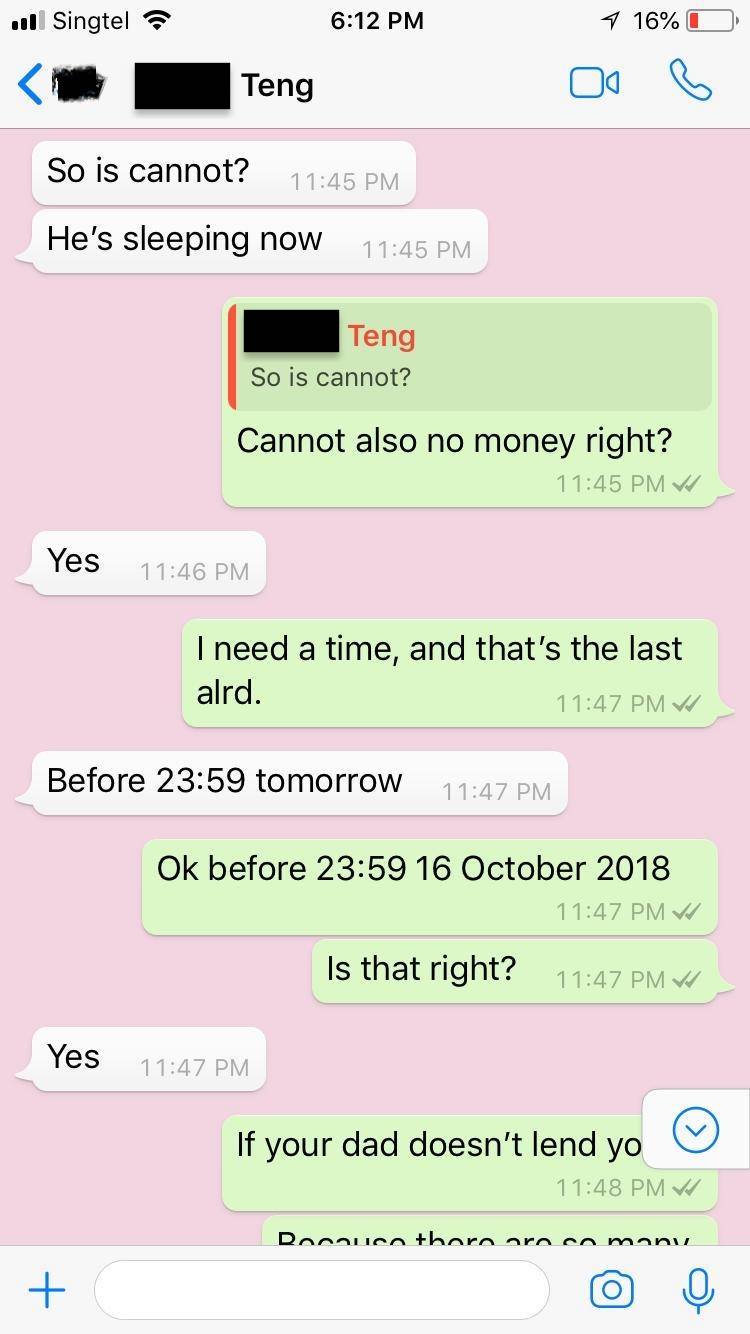 Teng acknowledged an incident where he went missing in action on Lee's friend, and apparently because he has a lot of things to settle: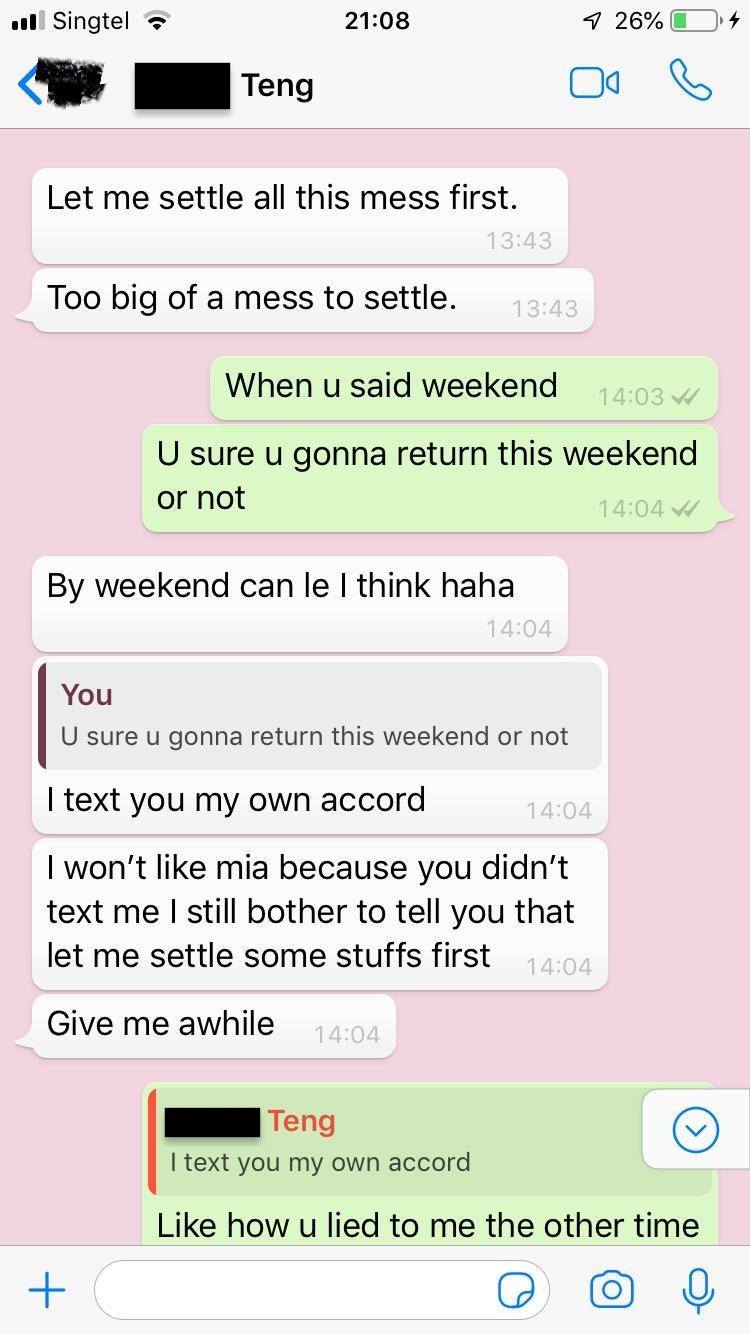 He even got a "lawyer" involved: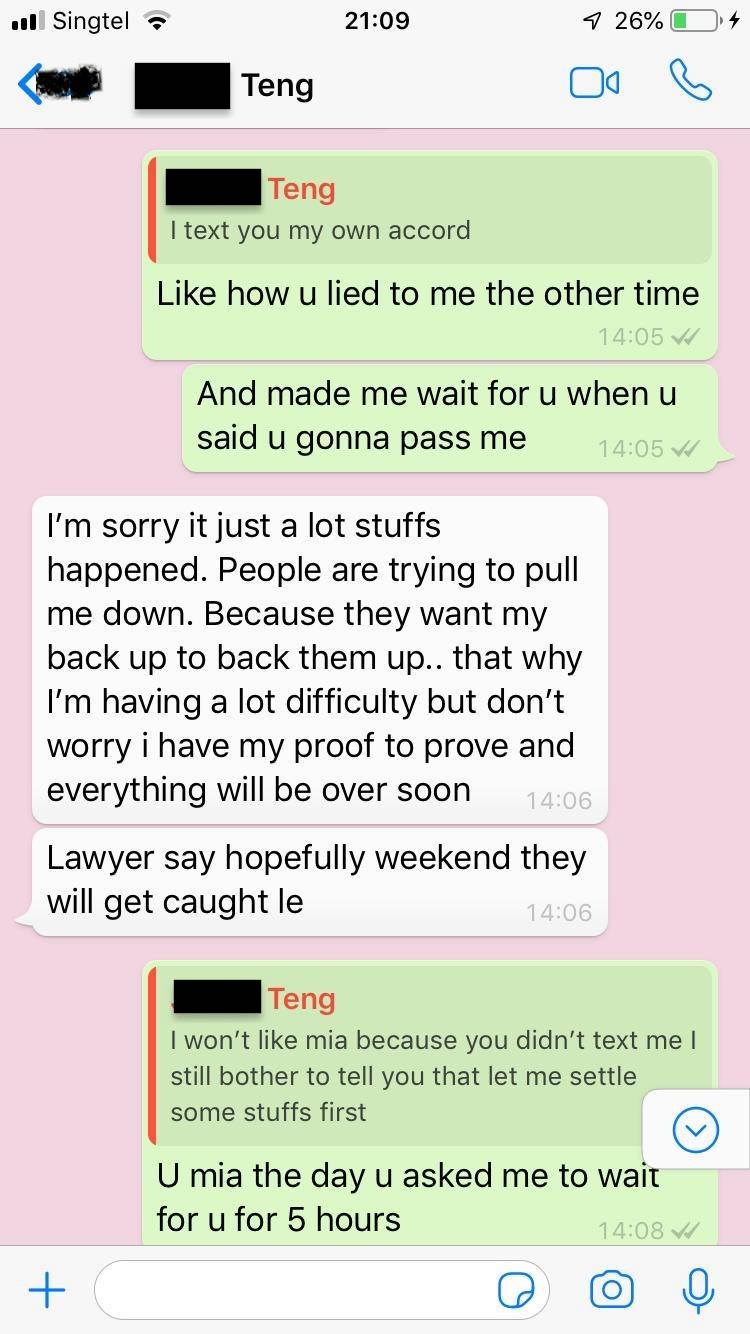 In another part of the conversation, Teng was supposed to return a total of S$26,000 before Oct. 31, 2018: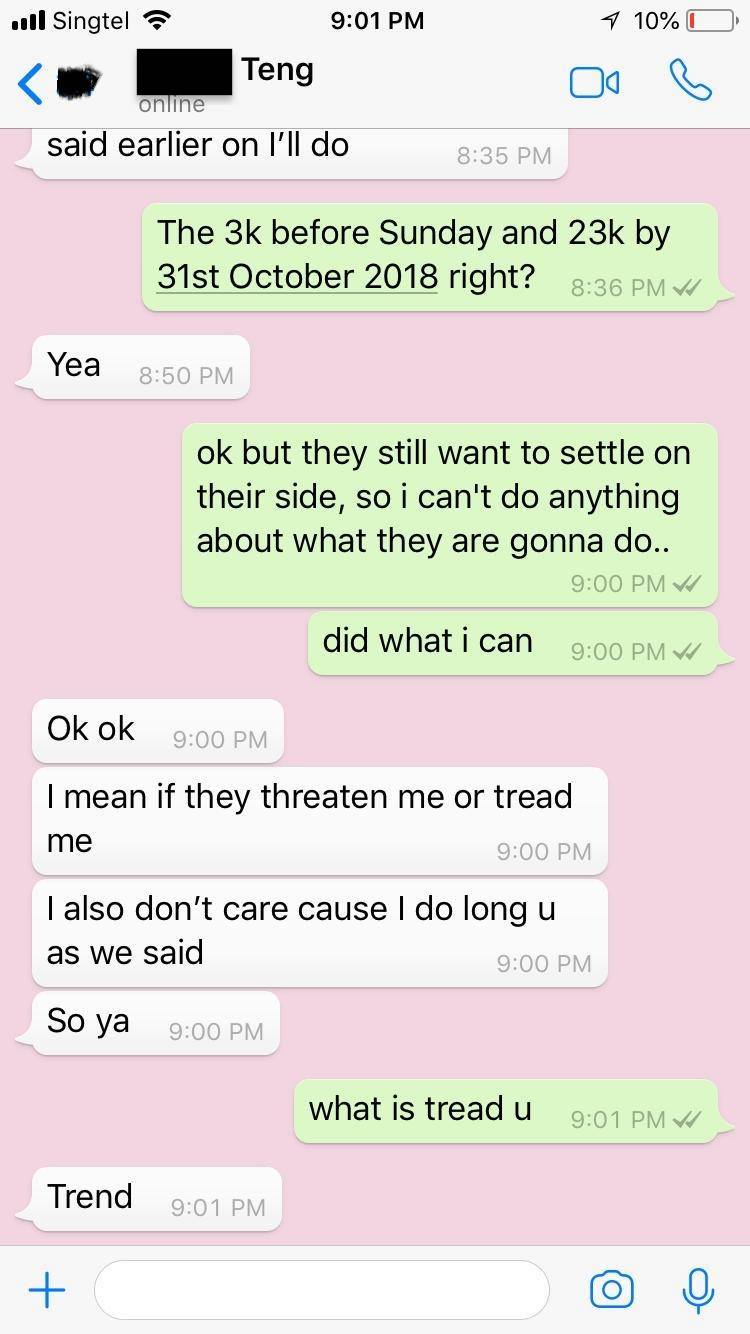 According to Lee's post, Teng had gone to Bangkok and promised to return the money when he touched down.
The last-mentioned date in the conversation was on Dec. 2.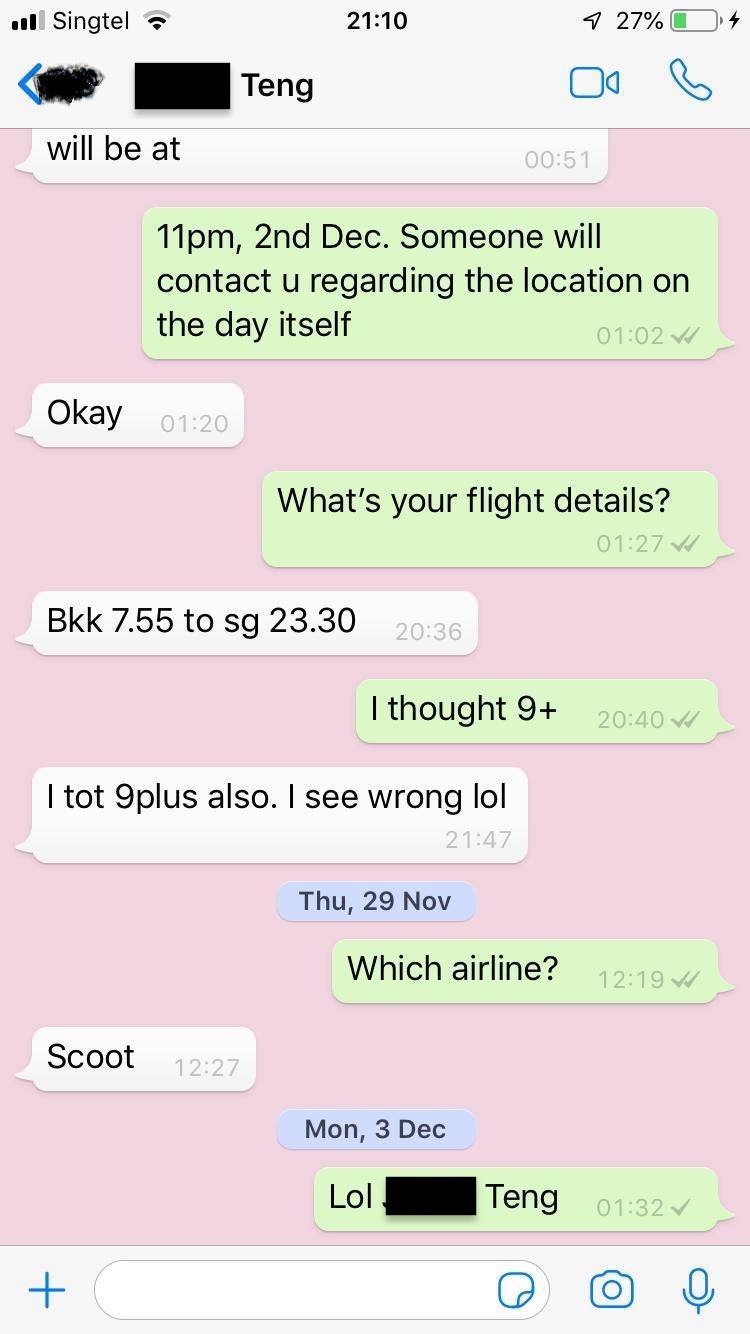 In the wee hours of Dec. 3, however, a resigned "lol" suggests that payment did not come through.
Afterwards, Teng had apparently blocked Lee's friend and went MIA.
Lee also reveals that throughout this period of not getting her money back, her friend even had to work part-time and borrow from her other friends while studying.
Instagram story announcing death
After Lee's post went viral, however, several other commenters have shared similar experiences with Teng: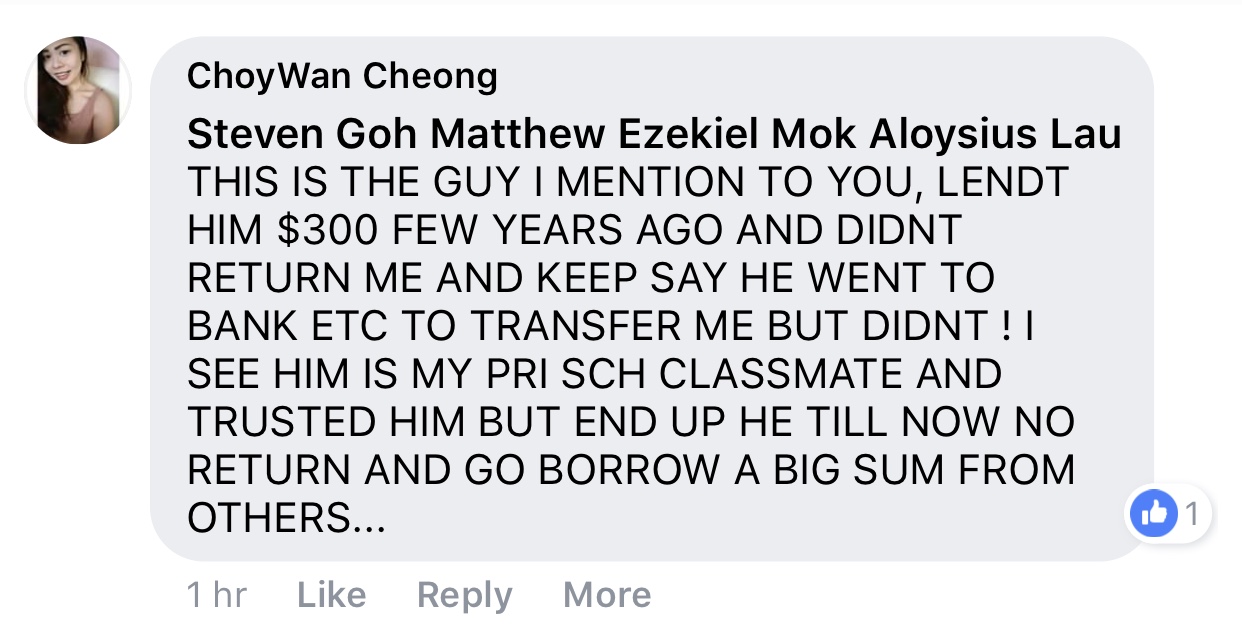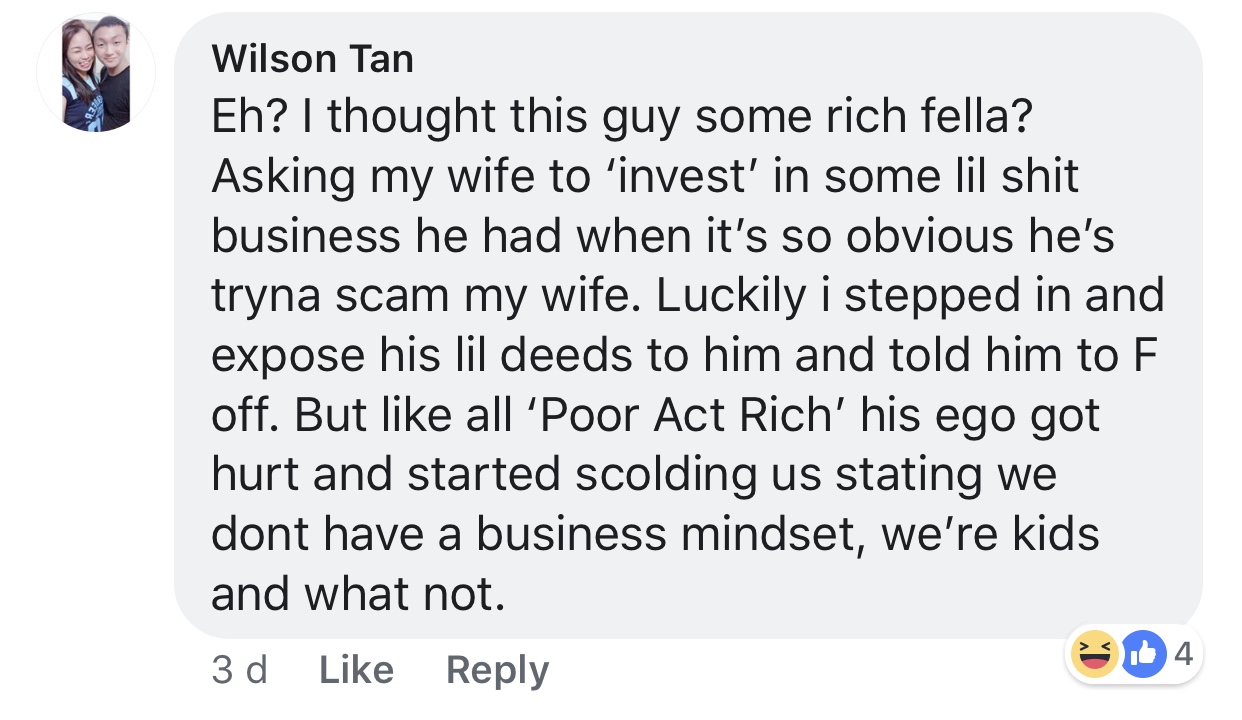 Another comment insinuates that this is not the first time Teng has been "trended" (i.e. made viral), although it is not clear if the commenter was referring to Teng or Lee's friend:

But the most notable comment came from one Hafiz Lansbury on Dec. 13, who wrote that Teng had faked his own death by announcing it on his Instagram Stories.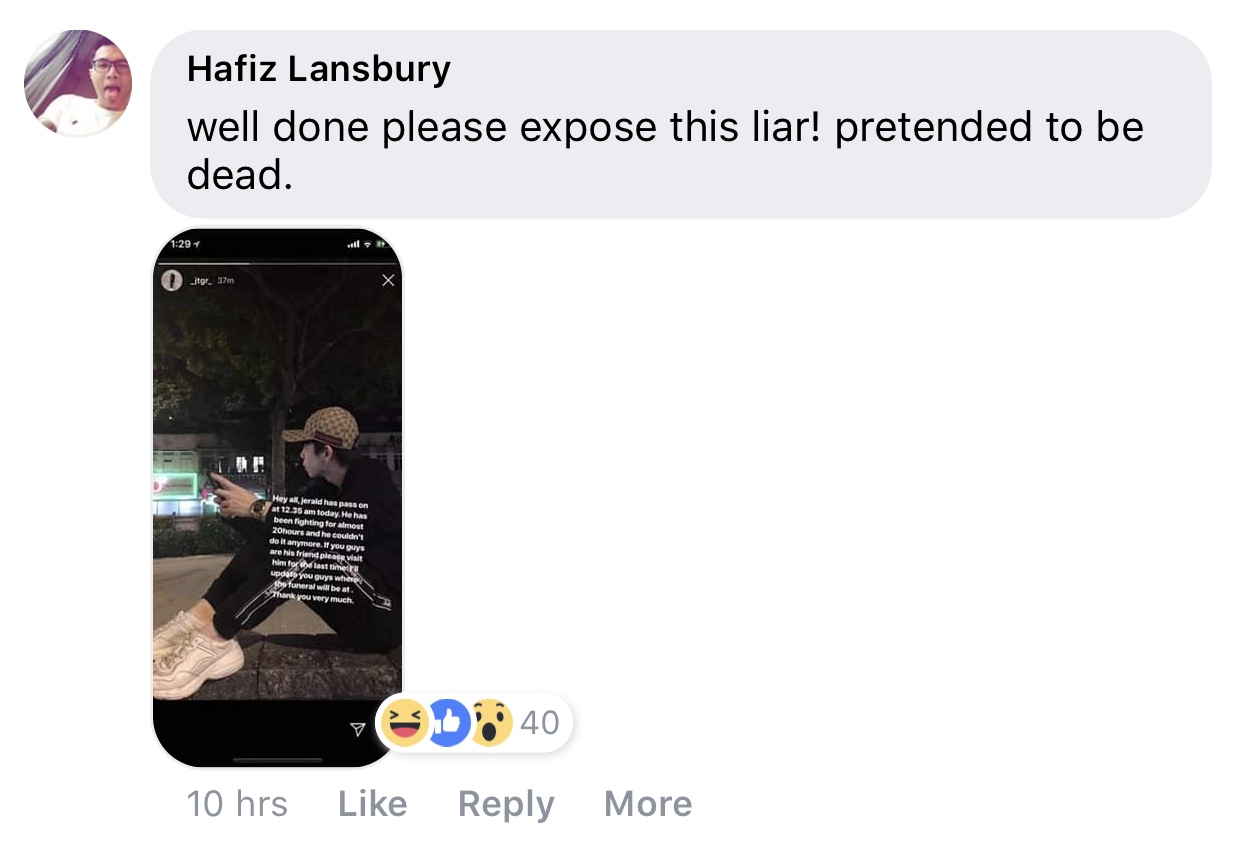 The story in question, which announces Teng's death after fighting for "almost 2o hours":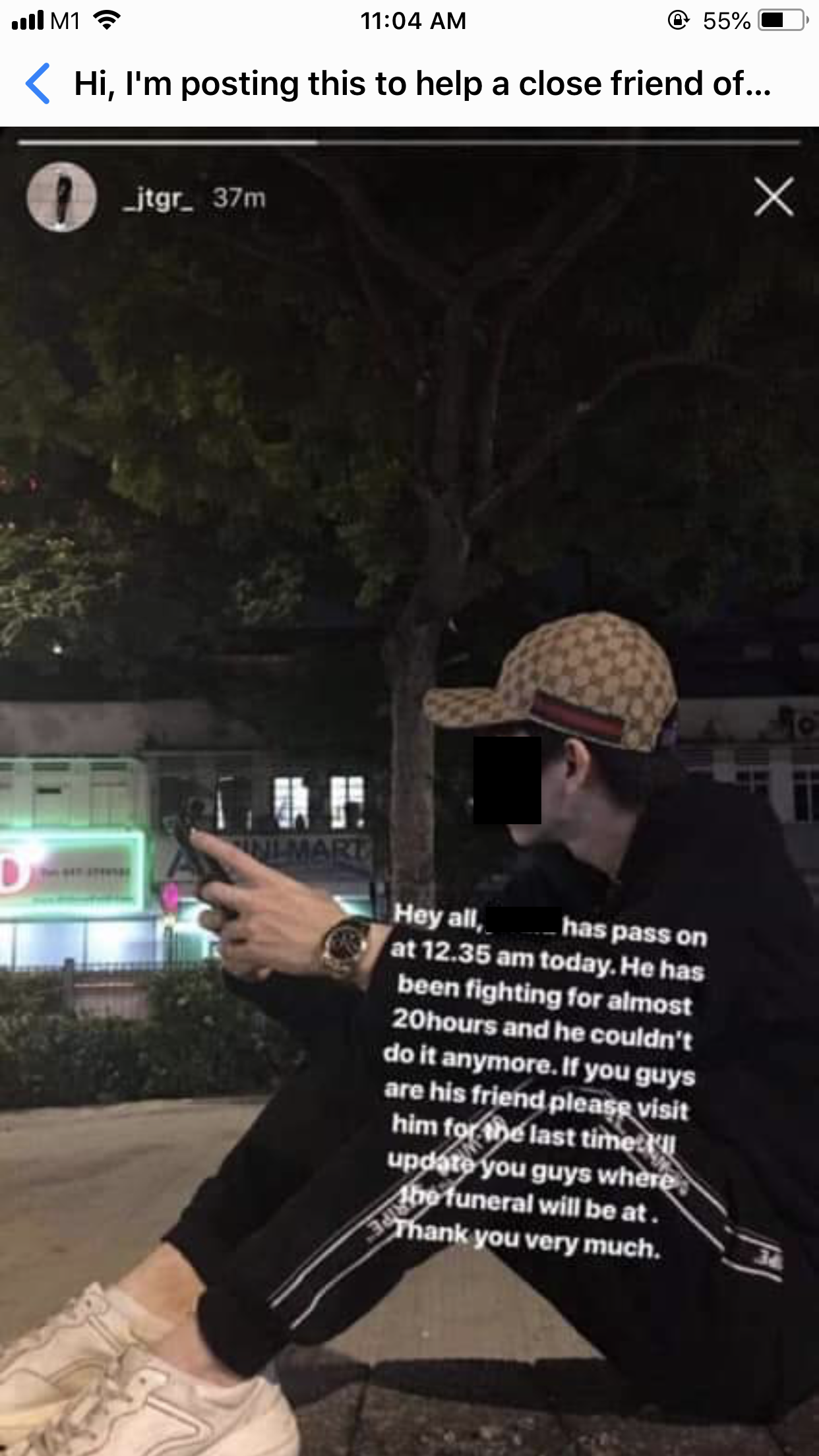 The Instagram account is no longer available.
However, just one day ago, on Dec. 16, a Facebook user implied that he saw Teng outside a club, although he did not specifically mention Teng in the comment:

¯\_(ツ)_/¯
Lee's original Facebook post: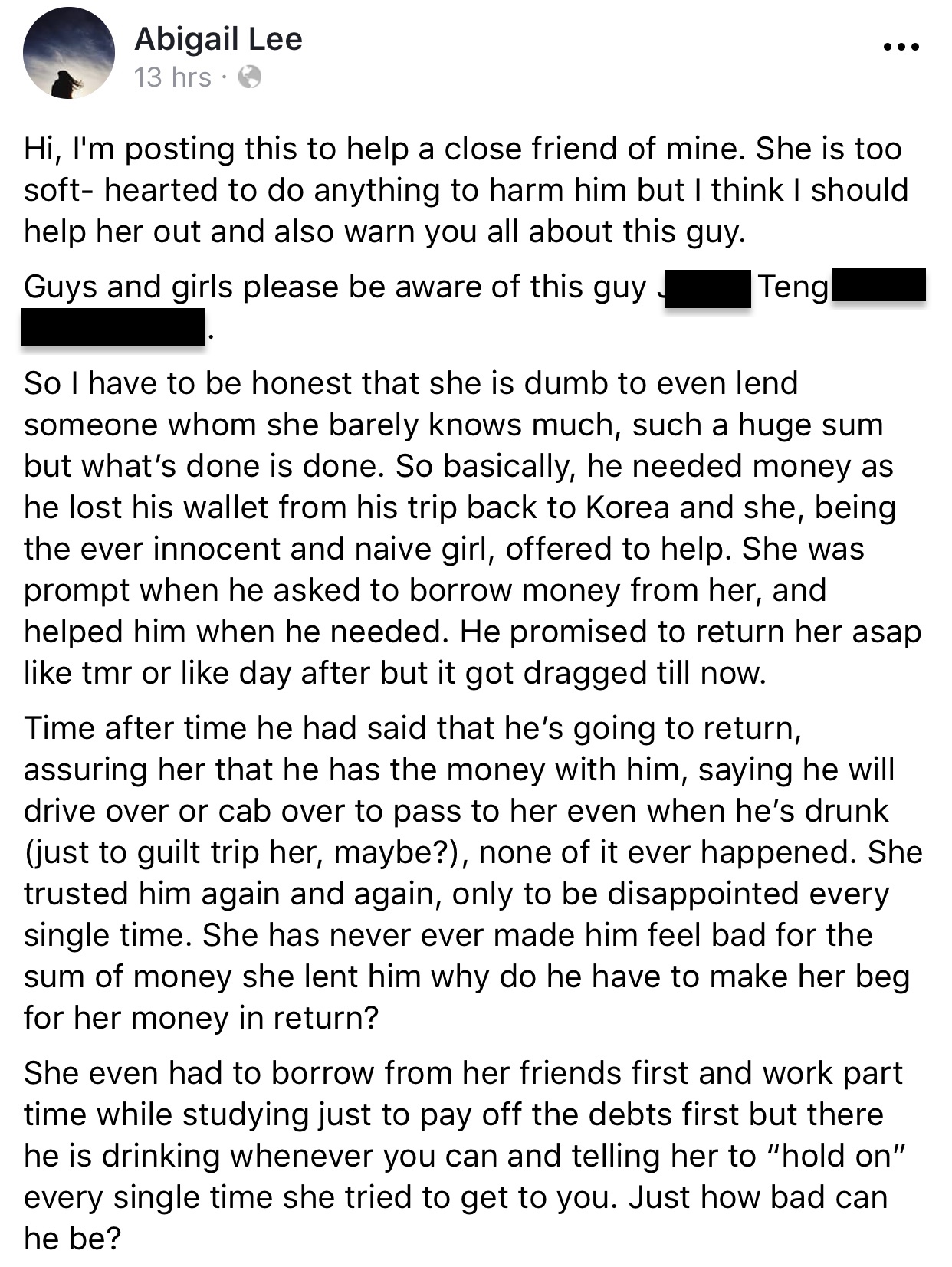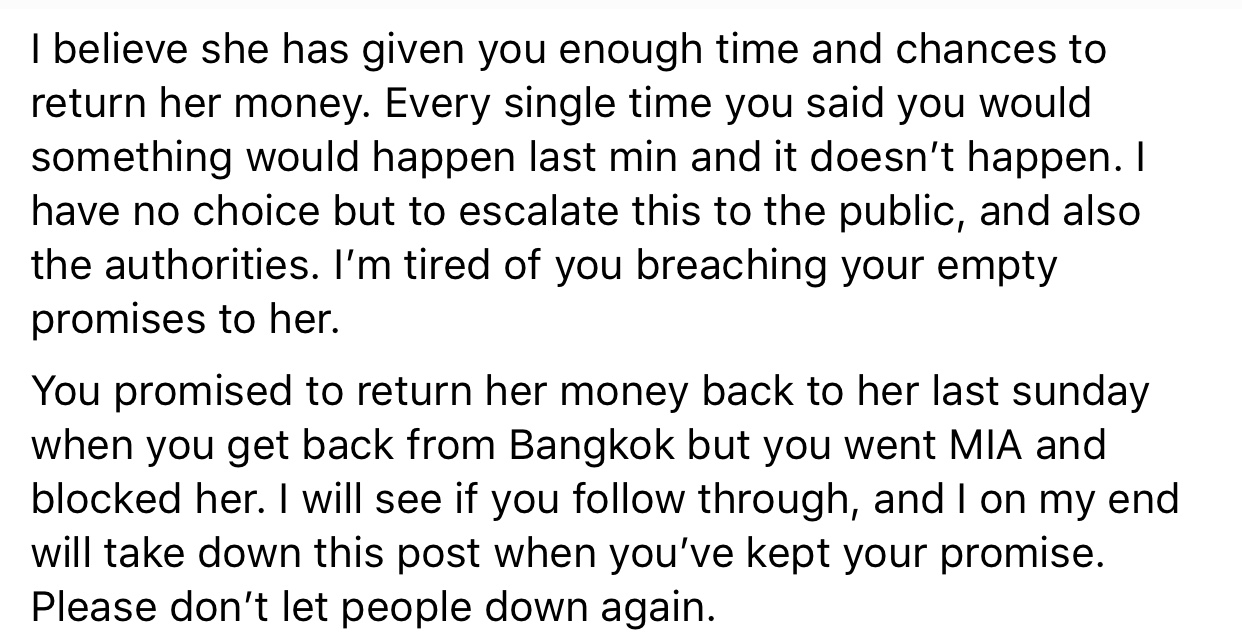 Top image from Abigail Lee's Facebook post
Content that keeps Mothership.sg going
---
??
We all love WhatsApp chain messages - and there's more to come because grandmas are getting techier.
??
You might wanna read this analysis if you're having a secret santa gift exchange.
????
Help a Karang Guni man clear his stock of retro items by visiting his online store.
?️???
Eat, pray, love, and more with this new app.
? ?
Kids teach us the darndest things - which actually make sense.
If you like what you read, follow us on Facebook, Instagram, Twitter and Telegram to get the latest updates.