If Muhamad Faisal bin Abdul Manap could go back and give his seven-years-younger self one piece of advice, it would be to prepare his wife for what was to come.
"The mistake back then is that I didn't actually get my wife to understand better."
It was a bit of a challenge for her, he admits, remembering that she had mixed feelings when he was elected as an opposition Workers' Party (WP) Member of Parliament in the historic 2011 General Election.
In the years since, the 43-year-old went on to assume several more positions of leadership within the party — most recently, chairmanship of the Aljunied-Hougang Town Council (AHTC) — and at each point, conversations with his homemaker wife had to be had.
"She always has this mixed feeling lah — she knows that I have to do what I have to do, you know. But again, of course as a wife and as a mother to our kids right, she has a bit of concern lah. Especially in terms of the AHPETC thing right? ... But I told her that you know, these are the paths that we have to take. The challenges that we go through.

It's not easy to uphold certain values. There are bound to be challenges and obstacles, all that lah. But the most important thing to know is that what we're doing is in good faith for the people, and whatever comes ahead to me I leave it to fate lah."
Many of these conversations were not easy, either — how could one prepare to see almost every aspect of her husband's life becoming subject to scrutiny? How does one prepare to be the wife of a public figure, anyway?
A lot of the answers to questions like these, he explains, come from on-the-job training — both for him and his wife, really, and the professional counsellor (he was one for four years, with a volunteer organisation operating in MacPherson before he was elected and decided to be an MP full-time) found himself deploying his skills in many sessions with his other half.
[related_story]
And so important this entire process has been for him that today, when potential party candidates seek his advice, Faisal makes it a point to arrange to meet their spouses too.
"I can explain and share with them what I went through with my missus."
A quiet worker
For some reason, Faisal is the one Aljunied MP who escapes public interest and discussion.
The rest of his team command a certain degree of prominence: Low Thia Khiang and Sylvia Lim, needless to say; hotshot lawyer Chen Show Mao was a big breakout star when he first was unveiled in 2011, and Pritam Singh, the new party chief: young, eloquent and popular with the public and even liked by the ranks of the ruling party.
But in many ways, that's just how he is and prefers to be — quiet, flying under the radar, just doing his thing, working the ground steadily, investing the time to help as many people as he can — and that was his life before politics too.
Faisal found himself drawn to the calling of service to society, though — one thing that struck him was the absence of opposition Malay representatives in Parliament, and also the tendency he observed in the Malay professional community to stick to volunteering in social welfare organisations, somehow fearing to speak out in public despite that being needed.
A family man
And that's how he started: struck by the words of the late J B Jeyaretnam in an interview he watched on YouTube, he made the decision to return to Singapore from Australia, where he was planning to sink roots with his wife and children, and signed up as a volunteer with the WP.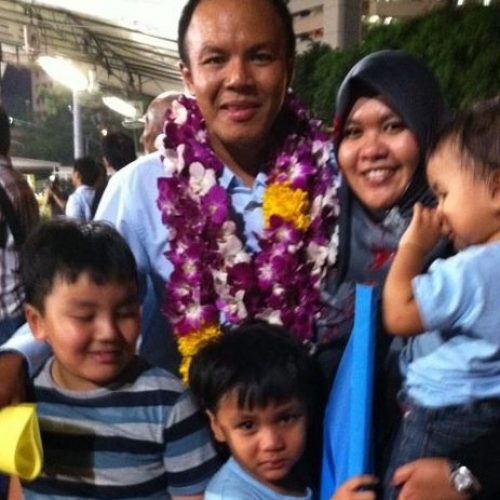 And this can't have been an easy decision for him — family, we could see, is clearly important to Faisal.
He describes his youngest child, a daughter, as "bubbly" like her mother.
His eldest son is an "easy-going and confident" boy. He's a prefect at Saint Andrew's Secondary School — the alma mater of two WP founding leaders, the late David Marshall and JB Jeyaretnam.
Faisal describes his second son as being "a bit stubborn like me" — an introvert on most occasions, but he is not afraid to speak up when necessary.
"That's also me lah. I'm a quiet person, but when it comes to a situation where I feel that I need to voice out, I will voice out. I will be firm on that."
Understandably, everything changed for Faisal and his family on the night of May 7, 2011, when he, together with Low, Lim, Pritam and Chen, was elected by the people of Aljunied GRC to represent them in Parliament.
But he was determined to remain steady — you could say he was stubborn — rooted in his values and in being himself, despite starting out carrying the inevitable label of "token Malay minority candidate".
Walking the ground
After the WP won in Aljunied, Faisal made a conscious choice to take charge of the division of the majority-HDB-dwelling Kaki Bukit.
He felt Kaki Bukit had a similar demographic to the residents he met and helped in MacPherson. His experience there, as well as a counsellor in general, made him feel he could better relate to people living here.
Eight years on, his choice seems to have been a wise one. During a walk around the Kaki Bukit neighbourhood, he is frequently stopped by residents he meets.
He knows them all by name, and excuses himself to have a chat with each one.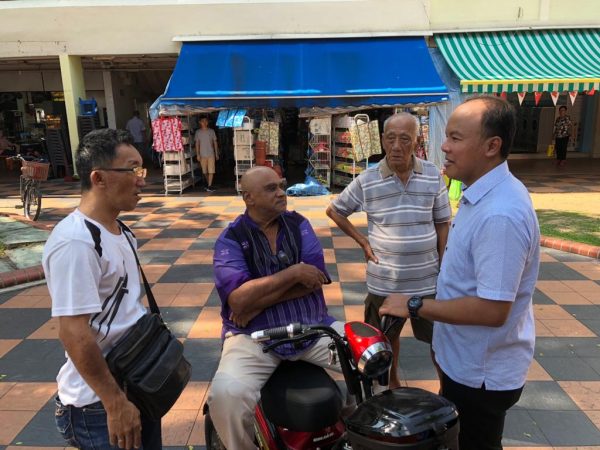 Hovering nearby, we catch a few snippets of conversation. Some ask for his help with problems. Others just want to say hi.
He ends each encounter the same way it begins, with a warm smile and a handshake, and he seems so at ease that it looks like he's in his element hanging out with his residents — it surprises us later on to then hear him say of himself:
"I'm an introvert... I'm a mediocre person. I'm a layperson, average in everything that I do."
But he believes that — his "mediocrity" and "averageness" — is the key to his popularity (and perhaps more so relatability) with them.
"Sometimes people tend to put up a front, to be seen as someone. But for me, over the years I feel that I don't need to be someone. I don't need a new personality to serve my residents, just be myself."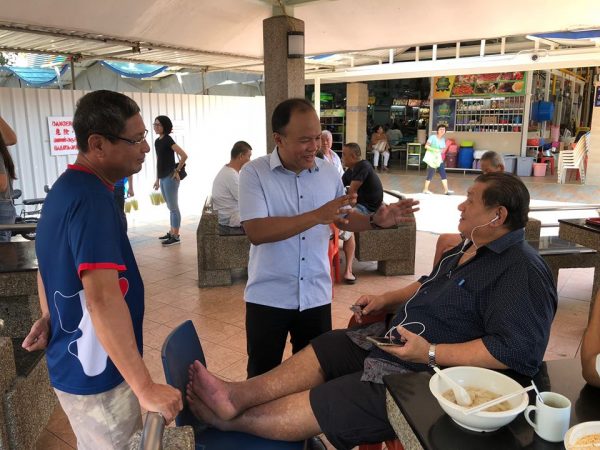 Eschewing the conventional idea of the strategising politician, Faisal says he prefers to draw from his counselling experience, which taught him to first listen, and "communicate through the heart" — an approach, we're starting to see, he uses in pretty much all aspects of his life.
Popular in his party too
And in case you think he's *just* a good MP, you'd be mistaken — Faisal is also, proven by stats, the joint-most-popular member of the WP.
At the WP's most recent central executive committee (CEC) election in April this year, Faisal not only retained his position as vice-chairman of the party, he also chalked up 70 votes, the joint-highest tally matched only by the legendary (untouchable?) Low.
Asked how he felt about it, he hesitates, and offers terms like "surprised" and "humbled" by the support he received from cadres.
He is clearly uncomfortable discussing his popularity within the party, but it is a remarkable achievement and an affirmation of their collective faith in him, considering previous murmurs of certain groups of cadres disagreeing about the direction the party should take.
Can he be the next party chairman to Pritam's leadership? One thing Faisal says is he would not volunteer himself for the role, but if he were asked to step up, he just might.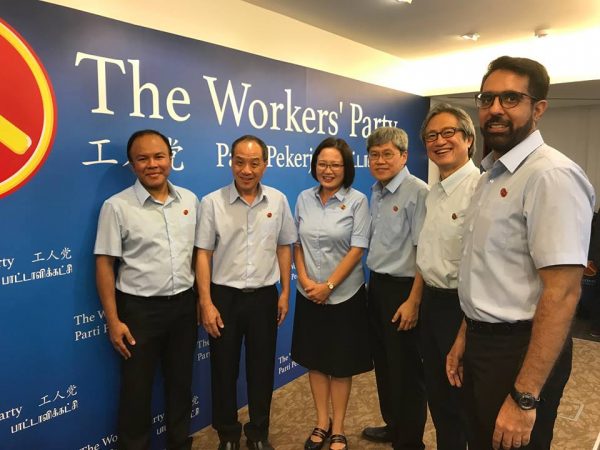 After all, he's had some good years of "training" already with the party's best. Faisal refers to Low and Lim, for instance, as his mentors, and speaks fondly of the five years he spent walking the ground with Lim since he started as her Aljunied team's election agent in the 2006 election that turned them a surprise almost-44 per cent of the valid vote:
"I did a lot of walks with her, from 2006 up to 2011. I was in her team during that time. Almost weekly I met up with her, we did house visits together. I'm very comfortable with her and Mr Low, I've learned a lot from them."
But what of the recently-minted Secretary-General? Faisal describes Pritam as a "big brother" to him, even though he's actually a year younger — perhaps, he jokes, because he is taller.
Faisal also mentions that he is "very, very close" to Png Eng Huat, the MP for Hougang SMC.
Png worked with Faisal as his legislative assistant for about 10 months, and helped him to connect with his Chinese- and dialect-speaking residents in a big way before he was himself elected to Parliament in the 2012 by-election.
"He was asked by Mr Low to assist me in Kaki Bukit. He did very well and I'm very happy that he became an MP because he has that quality."
The burden of being the only opposition Malay MP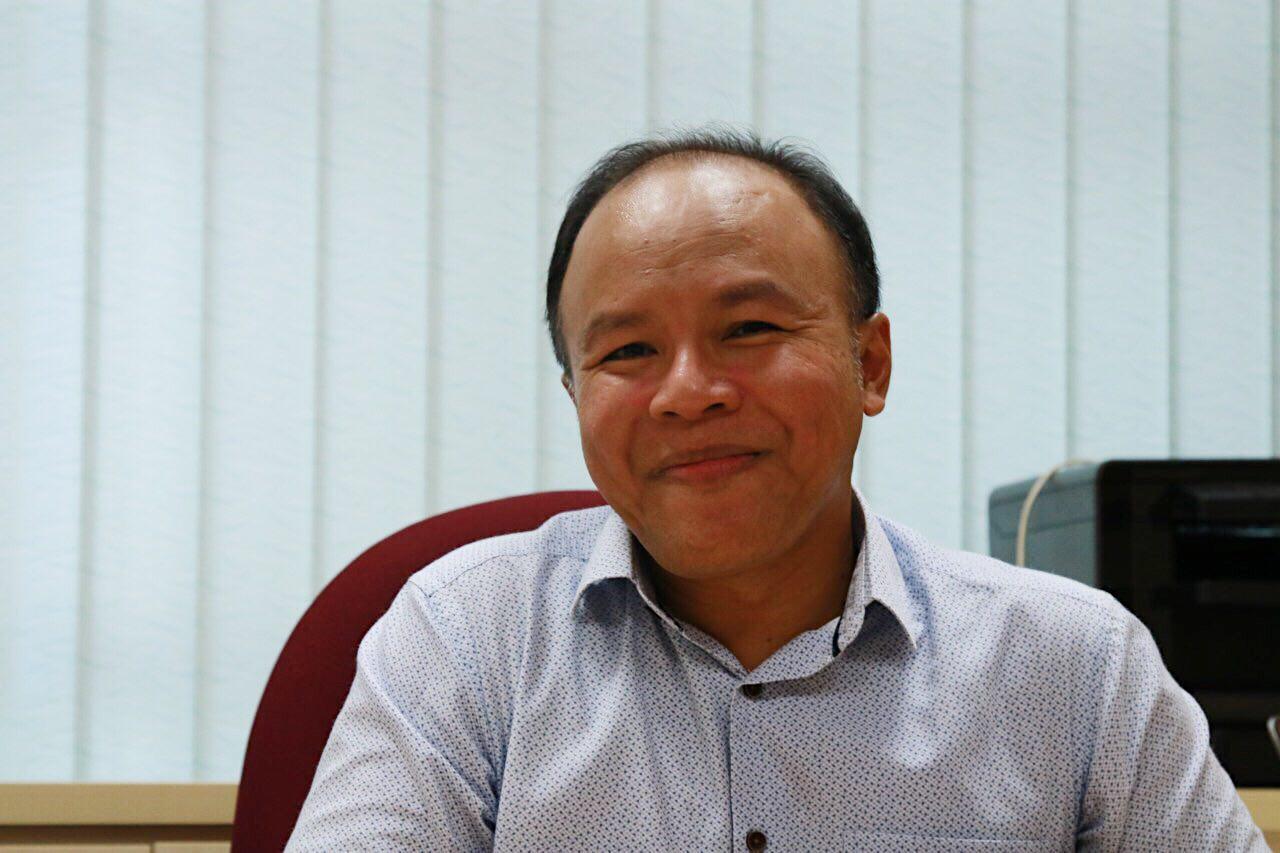 Blame the privilege of being part of the ethnic majority or the fear of wading into race and religion, but it surprises us, actually, to dwell on and appreciate the significance of Faisal being the only Malay opposition MP in Singapore.
The few of us who follow parliamentary debates may have noticed, and wondered why, Faisal keeps bringing up ethnic and religious issues in Parliament — and when he does, he increasingly gets branded as politically "opportunistic" and "stoking the flames", chided because these are better discussed "behind closed doors" because of their sensitivity.
"Being the single opposition Malay MP, I have to spend a lot of time bringing up these issues, because that's what is expected of me. It's something which is very heavy for me to shoulder."
He has repeatedly raised issues pertinent to the Malay-Muslim community, such as allowing Muslim nurses and public officers to wear the tudung at work, and the lack of halal kitchens on Singapore Navy vessels.
This — in particular the tudung issue, which he brought up during the debate on a motion about the aspirations of women in Singapore — earned him a rebuke from Minister Masagos Zulkifli, which was later supported by Prime Minister Lee Hsien Loong in a Facebook post.
But Faisal believes that bringing up these issues wasn't a contentious thing to do — as far as he's concerned, it is valid to bring it up as long as it hasn't been resolved.
"I didn't expect that kind of reply from Minister Masagos, because I was just expressing what the Muslim ladies want... I found that this was a good platform, or a good motion for me to bring up the aspiration because I feel that is my responsibility, right, as a Malay Opposition MP, so my responsibility is to convey...

(In response to Masagos's reaction) I didn't actually retaliate, I'm just stating facts, you know, because to me I want to focus on the issue, you know, I don't want to be pushed to some other whatever thing that is being pushed to me. To me we are in Parliament, it is the best platform for us to discuss."
Faisal pointed out that his question came during a debate on the aspirations of Singapore women in Parliament, so he felt that it was a good platform to raise the issue.
He added that if he really wanted to score political points, as others accused, he could have shared it on Facebook instead of speaking in Parliament.
"But instead, I chose the right time, the right platform, and the right motion for me to convey this again.

People also ask me why you need to repeat, repeat, repeat (the same point). I think that's the job of a MP, you know, if things have not been done, it's for me to convey and to remind, so let's revisit the issue. Right, because it's a real concern on the ground.

So it's not that we are trying to score political goals, I have no other agenda or no other issue to bring it up, but I will bring it up when the time is right, as appropriate... to bring up the issue again."
Taking on the town council
Turning to his new role as Chair of AHTC, Faisal reflects on taking the reins from Pritam Singh, outlining priorities like communicating with residents better so they are familiar with assistance schemes and facilities it provides.
He was unsure, initially, of taking on the role — leapfrogging the vice-chair position to assume leadership (he was earlier a committee member, when Pritam served as Lim's vice-chair before assuming chairmanship of the town council) earlier this month — but he stands assured that he still has the guidance of Lim, Pritam and of course Low.
Faisal believes he has big shoes to fill (he jokes this is literal, too), but is confident that he can rise to the occasion.
The ongoing saga
Of course, no discussion about the town council can be had without mentioning the lawsuit filed by AHTC against Low, Lim, and Singh, alleging a breach in their fiduciary duties to AHTC, among others.
The three have denied all allegations, and are contesting the lawsuit. They are scheduled to be heard in the High Court from Monday, Oct. 1, to Nov. 2, 2018.
It certainly is of concern to Faisal, and he prioritises hearing out his residents who express concern about it, and explaining whatever he can to them.
He also notes that this did impact the WP's vote share in the 2015 election — the final count saw the WP slip by with a razor-thin 50.95 per cent to the PAP's 49.05 per cent of the valid vote.
That being said, Faisal's Kaki Bukit division (and also Pritam's Eunos division) actually saw increases in vote share, compared with 2011.
Faisal explained that by comparing 2011's result to 2015, the swing vote came from the private estates, while the "heartlanders" who lived in HDB flats remained supportive of the WP.
"I'm a bit surprised myself (by the vote share increase), because people were expecting the AHTC saga to affect the vote... So I believe that our residents can make the distinction what we are doing for them, and they can assess themselves the situation that is going on. It was quite a touching moment for me."
WP's future
Whatever happens, it's clear to us that Faisal will play an important role in the party's future.
Looking back on his time thus far in Parliament, Faisal mentions the party's votes against the proposed GST hike in Budget 2018, and the amendment to the Constitution on the reserved presidency as his most memorable moments.
But looking forward, he hopes for the WP to grow and be more effective in being the "voice of the people".
"We need to look inwards, how we can improve. I believe Mr Low has worked on it very well...build up the strength, get the right people to join the party. I think that's the right recipe to propel the party further."
Top image by Ilene Fong
If you like what you read, follow us on Facebook, Instagram, Twitter and Telegram to get the latest updates.