Say goodbye to Uber in Singapore, folks.
On Monday, March 26, we learned the official news that Grab has acquired Uber's operations in Southeast Asia, including Cambodia, Indonesia, Malaysia, Myanmar, the Philippines, Singapore, Thailand and Vietnam.
Uber's pull out from Singapore comes on the heels of its exit from Russia in 2017 and from China in 2016.
The American ride-hailing app company reportedly lost US$4.5 billion in 2017 -- a staggering 61 per cent increase from their losses in 2016.
In return for the sale, Uber will receive a 27.5 per cent stake in Grab, which represents their current market share.
Here's a short explainer on what that means for you:
If you take Uber
You might have received an email from Uber informing you of the change: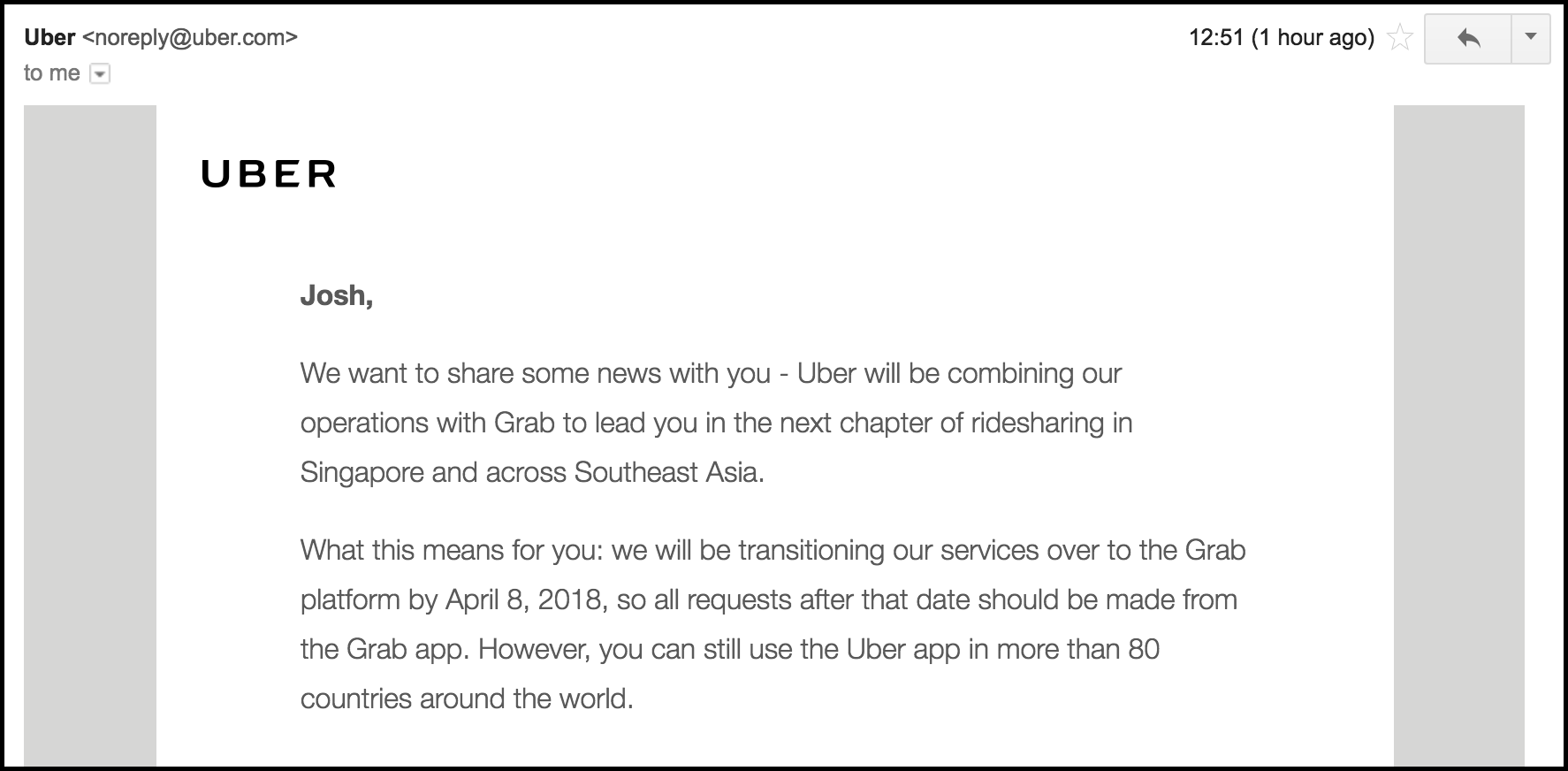 If you still intend to be chauffeured around use ride-hailing services, you need to download the Grab app and create a Grab account by April 8, 2018, because by then, that will the only major ride-hailing app here in Singapore.
There's a bonus promo code (GRAB4W) for new Uber riders transiting over for their first Grab ride. 
Some users also received a promo code for Uber rides this week, sort of like a last hurrah. If you received it too, you'll need to use it before April 8.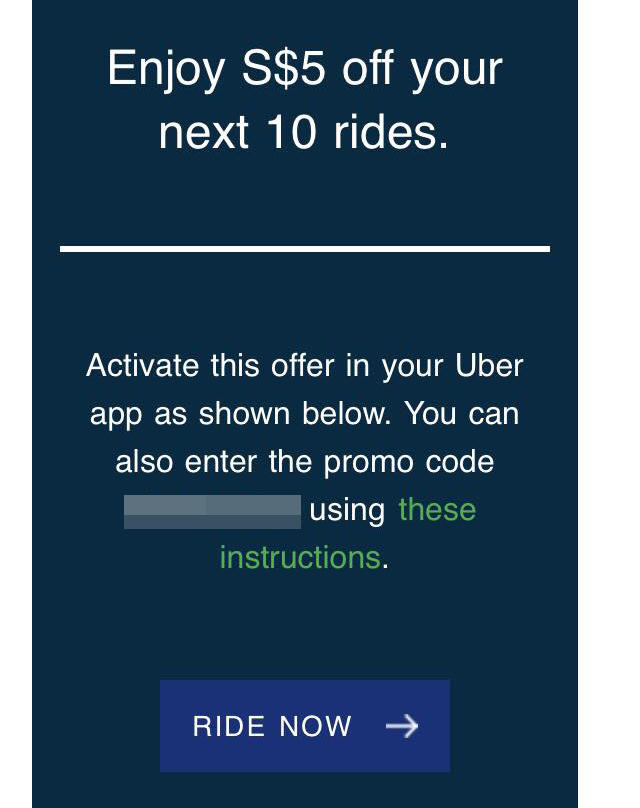 Your commute data in Uber will be transferred over to Grab. This does not include your payment options, which you'll have to manually input into the Grab app.
If you drive with Uber
You can still continue to drive with Uber for two weeks, until April 8, 2018, after which you'll need to transit to Grab.
Grab says it'll be prudent to start your registration with Grab ASAP to ensure a seamless transition (private-hire vehicle driver click here; taxi drivers click here).
Joining them means you'll have access to Grab's network and pool of customers.
If you use Uber Eats
By May (although an exact date hasn't been specified yet), you will need to move over to a new food delivery app called GrabFood, which will feature all merchants previously on Uber Eats and more.
Prices of food options on GrabFood will remain the same, and service will still be available islandwide. The drawback to this: your Uber Eats order history and log of favourite dining options will not be transferred to the new app.
And you'll have the new GrabFood app when it becomes available, as the Uber Eats and Uber Eats partner apps will stop working come May.
[related_story]
GrabPay
Consolidation of both apps also signals an increase in coverage for GrabPay. Grab has been trying to push its e-wallet payment system in many areas — at eateries, shops, entertainment outlets and more — which will go a little way in increasing its prevalence in the market. Perhaps with the right incentives, there will be widespread adoption of GrabPay in Singapore.
So will trips become more expensive?
Now, the big question on everyone's minds -- will fare prices increase?
Grab insists that fares will remain affordable. For fixed-price trips via GrabHitch or GrabShuttle, the fare is determined by the distance travelled. Taxi rides hailed via GrabTaxi (the Standard Taxi option) will continue to charge fares based on metered fares and standard booking fees.
However, trips via GrabCar and JustGrab are given fixed prices using a demand-based structure. Aside from the base distance, the fare also incorporates a "dynamic surcharge" that depends on traffic conditions, peak period jams, demand and supply, and estimated journey time: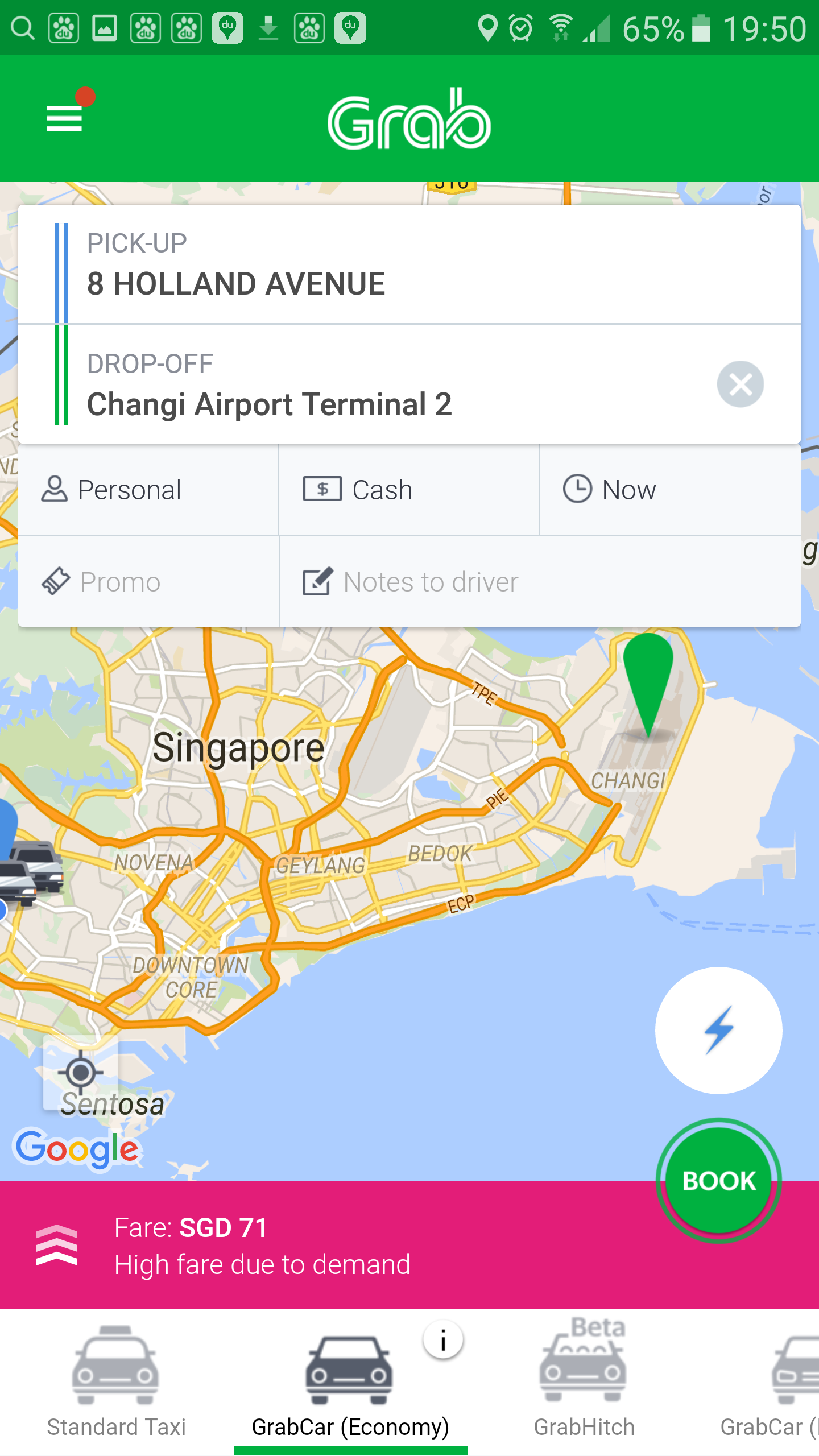 Grab says this surcharge is "fair calculation for drivers as they navigate varying road conditions throughout the day".
Fair calculation or not, this surcharge and the way it is calculated is — and always has been — opaque to commuters.
Uber and Grab are globally both financially backed by Japanese group Softbank, so it is certainly in Softbank's interest to combine both services to generate maximum revenue and curb excessive outlays of money through competition.
The sale of Uber to Grab has now resulted in what is essentially a monopoly which, in all likelihood, means one thing: Higher prices.
And if China's experience with Didi Chuxing's acquisition of Uber is anything to go by, it ain't looking good for riders or drivers — according to this Quartz report, it's now both harder and more expensive to hail a ride there.
Wait! Will this even be allowed?
At least one academic at National University of Singapore's business school has commented that "the merger as it is will have to be blocked by the regulators".
He also predicted, in an article on TODAY, that taxi drivers will run jobs with higher fares than their metered ones in future.
Sure enough, a Land Transport Authority statement said the agency will "study the impact of the deal" on the point-to-point sector in Singapore.
We are also reminded of Second Transport Minister Ng Chee Meng's speech in parliament during the Committee of Supply debates, where he pointed out that having the private-hire car industry dominated by a single player is a situation detrimental to Singaporean commuters:
After all, prior to this announcement, ComfortDelGro's purchase of a 51 per cent stake in Uber's wholly-owned Lion City Rentals, as well as its exclusive tie-up with Uber for the UberFlash service (its answer to JustGrab) over the year-end, is still under scrutiny by Singapore's Competition Commission.
Now, as we mostly know by now, in October last year Grab inked a deal with SMRT to access the latter's taxi fleet, which broadened Grab's fleet to become the country's biggest. This further cemented its dominance in the ride-hailing industry.
And rides aside, reports have also repeatedly mentioned that Grab is diversifying into micro-lending and food-delivery, so this is only the beginning for this very ambitious regional company.
More articles on Grab buying over Uber in Southeast Asia:
Cover image by Joshua Lee
Here's a totally unrelated but equally interesting story:
Are you a media freelancer? Were you promised better "exposure" instead of cash payment for your work?
If you like what you read, follow us on Facebook, Instagram, Twitter and Telegram to get the latest updates.