A couple who tortured an intellectually disabled woman to death after eight months of abuse has been sentenced to jail.
Tan Hui Zhen, 33, was jailed 16 years and six months. Her husband Pua Hak Chuan, 38, was jailed 14 years and given 14 strokes of the cane.
The sentence was meted out on Friday, Dec. 1.
Accused of murder initially
The deceased, Annie Ee Yu Lian, 26, died in the couple's flat in Woodlands on April 13, 2015.
Justice Hoo Sheau Peng described the unrelenting abuse by the couple as cruel and appalling when meting out the sentence in High Court.
Tan pleaded guilty to four charges of causing grievous hurt and causing grievous hurt with a weapon, while Pua admitted to three similar charges.
Eighteen other charges were taken into consideration against the couple who tortured Ee, a restaurant waitress and the couple's flatmate, from August 2014 to April 2015.
The couple were originally accused of murder.
Their charges were later amended.
Why amended charges
It is understood that the charges were amended after police completed investigations into Ee's death and on the basis of forensic pathologist reports.
Ee was repeatedly beaten throughout her ordeal. Her injuries were visible enough for her colleagues and customers to take notice.
The prosecution submitted medical reports to the court that showed Ee died from "multiple injuries".
But each injury would "not be in the ordinary course of nature be expected to cause death", it was concluded.
Ee died from a rare cause known as acute fat embolism.
This occurred when fatty tissue entered her bloodstream and travelled to her lungs, creating a blockage of the blood vessels.
This interfered with blood getting oxygen in the lungs, leading to progressive cardiac and respiratory failure.
This was the result of the blunt force impact on her buttocks, which she suffered repeatedly due to the abuse by her tormentors. She was given medical attention when injured.
Justice Hoo also said during sentencing that Ee died in an "undignified manner", and that both Tan and Pua had abused Ee psychologically and financially, and not just physically.
[related_story]
Public outrage
This case has led to widespread public outrage in Singapore.
An online petition expressing shock at the details of the case has received close to 20,000 signatures.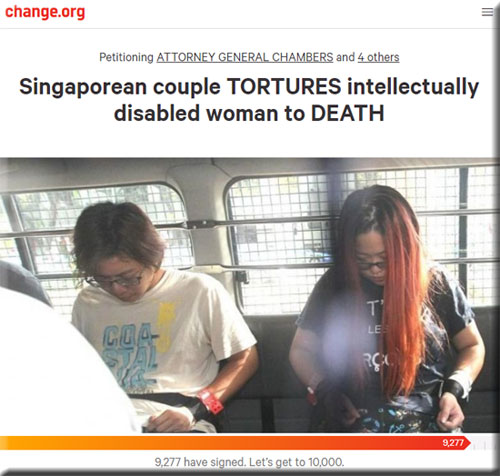 Here are some totally unrelated but equally interesting stories:
Mums share their experience in helping their kids go cashless
Shell created a quiz to help me find my ideal city and I didn't get Singapore
This guide to interacting with persons with disabilities will make you a better person
If you like what you read, follow us on Facebook, Instagram, Twitter and Telegram to get the latest updates.