Here at Mothership, we bring you lots of entertainment and silly stories, but this one is serious and every parent with young children should read it.
On Wednesday, Nov. 22, Berlinda Lum brought her 14-month-old son, who was having a cough, to a neighbourhood clinic in Bedok (we are not naming the clinic in question, as it may be subject to an ongoing investigation). The doctor they saw prescribed Fedac syrup for him.
Lum, who shared her story with Mothership on Sunday, recounts that she picked up the syrup bottle from the dispensary, paid for her son's visit, and left — so far so good. The photo below shows the clinic's prescription on the label — the medicine was to be taken in 10ml doses, three times a day: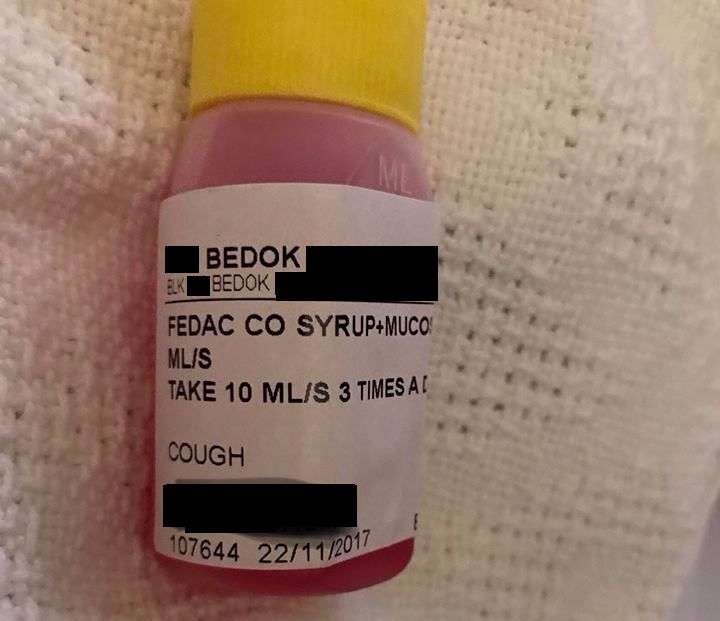 When things went south
When she got home, Lum said she gave her son the medication according to the instructions on the label. The baby was immediately knocked out.
After a little too long, she said she realised her son was unconscious and rushed him to the accident & emergency department of Gleneagles Hospital. There, she was informed that her son had overdosed on a drug called codeine, and could have died if he took any more.
Codeine is an opiate used to treat mild pain such as a cough, and — guess what — can be found in Fedac cough syrup.
Here's the note provided by the paediatrician who saw Lum and her son: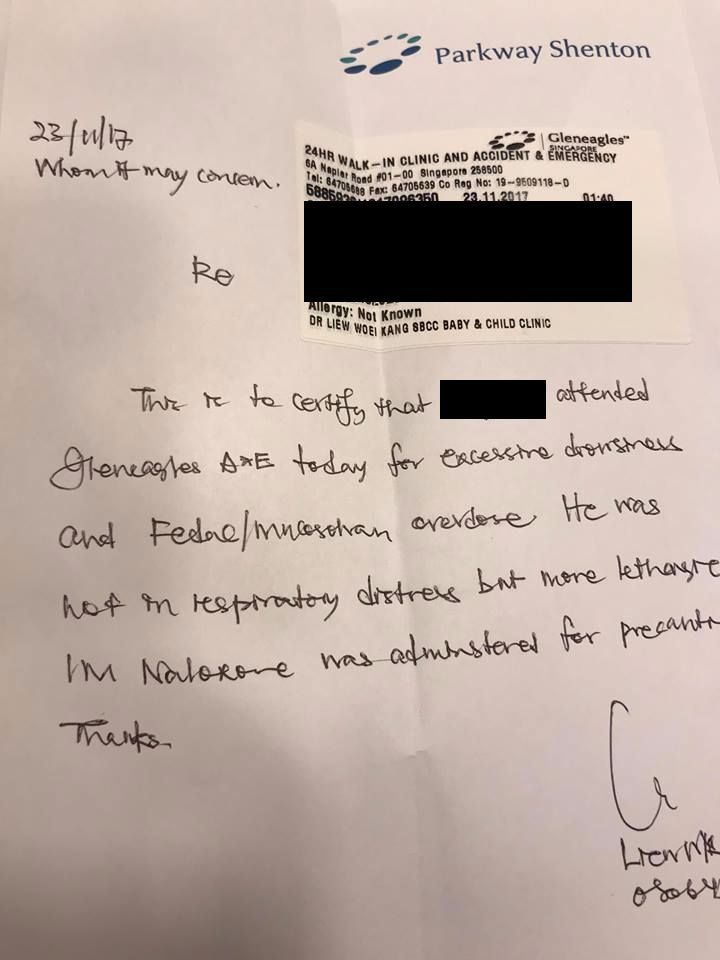 The baby only regained consciousness on Wednesday evening (a full day later) but, according to Lum, still appeared drowsy.
Suffering from side effects of overdose
Even on Sunday, Nov. 26, Lum told Mothership her son's right arm and shoulder was still quivering, one of the effects of the overdose — but this, she adds thankfully, is expected to subside in 35 to 40 hours after taking the correct medication.
Here's a letter she received from a paediatric neurologist she brought her son to see at Mount Elizabeth hospital on Sunday:

[related_story]
Why was a one-year-old told to take 10ml of cough syrup?
You might be wondering what the heck happened to lead to all this. We did some digging, and the first thing we found was this 2010 directive from the Health Sciences Authority (HSA):

So it's not to be used in children less than two years of age, and to be used with caution in children 2 to 6 years of age.
We also found a medical drug directory called MIMS started in Australia, which drug manufacturers voluntarily submit their product information sheets for listing on. It shows the following recommended doses for the Fedac Compound syrup, listed as "Fedac Compound Linctus" on HSA's website.
Pay attention to the parts we boxed in red: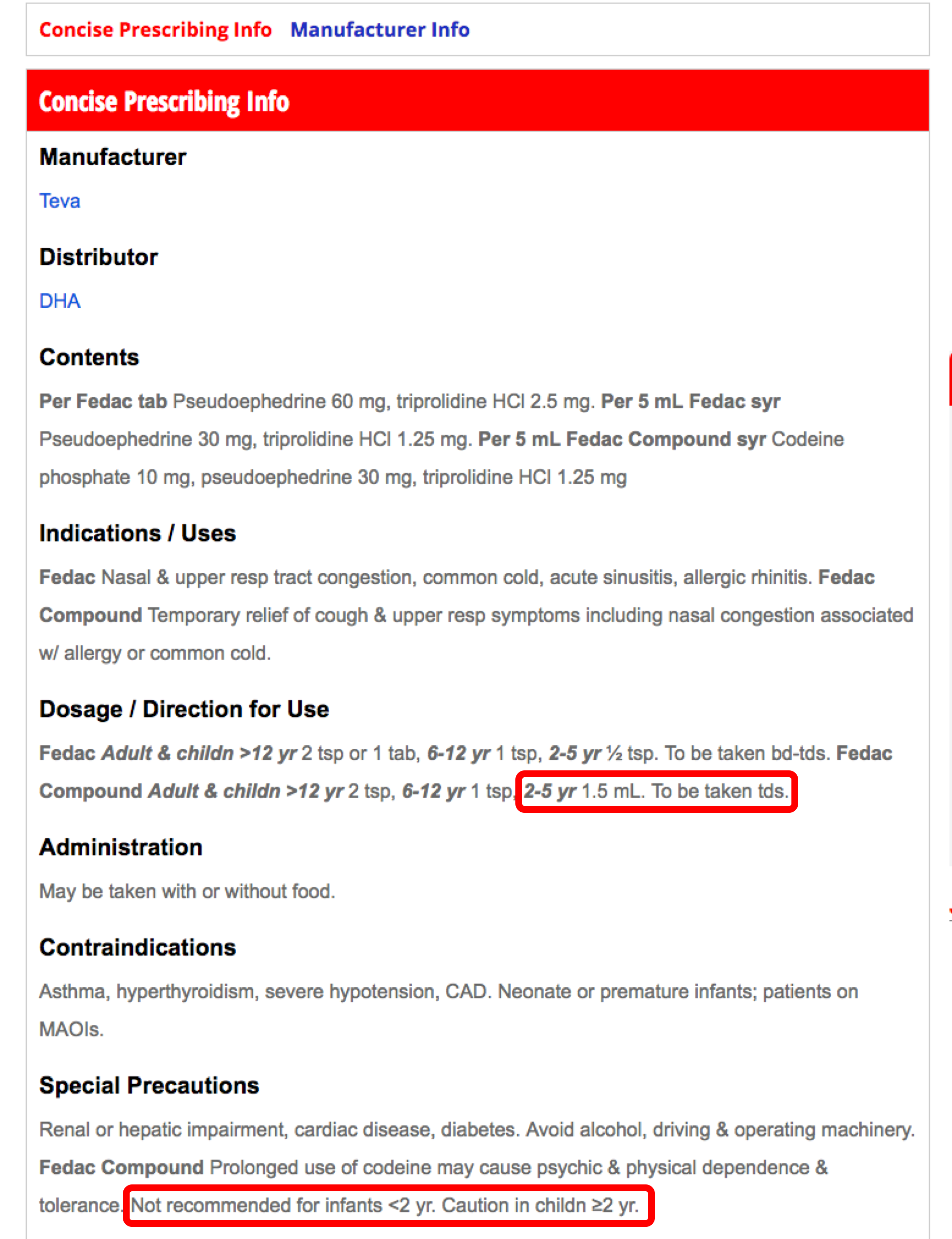 By the way, "tds" is a pharmaceutical abbreviation for the Latin phrase "ter die sumendum", which means three times a day.
But basically, it says even for two-to-five-year-olds, the recommended dosage of the Fedac compound, according to the site listing, should be 1.5 ml, three times a day.
The second box says that it is not recommended for infants below two years old. Lum's son, just to recap, is 14 months old.
And here's another reminder: the prescription on the label said 10ml, three times a day, which is precisely the dose Lum fed him.
Not so confusing now to understand why the above happened, eh?
"So what do you want us to do now?"
Now, all this is made even crazier by what Lum told us happened next: she called the clinic on Nov. 23, a day after her baby's overdose, to inform them about what happened. She claims they merely told her, "So what do you want us to do now?"
She said she also physically returned to the clinic, where she was told by the doctor who initially (ahem, wrongly) prescribed Fedac to her son that the correct dosage for her son was actually 2.5ml, three times a day — four times less than what was printed on the label.
Investigation may take 9 months
Lum tells us she has also reported her case to the Singapore Medical Council (SMC), who informed her that it will take nine months to investigate.
Moral of this story, though: listen carefully to the doctor's advice on every medication prescribed for your child, or indeed any person you are looking after, and check it against the prescription printed on the label — if you discover discrepancies, do ask.
Mothership has reached out to SMC for more information regarding the case and will report any updates we receive from them.
We also gave the clinic in question a call, and a staffer who answered the phone hung up quickly after saying she was "not sure" about the case.
[UPDATE on Wednesday, Nov. 29: Qualitas Medical Group, the parent company of the clinic, has issued a statement with respect to this story. Read their response here.]
Top photos courtesy of Berlinda Lum
Here's a totally unrelated but equally interesting story:
Mums share their experience in helping their kids go cashless
If you like what you read, follow us on Facebook, Instagram, Twitter and Telegram to get the latest updates.