Andruew "The Statement" Tang is trapped in a vicious chokehold by the villainous duo of Dave Vindictus and Doctor Gore. Tang strains with all his might but can't quite break free.
His tag-team partner Trexxus leans over the top rope, arm stretched out as far as it can. The young Southeast Asia Champion is itching to get into the ring. Tang needs only to touch Trexxus's hand to make the tag, and allow him to take his place, but the bad guys won't let him. They increase the pressure, as Trexxus yells in frustration.
Suddenly, the tide turns. Tang manages to slip out of Vindictus's grasp and knock down the advancing Doctor Gore. He lunges back to his corner of the ring and just barely manages to slap Trexxus's outstretched palm.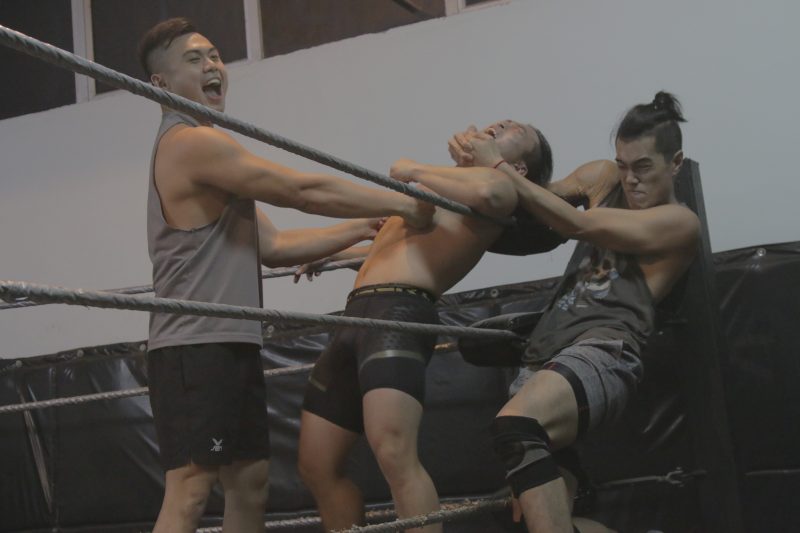 The tag is made and Trexxus comes charging in like an angry bull. Trexxus is fresh, but the opposing team have recovered and are ready for him. It's anyone's guess how this epic battle will end.
Isn't pro wrestling fake?
Professional wrestling in Singapore is popular but misunderstood, perhaps because it defies labels. Is it sport, or is it art? Fans of amateur wrestling (the kind you see at the Olympics) will sneer, calling it a "fake sport".
Fans of dramatic theatre, on the other hand, criticise its violence and crudeness.
But pro wrestling fans will tell you that it's neither sport nor art -- it's both.
Sure, the outcomes of the matches are decided beforehand, and the focus is placed more on entertaining the audience than actually trying to kill each other. But that doesn't mean the moves themselves are fake.
Getting slammed to the mat or taking a boot to the face still hurts. Taking part in a match means that at best, you will be sore in the morning. But for Singapore's very own professional wrestlers, that's a small price to pay to entertain the fans.
Local talent
The Singapore Pro Wrestling Federation is perhaps the most well-known local promotion. They've held multiple shows and performed at the Night Festival organised by the Singapore Heritage Board.
The beating heart of the SPW is Andruew Tang, 27, also known as The Statement. Tang is the co-founder of the promotion and one of its stars. He has muscles in places most guys don't even have places, and radiates confidence about pro wrestling's future in Singapore.
[related_story]
Tang found an online ad by a Russian wrestler visiting Singapore to gauge interest in the industry.
Despite sounding like the dodgiest set-up of all time, Vadim Koryagin was legit. He was associated with the Independent Wrestling Federation in Russia, where WWE pros like Sami Zayn and Kalisto had wrestled. With Tang and Koryagin working together, the SPW opened doors in February 2012.
Recalls Tang:
"At first it was definitely scary... A lot of people were skeptical about pro wrestling. Are they even trained well? How can they compare to the guys in the US? But there were a number of wrestlers who believed in us and they stayed on and trained with us, and eventually we had enough people to put on a show. And once we did, it attracted more people."
Their first show only attracted 60 fans, but the SPW plugged away and now regularly draw crowds of over 400.
The 2014 Night Festival show had about 1,000 curious onlookers for both nights.
Despite the SPW's growth, Tang remains the only full-time pro. The rest of the roster have day jobs.
Kenneth "The Eurasian Dragon" Thexeira is a personal trainer, while Luqman Adam runs his own production house. Trexxus, the young champ, is currently studying health management in Republic Poly.
Tang's dream of running a full-time promotion with its own TV deal will have to wait.
Grapple MAX, a different kind of gym
While the SPW attracts the diehard fan ready to actually get in the ring, the Grapple MAX Dojo deliberately goes for a different crowd.
Says co-founder Greg Ho, 35:
"We're focused on creating a syllabus that is designed to bring in as many new people as possible... What we have been doing is to build a school that is catered specifically for the non-wrestling fans. So you don't like wrestling? Fantastic. Come and watch the show, better yet, come and try to do this from a fitness point of view. Do it from a community fitness point of view, meet people who are just like you."
Ho wrestles as Greg Glorious, partner of the other co-founder Dennis "The Ladykiller" Hui, 31. Ho quit his job with Changi Airport Group to found the Dojo in November 2016. They're both connected with the SPW, with Ho performing on a few of their shows and Hui getting his start as cameraman for the promotion. But their Dojo operates slightly differently.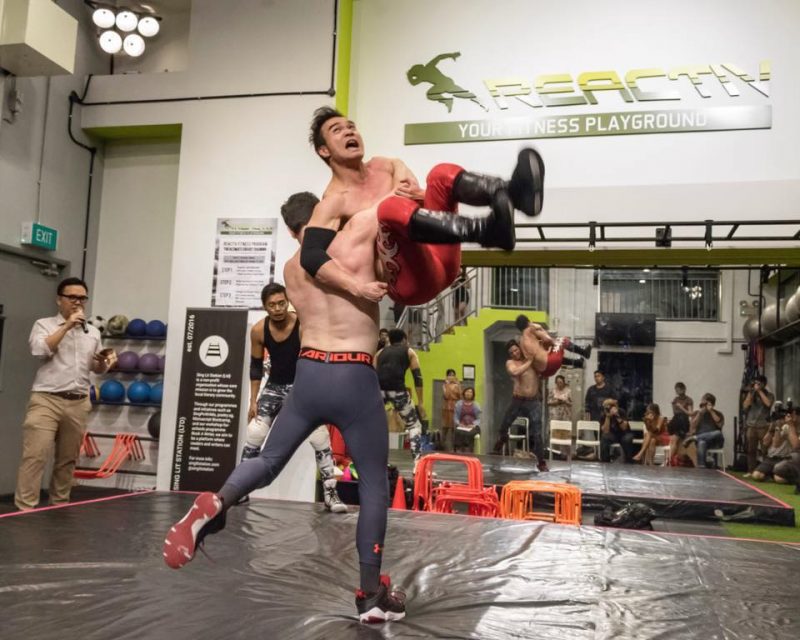 While they do put on shows for audiences, the focus is on the fitness aspect. It's like a wrestling-themed gym, where people of all backgrounds can go to get a good workout -- and also train to become a pro, if you have the talent.
Ho added that he was trying to attract a wider range of people by taking a leaf from other books:
"We look at companies like EVOLVE, what they've done with MMA. Look at Vander boxing club, what they've done with boxing. And they really open up (to everyone). The first thing you go there they ask you, are you here to be a competitive boxer? Or are you here for lifestyle? If you say lifestyle they'll say sure, welcome."
That culture of acceptance was what drew Eileen Lee, 29, to get involved. Lee is Hui's girlfriend, and he brought her to watch her first local match. Today, she's his tag-team partner and recently competed in a match herself at the 2017 Night Festival.
"To be honest I never really wanted to become a wrestler. I just came to a show, saw them doing flip bumps and thought 'Hey, that looks really cool. I want to try that myself'."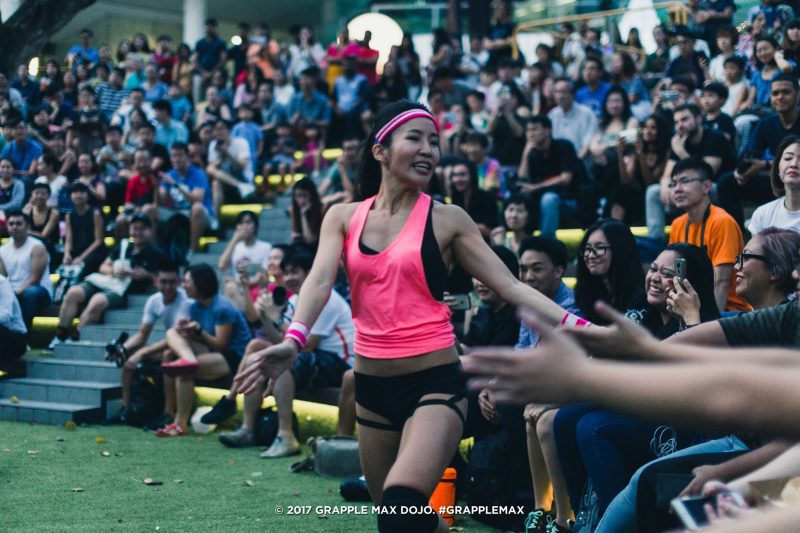 But like the SPW wrestlers, they have regular jobs away from the bright lights. Hui works for 8-7, an Internet marketing company, while Ho does business strategy for a tech start-up. Lee does overseas business development. But Hui thinks that the Dojo has the potential to go even further.
"As a co-founder, I want it to be noticed by big promotions, like New Japan Pro Wrestling. You know how Japan has a very big culture of pro-wrestling, we want Singapore to get to that level. We want people to ask on a Friday night "What shall we do? Let's check out the pro-wrestling show.'"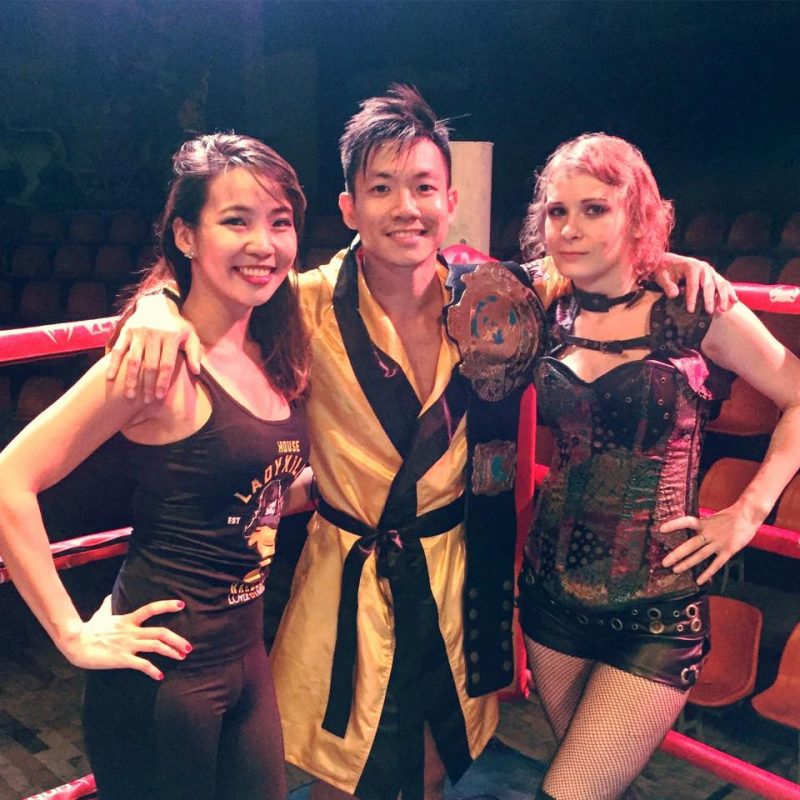 Health and safety
Combat sports has come under a cloud recently, with the tragic death of Pradip Subramanian during a celebrity Muay Thai bout with local entertainer Steven Lim. Although pro wrestling is different in that there is no real intention to hurt your opponent, injuries and accidents still do occur. Both Tang and Ho are aware of the risks, and take steps to ensure every precaution is taken.
For the SPW, the referee works closely with the wrestlers to check on them after a big move is executed. If the wrestler is clearly in a bad way, the referee will stop the match immediately. According to Tang:
"There is an on-site medic to check on the wrestlers. And they will evacuated to the nearest hospital to get a check on their condition."
In SPW's history, only Tang himself has been seriously injured. He dislocated his shoulder during a match, and was rushed to Tan Tock Seng Hospital afterwards. For the Dojo, Ho ensures that students are ready before they are allowed to perform.
"The Grapple MAX syllabus has been designed for students to train at an incremental, progressive pace, in line with their fitness level. Trainees may only consider performing in their first show on completion of grading milestones, which are a test of their proficiency in safely executing move sets."
Both organisations do not conduct pre-match check-ups, as they are not mandatory unlike in competitive combat sports. Both wrestlers emphasise that individuals should disclose any pre-existing conditions, if any, while trained medics are on standby to deal with emergencies. As the WWE likes to say, whoever you are and whatever you do, please don't try it at home.
Here are some totally unrelated but equally interesting stories:
5 times Singaporeans ownself scared ownself with hoaxes
I let a 20-year-old Tarot card reader inside my mind and it was nothing like I expected

Related story:
WWE came to S'pore to search for fresh wrestling talent
Singapore Pro Wrestling, a hidden gem for lovers of WWE
Top image by Ilene Fong
If you like what you read, follow us on Facebook, Instagram, Twitter and Telegram to get the latest updates.