Seelan Palay, a 32-year-old visual artist, was arrested outside Parliament House on Sunday, Oct. 1, 2017.
News of his arrest was first reported by The Online Citizen (TOC).
Performance for Chia Thye Poh
Seelan walked and drew on a mirror he was carrying as part of his performance, titled, "32 Years: The Interrogation of a Mirror".
It was to commemorate the 32 years that Chia Thye Poh -- the longest-serving political detainee in the world -- spent living in detention and under restriction without trial.
The performance art piece started in Hong Lim Park. Seelan then made his way to the National Gallery Singapore and then to Parliament House.
The performance event was filmed and photographed as it unfolded.
Purpose
Seelan, who had spoken out against the death penalty and other causes, questioned Chia's length of detention in his performance.
TOC reported that Seelan said "he couldn't fathom how a person could be locked up without trial for the same number of years that he has lived".
Not unannounced
This event appears to not have been impromptu.
A Facebook event page for the performance was set up as early as in September, with the first post on the page dating back to Sept. 23.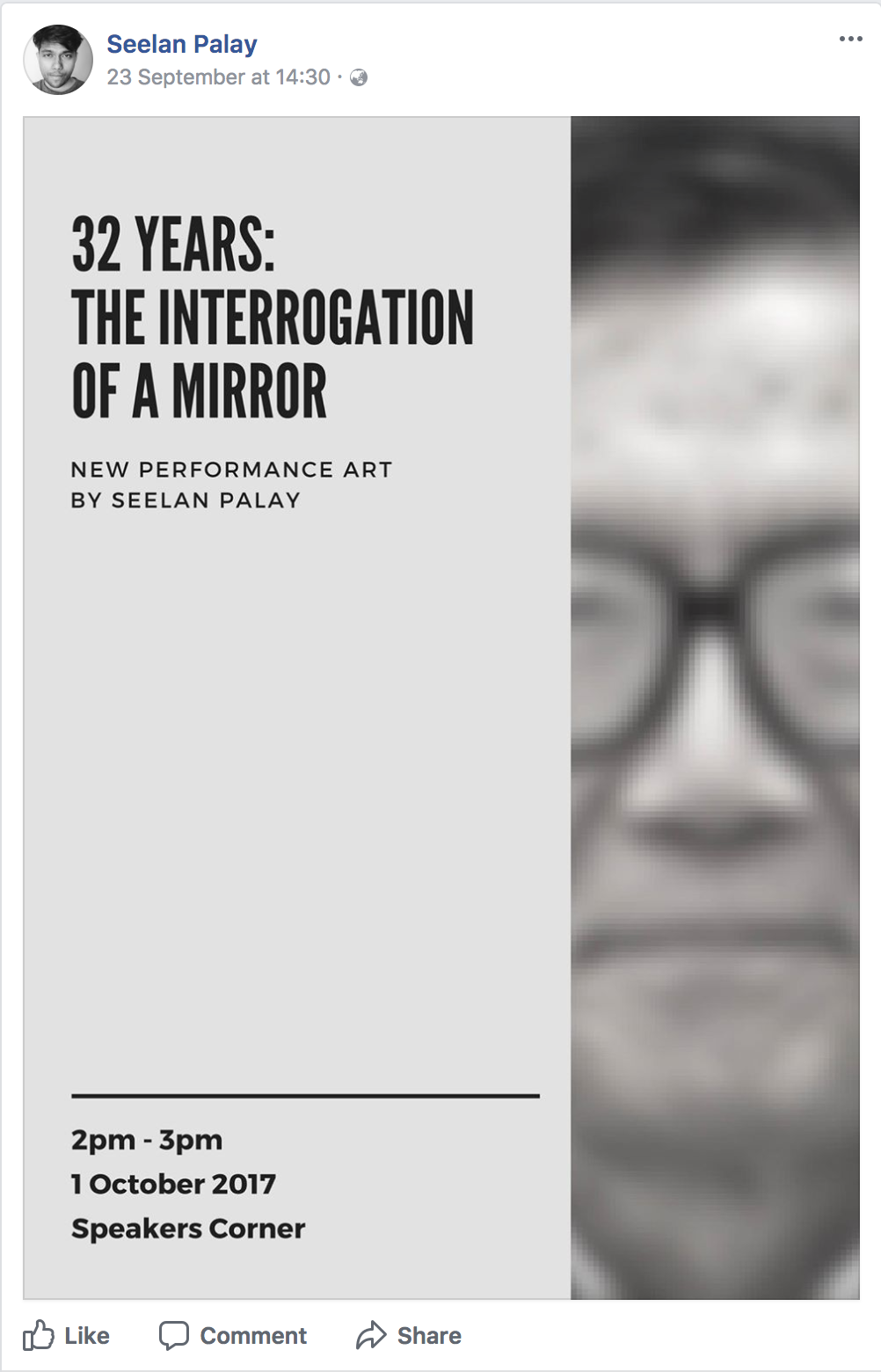 In all, 20 people turned up for the event.
Permit received for Hong Lim Park performance
According to TOC, Seelan had received a permit to carry out his performance at Hong Lim Park.
He subsequently ventured out of the venue to "carry out the unannounced part of his art performance", which presumably is the part where he made his way to the Parliament House.
Before arriving at the Parliament House, Seelan stopped at the steps of the National Gallery Singapore (NGS) to draw on the mirror. The NGS was formerly the Supreme Court.
It's uncertain what he was drawing on the mirror, but it looked like a reflection of the building itself, or perhaps a jail cell.
Seelan then presented the mirror at the Parliament House, where police officers spotted him.
The police received a call for assistance regarding Seelan's performance, which was deemed as an "unlawful protest", according to The Straits Times.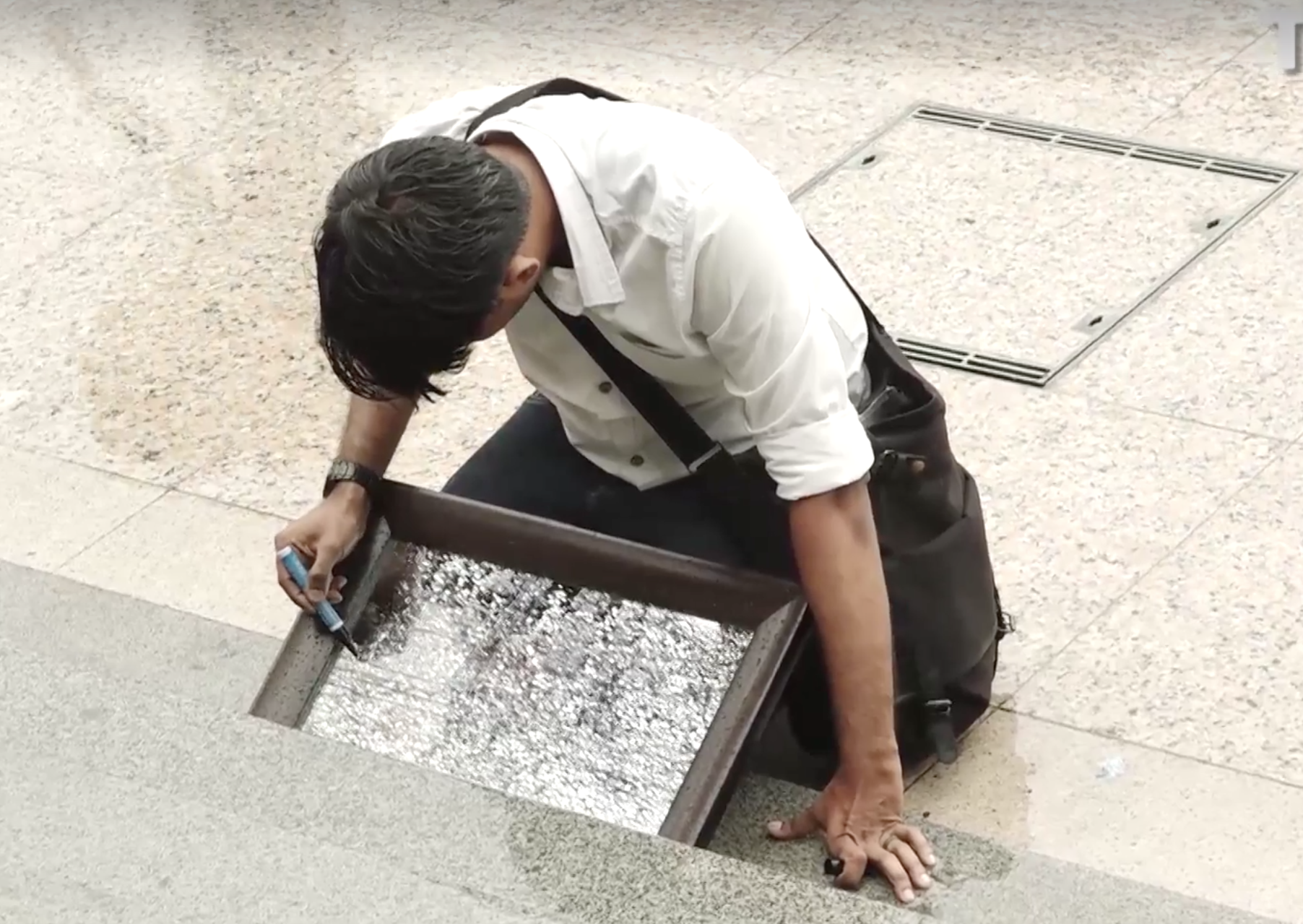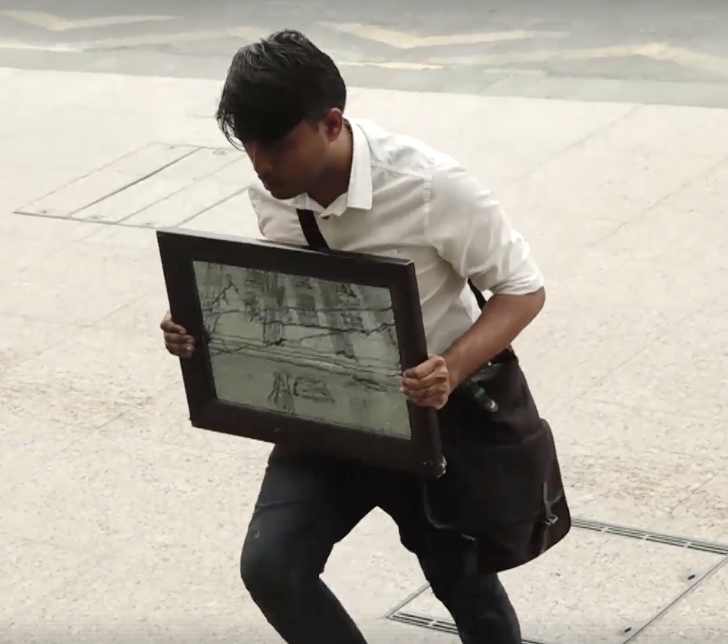 The police said the man was arrested under the Public Order Act.
According to TOC, Seelan is still detained on Monday afternoon.
Outrage
Chia, 76, was arrested in 1966 and detained without trial under the Internal Security Act for allegedly carrying out pro-communist activities.
After being in prison for 23 years and then placed under house arrest for nine years where he was confined to Sentosa, his lengthy combined detention of 32 years has been compared to that of Nelson Mandela's 27 years of imprisonment.
Chia's story is mostly unheard of by the younger generation of Singaporeans.
However, this has not stopped one young Singaporean from chiming in -- from the United States:
[related_story]
Recurrent Theme
This isn't Seelan's first time championing Chia's cause.
In 2013, he created an artwork called Missing You, which featured Chia's countenance on a "Missing Person" type of poster.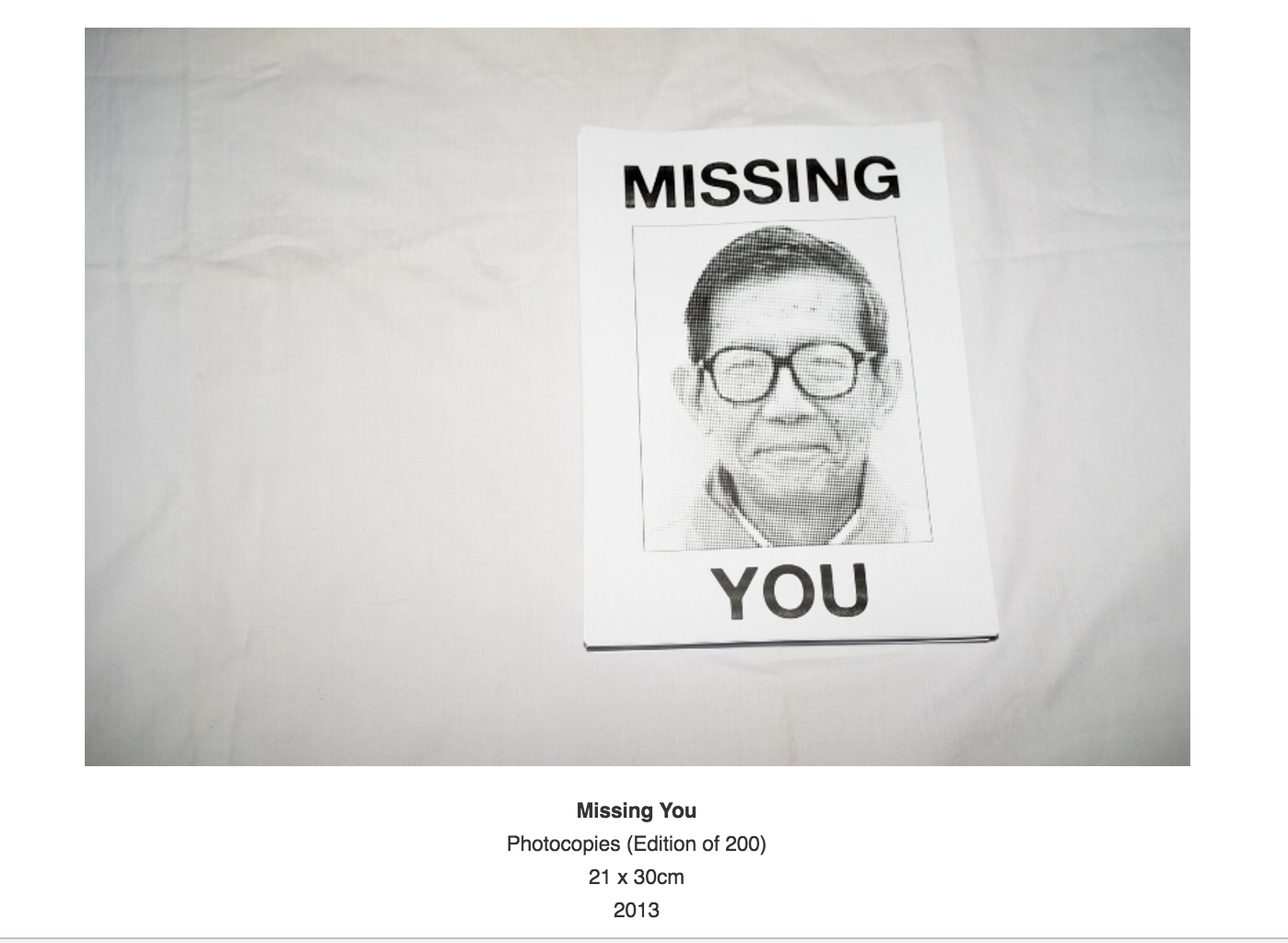 Investigations are currently ongoing.
Here are some totally unrelated but equally interesting stories:
5 times Singaporeans ownself scared ownself with hoaxes
I let a 20-year-old Tarot card reader inside my mind and it was nothing like I expected
Top image via Amos Yee's Facebook post
If you like what you read, follow us on Facebook, Instagram, Twitter and Telegram to get the latest updates.