On Oct. 30, the Ministry of Home Affairs announced that it was banning two foreign Islamic preachers from entering Singapore.
Ismail Menk and Haslin bin Baharim were supposed to preach on a religious-themed cruise that was scheduled to depart from Singapore on Nov. 25 2017, and arrive back in Singapore on Nov. 29.
While one wonders what exactly a religious-themed cruise entails, here's a bit of background info on the two preachers.
Ismail Menk
Menk, 42, was born in Harare, capital city of the African country of Zimbabwe. He obtained a degree in Islamic law in Saudi Arabia, and today works as the director of an Islamic educational centre in Zimbabwe.
He holds the position of Grand Mufti of Zimbabwe, or the highest authority on Islamic law in the country.
Menk boasts millions of followers on social media, with 2.3 million followers on Twitter and nearly 2.7 million fans on his official Facebook page. His posts routinely get shared by thousands of people.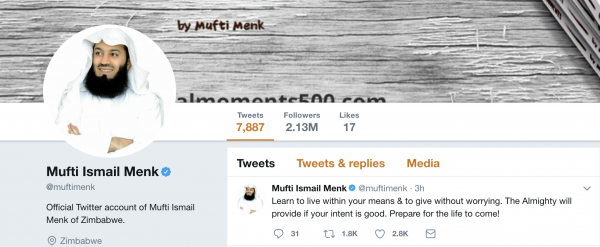 In 2013, Menk was due to give speeches at six universities in the U.K., after being invited by the Muslim societies of those universities.
But before his tour began, extreme comments Menk made about LGBT people emerged:
"(He) has described same-sex acts as "filthy," "wrong" and synonymous with "acts of immorality". He has been recorded as saying: "With all due respect to the animals, [gay people] are worse than those animals.""
The backlash caused the universities to cancel the tour.
Menk later retracted his comments on LGBT people, and posted a clarification on his website:

Menk is also known to have said a Muslim wishing a non-Muslim friend "Merry Christmas" or "Happy Deepavali/Diwali" is considered "the highest form of blasphemy".
[related_story]
Minister for Home Affairs K. Shanmugam mentioned Menk's divisive preaching during his speech on standing united against terrorism in Parliament on Oct 3 (from 36:55):
"This is dangerous. Divisiveness of our common space, will shrink. And different segments of the communities will drift apart. So we make no apologies for taking that approach, banning that, because we cannot allow this sort of preaching to take hold in Singapore and gain followers."
Haslin Baharin
Haslin bin Baharin, 48, is an ustaz, or religious teacher who regularly preaches in Malaysia. He is also known as "Ustaz Bollywood", supposedly for his singing prowess.
When he was younger, he wanted to be a singer. In 2013, he recorded an album called Zikir Zindagi, for which he received a "double platinum award."
According to MHA:
"Haslin bin Baharim has expressed views that promote disharmony between Muslims and non-Muslims, whom he describes as "deviant"."
MHA's decision
In the press release, MHA explained that both Menk and Haslin have had their past applications for a Miscellaneous Work Pass to preach in Singapore denied.
However, this cruise they were engaged for was apparently intended to circumvent that obstacle as the preachers. MHA makes it clear that:
"They will not be allowed to get around the ban by preaching instead on cruise ships which operate to and from Singapore."
MHA cited Menk's "segregationist and divisive teachings" and Haslin's views that "promote disharmony". They said:
"Such divisive views breed intolerance and exclusivist practices that will damage social harmony, and cause communities to drift apart. They are unacceptable in the context of Singapore's multi-racial and multi-religious society."
MHA added that while the government has a responsibility to safeguard Singapore's social cohesion and religious harmony, the public also has a responsibility to reject divisive doctrines and preachers who propagate them.
Related story:
Social media influencers to reach out to community in event of terror attack: K Shanmugam
Here are some interesting articles you should check out next:
Quiz: Which kind of Singaporean social media user are you?
Two aunties visit Changi Airport T4, compare it to Paya Lebar airport
Top image from YouTube.
If you like what you read, follow us on Facebook, Instagram, Twitter and Telegram to get the latest updates.