Once in awhile, we hear of or read a story that brings tears to our eyes from the pain we feel reading it.
And once in awhile, we learn of people like Wesley Wee.
He might seem like a regular Singaporean — 38 years old, he was diagnosed with cerebral palsy soon after he was born.
Today, you'll find him selling tissue near a staircase outside Ngee Ann City, where Takashimaya is.
But that's where the word "regular" stops applying to him, or a life he has lived that you wouldn't begin to perceive. Or, in fact, believe, that a story like his could have happened here in Singapore.
After all he had been through, though, and after five years of painstaking work, Wee published his very first book, an autobiography titled Finding Happiness Against the Odds. And he did it — letter by letter, with his toes:
But let's get to his story.
[related_story]
Born into an abusive family
Wee, a Singaporean, was born into an abusive environment — and by this, we'd safely venture to say that is an understatement if there were any.
His parents were embarrassed by his condition, as cerebral palsy deprived him of his ability to eat, bathe and go to the toilet himself.
His father, a military officer from the Navy, forced him to train his walking skills with a walker, and when Wee failed to comply with his demands, his father harshly beat him, and also subjected him to his own version of waterboarding — dangling him upside down, holding one of his feet, and dunking his head fully beneath the surface of a bucket of water until he could not breathe, or holding his head under a running tap.
Because of his condition, he is unable to control his muscles or bodily functions. As a child, his parents refused to give him diapers, even though his two able-bodied brothers (one older, and one younger) enjoyed that luxury.
He would then have to drag himself to the toilet whenever he had the need to, but rarely made it in time and so would end up in a puddle of urine, or worse, lying on the floor in his own faeces until someone found him.
"On days when my mother went out to do her marketing, I would be left alone at home. Once, in her absence, I felt the need to go to the toilet, but of course, I never made it in time. I couldn't stop my bodily functions and when my mother returned home, she found me lying on the floor covered in urine and faeces. On such occasions, she would get so violently angry that she would hit me all over my body, including my face. The pain would be so bad that I couldn't even cry; I was gasping for air.

This happened randomly from when I was about 6 to 11 years of age. Only when she was satisfied that she had hit me enough would she stop, clean me up roughly and put me back in my bed, again without a diaper. My mother took out her anger at my helplessness in different ways. Sometimes, she would stand on my head while I was lying down on the floor. At other times, she would hit my head against the wall or strangle me with a leather belt."
Deprived of parental love and concern, only his maternal grandmother really took care of him at that point, making sure Wee was able to go to school and preventing his mother from giving him away to a lady in Kuala Lumpur.
Such poignant, painful experiences from unpleasant events in his past are indeed heart-wrenching to know, let alone read in his own words, such as this particular memory of when he was seven years old.
Perhaps reluctant to get wet in the rain one day, the school bus driver did not get out to help lift him up onto the bus, and it resulted in the following:
"I was upset and confused. I realised that I would not be going to school that day and began to cry. Suddenly, my mother grabbed me tightly by the arm and swung me off my wheelchair onto a patch of grass next to the bus stop. It was pouring heavily by then and I could feel the rain pounding relentlessly on my back as I lay helplessly on the soggy grass. My mother started screaming at me. She often yelled at me about my useless body and that's what she did this time. She also left me there on the patch of wet grass for a long time. I can remember a crowd of people gathering around to look at me lying there and I remember being frightened.

But even though I must have looked very helpless and pitiful lying there, nobody came forward to help me. I have no idea what all those people were thinking at the time. All I knew was that my mother was supposed to have helped me onto the bus but didn't. She had lost her temper with me and instead of being on my way to school, I was lying in the rain, surrounded by strangers. There was nothing I could do trapped within a body that I had so little control over. And like so many other times, I couldn't understand what I had done to make her so angry with me. I do not remember how I was brought up from the grass patch to the house, but I do know I cried a lot at that time."
4 different suicide attempts
After the passing of Wee's grandma — a deeply painful event in itself — and his father, who had just begun to reconcile with his disabled son, Wee tried to kill himself four times, wanting to end his lifelong suffering.
Here's his account of one of those attempts:
"Within that same year, after continuous emotional abuse from my mother, I decided to try to take my own life again, but this time using a less gruesome method. So I took all the Panadol I could find in the house, more than 40 in total. However, instead of passing out peacefully, I found myself vomiting endlessly and it was a terrible, painful experience.

Again, my mother found me unconscious and called for an ambulance. I was brought to the hospital once again and my system was completely flushed out. This was an awful procedure. The same doctor who had seen me before told my mother that I needed to go to Woodbridge Hospital and my mother agreed with him. I was very scared of going there, thinking that it would be full of people who were "mad" and I did not want to be locked up with them, not knowing what they would do to me. In those days, we had quite backward ideas of people with mental illnesses. So I pleaded with the doctor and made a promise that I would not try to kill myself again. He relented and I was sent home. After this episode, I was really too scared to try to kill myself again but I didn't stop feeling like life wasn't worth living. I have often wondered why my mother didn't let me die instead of taking me to hospital."
Life goes on — but it's still hard
Once holding a stable job as a product demonstrator, Wee now relies on selling tissue paper around Orchard Road, as the company he worked for was only in Singapore for a year.
Wee's mother finally cut off contact with him after a holiday he, by then aged 32, and his wife Lorena went on. The couple returned to find themselves homeless, and eventually settled down in a small rental flat in Ang Mo Kio after much difficulty in finding a place to stay, including some nights where they had to stay on the streets.
Attempts to help his wife, a Filipino whom he met online, become a Permanent Resident also have so far been fruitless, though a letter to PM Lee allowed them to secure a long-term visit pass for her, and a proper license for Wee to sell tissue.
Despite all this, Wee counts his blessings, finding respite in little things:
"I have been selling tissues for many years and I dream that one day I'll be able to do something different. It may not be possible to do this right now but I believe, in time, I will be able to do something that I enjoy more. I give thanks for every step of progress I make because my challenges are so numerous. Even when I wanted to open a bank account to keep my meager savings, I found that it is not possible for me to open one as I cannot provide a signature. They told me that they cannot accept a thumbprint. I keep encountering hurdles at every turn, but in my everyday life, I have joy, sadness and excitement, and my belief in God sustains me and gives me strength each day."
His story, 5 years in the making
Most netizens came to know Wee when he gave Facebook page Humans of Singapore an anonymous interview in January 2016, which garnered over 3,000 shares on the social media platform.
Wee had then said that he had a book in the making — but did not reveal his identity then until the later half of last year.
With the help of friends, Wee managed to get his autobiography published in an initial print run of 2,000 copies. While there has been plenty of interest garnered online through viral Facebook posts, these did not necessarily translate into sales.His story also got the attention of Robert Chua, the franchiser of Tim Ho Wan and Kam's Roast in Singapore, who treated Wee and his wife to lunch at one of his restaurants:That said, Wee is still hoping to raise money for his living expenses through the sale of his books.
Book launch at Google Singapore office
Buying at least one copy of the book will give you an invite to Wee's book launch at Google Singapore's office on Wednesday evening.
We understand that the space will accommodate up to about 100 people, so invitations to the event will be given on a first-come-first-served basis.
If you would like to support Wee's living expenses but do not wish to buy a copy of the book (but we strongly recommend you do; his is a heart-wrenching story), you can sponsor copies as well, or simply donate via his Give.Asia link (it's possible Give.Asia takes a cut of these funds raised, though, so you may wish to donate directly through his website through purchasing sponsored copies instead).
All proceeds go to supporting Wee and his wife.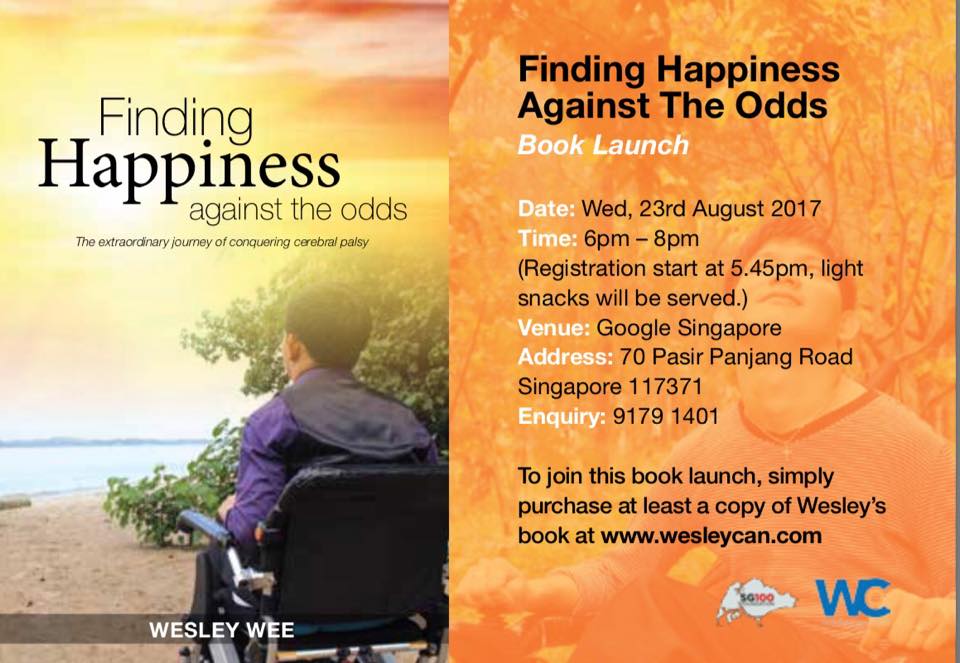 Here are the details for the book launch:
Date: Aug 23, 2017
Time: 6pm - 8pm, Registration starts at 5:45pm
Venue: Google Singapore
Address: 70 Pasir Panjang Road, Singapore 117371
We are certain that Wee will get to enjoy a successful book launch, surrounded by his supporters and newfound friends — despite his traumatic past and countless difficulties, his determination and perseverance to live life normally is something we can all learn from.
"My life has been incredibly painful and I have been in despair many times, but it has also been a wonderful journey. I believe that without the dark times, I would not have been able to truly appreciate the good times. Through all my suffering, I have learnt to not give up hope and always be grateful for what I have. A friend told me once, "Without the night, you cannot enjoy the stars." I have amazing friends who have helped me without expecting anything in return. And I know that I am no longer alone on my journey and I thank God for all the goodness that has come to me through these friends and also from all the kind strangers that I have been blessed to meet along the way."
Here are some equally interesting but totally unrelated stories:
10 investment terms to know so you can finally read annual reports in peace
5 so-called crazy things people could do if they were given $100,000 to save the environment
How to not ruin your holiday when signing up for tour packages
Who looks after our ailing seniors outside of general hospitals?
Top image via Wesley Can (Wesley Wee)'s Facebook post, and Happiness Notebook's Facebook post
If you like what you read, follow us on Facebook, Instagram, Twitter and Telegram to get the latest updates.