Transport Minister Khaw Boon Wan went off-script at a recent speech to denounce the reporting of the mainstream media in Singapore.
He blamed the nation-building press for making a mountain out of a molehill of the recent MRT re-signalling project, which he felt caused more alarm than necessary to public transport users by emphasising disruption times.
Khaw's remarks were reported by Christopher Tan, The Straits Times' renowned and highly-credible transport correspondent.
To provide a counterweight to Khaw's assertion that the mainstream media was being alarmist, Tan's piece provided several other quotes from different individuals, including ST editor Warren Fernandez and one regular commuter Ashley Wu. Her age is given as 36.
To regular Singaporeans who still consume mainstream media content as part of their media diet, this rare public display of acrimony within the establishment is amusing, to say the least.
Why does "Ashley Wu" sound so familiar?
And this was where things got a bit curious.
Internet sleuths, who can always sense something strange is going on because a conspiratorial hive mind is where the fun is, pointed out that a certain Ashley Wu has been quoted at least eight times in ST in the past 10 months.
A simple Google search can yield some interesting results, and boy, were they right: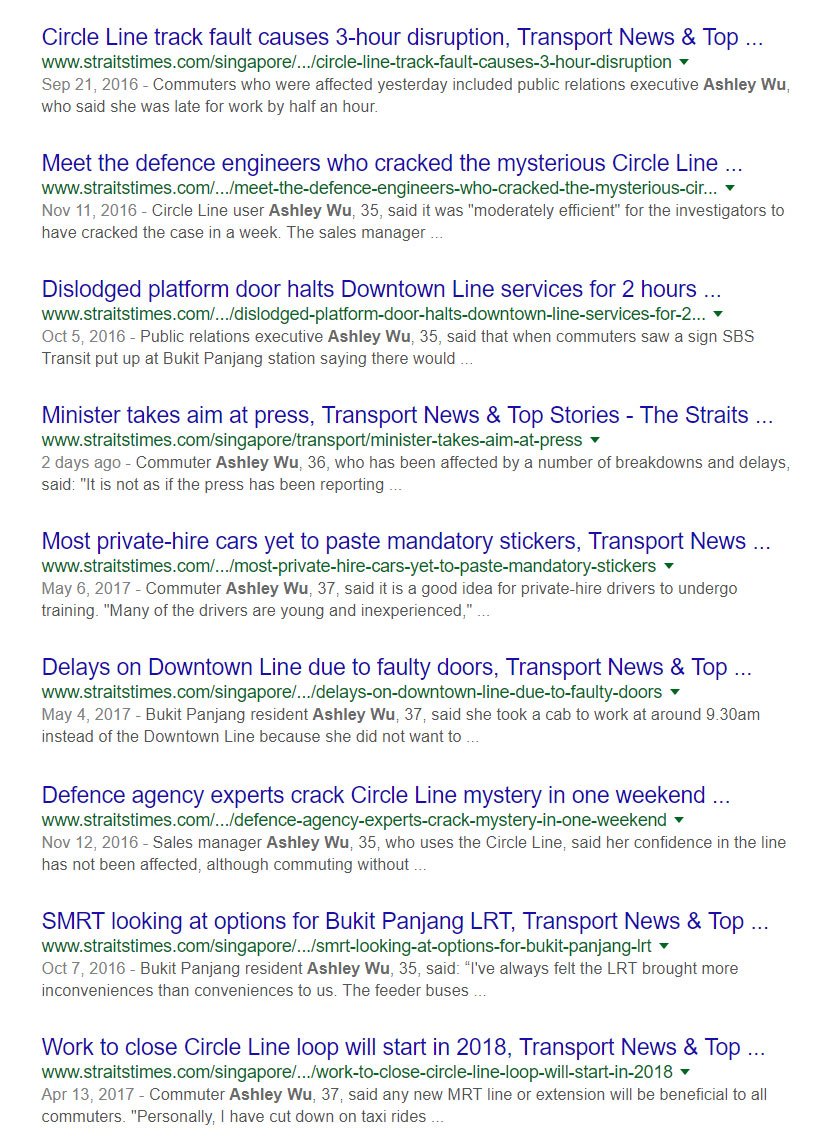 And the ST reporter to interview her all those times is ST's transport correspondent, Christopher Tan.
Here then is a comprehensive list of ST articles Ashley Wu has been quoted in, all by Christopher Tan:
Sept. 21, 2016: Circle Line track fault causes 3-hour disruption
Oct. 5, 2016: Dislodged platform door halts Downtown Line services for 2 hours
Oct. 7, 2016: SMRT looking at options for Bukit Panjang LRT
Nov. 11, 2016: Meet the defence engineers who cracked the mysterious Circle Line case
Nov. 12, 2016: Defence agency experts crack Circle Line mystery in one weekend
April 13, 2017: Work to close Circle Line loop will start in 2018
May 4, 2017: Delays on Downtown Line due to faulty doors
May 6, 2017: Most private-hire cars yet to paste mandatory stickers
July 28, 2017: Minister takes aim at press
A terrifying amount of information can be gleaned about Wu reading through these articles.
For example, she is a Bukit Panjang resident. She also said she used to lived in Japan for two years.
In 2016, she was a public relations executive and sales manager.
And oddly enough, her age has fluctuated between 35 and 37 years old over the past 10 months.
[related_story]
Dial-a-quote culture
While Internet sleuths were happy to throw shade at Christopher Tan by highlighting his Journalist of the Year 2016 award, there is more that can be said about such practices that amount to journalism of convenience, where a reporter keeps going back to one person to dig out yet another quotable quote.
The easiest way to explain this dial-a-quote practice to the masses is to understand the editorial policy of newspapers in Singapore.
If you've noticed by now, reporters in the mainstream media are required to defer to experts for qualified opinions and man on the street for their views.
This is highly different from, say, blogging, where anyone with an Internet connection can be expert, man on the street, judge, jury and executioner all thrown into one.
Plus, working under the pressures of time and meeting publishing deadlines daily, it is already difficult enough to find an eloquent talking head once in a while, let alone a new eloquent talking head for every different report.
So, wouldn't it be better if the reporter can just do away with interviewing regular people, who most times, do not know better?
That is debatable and might work for some instances -- but beyond the scope of this article.
But at least we now know for sure, given this amount of exposure, Ashley Wu, who is 35, 36 or 37 years old, would not be quoted in The Straits Times any time soon.
Or anymore.
Here are totally unrelated but equally interesting articles:
The Kiasi guide to surviving a mass attack of any kind
4 real life versions of comic book superpowers you used to read about in your childhood
Top photo via Channel News Asia video
If you like what you read, follow us on Facebook, Instagram, Twitter and Telegram to get the latest updates.