You might remember Li Shengwu from the funeral of Lee Kuan Yew:
His eulogy, as well as that of his cousin Lee Hong Yi, were one of two most-viewed clips from the late founding Prime Minister's funeral online, from the Prime Minister's Office YouTube channel.
Li also happens to be PM Lee's younger brother Lee Hsien Yang's son.
He is 32 this year, and is a bright young man. Won two scholarships and did his PhD in Stanford University. Also happens to be a great debater (more here).
And he is back — daringly commenting on the explosive saga that's unfolding between his dad, his aunt and his uncle.
You know, the one who is in charge of everything that's happening in Singapore. That one.
Here's his post:
'>
And here's what he said, in case you can't see it:
"I generally avoid commenting on Singapore politics, but this is an exception.

In the last few years, my immediate family has become increasingly worried about the lack of checks on abuse of power. The situation is now such that my parents have made plans to relocate to another country, a painful decision that they have not made lightly. The details are below."
It's fascinating that Li also finds it necessary to speak up about this — when the essence of his dad and aunt's statement appears to chiefly centre on the demolition of the late Lee's house on 38, Oxley Road.
Li posted this at 2:19am on his Facebook page. In response to a friend of his who asked him why it wasn't out in Singapore's media yet (we were busy sleeping, for one), he said this: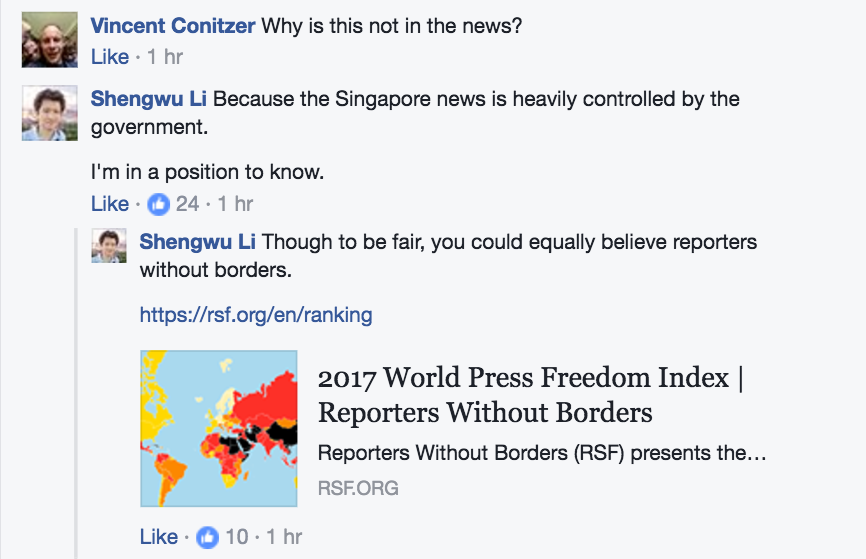 Whoa whoa whoa.

Related articles:
S'poreans react to the most elite Facebook drama they will ever have a chance to witness
Here's a timeline on LKY's Oxley Road house over its more than 100-year history
S'pore mainstream media grappling with reporting Lee household saga
Lee Kuan Yew's stance on the demolition of his Oxley Road home is well-publicised and documented
PM Lee responds: My siblings' statement has hurt our father's legacy
Prime Minister Lee's on overseas leave from June 10 to June 17
Lee Hsien Yang wants to leave Singapore, publishes open letter with sister to criticise PM Lee
Top photo: screenshot via Singapore government YouTube channel
If you like what you read, follow us on Facebook and Twitter to get the latest updates.