Two years ago in October 2015, Kong Hee appeared at his first post-conviction weekend services, ministering to the megachurch he and his singer wife Sun Ho started.
There, he rather dramatically apologised to his flock for the turmoil his case has put them through.
It was quite an affair indeed, with Kong bowing (in three directions) and all: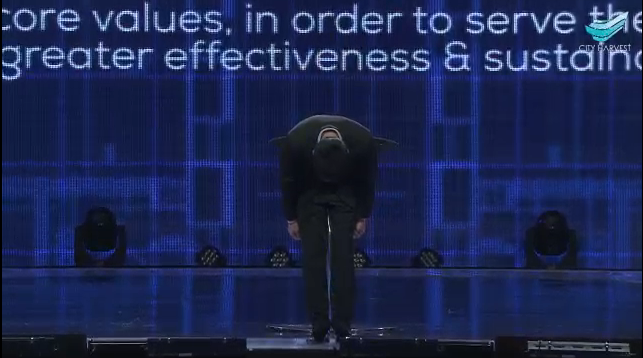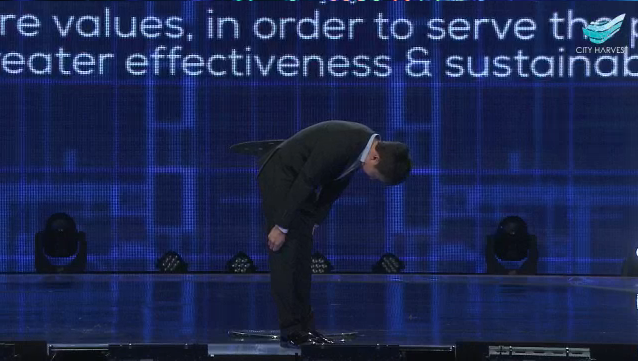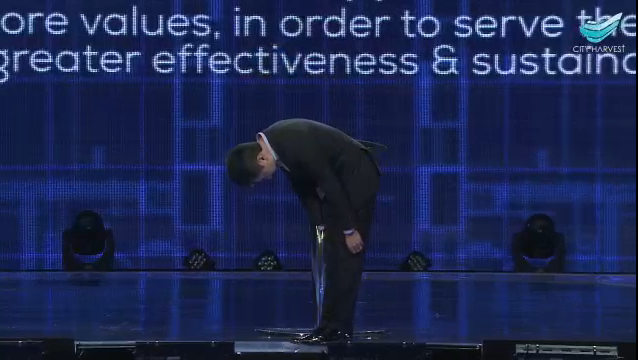 Fast forward to their latest Saturday service, the first one held after their appeal verdict, on April 8, the service was an equally interesting affair:
1) He apologised for not being a "better, wiser" leader.
According to The Straits Times, he apologised profusely to his flock once again, albeit without the same sequence of bows:
"I'm so sorry for all the hurt, all the disappointment and all the painful ordeals you've been through. I really, really, really wish that I was and am a better, wiser, leader. Pastor is deeply sorry and sincerely asks for your forgiveness. Please forgive me."
Oddly enough, this portion of the service was not shown on the church's live web telecast — the video stream cut immediately to intermission after a period of worship.
The intermission then ended, with the streaming resuming at the following scene:
2) Kong and his wife Sun Ho prayed for names of some people written down on paper.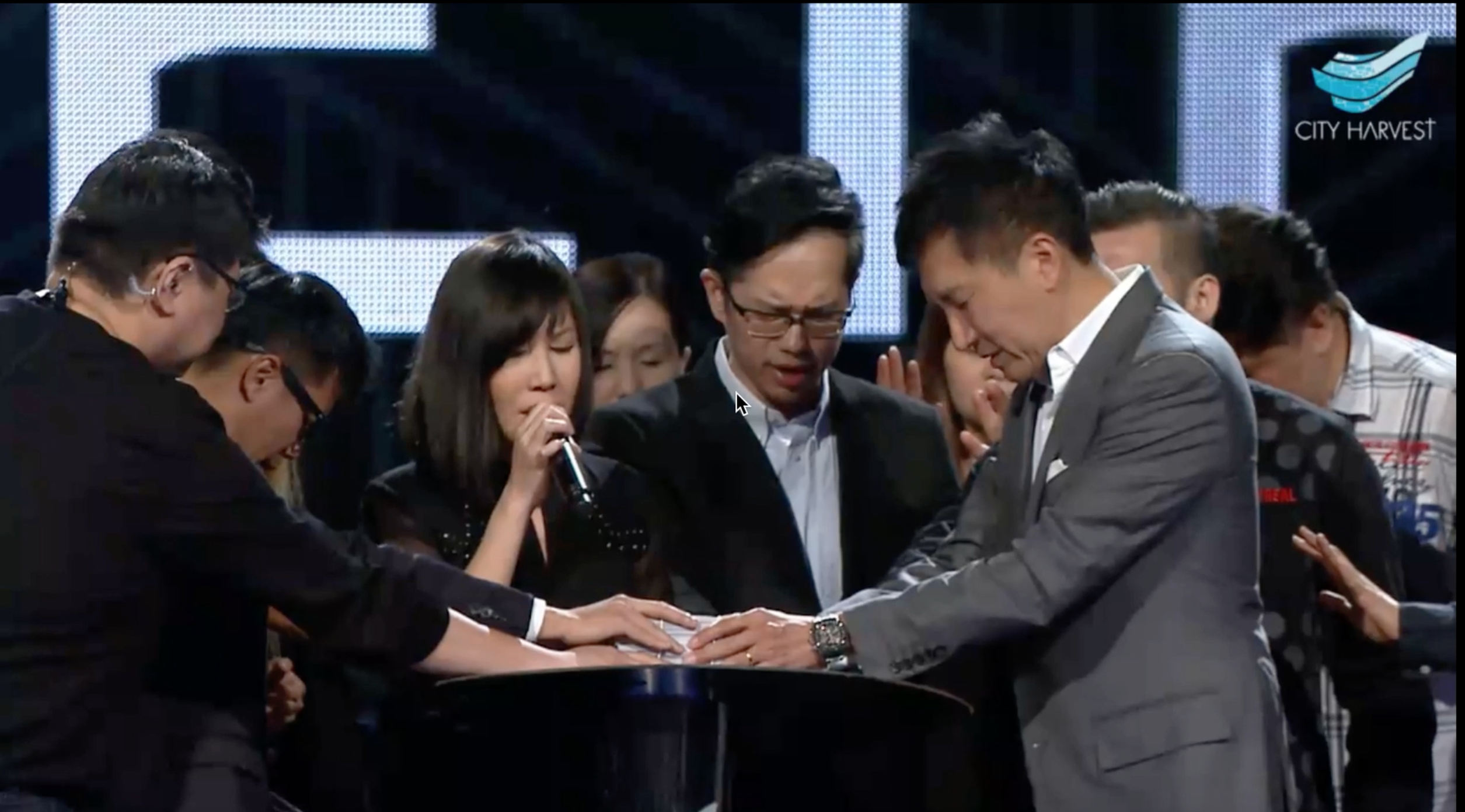 We thought there wasn't much to this either, till later on — read on and the reason for this will emerge.
3) Kong says "the Lord loves this church" and thanked them for remaining strong.
This was probably in reference to the appeal process and the outcome — the fact that they are, well, still Kongvicts, which was predictably a real disappointment for most of them.
He said:
"Come on, let's give the Lord a big clap. He loves City Harvest Church, he loves this church, Amen, Amen.

I want you to remain standing. Brothers give brothers a hug, sisters give sisters a hug, and say thank you for standing so strong for this house, will you just do that right now?" [proceeds to hug executive pastor Bobby Chaw]
4) Kong wishes he was a better leader. 
While his extensive apology was not recorded on the live stream, he reportedly reiterated his love for the church, while expressing regret for not being a "better" leader for City Harvest.
He announced that he would not be preaching during the Saturday service, visibly tearing up, as Ho stood by his side.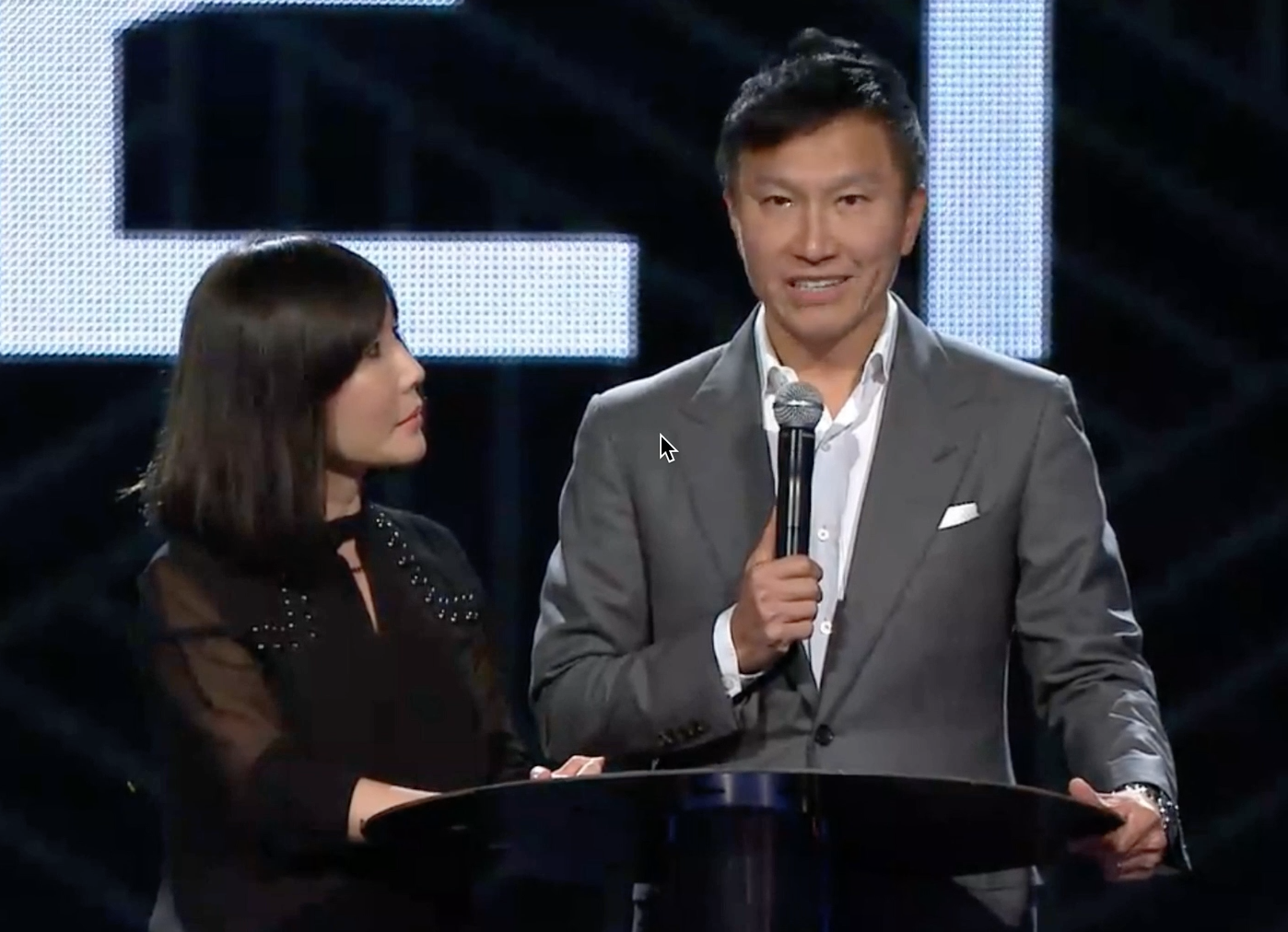 Pastor just want you to know that I so wish I'm a better leader — and I love you with all of my heart. I really do. Tonight, I'm not preaching [he tears up]. But a good friend of City Harvest is here. And we are so glad that every time we are going through a challenging season, he's always there to be with us to encourage us. So tonight, we'll give a big clap to Pastor Phil as he comes to the stage.
Pastor Phil is short for Kong's longtime friend and mentor, Phil Pringle from the Australian C3 Church.
5) Pringle gave Kong and Ho lots of praise. Heaps of it.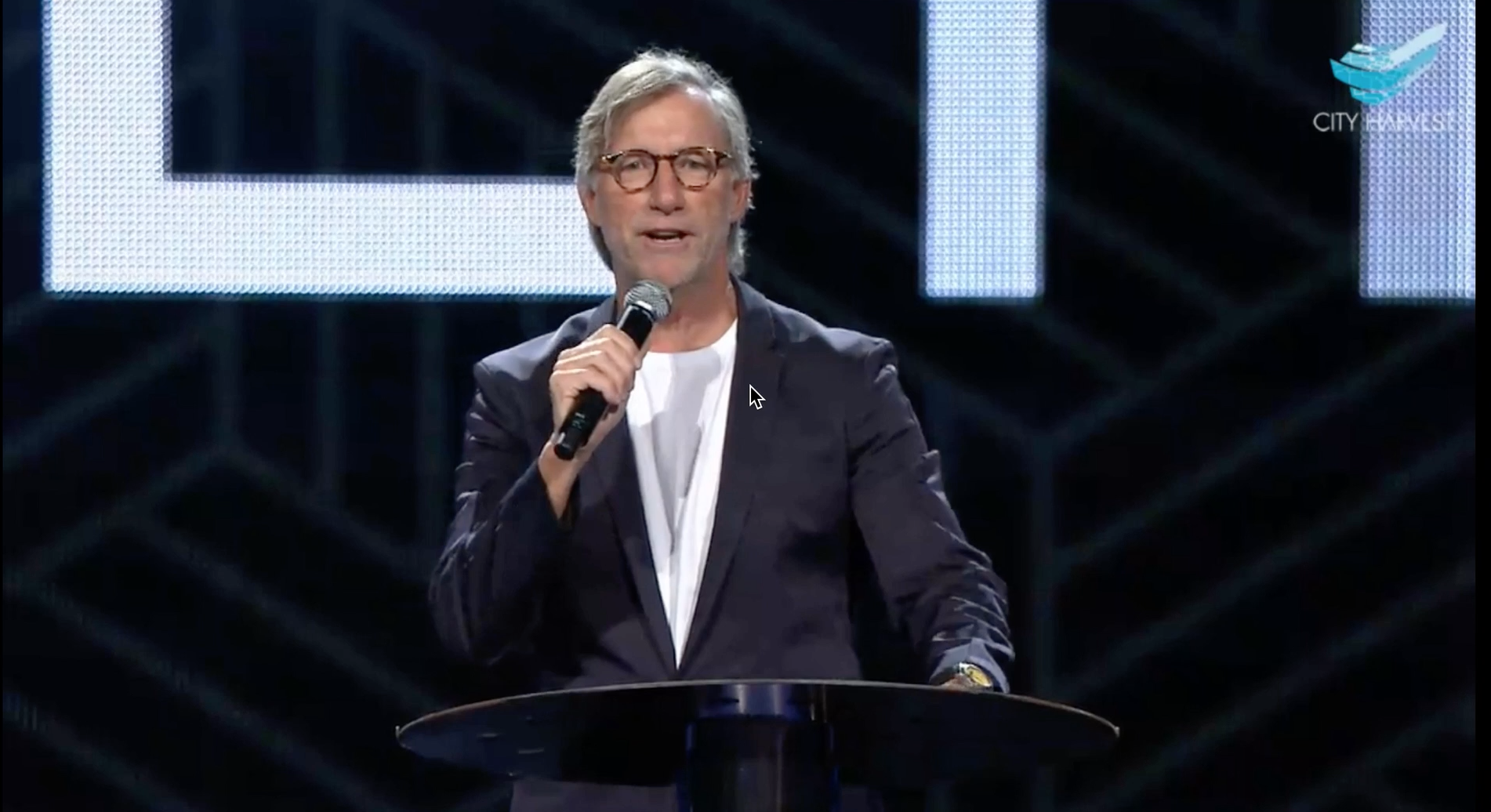 In case his name didn't ring a bell, let's just say that he thinks this entire criminal case happened by the force of the devil. 
It wouldn't be too far off the mark to conclude that he's a huge fan of the couple from what he has said about them, which also reveal his position on the matter:
City Harvest Church, you are truly the most remarkable church I know in the entire world. You're so strong, you're standing here in unity as a family, you face possibly the most difficult week in the history of this church, and here you are today, proclaiming Jesus as Lord, and saying we're committed, we're family, we're standing with Pastor Kong and Sun, we love one another, we love our pastors, and you can count on us, Pastor Kong and Pastor Sun, that we're here for you as much as you've been here for us. He truly is one of the most remarkable leaders I've ever had the privilege to meet, and to be a friend of.
Now, we'd only be able to guess at the difficulty he is referring to here — difficulty in accepting that their church leaders really have to go to jail, perhaps, difficulty in queuing overnight to show support for them outside the Supreme Court, or difficulty in accepting that their convictions weren't overturned?
6) Pringle suggests that Kong is selfless for coming to pray for others, despite the outcome of the appeal. 
Even though he has faced seemingly insurmountable odds this past week, he still is wanting to pray for lost people, coming to Christ next week when he could be deeply concerned and those around him who have travelled through this very difficult time together.

But I want to praise God personally for the privilege and honour of having a friend like Pastor Kong Hee and Pastor Sun in my life — I am a better person because of this couple.

And there are thousands, if not hundreds and thousands of people in the world today who would say the same thing: we are better people because of this man's ministry and what they've brought into the world.

It's been at a price, but we want you to know Pastor Kong, that all of us deeply value and treasure all the gifts and ministry you've imparted into all of our lives. Thank you. Amen.
We can only guess, too, at what he means when he says "it's been at a price".
7) Kong promised this will never happen again
According to ST, Kong appeared again near the end of the Saturday service to speak about the case. He phrased it as a "steep learning curve for all of us" and "whatever happened in the past will never repeat itself in the future".
He also regrets not having "slowed down, paused and prayed more," making "unwise decisions".
8) All smiles on Sunday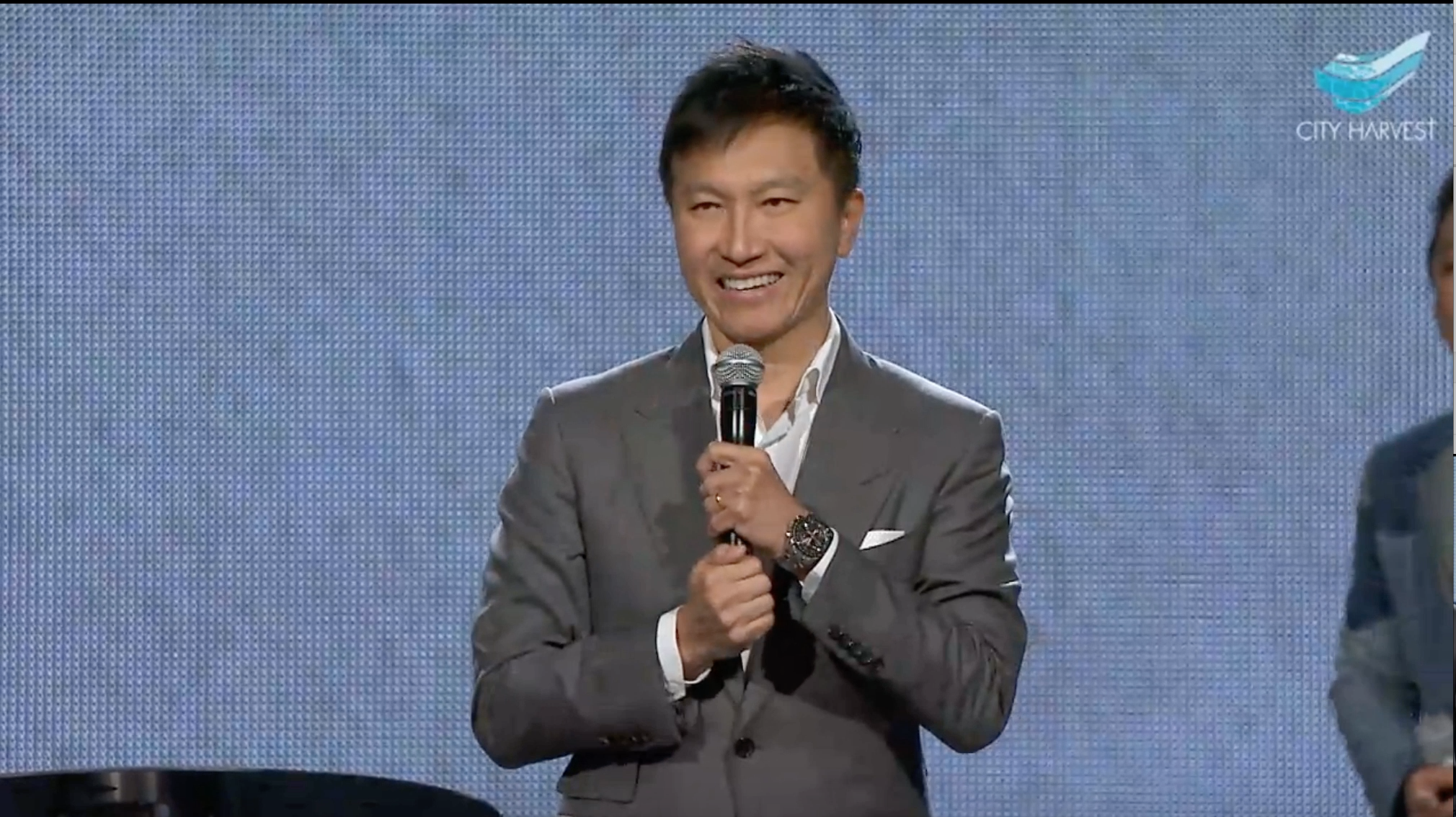 In a departure from Saturday's service, however, on Sunday, Kong dismissed the congregation with a wide smile on his face after Pringle gave another sermon, only reminding them about next week's Easter service.
Here, he said, "With Jesus in your boat, you will sail through the other side safely."
That's all, folks? 
This probably won't be the last we hear of Kong Hee and the rest before they go to jail as their sentence was deferred two weeks, and for Sharon Tan, two months.
Chances are, we'll likely hear more from the Kongvicted pastor before then.
Lost? Read our other City Harvest appeal stories:
5 things we noticed after the outcome of the City Harvest Church leaders' appeal
The 3-judge panel's decision on CHC appeal was not unanimous
Here's why Sun Ho's career wasn't considered a personal gain to Kong Hee during CHC appeal
#TeamKongHee rejoices as City Harvest Church leaders' sentences reduced
Kong Hee issues statement post-appeal: 'I am grateful that the sentence has been reduced'
3 High Court judges' explanation for City Harvest leaders' reduced jail terms, explained
City Harvest Church issues statement on appeal: 'We thank God for the shorter sentences'
Kong Hee could be out of jail in 2 years 4 months due to S'pore's two-third remission system
One of the City Harvest leaders saddened by sentencing, because "ultimately we did it for the church"
Internet reacts with outrage & disillusionment to reduced sentences for 6 CHC Kongvicts
All 6 City Harvest Church leaders get reduced sentences
Top screenshot via City Harvest Church's Live stream. 
If you like what you read, follow us on Facebook and Twitter to get the latest updates.
If you like what you read, follow us on Facebook, Instagram, Twitter and Telegram to get the latest updates.