*Editor's note at 3.30pm: We have updated the article with comments from Steve Feiner who spoke to Tech In Asia*
If you were wallowing in your singlehood yesterday, well, here's some misery for company (albeit for different reasons).
As it turns out, the dutiful partners (mostly husbands and boyfriends of the panicky loving variety) who have ordered their Valentine's Day bouquet from Singapore-based start-up A Better Florist were bitterly disappointed. And they had no qualms about expressing their disappointment publicly either, as the florist's Facebook page was inundated with complaints.
But before we detail what went wrong with A Better Florist's service letdown, here's what A Better Florist's CEO Steve Feiner told Tech In Asia in 2015: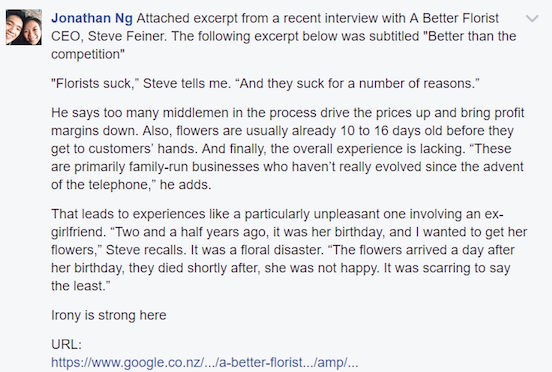 The main issues they faced were:
1) Late/no-show deliveries
Deliveries that were slated for the morning did not show up even in the afternoon, leaving many hapless members of the male species furious and anxious. Their female companions were similarly displeased (although thankfully not at their mates).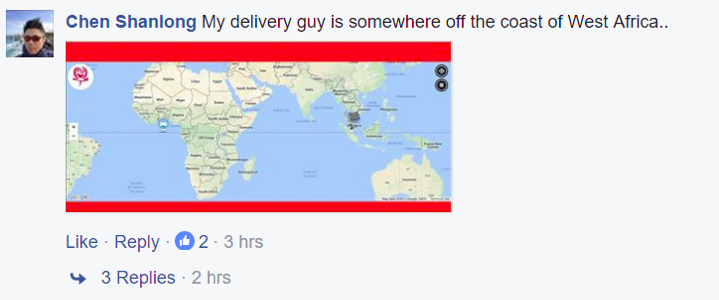 2) Unsightly bouquets
A good number of customers uploaded pictures of their unsatisfactory bouquets: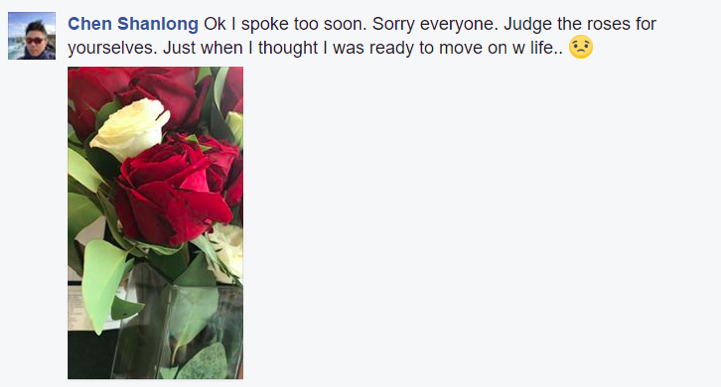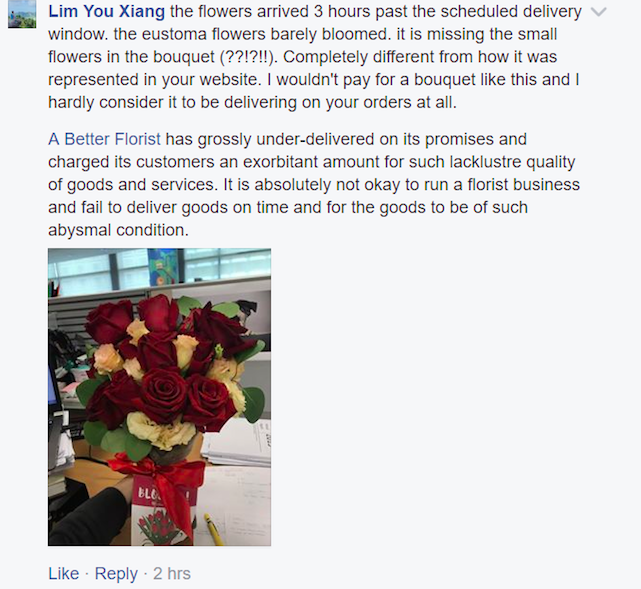 The bouquet pictured on the site, for reference: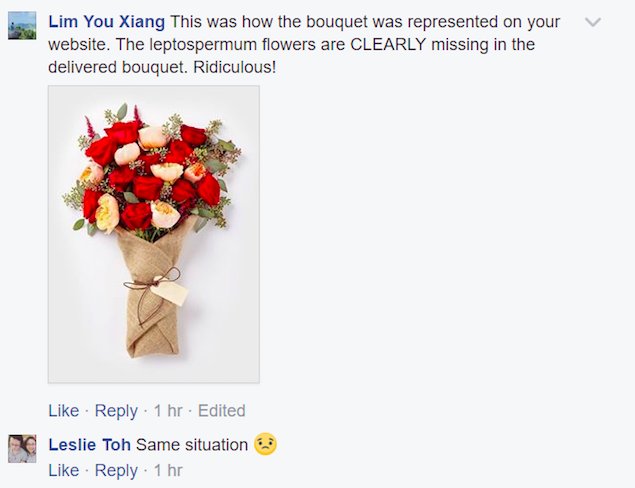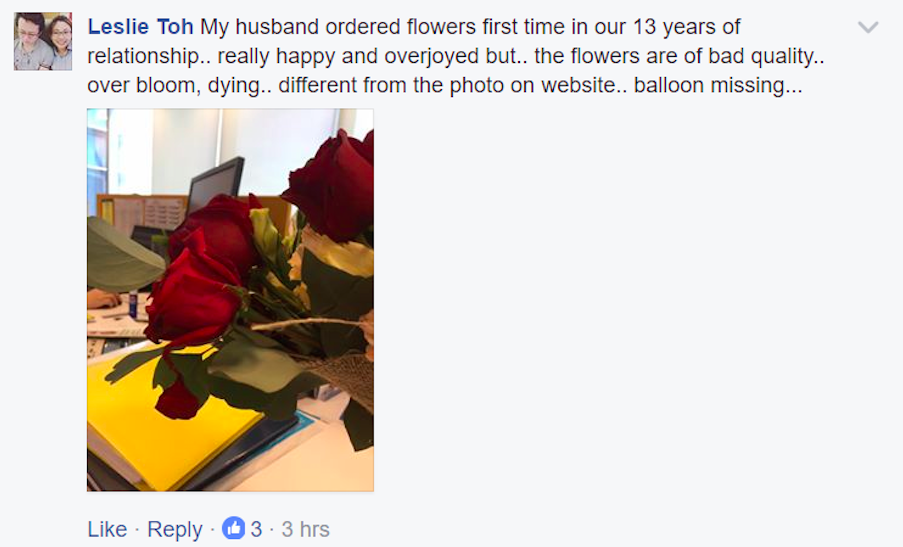 Things didn't get better for customers:
3) A non-responsive customer hotline
According to the irate commenters on the thread, none of their calls/e-mails were answered.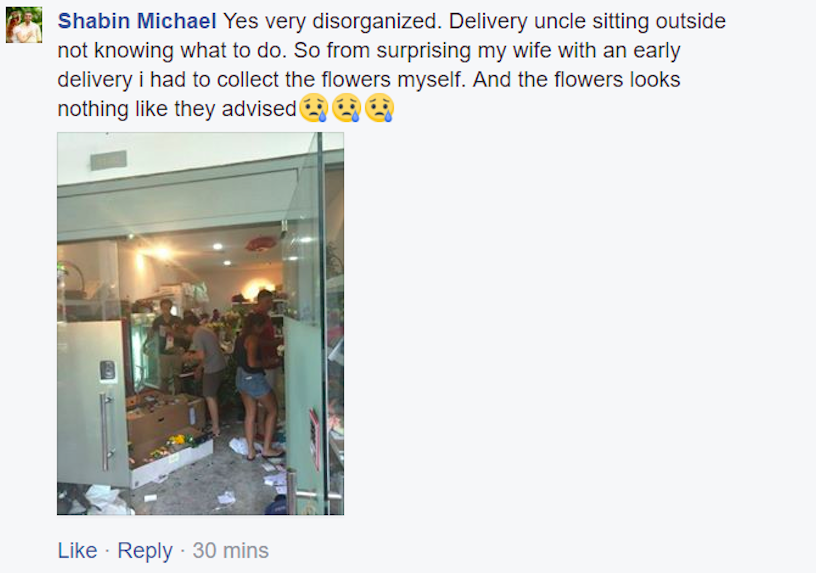 At least one customer has pointed out that A Better Florist was deleting comments on its Facebook page:

The Facebook post on A Better Florist's page with over 80 comments from irate customers is missing from its page as well. This was it: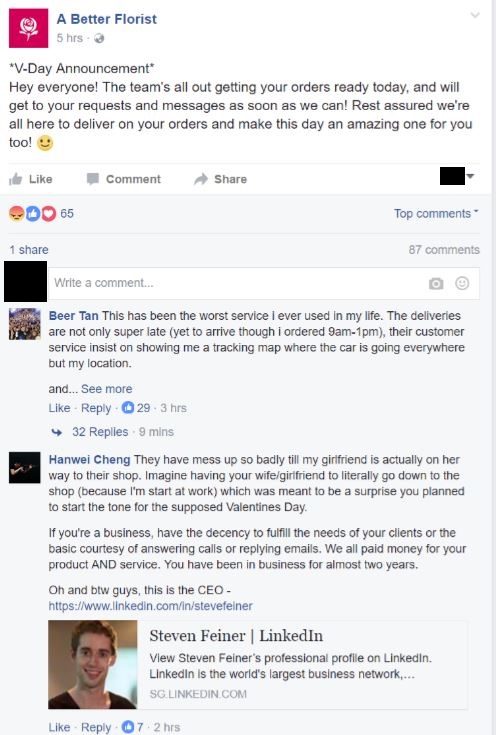 Alas, A Better Florist has also come out to apologise and offer refunds: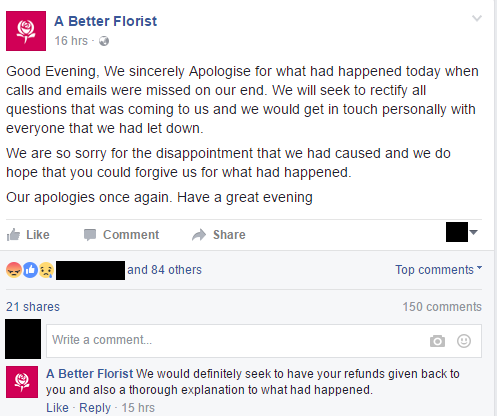 We have reached out to A Better Florist for comments and will update the article with their response.
Speaking to Tech In Asia, Feiner said that he was "going to spend the entire day calling, communicating with people, saying I f*cked up," adding that this "is on me, not my team who gave everything they had."
Feiner shared, "Despite our best planning, our hard work, working through the night, fundamentally we didn't execute." The company had "just under 2,000 orders" that day, "20 times" the amount the company is used to do on a usual basis. Feiner said that they had "70 couriers showing up, with 900 orders to do in that first time slot" which created congestion that affected subsequent orders.
Articles you should also check out since you're here:
Not an art person? Here's how you can still enjoy the Singapore Biennale.
This walking trail has so many pretty sights, it's perfect for your Instagram account
If you like what you read, follow us on Facebook and Twitter to get the latest updates.
If you like what you read, follow us on Facebook, Instagram, Twitter and Telegram to get the latest updates.