US President Barack Obama gave a speech to welcome Prime Minister Lee Hsien Loong to the White House on Aug. 2, 2016.
During Obama's speech from the South Lawn of the White House, the reputable orator, however, fumbled when saying the late Lee Kuan Yew's name:
[video width="576" height="320" mp4="https://static.mothership.sg/1/2016/08/video-1470152579.mp4"][/video]
Obama said:
"Half a century ago, when Singapore was an island of villages and crowded tenements, few would have imagined a day like today. But Singapore prides itself on being a little red dot. A little red dot on many maps but with a very big impact on the world."

"In less than a generation, under the vision and stewardship of Prime Minister Lee Kew... er Kuan... er Lee Kuan Yew, Singaporeans transformed their nation from Third World to First."
PM Lee reacted stoically, but not before giving the sky a brief glance right after the fumble: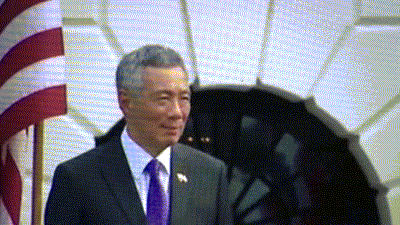 The gaffe has also been reported in conservative Washington rag, The Washington Times.
You can watch it from the 32nd minute:
However, this is not the first time Obama has had troubles with Lee Kuan Yew's name.
In the White House press statement on March 22, 2015, following the passing of Lee Kuan Yew, Singapore's elder statesman was referred to as "Minister Mentor", despite having already retired from the position:
"I was deeply saddened to learn of the death of Singapore's Minister Mentor, Lee Kuan Yew."
But Obama has made it known that he is an admirer of Lee.
In the one and only meeting with Lee in October 2009, Obama was nothing but full of admiration for the former Singapore prime minister.
" width="760" height="428" frameborder="0" allowfullscreen="allowfullscreen">
Obama said then:
"Hello, everybody. I just want to welcome the Minister Mentor of Singapore. This is one of the legendary figures of Asia in the 20th and 21st centuries. He is somebody who helped to trigger the Asian economic miracle."
Related articles:
What PM Lee's White House dinner guest list reveals about S'pore future political leadership
10 quotes by Lee Hsien Loong & Barack Obama that show they've good scriptwriters
If you like what you read, follow us on Facebook and Twitter to get the latest updates.
If you like what you read, follow us on Facebook, Instagram, Twitter and Telegram to get the latest updates.