It was May Day (May 1) on Sunday.
As per tradition, union leaders, key representatives from the Labour Movement and tripartite partners will gather somewhere to listen to Prime Minister Lee Hsien Loong deliver his May Day Rally address.
Downtown East D-Marquee — the same venue for the past couple of May Day rallies except the last — was the location of choice for the National Trades Union Congress (NTUC).
Here are five same same but different things we learned from it:
1. Changes at the NTUC leadership see first May Day Rally appearances of Chan Chun Sing and Mary Liew as Sec-Gen and President respectively.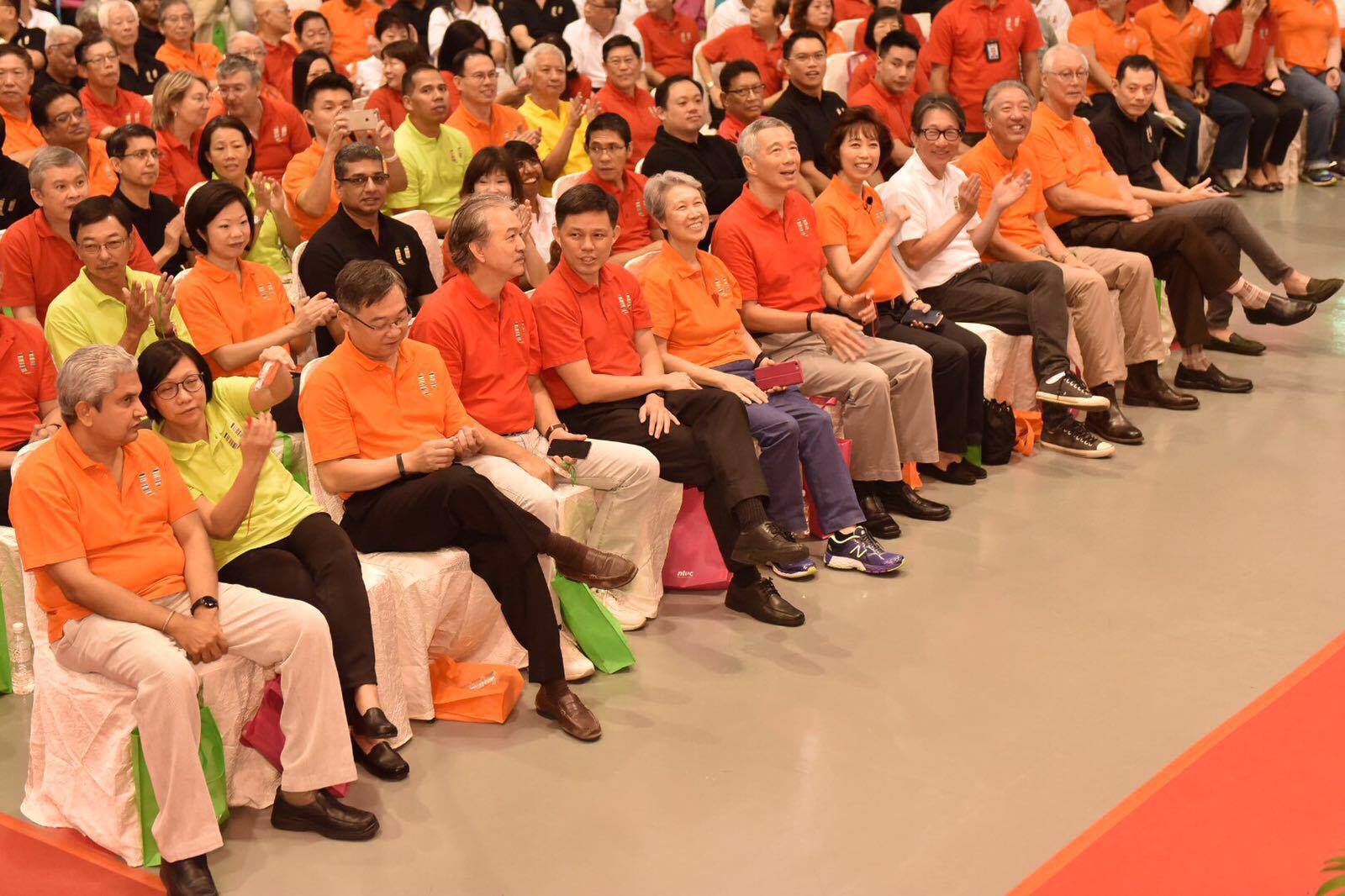 There is some slight movement in the front row this year, with Labour Chief Chan and President Liew flanking PM Lee and his wife Ho Ching.
This is Chan's first May Day Rally as Labour Chief.
Chan, 46, took over Lim Swee Say as the Secretary-General of the NTUC with effect from May 4 last year.
Chan was given a strong mandate by his unions, as Lianhe Zaobao reported that he won more than 90% of the votes at the closed-door election during the National Delegates' Conference (NDC) last Oct. And this on his first try.
Liew, 52, took over Diana Chia as NTUC's second female president, also at the same conference last year on Oct. 29.
The former Nominated Member of Parliament (NMP) and general-secretary of the Singapore Maritime Officers' Union (SMOU) was elected in a closed door meeting by a new 21-member NTUC central committee.
The Sec-Gen and President seemed to have hit it off well, co-authoring the 2016 May Day message in its Labour Movement Annual.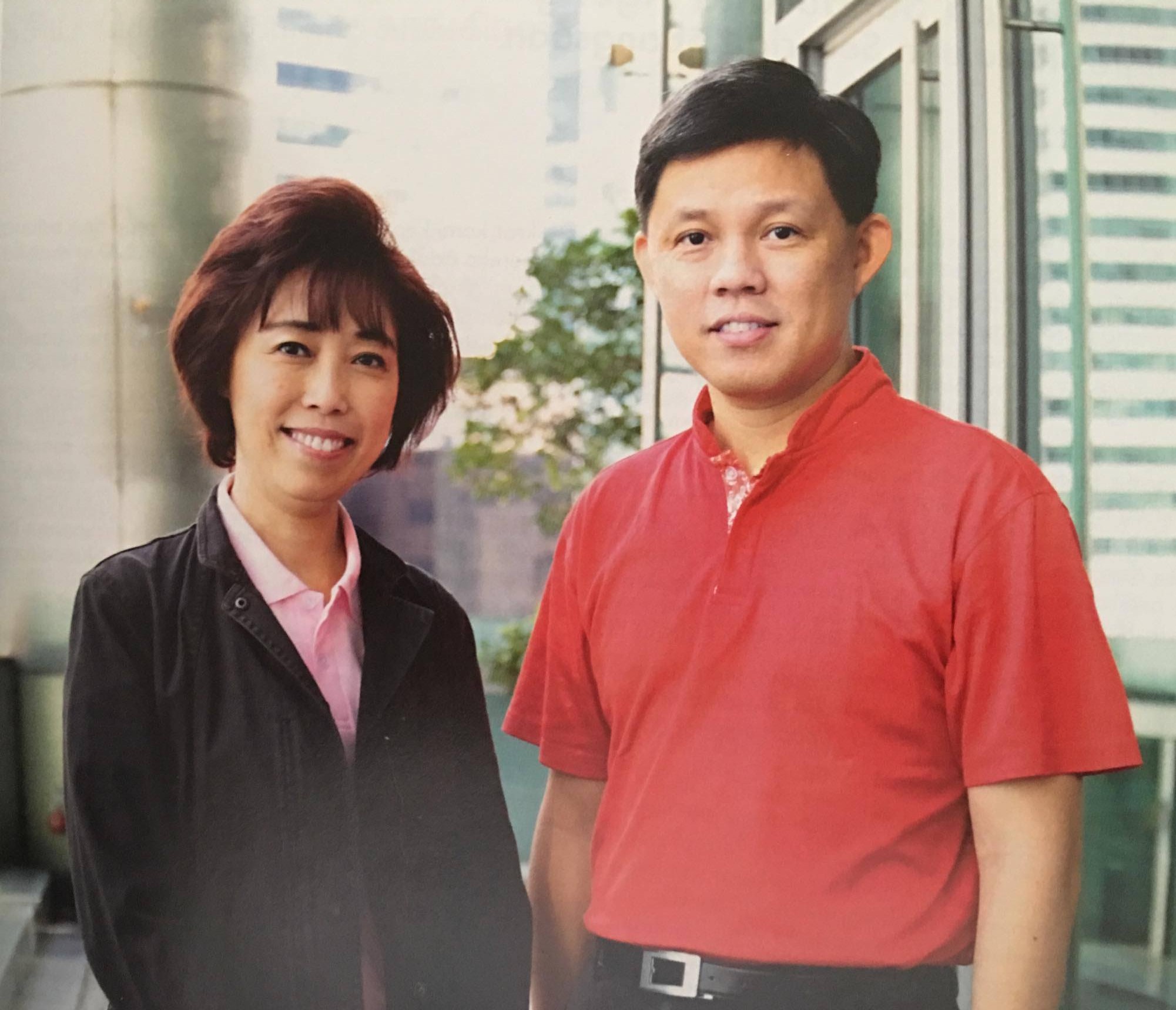 In their May Day 2016 message, they urge the Labour Movement to "continuously reinvent ourselves to stay relevant and make a real difference to our workers' lives".
Both noted that interests and needs of the blue collar, PMETs and freelancers are different, thus there's a need for NTUC to provide equally diverse services so as to stay relevant.
2. Chan: "Working People remain at the core" of NTUC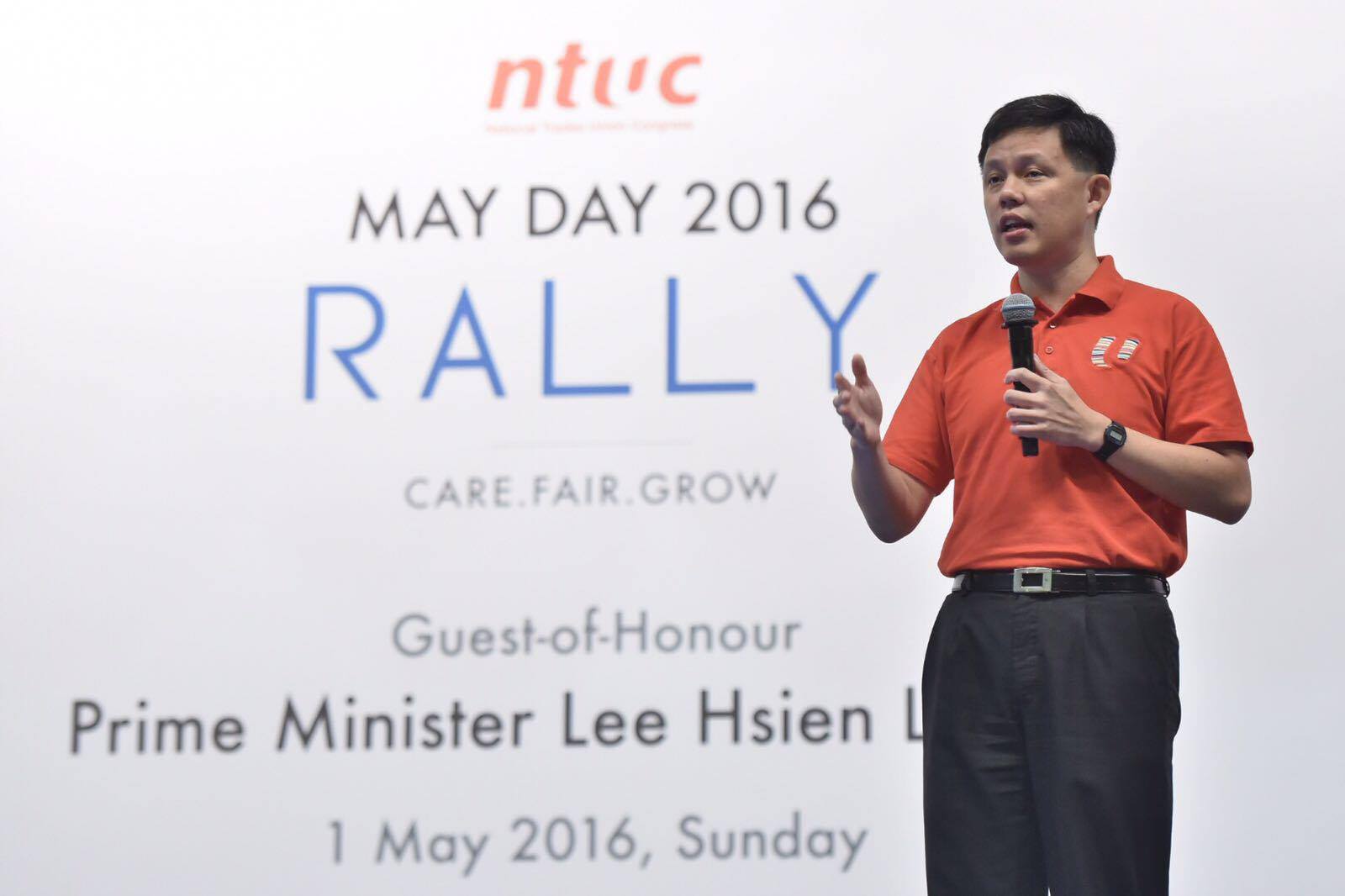 In Chan's May Day Rally address, he mentioned that "working people remain at the core of what we do".
This is important for one to note because the Labour Movement has traditionally catered to the blue collar workers.
However, Chan is cognizant of the fact that the shape of Singapore's workforce has changed, as more than half of Singapore workforce (54%) are PMETs. According to PM Lee's May Day Rally speech, it will be two-thirds by 2030.
As Chan said,
"The Labour Movement cannot be one that just serve a certain segment of the society. It is important for us to make sure we serve workers across the spectrum of the society. The Labour movement must be a reflection of the structure of the economy. As the structure of the economy evolves, we too must evolve."
The challenge for Chan is to continue to push for the Labour movement to be dynamic and constructive, so that they can fight for the interests of working people in Singapore and yet take a long-term view for Singapore.
3. PM's May Day Rally speech is shorter than usual.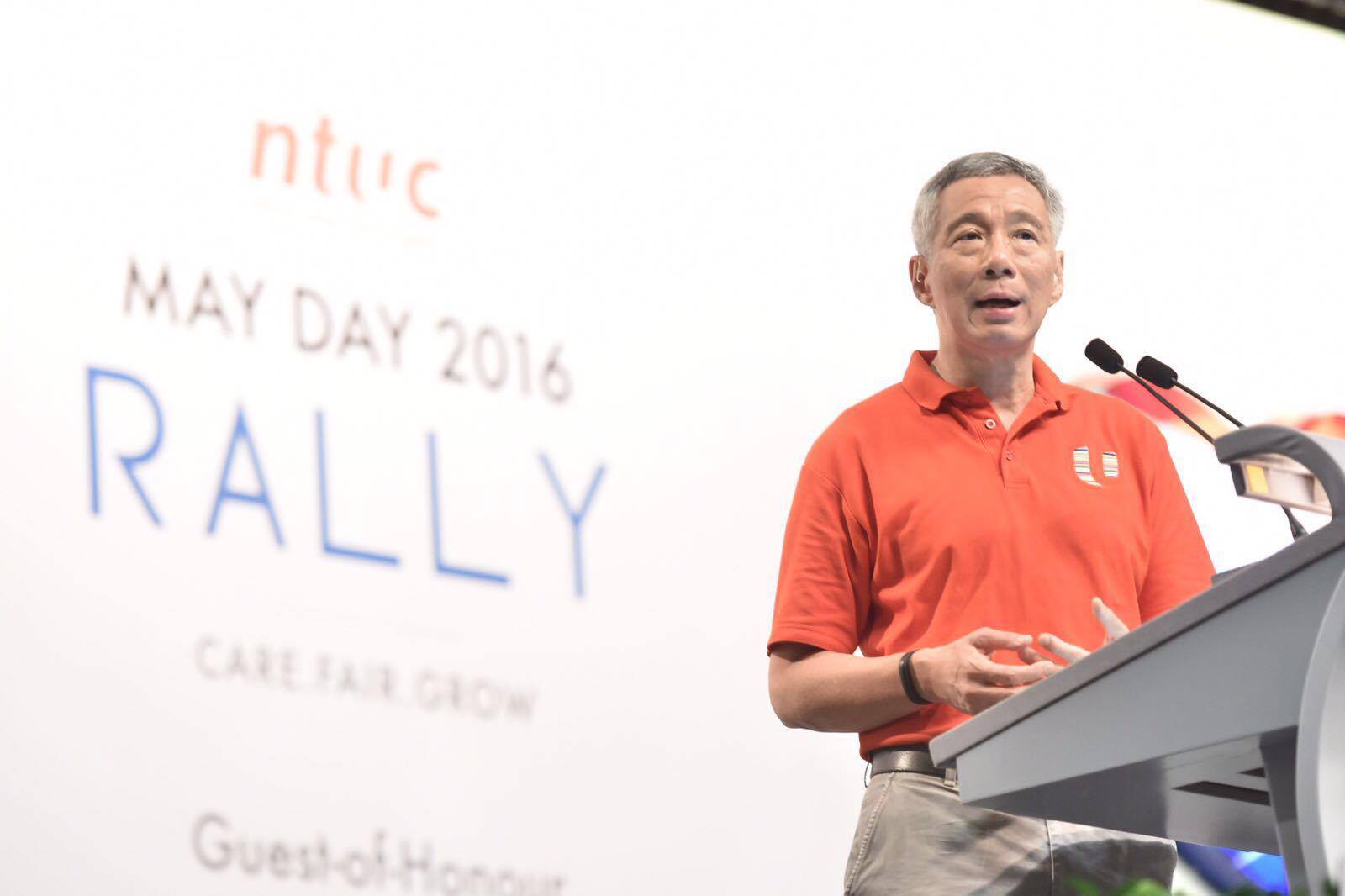 In previous May Day rallies, PM Lee would deliver his May Day Rally speech in three languages - Malay, Mandarin and English.
This year, PM Lee only spoke in English, perhaps appreciating the fact that most of the unionists are generally proficient in English.
" width="560" height="315" frameborder="0" allowfullscreen="allowfullscreen">
In fact, even his English speech was brief at less than 40 minutes, compared to the 45 minutes that he took last year.
" width="560" height="315" frameborder="0" allowfullscreen="allowfullscreen">
4. Future of Us, SG Future, NTUC Future?
After SG50, the future of Singapore has now become a buzzword among the key government decision makers.
In a move to get the unionists to think about the future of Singapore's workforce, the NTUC screened a video that featured a series of interview with Singaporeans discussing the future of their careers.
" width="560" height="315" frameborder="0" allowfullscreen="allowfullscreen">
NTUC probably has the professional development of Singapore's future workforce in mind when it decided to embarked on a collaboration with the Nanyang Technological University (NTU) that will provide timely skills especially for mid-career PMETs to upgrade themselves.
According to Chan, it is "the first time" NTUC is collaborating with an Institute of Higher Learning. Such a collaboration of course will help to "encourage more working people to embrace continuous lifelong learning as the economy transforms".
5. A new NTUC under Chan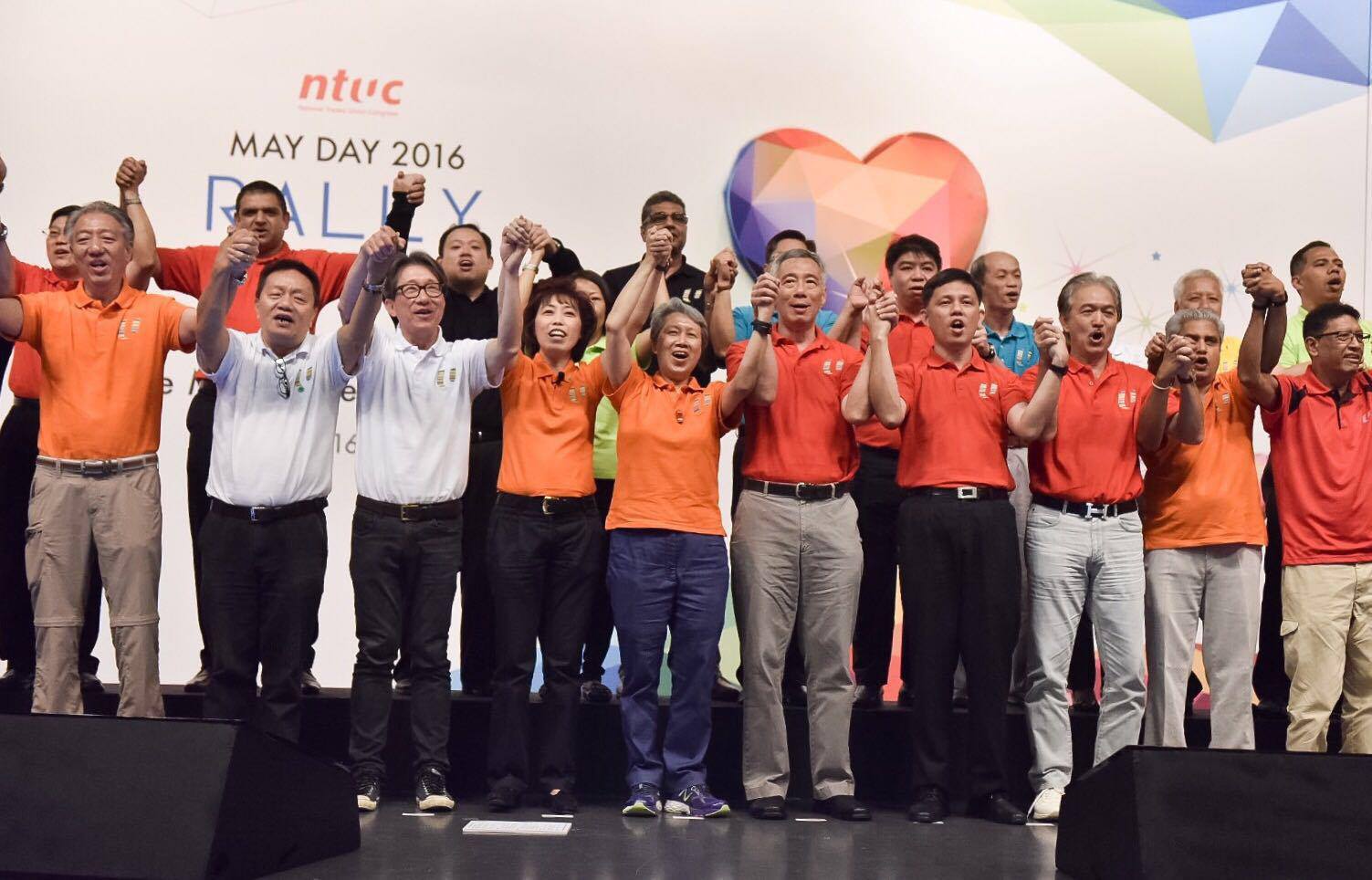 In last October's delegate conference, Chan told the audience that its three fundamental missions remain the same - to Care for workers, to be Fair to them and Grow with them.
While its slogan of "Care, Fair and Grow" aims to be as catchy as former slogans, things may have started to evolve for the better under Chan.
Take the organisation of this year's May Day Rally.
Perhaps influenced by Chan's military background, the whole event was focused, ran like clockwork and was completed within 90 minutes. This was unlike previous May Day rallies which could run up to two hours or more.
Appreciating that PM Lee's address is the highlight of the May Day Rally, the organisers kept its focus and did not include many additional performances that would distract the audience.
It is also noteworthy that Chan chose to give his keynote speech at the NTUC May Day dinner and awards on April 29 instead.
While Chan continued to provide an opening address like previous Labour Chiefs, he was merely setting the scene for PM Lee and reminding the unionists of NTUC's focus to "Care, Fair and Grow".
In Chan's opening address, he said that workers' needs have evolved and become more diverse and more sophisticated.
Perhaps Chan also appreciates that the role of the Labour Chief has to evolve with the changing aspirations of his unionists.
What better way to show this by organising a short and focused May Day Rally?
After all, the unionists would appreciate his gesture for letting them spend the second half of their May Day catching up with fellow unionists or enjoying their Labour Day with their family members.
Photos by Lim Weixiang.
If you like what you read, follow us on Facebook and Twitter to get the latest updates.
If you like what you read, follow us on Facebook, Instagram, Twitter and Telegram to get the latest updates.