A former People's Action Party (PAP) general election candidate shared a post from the Fabrications About the PAP Facebook page, which made an unsubstantiated allegation about a Singaporean woman, Sarah Bagharib.
He has since clarified that he is "sorry that it seems many misunderstood" his key intention of sending the message that Singaporeans need to stand united rather than divisive.
Sarah, a communications specialist, previously had her wedding photo used without her permission as part of a Hari Raya celebration decoration by the People's Association (PA).
Her meeting with the PA to discuss the situation was later called off by the organisation.
Fabrications About the PAP's unsubstantiated post
On June 17, Fabrications About PAP shared a post that appeared to insinuate, without evidence, that Sarah could be seen in photos alongside a Workers' Party (WP) member.
The top half of the photo had a doctored photo of Sarah with a mask on her face.
The bottom half included two photos of a woman wearing a mask, wearing the WP blue shirt, taking wefies together with Nathaniel Koh of the WP.
Koh was one of the WP candidates for Marine Parade GRC in the recent 2020 general election.
Fabrications About PAP captioned its post, "Towards a First World Parliament" (which was the WP manifesto slogan for their 2011 general election campaign), and the hashtag Team Marine Blue (previously used by a WP team contesting Marine Parade).
You can see that unsubstantiated post below:
"For all to decide... but let's not be divisive"
This post was shared by a public Facebook page belonging to PAP politician, Shamsul Kamar, at 4:37pm on June 17.
Shamsul stood in GE2020 and GE2015 in Aljunied GRC as part of the PAP team, although they did not win.
Shamsul is currently the grassroots adviser in Kaki Bukit ward, which falls within Aljunied GRC.
The Facebook page is not the same as his public Facebook page.
Shamsul added a caption of his own to the photo by Fabrications About PAP.
It read, "For all to decide... Everything happens for a reason but let's not be divisive."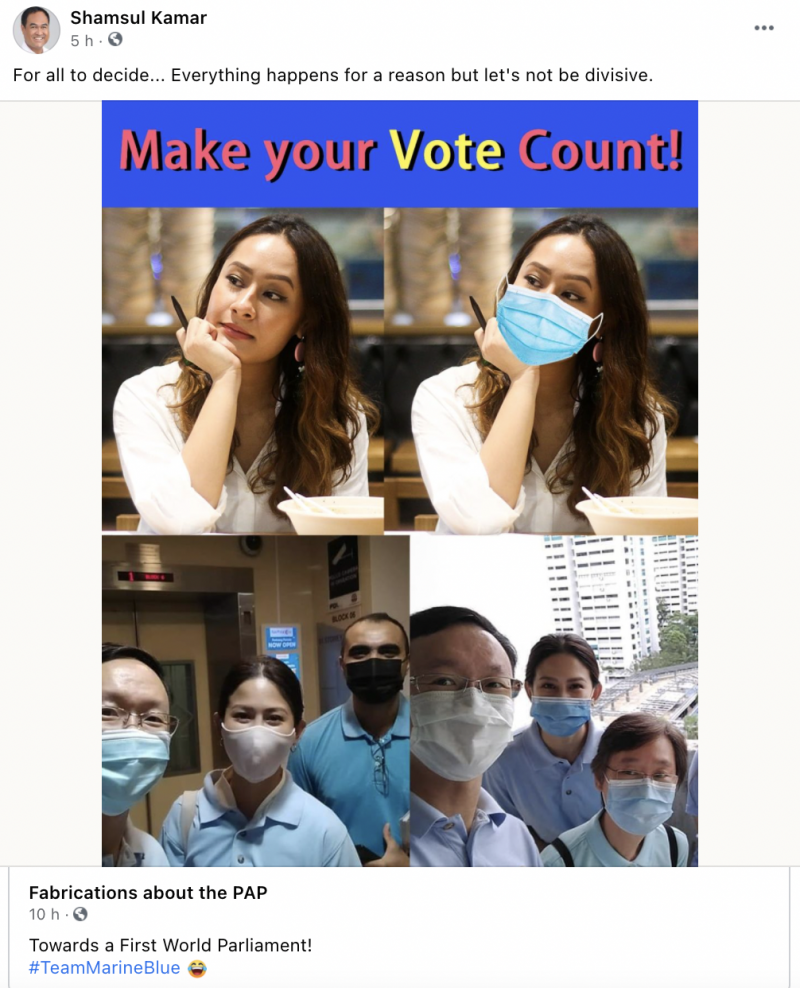 Woman claims to be the person in photo, says she is not Sarah Bagharib
Another Facebook page, Wake Up Singapore, then shared a post demanding Shamsul to apologise.
The post included two photos, one of which appeared to be an Instagram story of a direct message exchange between a woman and Shamsul.
The woman claimed that she was the lady in the bottom two photos, and not Sarah.
She also asked Shamsul to apologise, as well as issue a correction for his post.
You can see it below.
Post challenged by commenters
The post also did not go unchallenged by various Facebook users.
Some questioned whether it really was Sarah in both photographs.



While others questioned the relevancy of such a claim, even if it was true.

At around 10:20pm on June 17, the post was not accessible from Shamsul's Facebook page.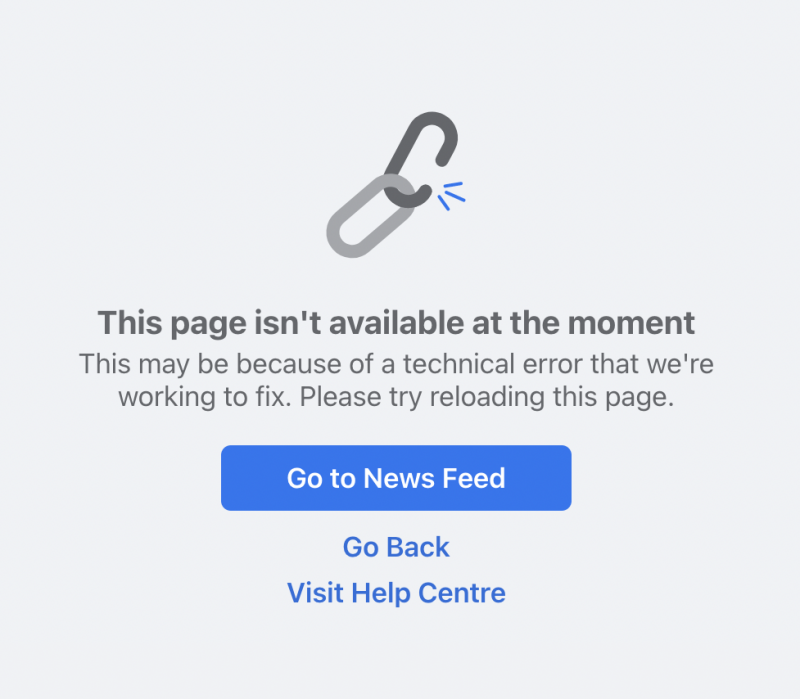 Currently, the post is now accessible.
Shamsul Kamar says his message may have been misunderstood
In response to queries from Mothership, Shamsul confirmed that it was indeed him who shared the Fabrications About PAP post.
He said that when he saw the post on his feed on June 17, he reshared it and added in his thoughts.
He also said: "I did not (mention) that it was Sarah nor anyone else and it didn't cross my mind to do so."
Shamsul added:
"I'm sorry that it seems many misunderstood my key intention of sending the message to everyone that we need to stand united rather than divisive especially during this period of the pandemic.

If you read my posts especially on my public page, this has been a consistent message I have been advocating to let's fight this pandemic together.

That's what the shared post was about."
Related stories:
Top image from Shamsul Kamar Facebook page.
If you like what you read, follow us on Facebook, Instagram, Twitter and Telegram to get the latest updates.