The super popular BTS Meal will be launching at McDonald's outlets island-wide in Singapore on Monday, June 21, 2021.
And scenes of mayhem are to be expected.
June 21 is coincidentally also the day that dining in at F&B establishments is expected to resume.
Launch postponed by three weeks
The BTS Meal was originally scheduled to be launched in Singapore on May 27, but had to be pushed back more than three weeks due to a resurgent in Covid-19 cases here.
And this has likely only served to whet the appetites of BTS's hardcore fans, also known as ARMY.
Even without the delay, Malaysia was the first country in Asia to launch the BTS Meal on May 26.
And because of the delay, the BTS Meal was launched in Indonesia on June 9 ahead of Singapore, but that exercise there inadvertently provided a glimpse of what to expect here.
GrabFood dangling S$3 incentive for food delivery personnel
In response to the expected high demand, food delivery platform, GrabFood, is preparing for the occasion by enticing its delivery personnel to volunteer to deliver BTS Meals on launch day and the day after for more money.
In an announcement sent to GrabFood riders in Singapore on June 18, the platform said it is giving out an extra S$3 for every two BTS Meals delivered on June 21 and 22.
This extra amount is on top of the S$5 to S$7 that a rider typically earns for a trip to deliver food.
A screen shot of the announcement about the incentive was put up in a Facebook group for food delivery riders here.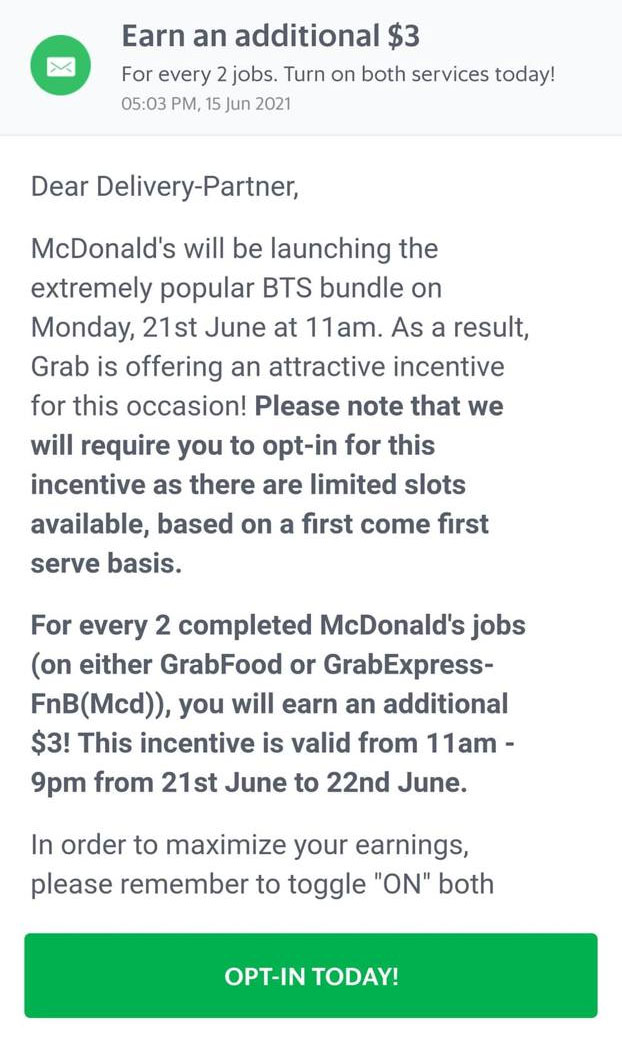 What does the incentive indicate?
According to seasoned food delivery personnel, the monetary incentive is a harbinger of good news and bad news.
On the upside, there will be a vast increase in the number of orders at McDonald's island-wide.
On the flipside, the waiting time to collect an order at McDonald's is expected to be long, especially during lunch, dinner and supper peak hours.
The S$3 incentive for every two orders of BTS Meal delivered will serve as a form of monetary compensation for any shortfall in earnings as a result of a longer waiting time to pick up orders.
Mayhem ensued
Scenes of mayhem and exuberance filled social media previously, as hardcore fans either ventured out to queue up to buy the BTS Meals for themselves, or ordered the item via food delivery apps, which sent food delivery riders into overdrive.
In Malaysia, customers who showed up at McDonald's brought along their own containers to hold the food so as to keep the BTS Meal's packaging pristine.
Some fans even washed the packaging to be dried and enshrined on their BTS altar.
Others who were profit-minded, put up their packaging for sale for either tens or hundreds of dollars.
In Indonesia, bust-ups and overcrowding at McDonald's outlets in the country forced at leas 13 outlets to close.
Some of the delivery personnel were not even wearing masks, or wearing them wrongly.
What is a BTS Meal?
The BTS Meal consists of a box of nine-piece Chicken McNuggets, one large-sized fries, one large-sized drink, as well as sweet chilli and cajun dipping sauces.
siap bawak tupperware punye takut bag tu berminyak 😂😂😭 #BTSMeal pic.twitter.com/CBdOglU6dt

— nnisᴮᴱ⁷•ᴗ•🧈 (@callmejiminis) May 26, 2021
The sauces are inspired by "popular recipes from McDonald's South Korea".
Top photo via
If you like what you read, follow us on Facebook, Instagram, Twitter and Telegram to get the latest updates.