Follow us on Telegram for the latest updates: https://t.me/mothershipsg
In the past month in Singapore, the question of whether it is acceptable to ferry migrant workers in the back of lorries has been heavily discussed in Parliament, following three lorry accidents that sent dozens of migrant workers to the hospital, and resulted in the death of two.
Proponents of banning lorry transportation for workers argue that it is dangerous and provides lower safety standards for migrant workers. On the other hand, others argue that alternatives such as ferrying workers in buses would be too expensive and economically hurt the industry.
There are already a number of companies that transport their migrant worker employees in buses with seatbelts rather than lorries, highlighted Member of Parliament (MP) and Assistant Secretary-General of the National Trades Union Congress (NTUC) Melvin Yong.
Workers feel safer
On Friday (May 14), Yong shared a Facebook post highlighting one such company — Woh Hup (Private) Ltd — that transports its workers in buses every day.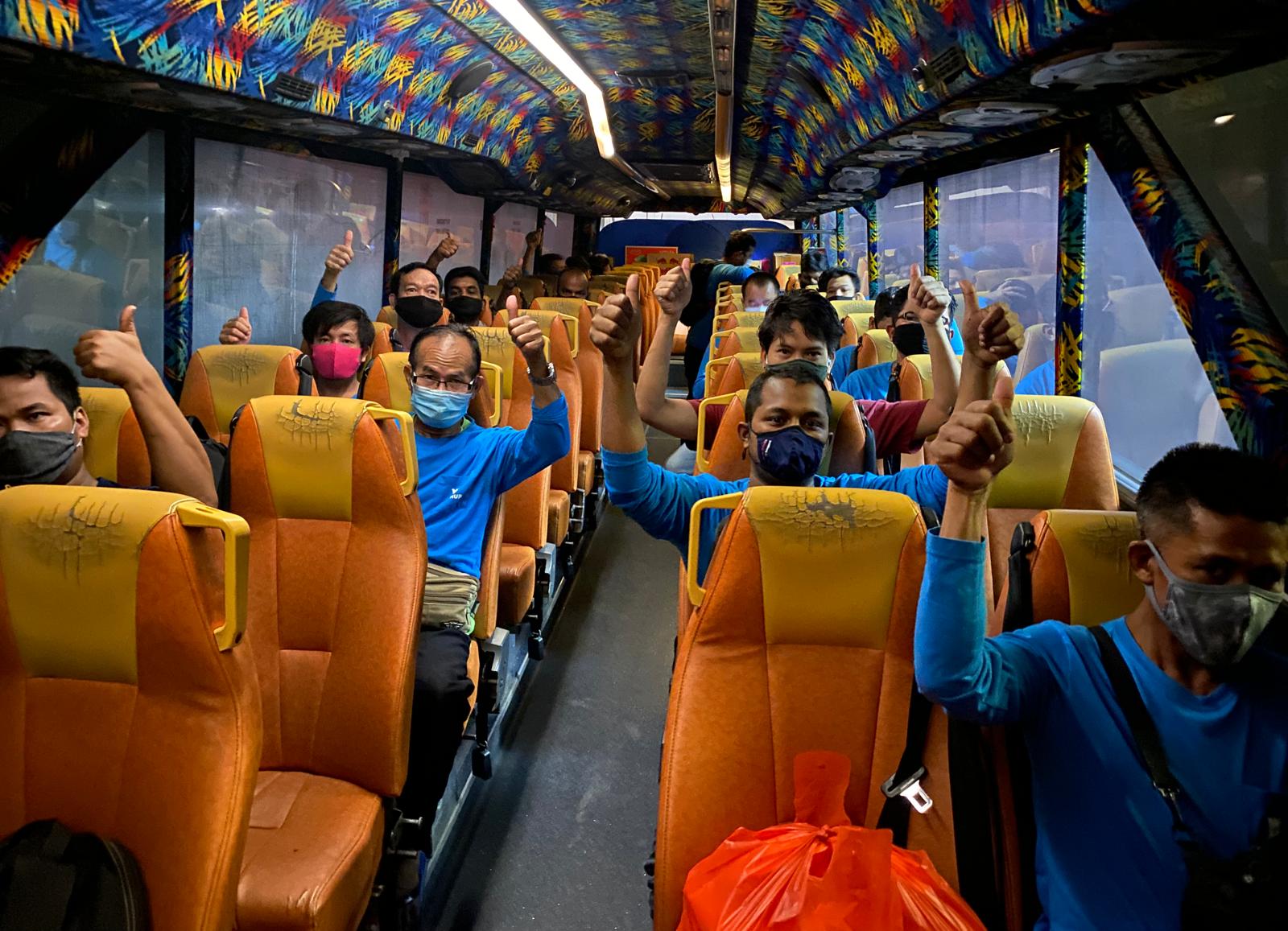 Yong said that he and his colleagues from NTUC and BATU (Building Construction And Timber Industries Employees' Union) visited Woh Hup to find out how they transport their workers in buses, as well as the challenges that they overcame when they first started doing so.
The company charters buses to ferry most of their workers — including those from their subcontractors — to and from work every day.
Yong said that he spoke to a couple of workers, who told him that they feel safer being transported to work in a bus.
Yong Mee Him, the executive director of Woh Hup, told The Straits Times:
"It costs more, but it's safer and more convenient for the workers."
He added that they have been doing this since before the onset of the Covid-19 pandemic.
In Parliament on May 10, Senior Minister of State for Transport Amy Khor said that while it would be "ideal" for lorries to not carry any passengers in their rear decks, there are "very significant practical and operational issues — on top of just cost considerations."
She said that a workgroup in 2008 found that industry associations gave strong feedback that switching to dedicated bus transport would "lead to significantly higher business costs".
You can read Melvin Yong's full post here:
Peace of mind & increased morale is priceless: photographer Darren Soh
Local architecture and landscape photographer Darren Soh also shared his experience working with the company, who he said has been a long-time client of his.
He said that there is "something different" about the way that Woh Hup does things, and confirmed that the company does indeed transport their workers in buses.
"Does it cost more than lorries? Of course. But as a result, the peace of mind and the increased morale of the workers is priceless."
"Unless of course," he added, "you are a contractor that has margins so thin changing your workers' default mode of transport to something more humane will put you out of business."
Related story:
Top photo via Facebook / Melvin Yong. 
If you like what you read, follow us on Facebook, Instagram, Twitter and Telegram to get the latest updates.