The year was 1987.
A young lawyer in his late 20s named K. Shanmugam was being interviewed by the People's Action Party (PAP) leadership — a final round that would determine his suitability for membership.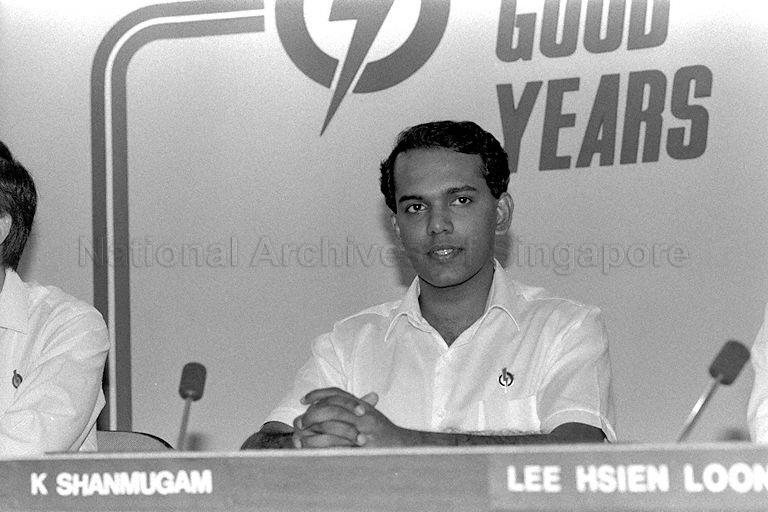 After that meeting, he would find himself an elected Member of Parliament (MP) for Sembawang at the 1988 general election.
He did not enter government until two decades later in 2008, when he replaced S Jayakumar as the Law Minister.
Within a span of 12 years, he would go on to helm no less than the Ministry of Foreign Affairs, Law and Home Affairs — an impressive government career, considering he never expected to end up in politics.
33 years have passed since that day, but he still remembers vividly how it all went down.
Getting cross-examined by LKY
Shanmugam was just 28 years old when he walked into a room with around 10 members of the PAP's Central Executive Committee seated on one side of a long table.
While answering all sorts of questions being thrown at him, he said something that sent the late founding Prime Minister Lee Kuan Yew "into the stratosphere". Without warning, Shanmugam found himself on the proverbial witness stand, at the receiving end of a very intense 45-minute on-the-spot cross-examination by no less than the party chief himself.
He prefers not to go into detail about this immensely-triggering controversial sentiment he expressed (regrettably, as much as we yearned to know what it was).
However, as he recalled his exchange with Lee during that fateful interview, Shanmugam admitted that it was indeed a "formidable" experience.
"I was saved by the fact that I was young, young enough not to be intimidated by him (Lee), because I didn't know enough. Five years later, knowing what I knew about him, I would have been far more circumspect."
"It's been particularly tough the last few months"
At 61 years old, the joint third longest serving MP after Prime Minister Lee Hsien Loong and Emeritus Senior Minister Goh Chok Tong would like to think that he has grown wiser over time.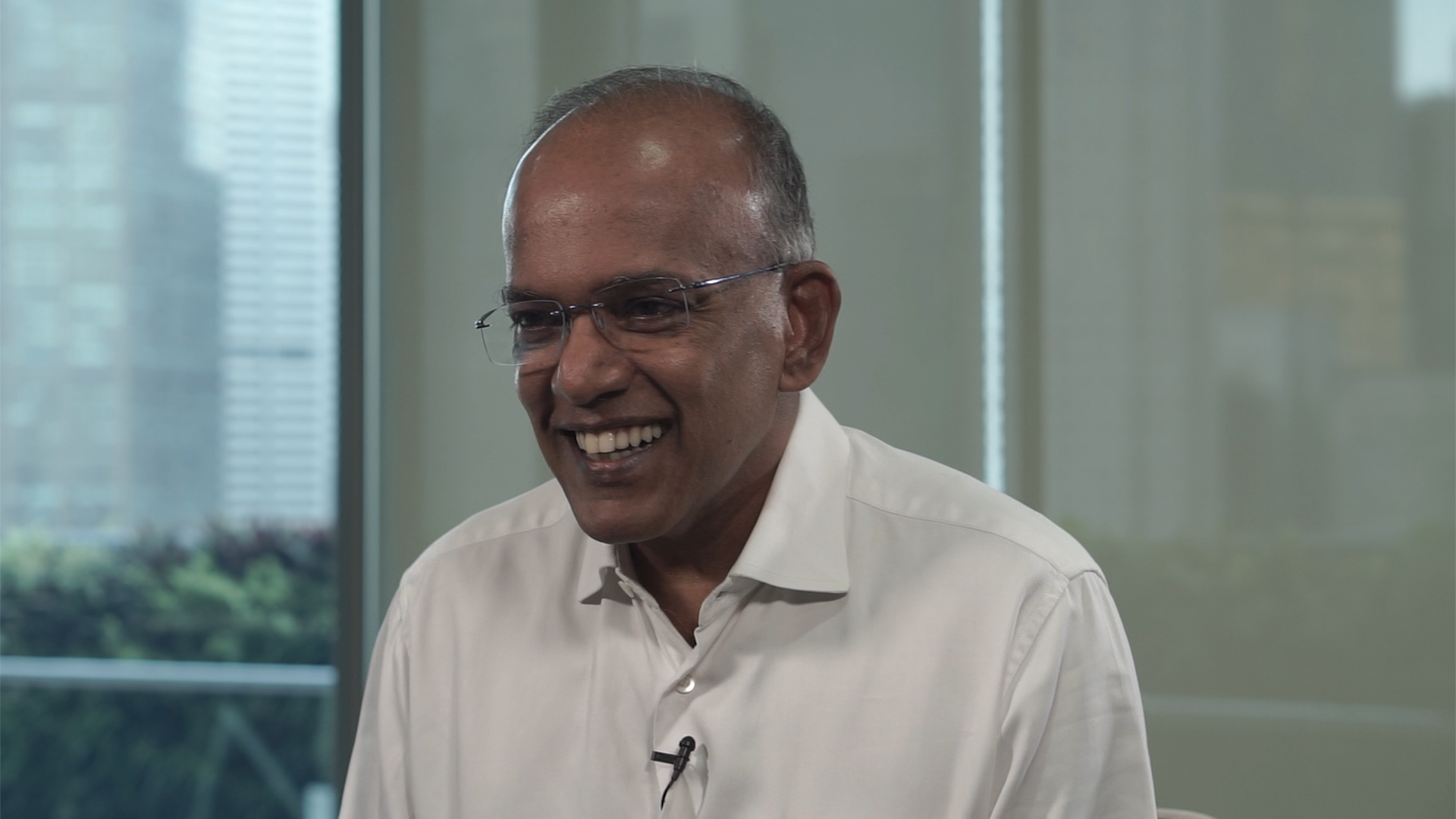 Shanmugam has had the benefit of decades of experience, having seen Singapore go through milestone events ranging from the 1997 Asian Financial Crisis, SARS in 2003, and a slew of security threats, both domestic and international.
Even then, he readily agrees that 2020 has been a difficult year for Singapore so far.
Our interview, which was initially supposed to happen in the afternoon, had to be pushed back to nearly 7pm due to the sheer number of appointments crammed into the minister's double-portfolio schedule.
As we sat down to talk to him about what it's been like coping with the pandemic, we also sought his views on topics that have captured the minds of Singaporeans in the past three months.
"It's been particularly tough the last few months," Shanmugam said to us over a Zoom call from his office at the Ministry of Law (MinLaw).
Indeed, all predictions point to this tough reality: Singapore's economy is at risk of devastation as the global Covid-19 pandemic rages on. Small and Medium Enterprises (SMEs) in particular, which contributed to 45 per cent of Singapore's GDP in 2019, are particularly hard-hit.
But the Law and Home Affairs Minister is no stranger to crises, nor is he one to run away from a fight.
With some 2 million jobs at stake should SMEs go under, he recognised the need to act quickly to protect livelihoods.
So what does a law minister do in such times? He introduces laws.
Passed two bills in two months
The MinLaw introduced the Covid-19 (Temporary Measures) Act, which was passed in Parliament on April 7.
Under this law, which came into effect on Apr. 20, individuals or businesses who are unable to fulfil contractual obligations due to disruptions in the Covid-19 pandemic will be able to receive temporary relief.
"In this period, who are the most vulnerable? It's not your big companies, but your SMEs," he said.
But by early May, Shanmugam surmised that more SMEs would go under if more was not done.
"We said this is not good enough, because these people, they're suffering so badly, they won't survive."
Slightly over a month later, on June 5, a second bill, the Covid-19 (Temporary Measures) (Amendment) Bill, was passed in Parliament.
This amendment makes it mandatory for landlords to provide stipulated rental waivers for SME tenants renting commercial, industrial and office properties.
Among the relief measures announced is a four-month waiver of base rent for eligible SMEs renting commercial properties, as well as a two-month waiver for industrial and office properties.
Tenants who are unable to pay their rent from Feb. to Oct. 2020 will also be given a moratorium on late charges or interest.
"We're a practical government. We look at the problem and then we say this is a solution."
But ultimately, businesses will still need to "swim very hard to try and and keep their head above water," he added.
But how does the government determine the proportion of burden that landlords and tenants take on?
This measure means the government will pay two months to the landlord for this rental waiver, and the landlords will waive two months out-of-pocket.
This is "equitable sharing," Shanmugam said to us while explaining the thinking behind this split.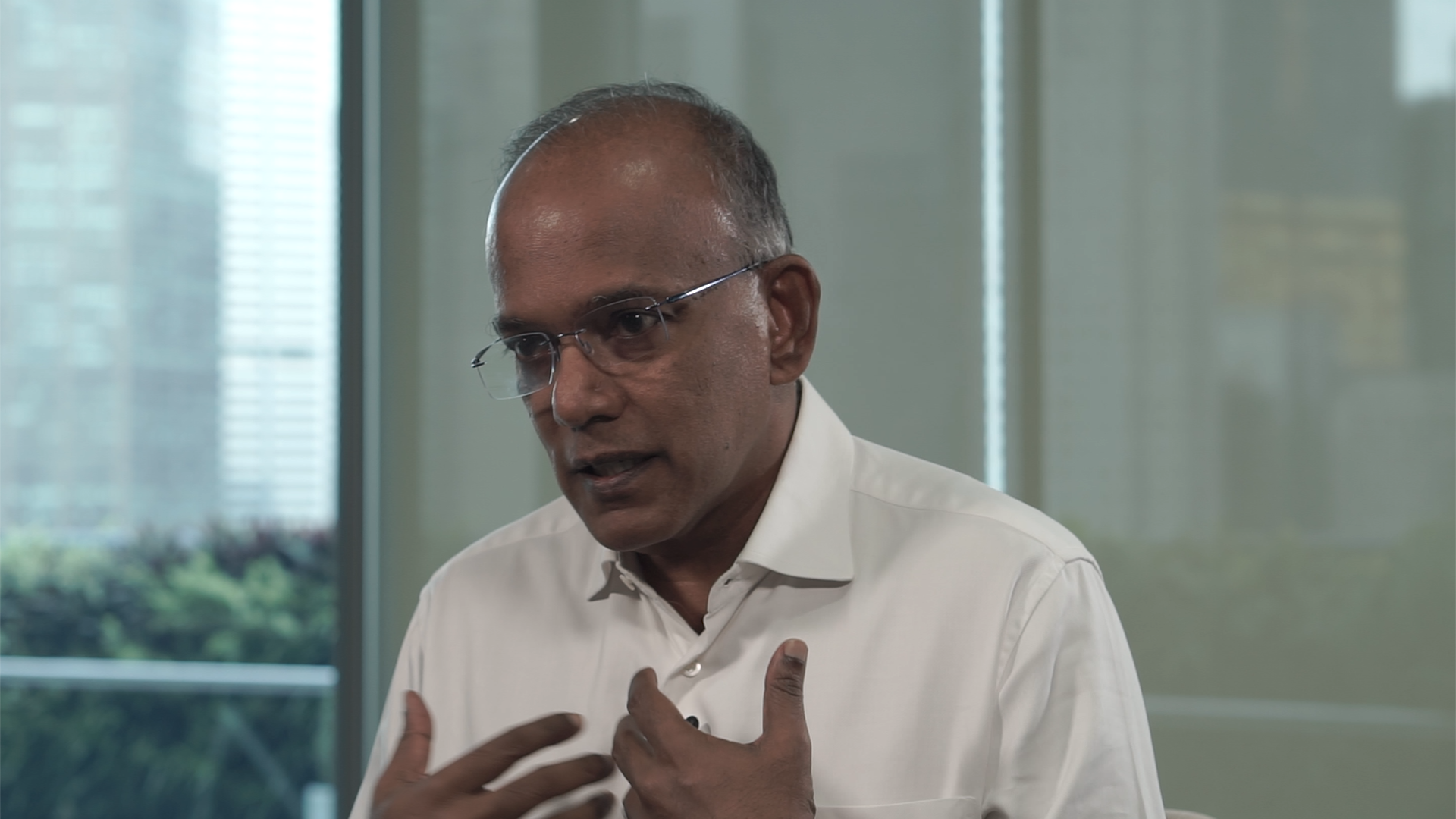 For many landlords, two months is "not a very heavy burden". And given that everyone is facing economic devastation, he explained that the burden must be spread out.
"It's difficult for landlords to say 'my own income should not be affected'," he said. However, he is also mindful of balancing different interests, recognising that some smaller landlords might not be able to afford the full waiver.
These landlords, if they satisfy the criteria, will only need to give half the amount, he said.
Getting difficult things done because it's necessary
Coping with a pandemic is hard work, but perhaps even more so for somebody who is managing two ministries.
As the man helming the Ministry of Law, he has had to uphold and update tough but necessary laws in Singapore. These often revolve around sensitive issues of race and religion, like proposing changes to the Maintenance of Religious Harmony Act, and combating misinformation with the fake news legislation.
Add the Ministry of Home Affairs (MHA) into the mix, and he's also entrusted with the responsibility of enforcing such laws.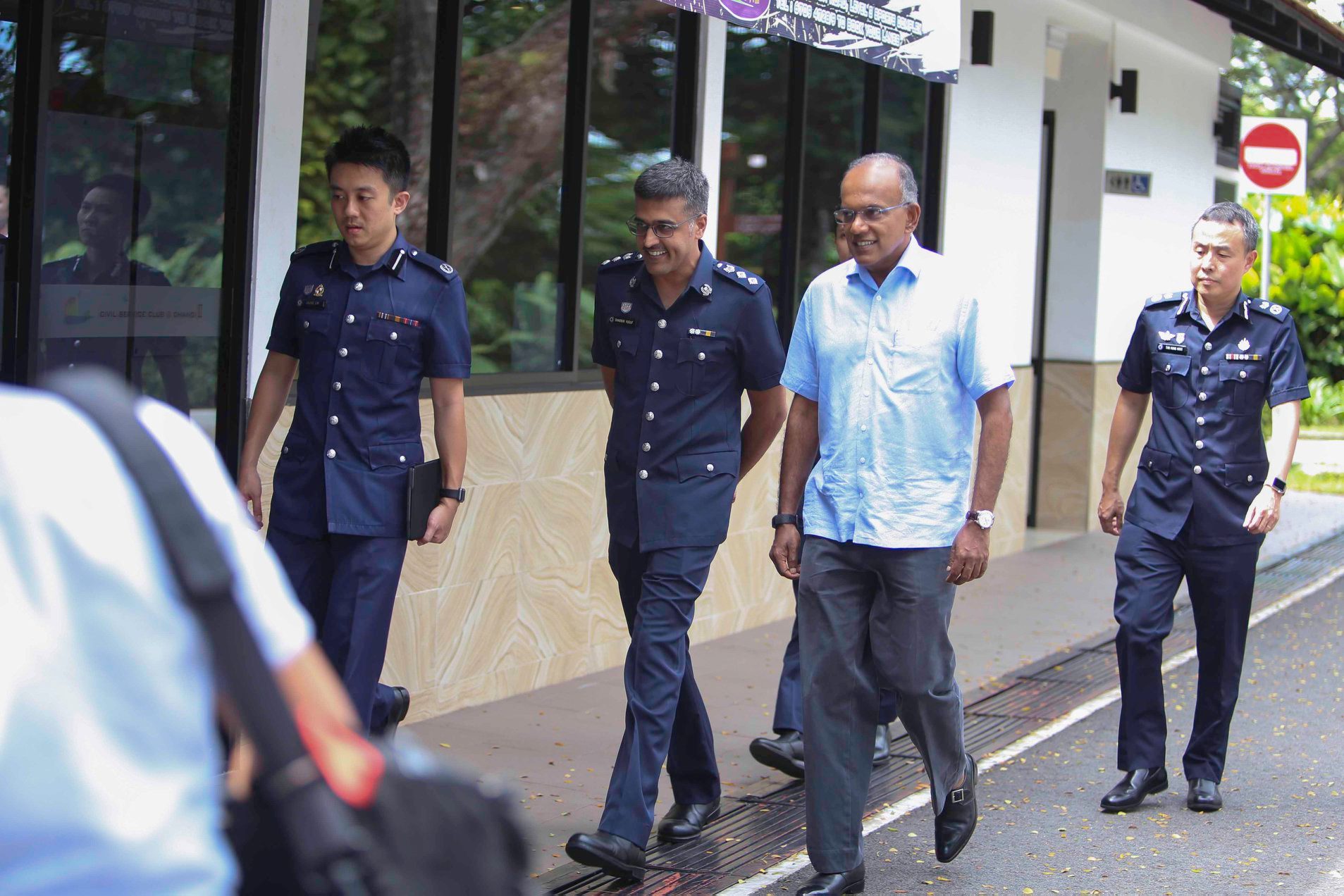 But the MHA role goes beyond just ground-level issues of crime control in Singapore. The ministry also oversees a broad range of tricky topics, like why a music group is not allowed to perform in Singapore, why a parody video has to be taken down, or why a publication has to be made illegal in the interest of national security.
How does it feel, being the man who has to constantly explain and enforce the government's tough position on issues?
"I do it even if it can be taxing. Home Affairs, it's not an easy ministry... It takes a lot of energy, it takes a lot of attention, and it takes a lot of communication too."
A disparity in policing, enforcement and penalties during CB? "But what are the facts?"
Speaking of tricky topics, one that frequently comes up in public discourse and under scrutiny is law enforcement. Now, on any typical day this is already tough work — but as Shanmugam likely also has noticed, has become even more so in this pandemic.
On top of regular crime control, various authorities (including the Ministry of Environment and Water Resources) also need to enforce a slew of Covid-19-related laws that were introduced in recent months, including safe distancing measures.
While it is generally understood that safe distancing ambassadors or police officers cannot possibly be everywhere, it becomes tricky when enforcement is perceived to be stricter in some cases — where offenders are of certain ethnicities or nationalities, especially — than in others.
On the weekend of May 16, photos of foreigners standing around and drinking beer at Robertson Quay during the Circuit Breaker (CB) period were circulated online.
In response to the Robertson Quay photographs, online chatter was quick to point out seemingly different levels of safe distancing enforcement between the heartlands and other areas, like Robertson Quay, for instance.
We asked Shanmugam how the authorities might account for this situation, and what he would say to those who may perceive a disparity.
His initial response to our question was a question of his own: "But what are the facts?"
Chatting with the minister, one gets the sense that he is sometimes exasperated by those who do not closely examine the facts and circumstances of each case before making comparisons and drawing (what, in his opinion, may be flawed) conclusions.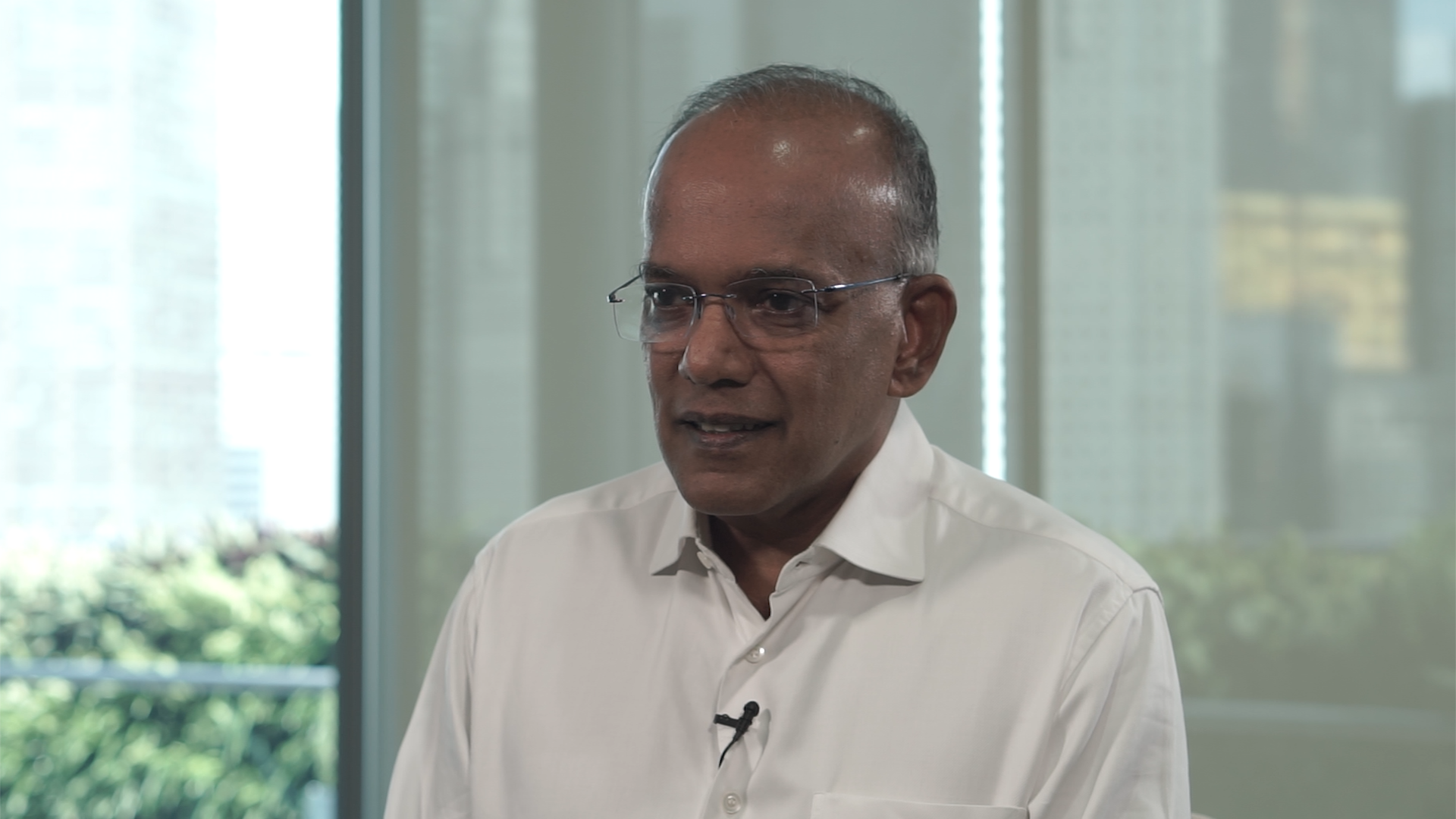 Shanmugam reiterated Minister for the Environment and Water Resources Masagos Zulkifli's point that people are strongly encouraged to take photo evidence of those who flout the rules and submit it via the OneService app.
He added that action was taken against the individuals after the photographs were circulated — since then, nine people have been charged over this case.
But surely there were others too, from the photographs during that weekend? Will there be action taken against them as well?
The experienced litigator in Shanmugam emerges again, explaining the investigative and legal processes involved in tackling this — the need to prove guilt beyond reasonable doubt, for instance, i.e. being absolutely certain that these people did not just happen to be captured in the same area exercising, for example.
"You got to investigate, you gotta identify, and then you got to prove beyond reasonable doubt that the guys didn't just come and meet there coincidentally, that they arranged to meet. And they were without their masks, and they were interacting socially. You've got to prove all of that. It's not easy."
And what about the impression that some work pass holders are treated differently from others — not getting charged in court, but immediately having their work passes revoked? What would the government say to those who bring up the Robertson Quay case in comparison, for instance?
To this, Shanmugam stressed the Ministry of Manpower's position, which is that foreigners, regardless of work pass type, will get their work passes revoked as long as they break the law.
He also clarified that work passes are immediately revoked for foreigners who plead guilty, seen in the Tuas case involving 24 work pass holders.
In the event that the accused claims trial, the case goes to court and "you can't do anything until the court deals with it".
Which is what is currently happening with those who were charged over flouting safe distancing rules at Robertson Quay.
Fair enough, we suppose.
Singapore is a "rule of law society"
Prior to accepting public office, Shanmugam was among the youngest lawyers to become Senior Counsel of the Supreme Court at just 38 years old.
If his career in law trained him to be a clear thinker who is able to defend his position for any question thrown at him (even by the late Lee Kuan Yew), his life in politics only helped him to hone this further.
This means he has never shied away from engaging in tough conversations, even it means defending an unpopular stand.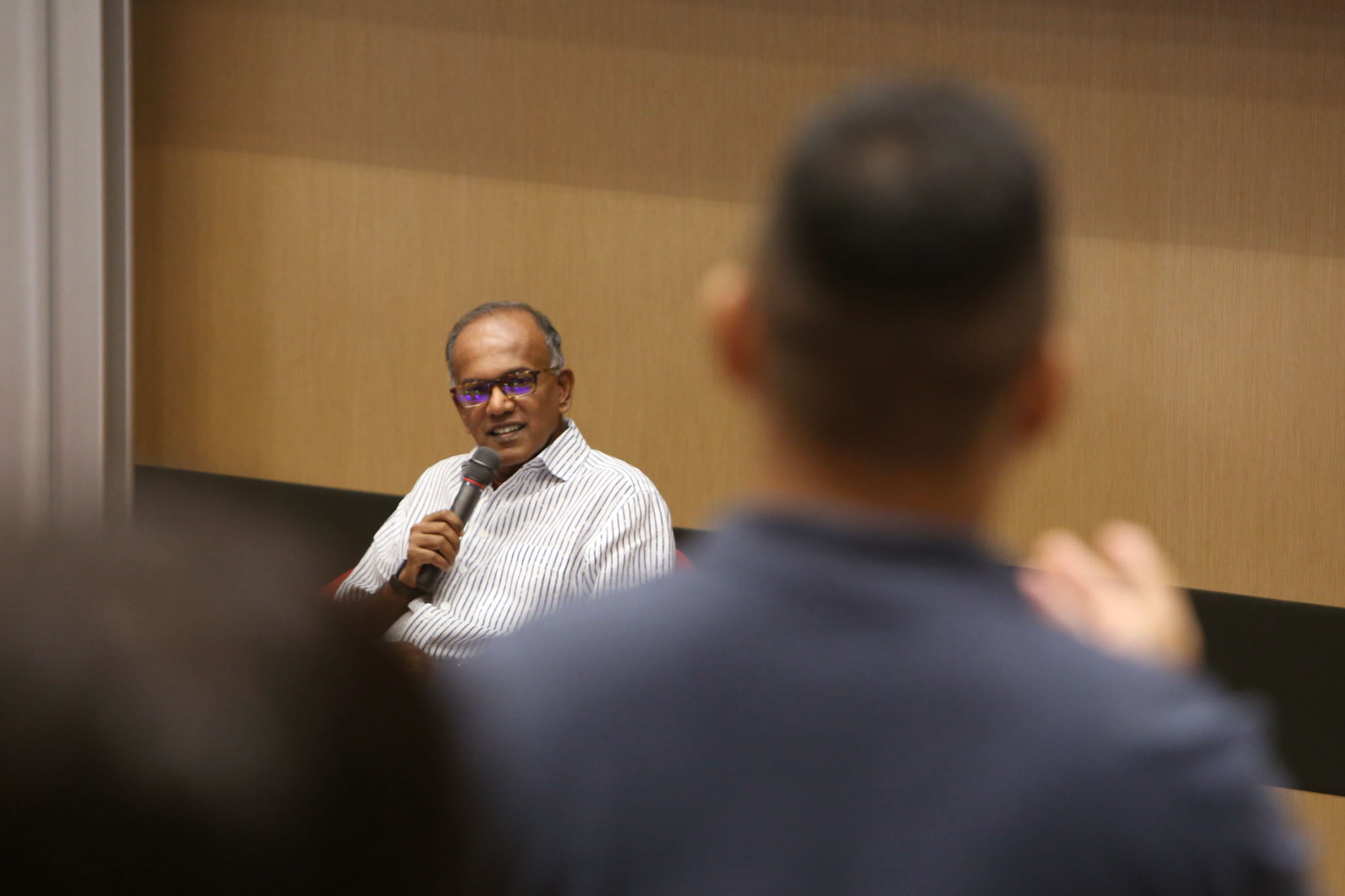 For instance, when probed about why those charged with rape are released on bail when they could potentially reoffend again during this time, he explained that there is a framework of conditions for when bail will be offered.
"We have to follow the principle that everyone is innocent until proven guilty," he said, stressing that Singapore is a "rule of law society".
Bail is generally allowed for most offences, he added, unless there are strong reasons not to grant the accused bail, including suspicion or propensity to reoffend, or likelihood for the person to abscond.
"You know, let's put it this way — hardly anyone accuses the Singapore government of being soft on crime. If anything, we are accused of the reverse. But we take this very seriously."
We asked: Are there laws that he personally disagrees with?
This decisiveness — making things happen efficiently because something is deemed absolutely necessary — has often been Shanmugam's approach to doing things as a policymaker.
But as an individual, there are of course laws that even he personally finds "very difficult".
When pressed on what some of these may be, he cited capital punishment as one that sometimes weighs heavily on him. But does he wring his hands for days, and does it cost him sleep? Certainly not.
For him, reconciling the responsibility of upholding such difficult laws with his own feelings about them is a straightforward task: He thinks of it as his duty to do it, as long as it is the right thing to do by society.
"I'm the minister in charge of the ministry, which has got the legislation in place. In that sense, I'm responsible for the policy.

Do I believe in the policy? Yes. If it wasn't in the books, would I implement it? Yes. But is it very tough internally? Yes."
Never one to run away from confrontation
For someone unafraid to fiercely defend his views on serious issues (and there will be many who disagree with him, of course), Shanmugam has his fair share of haters.
So what is his view on the negative online comments about him or the trolls who criticise him personally?
"It reflects on the people making the comments, it doesn't reflect on me.

I mean, you see, you are a coward, you stay within an anonymous name, you want to be a hero and you put down various things. Why should I bother?"
Never one to mince his words, he unflinchingly confronts those whom he finds are not being forthcoming:
"I just take it as it is. I don't necessarily put it in politically correct terms. You asked me about six hours with PJ Thum and I tell you, because he was lying and I want him to admit that he is lying...

I have never run away from a debate. You want to criticise me? You come to my face and you tell me and I will discuss with you. If I'm wrong, I'll admit I'm wrong."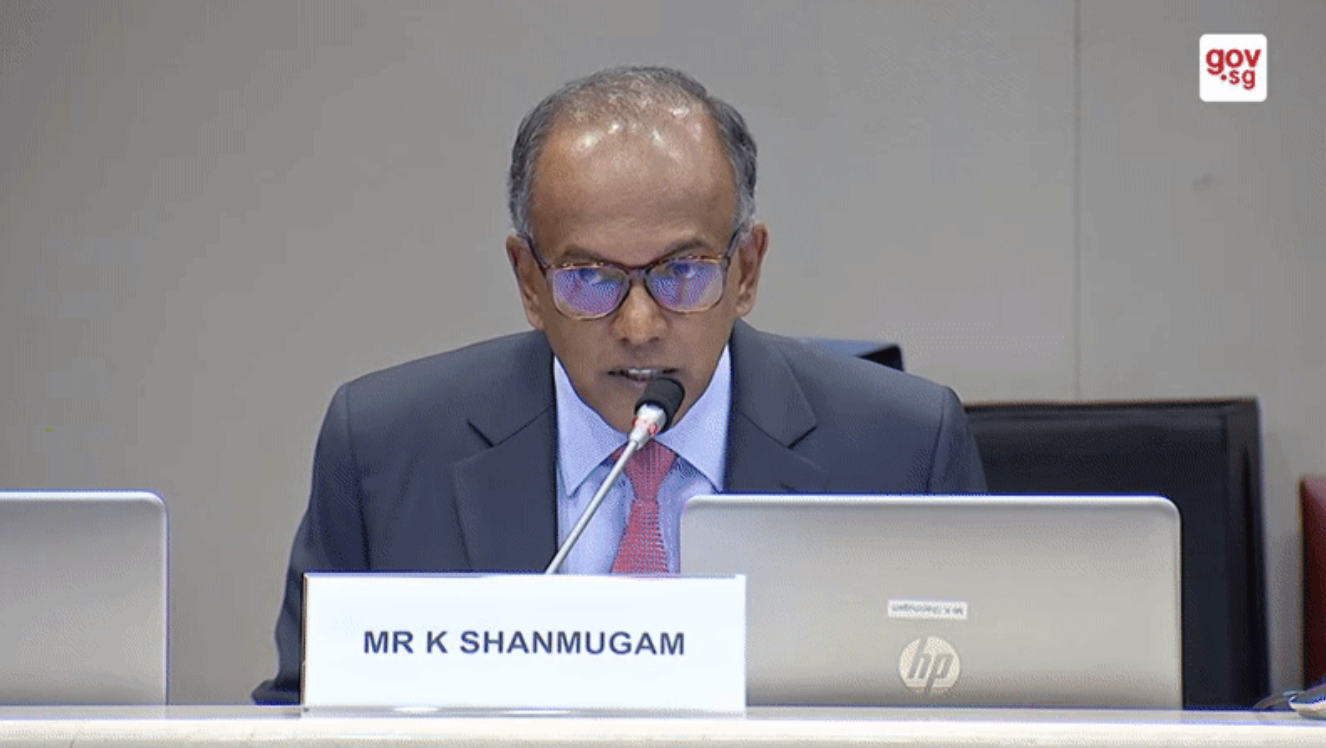 Politics is a full-time job masquerading as a part-time job
In the face of confrontation, one finds that Shanmugam is hardly ruffled by it, nor does he feel affected when he reads negative online comments on himself.
However, as a political office holder who almost constantly copes with crises, stressful moments are inevitable.
And in such cases, he said that he has learnt how to "cut off" — a skill he has likely honed over time on the job.
"It doesn't mean that you don't work hard. First of all, you've got to be very intense with your work, but you don't let it affect you. Second, sometimes you just need to cut off and go and sleep or do other things."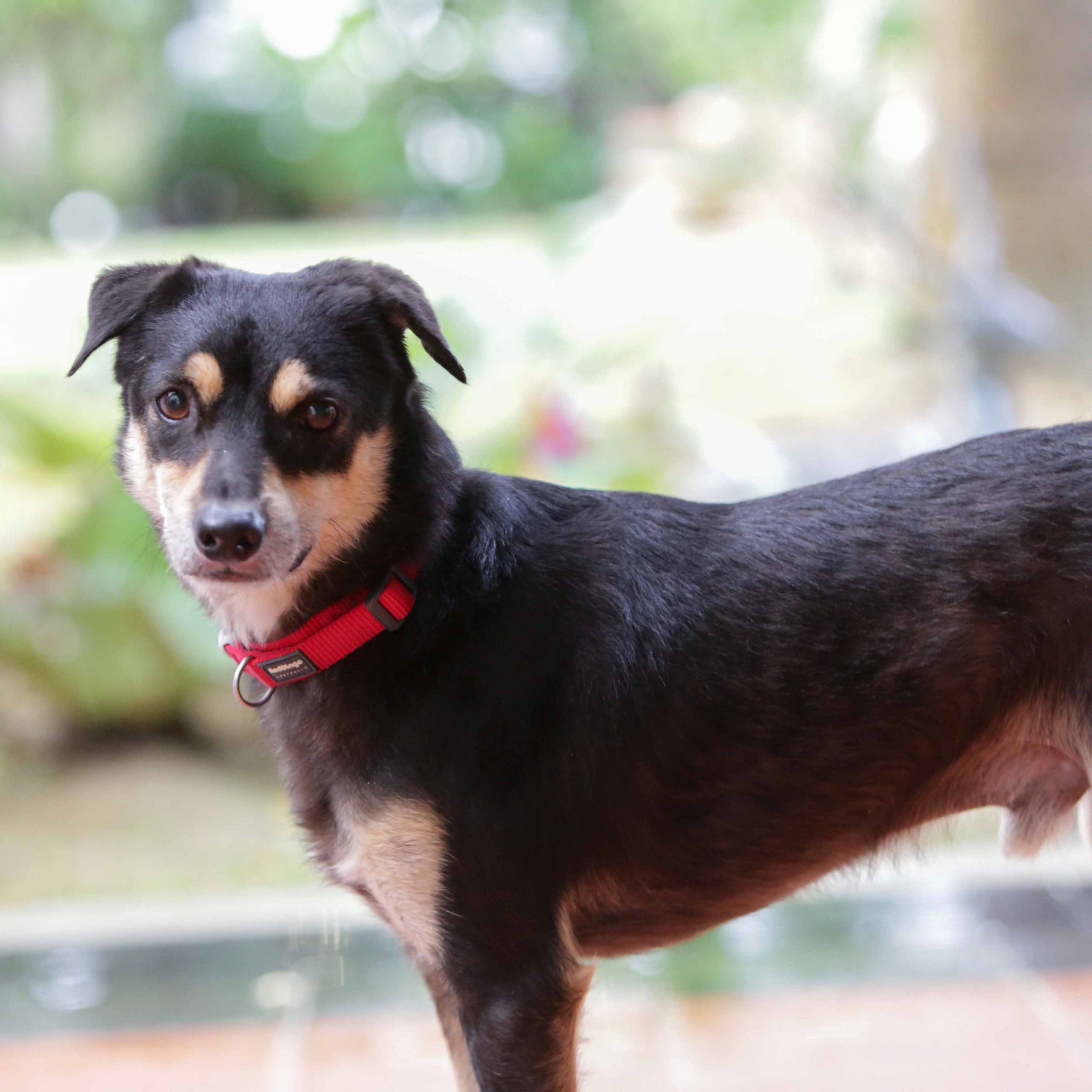 During our interview, he also shared that juggling a full-time job with a life in politics is no mean feat — something he learnt in his younger days as an MP.
"You see, politics takes a lot of time if you want to do it properly," he told us.
Before becoming a minister, young Shanmugam had gone about his life with an intensity not many would be able to keep up with. He could often be found shuttling between court and his constituency, ploughing through 17-hour days and weekends to fulfil the demands of both a law career and a life in politics.
And with all these commitments, "something has gotta give", he said.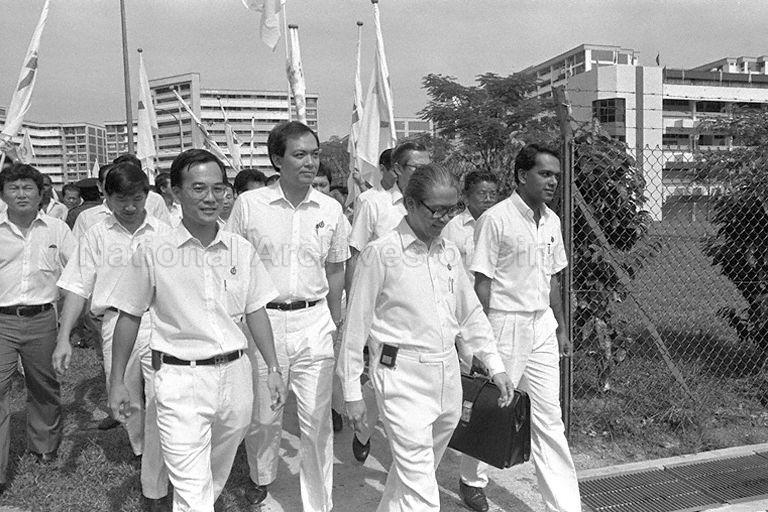 Taking on these responsibilities at a young age entailed at least one big sacrifice in his personal life — it cost him his early years with his children.
"It might make sense from a personal point of view to settle your career a little bit. You're steady in your career, your children grow up a little bit... Then you go in (and) contest. Because once you go there, it's a full-time job masquerading as a part-time job."
With the benefit of hindsight, would he have told his younger self not to go into politics at 29?
"I wouldn't say don't go into politics," he reflected. "But I would say, understand exactly what is involved and then make your choices."
---
The Mothership Covid Interviews is a series of conversations where our young writers sit down with key figures in Singapore to talk about the ongoing pandemic, its effects on Singapore's society, economy and polity, and how the folks we talk to are coping, or helping Singaporeans cope. And in some cases, we talk about fun stuff too.
Top photo by Mothership.
If you like what you read, follow us on Facebook, Instagram, Twitter and Telegram to get the latest updates.