Update on May 17, 7:47pm: URA has responded to Mothership's query at 6:41pm and we've included the statement in this article.
It's day 41 of the circuit breaker period, which means about two more weeks before this extraordinary period ends.
But some are not going to wait that long even as the authorities have been urging people in Singapore not to be complacent in our collective bid to curb the spread of Covid-19.
Crowd gathered at Robertson Quay
A dozen or so people were caught sitting together and supposedly hanging out at Robertson Quay on Saturday, May 16 evening, according to a Facebook post by Lectress Pat.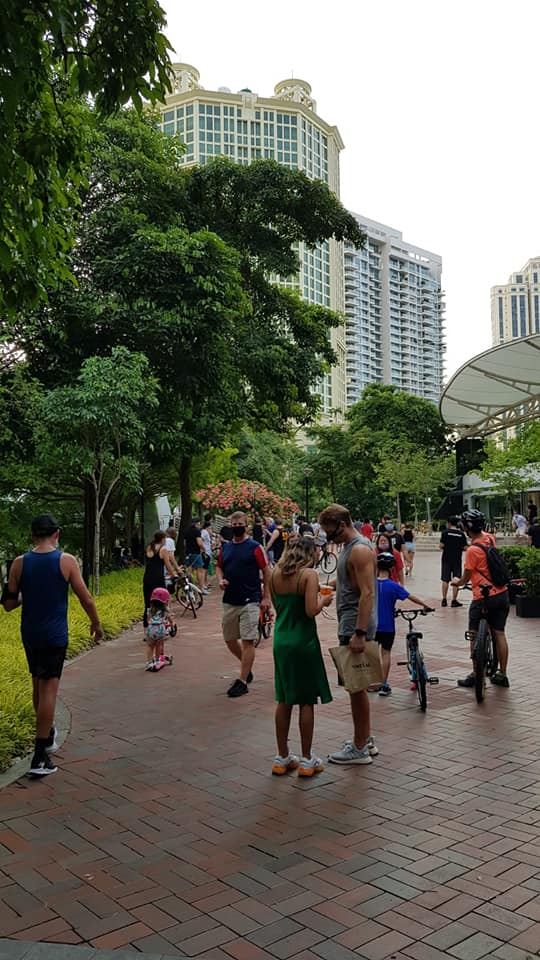 A few of those out and about were spotted without face masks.
Lectress Pat wrote that there were no safe distancing enforcers present at Robertson Quay, even though there were two enforcers and one police officer at the park connector.
One of the photos showed F&B establishments along Robertson Quay selling alcohol and some customers were hanging out outside a craft beer bar, TAP.
Half-empty plastic cups of beer were left on the table as three individuals were chatting by the side.
The post which has been shared over 1,500 times on Facebook has caused many to feel upset by the socially irresponsible behaviour, which were not caught by the enforcers.
Forbid sale of takeaway alcohol at restaurants along Robertson Quay
According to a Facebook post on May 17 by TAP, one of the Robertson Quay establishments, the Urban Redevelopment Authority (URA) had stepped in and that "there will be an immediate ban on the sale of alcohol, whether takeaway or delivery" for all restaurants along that stretch.
While TAP did not state the reason for this sudden change in regulation, they added that "we have not been at any fault for the mess".
The Robertson Quay outlet will also be closed until the end of the circuit breaker.
TAP also wrote: "Unfortunately, difficult situations show us how selfish some can be and the rest of us will just have to deal with it."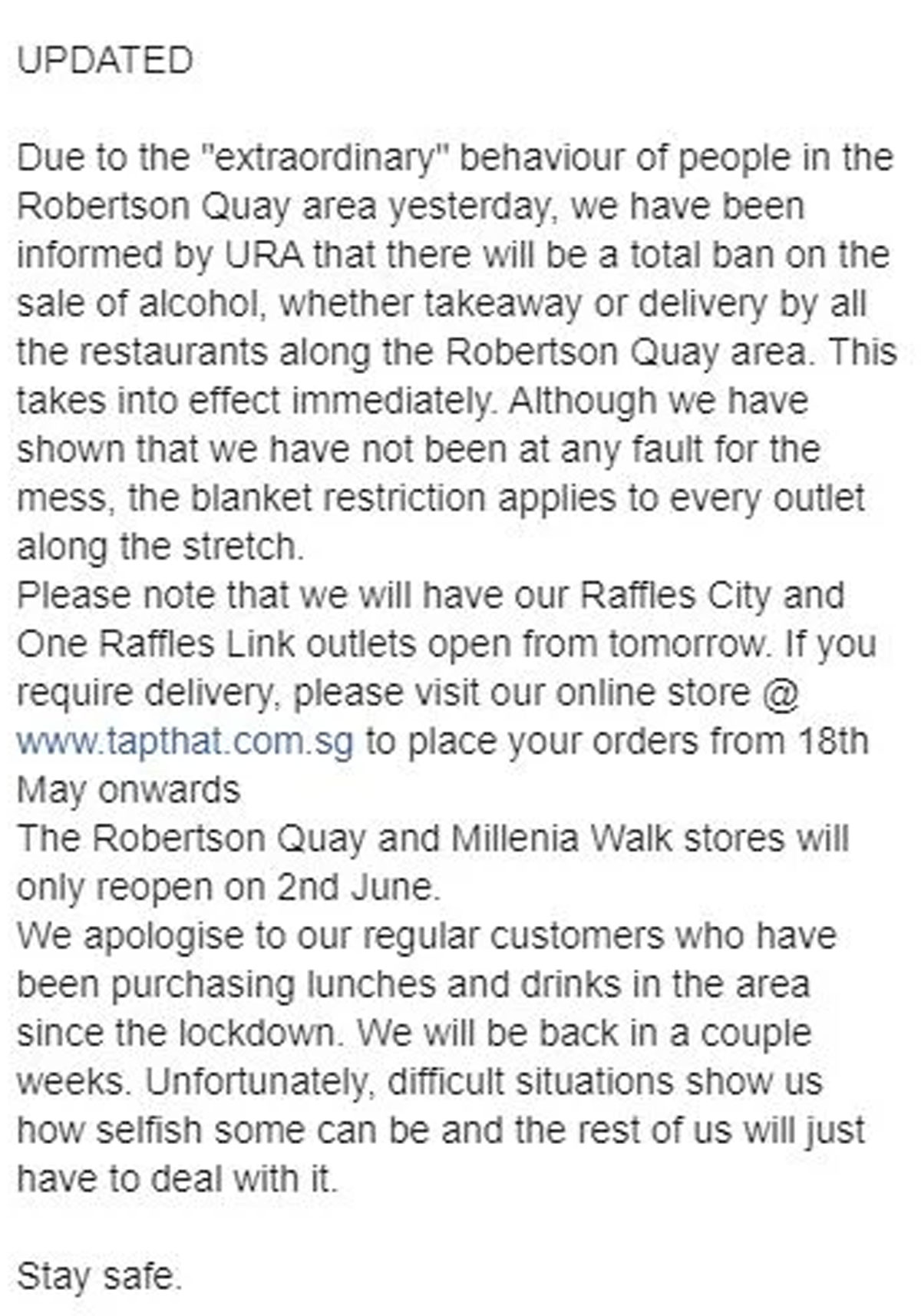 But the post has since been taken down.
At 3.55pm on May 17, TAP put up a new announcement saying that the authorities have allowed them to do deliveries.
At 6:44pm on May 17, TAP claimed that the tables with cups of beer featured in one of the photos do not belong to them.
"We have addressed this situation in a previous post, but removed it due to the lack of clarification that resulted in a overwhelming amount of confused commenters. As such, it should be highlighted once again that the tables featured in the photographs making their rounds do not belong to TAP."
They also urged people to be respectful to one another during this trying period.
In response to Mothership's query, the URA spokesperson said that the agency is aware of the online posts and articles of people congregating around restaurants in Robertson Quay.
Majority of operators and individuals complied with safe distancing measures during their safe distancing patrol in that area, the statement added.
The URA spokesperson also said that the agency has issued a written direction to cease the sale of takeaway alcohols at some restaurants as that has contributed to people gathering in the area.
Here's the statement in full:
"We are aware of online posts and articles of people congregating around restaurants in Robertson Quay as well as rumours of a ban on the sale of alcohol in the area.

During our safe distancing patrols at Robertson Quay, our officers found the majority of operators and individuals to be compliant with safe distancing measures. However, we observed that some restaurants in the area were selling take-away alcohol to patrons, which had contributed to more individuals gathering around these premises. To prevent such gatherings from taking place, we have issued a written direction to these restaurants to cease the sale of take-away alcohol with immediate effect. Any contravention of such directions is an offence and we will not hesitate to take such parties to task.

In addition, we will not hesitate to take further enforcement action against business operators if we find other infringements of safe distancing measures. Similarly, individuals found to be in breach of safe distancing measures will also be fined.

We urge everyone to play their part in preventing the transmission of COVID-19 by adhering to the safe distancing measures and minimise the number of trips out of their homes, wear their masks properly before and after strenuous exercise, and not meeting people from other households to socialise."
Top photos by Lectress Pat/Facebook
If you like what you read, follow us on Facebook, Instagram, Twitter and Telegram to get the latest updates.