Follow us on Telegram for the latest updates: https://t.me/mothershipsg
People's Action Party (PAP) new candidate, Ivan Lim, has been embroiled in a controversy over his public persona after some social media posts went viral.
These posts purportedly written by people who have known him in school, SAF and at work, accused the 42-year-old Keppel Offshore and Marine General Manager as someone "arrogant" and "elitist".
Earlier today, Deputy Prime Minister Heng Swee Keat has urged Lim to clarify any accusations himself.
Lim broke his silence on June 27 as the party issued a statement on his behalf addressing various accusations.
The statement wrote that Lim decided to come out to clarify because the incident has affected his family, particularly his mother.
Here's what Lim had to say in response to some accusations:
1. On bribery case in Brazil
Lim denied the allegation that he's involved in the bribery case in Brazil as "completely baseless and untrue".
2. How he treated NSmen
Lim said that different people can have different perspectives on the same incident.
While some might find him harsh for requiring the men to book-in early at 10pm when the norm was 2359h in one of the incidents, Lim explained that he did that because his men had to move out earlier the next morning at 5am and he wanted to ensure they get sufficient rest.
Lim also said that he had also come back earlier.
"I set high standards for the unit as a CO. I believe in working together and I did not ask the men to do something I was not prepared to do myself."
3. On his time in Keppel
Lim said that the shipyard industry is a "tough and exacting one" and so high standards of Keppel colleagues are required to safeguard their safety.
Lim added that those who have done well have been promoted as well.
4. Not smiling at a neighbour in the lift
Lim said that he does not recall this incident.
However, he said that he knows some neighbours better and will interact more with some than others "like many others who live in apartments".
Lim ended off the statement by saying that he expected that joining politics will be tough but "this test has come sooner than [he] expected".
However, Lim is determined to stay the course and to serve if elected. He also talked about doing his best to prove himself to voters.
Lim has been speculated to contest in Jurong GRC.
Here's the statement in full: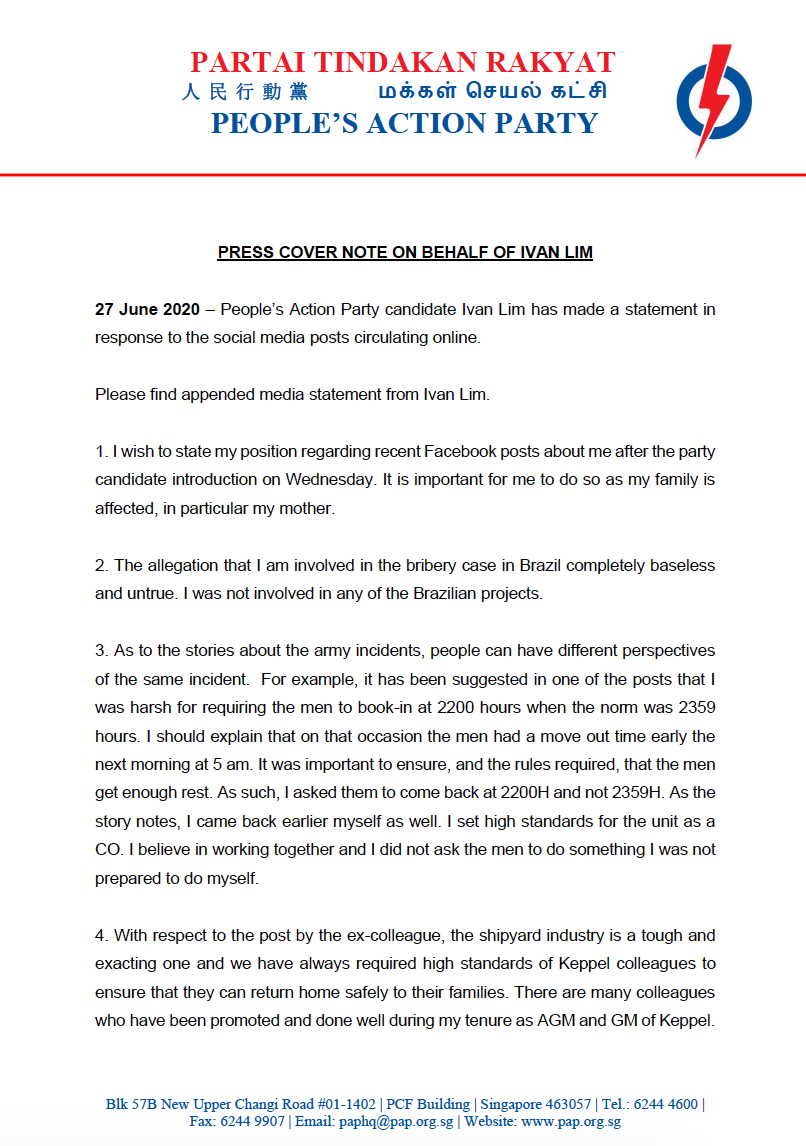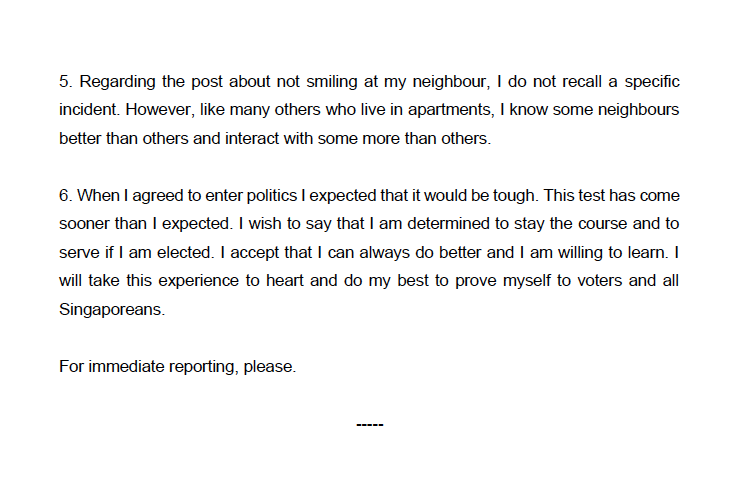 Top photo via PAP
If you like what you read, follow us on Facebook, Instagram, Twitter and Telegram to get the latest updates.