Follow us on Telegram for the latest updates: https://t.me/mothershipsg
The People's Action Party (PAP) introduced its final batch of new GE2020 candidates on June 26.
In all, the party has introduced 27 new faces, aged between 30 and 55, in just three days.
These candidates come from diverse backgrounds, and they are mostly public servants, corporate, and military leaders.
Despite having impressive achievements on paper, many of the PAP candidates described themselves as people who come from humble beginnings.
Controversy over PAP new candidate
However, one new candidate, Ivan Lim Shaw Chuan, has stood out following his introduction on June 24 -- and not for the best reasons.
The 42-year-old general manager at Keppel Offshore & Marine, was among the very first batch of candidates introduced by the party's first secretary-general Heng Swee Keat.
He was presented as a mould-breaker, having worked his way up Keppel after attaining his O-level, and was offered scholarships to pursue a diploma and later a degree.
His introduction as a candidate, however, served as a trigger for some people who claimed to have crossed paths with Lim previously.
Prompted by his unveiling as a PAP candidate, they came out publicly with anecdotes of their encounters with him.
One social media post surfaced after Lim was unveiled as a PAP candidate and quickly gained traction online.
The post alleged that Lim is an elitist who has a condescending attitude towards his battalion in the Singapore Armed Forces, contradicting his down-to-earth public persona.
Following which, online commenters who claimed to be Lim's school mate at Singapore Polytechnic and colleague at Keppel came forward and echoed similar sentiments, which added on to the comments that he is arrogant with little empathy.
The controversy around Lim soon grew as these online comments sparked questions and comments over the PAP's screening process and Lim's character.
Some appeared genuine in raising points about Lim.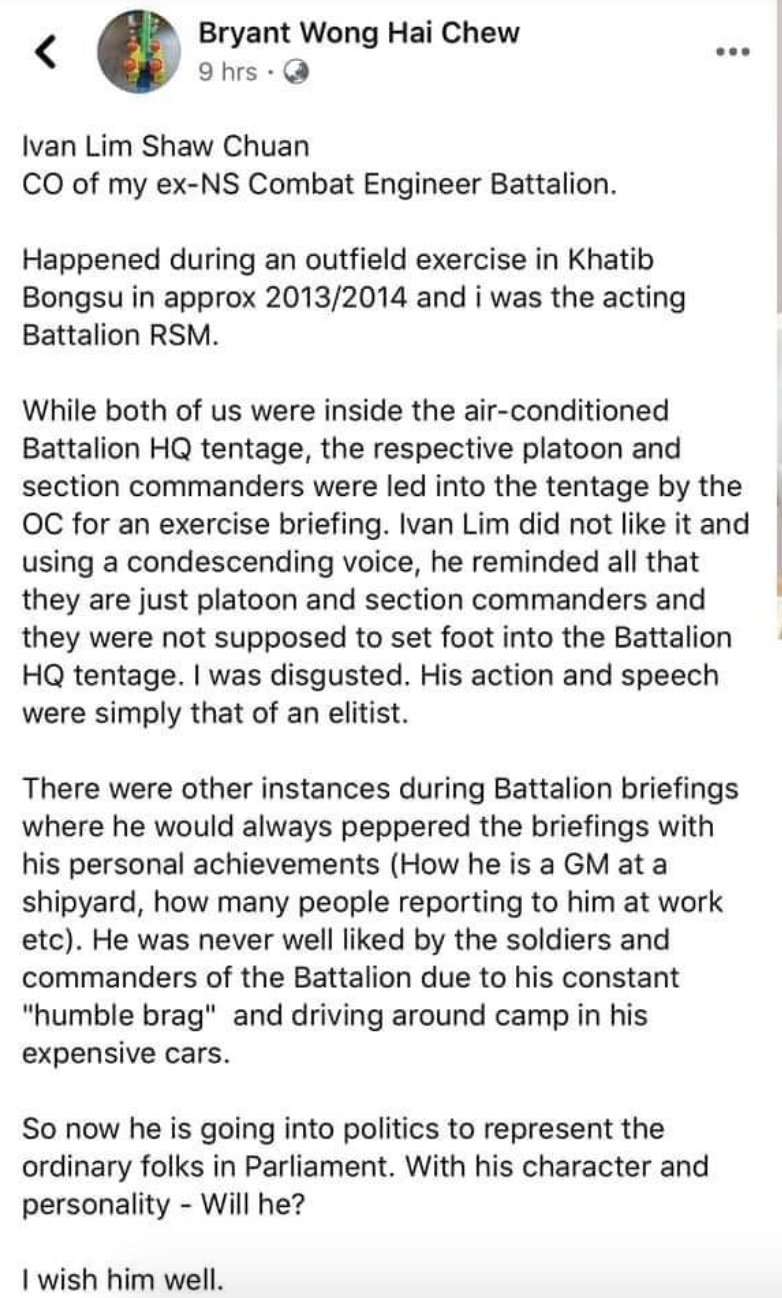 While others were quite obviously cracking jokes.

New candidates to prove themselves in GE
In response to a media query about the controversy during the final candidate-unveiling exercise on June 26, PAP vice-chairman, Masagos Zulkifli said it is not surprising that new faces introduced will elicit such responses during the general election.
However, it is important for the candidates who have been accused of poor form to prove themselves moving forward, Masagos said, adding that the GE is an opportunity for them to redeem themselves if they have done something in the past.
"And I think it is not a moment in their career, or their time with people that define them, but as a person throughout their life, and also an opportunity for them if, they have done something in the past, to redeem themselves."
Masagos said that voters should judge the person throughout his or her life and said that the party sees good qualities in their candidates.
Chan Chun Sing, the party's Second Assistant Secretary-General who introduced the last batch of PAP candidates, added that all the candidates "deserve for us to get to know them better" and urged voters to "look at each candidate as a whole, know where they are coming from, what they stand for and what they can do".
Here are the final eight PAP new candidates introduced today:
Top photo via PAP
If you like what you read, follow us on Facebook, Instagram, Twitter and Telegram to get the latest updates.