Follow us on Telegram for the latest updates: https://t.me/mothershipsg
Member of Parliament, Yaacob Ibrahim, who was previously the Minister for Communications and Information until 2018, has apologised for a Facebook post he put up on Sunday, Apr. 5.
He had commented that a space near Kallang MRT, which usually saw foreign workers and foreign domestic workers congregating every Sunday, has become empty due to safe distancing measures implemented as a result of the Covid-19 pandemic.
Yaacob wrote that the presence of the workers has been causing some inconvenience to his residents and that "it takes a virus to empty the space".
Yaacob apologised for the post, in response to Today: "I apologise for that line, it was never intended in any way (to discriminate)."
Original post was edited and has since been deleted
In his original post on Apr. 5, 2020, Yaacob uploaded two photos of an empty grass patch near Kallang MRT with the following caption:
"The open space beside the Kallang MRT is empty. Usually every Sunday both foreign domestic workers and workers will congregate till late night. This has caused some inconvenience to my residents. We have developed a plan to tackle this challenge. But it takes a virus to empty the space."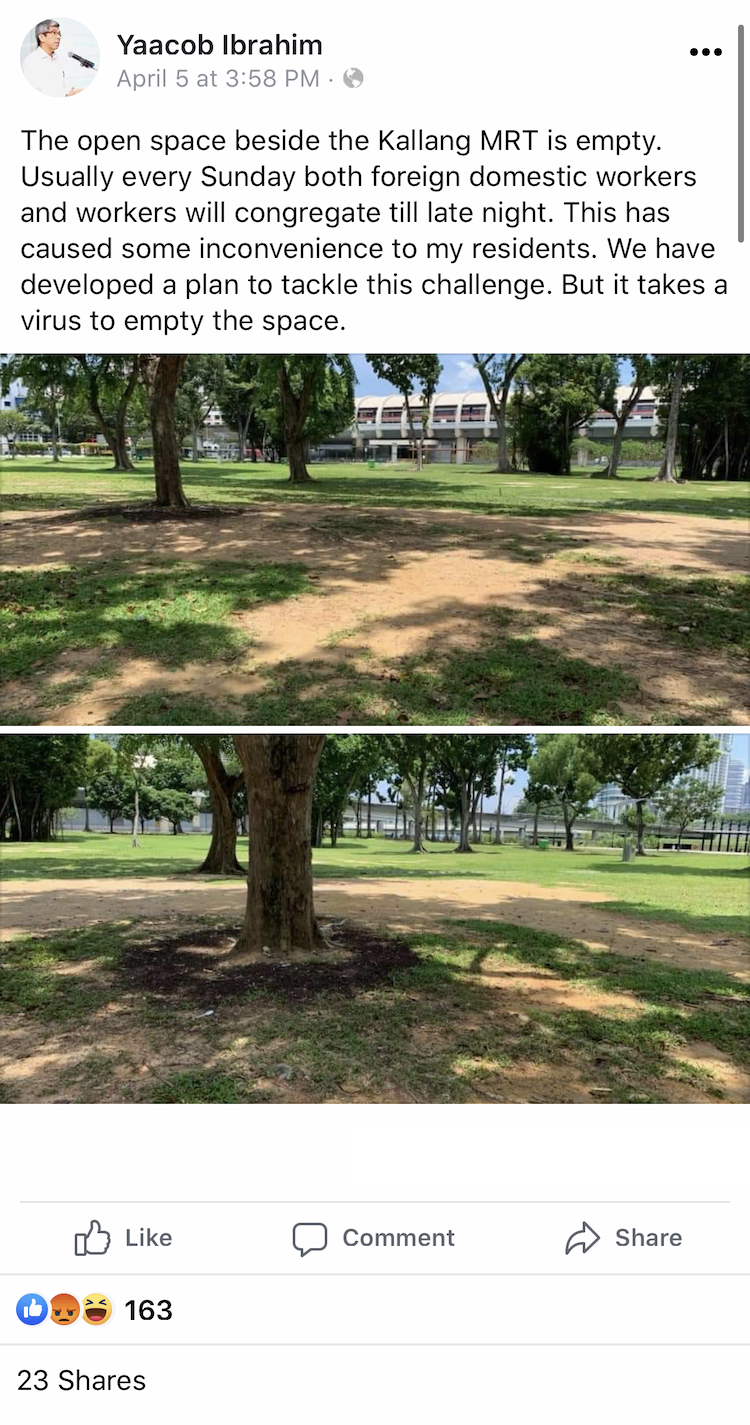 The post has since been edited and subsequently deleted on Apr. 7 after drawing flak from online commenters.
Drew flak from online commenters
Amongst the comments on the original post, many mentioned that what he wrote appeared xenophobic and insensitive to foreign workers, while some highlighted that "migrant workers are human beings too".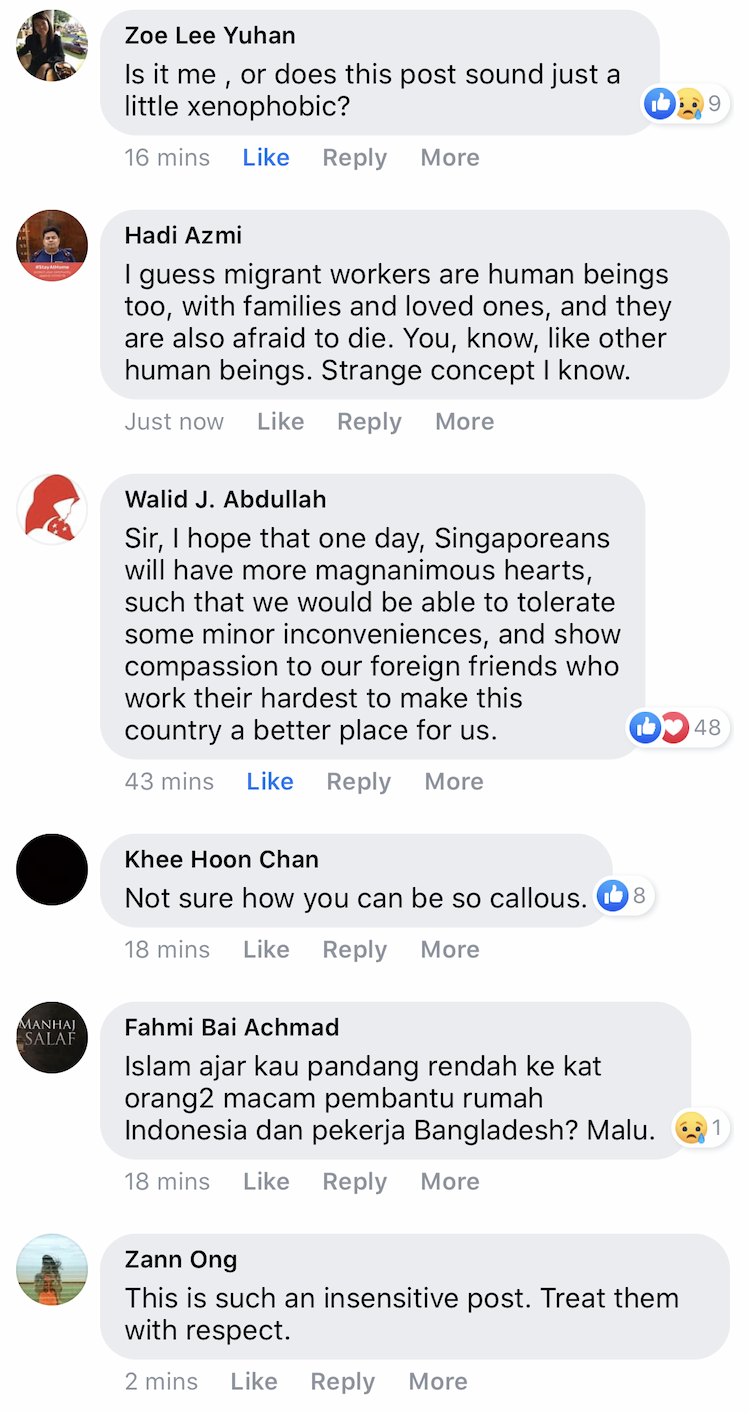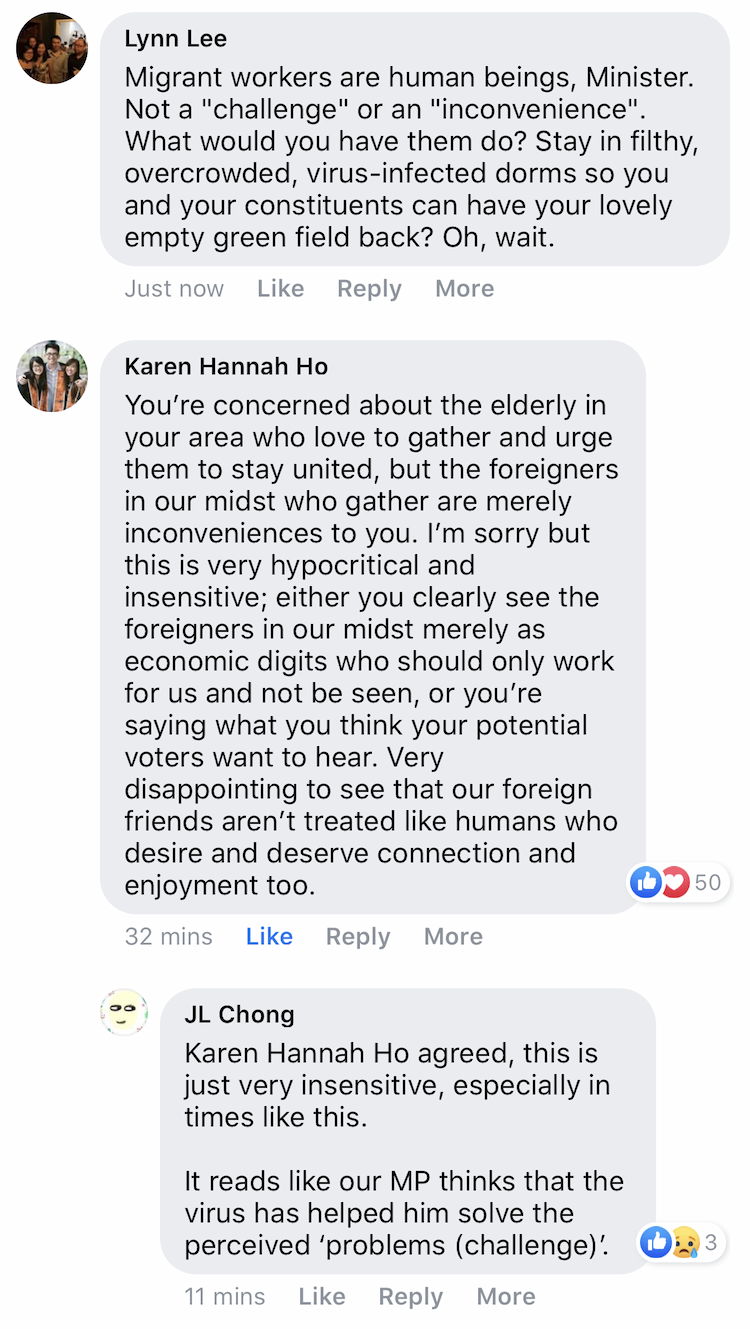 Another Facebook user commented that such workers cannot afford to eat at fancy cafes in malls with the amount they earn and called the post "elitist".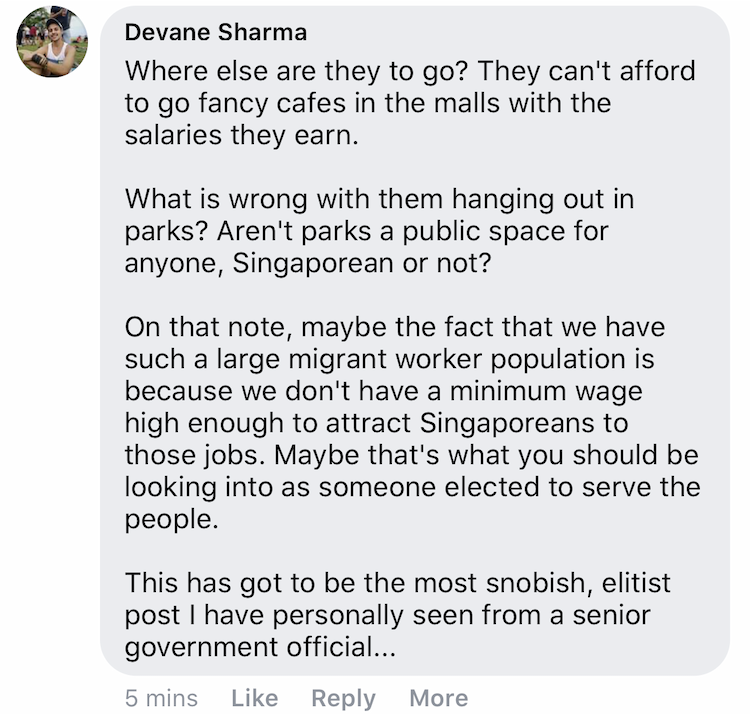 However, some of the comments mentioned that migrant workers were still in the area and even asked for "enforcement officers to be around to ensure they obey orders".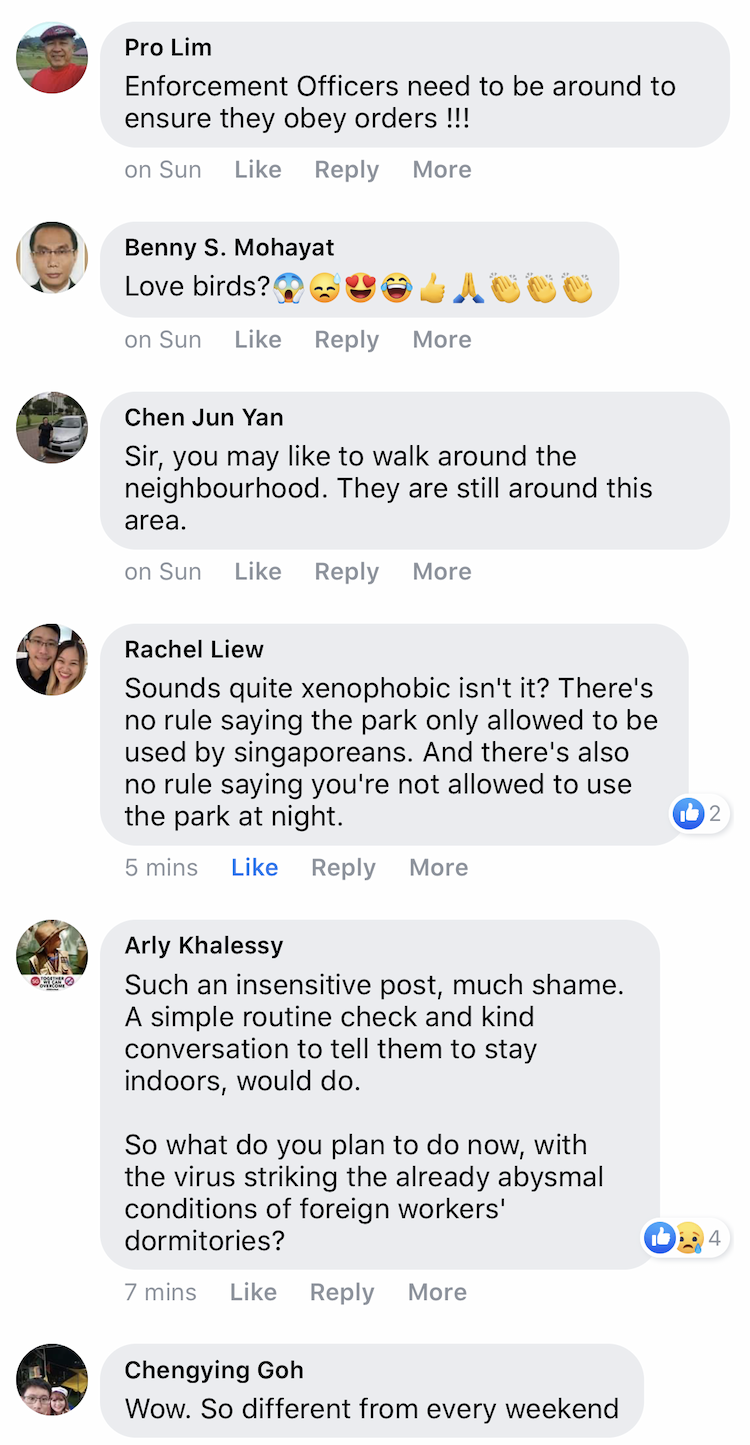 Yaacob replied in his post before it was deleted
In an edit to the post before it was deleted, Yaacob responded that he agreed that "foreign workers need spaces to interact and meet their friends".
He mentioned that it should be "done in a way that is win-win for all" and that the challenges that his residents in the area faced was the trash left behind every Sunday night and "the noise they create way till late (at) night".
He then added that: "My residents are concerned. The solution I am seeking will still allow the foreign workers to gather there, interact more with residents, and yet be responsible towards those who have their homes here. Thanks."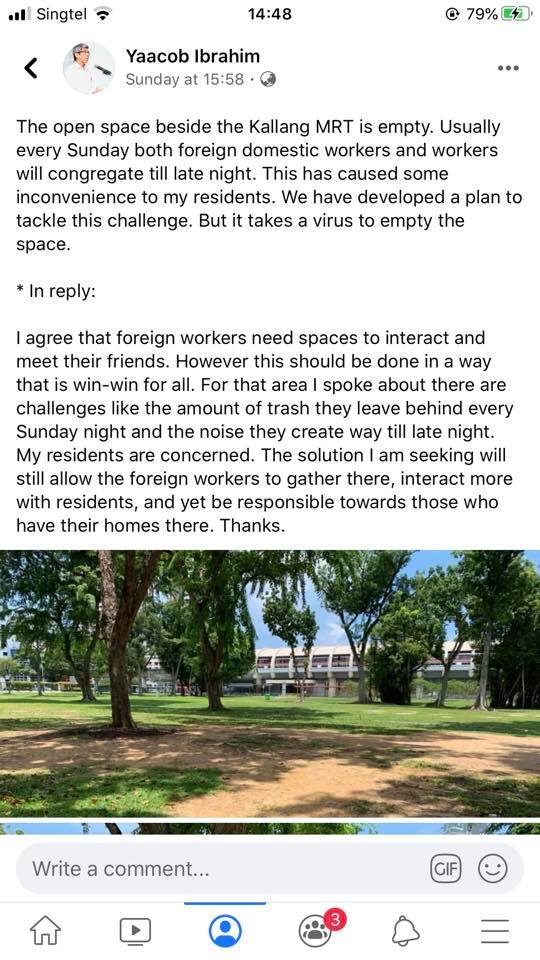 He also said he eventually deleted the post as he did not want to create more confusion and that he thought a lot of people misunderstood his position.
Top images via Yaacob Ibrahim/Facebook
Content that keeps Mothership.sg going
---
😢😫
This writer got eczema only at 25.
👁️‍🗨️💻
Know someone who experienced cyberbullying?
💥😨
What to do with your PMD during circuit breaker period.
🤭🎮
Do you play games while working from home?
🏠💼
We hate online meetings as much as you do.
If you like what you read, follow us on Facebook, Instagram, Twitter and Telegram to get the latest updates.