Singapore entered a "circuit breaker" period on Tuesday, Apr. 7, 2020. During this period, Singaporeans have been advised to stay at home as much as possible.
A new law (The Covid-19 (Temporary Measures) Act 2020) has also just been passed in Parliament on Tuesday that bans all gatherings with family or friends who do not live together. Gatherings are banned at home, and in public spaces like HDB void decks and parks.
However, individuals can still visit family members for assistance with their daily needs, such as caring for elderly parents or informal childcare arrangements, MOH clarified in the evening of Apr. 7, in response to media queries.
Detailed regulations under the new law
There have also been a lot of questions about this new law, called the "Covid-19 (Temporary Measures) (Control Order) Regulations 2020", which if you'd like, you can read in full on the government gazette on Apr. 7.
But if you are lazy, here's a quick rundown of what the rules entail:
Individuals must stay at home, and not enter other people's homes, or let other people into your home.
The regulations state that "every individual must stay at or in, and not leave, his or her ordinary place of residence in Singapore".
You are also not allowed to enter another person's house, unless for these reasons:
Childcare

: You can enter another person's house if you work for an essential service provider, and you are bringing your children to the house to be cared for.

Care for persons with disabilities, children, and elderly

: You can enter another person's house to assist someone with their daily needs, if they have a physical or mental disability, are below 12 years of age, or above 60 years of age.

Enabling essential services: You can enter another person's house to "enable the provision or supply of any essential service" there. This would permit a repairman to fix broken water pipes, to restore disrupted electrical supply, or to repair consumer electronics, IT peripherals, and household appliances.

Emergency: You are allowed to seek or render help in an emergency.
The regulations also state that individuals must not allow others to enter their house, unless it is for the above reasons.
In other words, leaving the house to meet your boyfriend or girlfriend, or to go to their houses (unless you live together), is in violation of the law. Please use online tools to hang out instead, or if you need to pass each other essential items, use non-contact delivery methods.
So when can I leave the house?
And here are all the ways in which it will be legal to leave your house:
For work in essential services: You can go to work for an essential service provider. Those in non-essential services, however, cannot carry on their work unless they are working from home.

For work in specified schools and childcare centres: If you're a teacher or work in early childhood, you can go to work in a specified school or an early childhood development centre.

To send your child to childcare: You can bring your children to a place where they will be cared for, such as a childcare centre. However, you can only bring them to another person's house if you work for an essential service provider.

To care for the disabled and elderly: You can leave your house to assist any individual who has a physical or mental disability, or is below 12 years of age or above 60 years of age, with daily needs.

To buy essential goods and services: You can go out to buy food and groceries. You can also buy goods and services from an essential service provider (such as a hairdresser or laundry service), or a specified school.

To get medical help: This includes medical help for suspected Covid-19 infection, as well as "medical treatment that is of a pressing nature".

For recreational activity and exercise in open areas, alone or with people living in your home with you: You can "engage in any recreational activity" in an open-air stadium, public path or public park. This can be done alone, or with others who live with you.

However, you cannot use sports or recreation facilities which are common property in a "subdivided building", such as a condominium's tennis court or a playground within a shopping mall.

For NS duties: You are allowed to report for enlistment or service under the Enlistment Act.

To comply with the law: You are allowed to report to "any law enforcement officer", or to attend court if you are required by law to do so.

To move houses: You are allowed to move to another place of accommodation.

To leave Singapore: You are allowed to leave your house if you plan to leave Singapore. However, those who return will be charged unsubsidised rates for inpatient stay at public hospitals, if they are admitted for suspected Covid-19 symptoms.

In emergency, to seek or provide help: You can leave your house to seek help in an emergency, or render help.
What are essential services?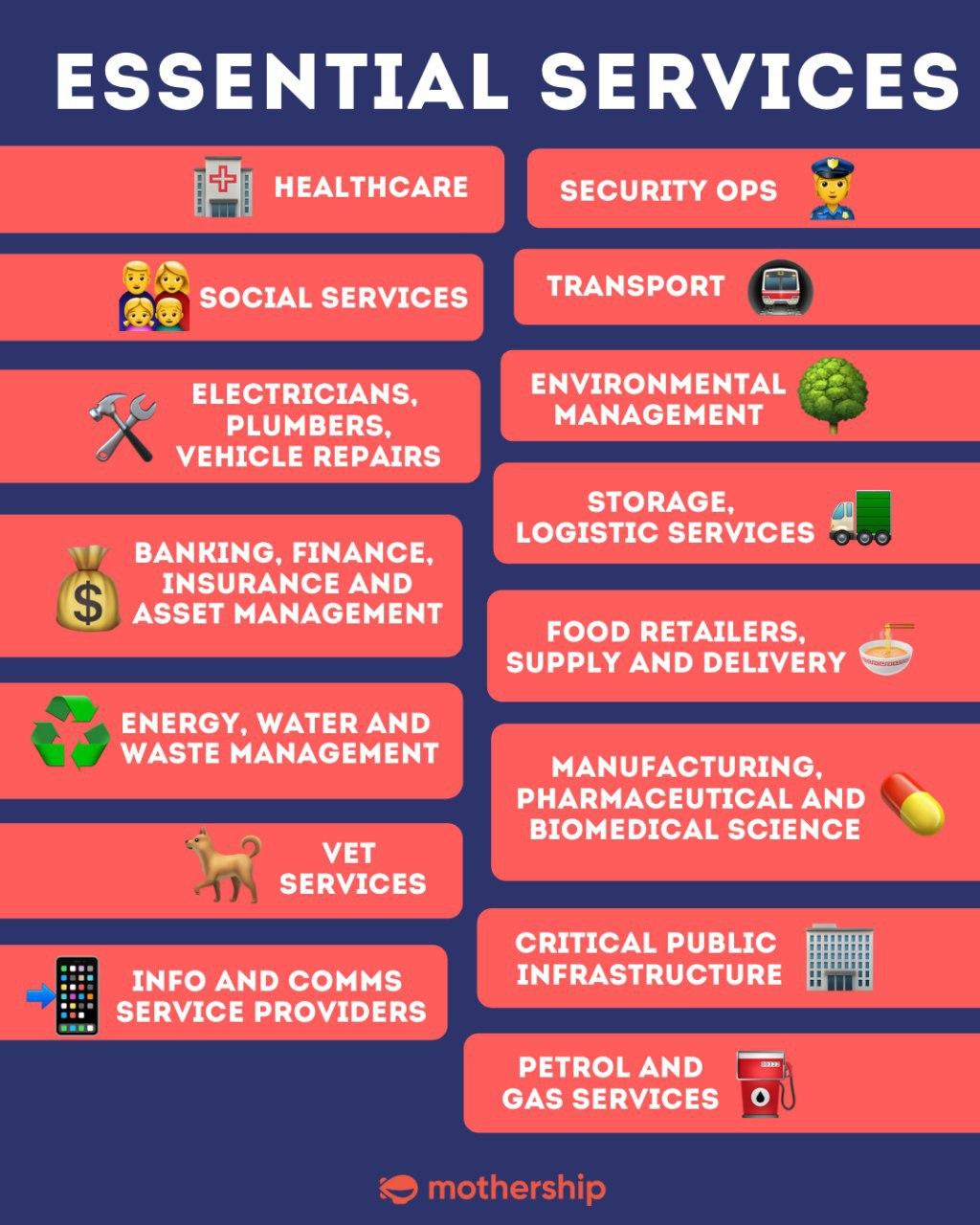 The official list of essential services can be found here.
This includes food, health and social services, energy, and waste management.
Selected other services required for daily living, such as hairdressers and barbers, opticians, lift maintenance, laundry, transport services, and telecommunications services remain open at this time.
What you must do when you leave the house
Regardless of the reason for leaving your house, the regulations also require individuals to keep a distance of at least one metre from others.
You only are not required to do so if you are:
In a lift,

In a vehicle, or

In public transport-related premises like bus interchanges and MRT stations.
This applies to public areas as well as the common areas in "subdivided buildings" such as condominiums and shopping malls.
Will I be fined or jailed if I ignore or break these rules?
Yes. If you are caught once, you will be charged, just like this guy who went to eat bak kut teh, and this guy who went to deliver newspapers around Newton, in court.
And if you are found guilty, you'll be fined an amount not exceeding S$10,000, and/or jailed for not more than six months.
If you violate these rules twice or more times, these penalties will be doubled.
So the answer is yes, these must be taken very seriously.
---
Mothership Explains is a series where we dig deep into the important, interesting, and confusing going-ons in our world and try to, well, explain them.
This series aims to provide in-depth, easy-to-understand explanations to keep our readers up to date on not just what is going on in the world, but also the "why's".
---
Top image via Andrea Ang on Unsplash
If you like what you read, follow us on Facebook, Instagram, Twitter and Telegram to get the latest updates.