Chinese Internet users have vowed to boycott a Thai "boys love" drama after the lead actor's girlfriend retweeted a tweet that was seen as being offensive to the Chinese.
Bright apologised for liking a tweet that listed Hong Kong as a "country"
Before the episode took place, Chinese Twitter users also noticed a week before that Vachirawit Chiva-aree, better known as Bright, had liked a post on Twitter that mistakenly listed Hong Kong as a "country".
The photographer subsequently apologised for his "lack of caution talking about Hong Kong", saying that he is an outsider "with no knowledge on the matter".
He then posted the same photos, but with a different caption, referring to the places as "locations" instead of "countries".
His original post appears to have been taken down.
Bright also apologised on the original tweet, saying he feels sorry for his "thoughtless" action, and that he only saw the pictures and did not read the caption clearly.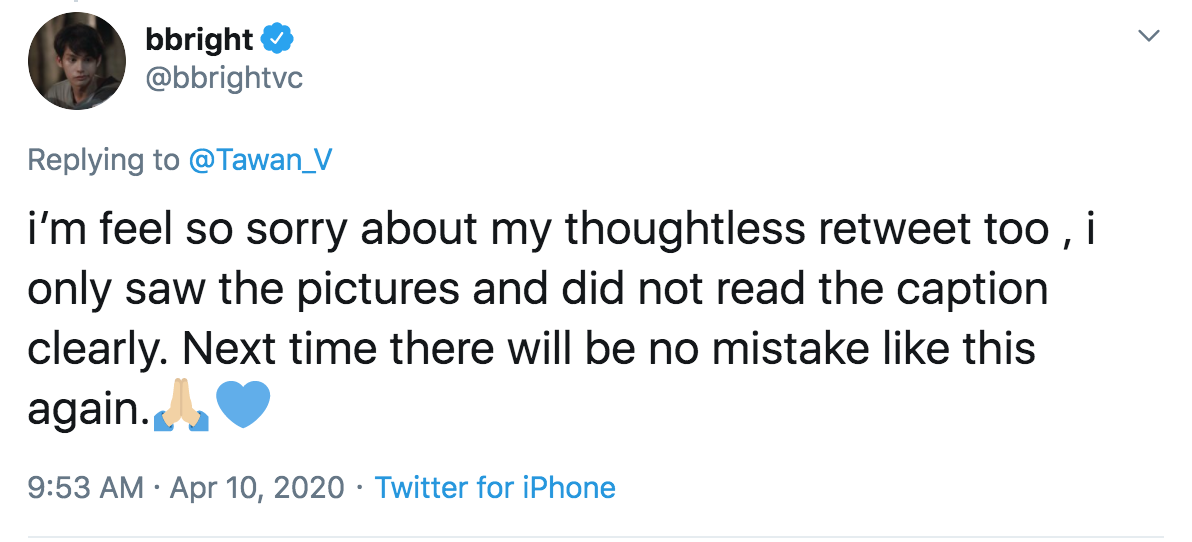 He promised not to make the same mistake again.
Chinese netizens thanked him for the apology
Chinese Twitter users then thanked him for apologising, and also reiterated the Chinese Communist Party's long-held stance that Hong Kong, Taiwan and Tibet are all territories inalienable from China.



Lead actor's girlfriend retweeted an offensive tweet to the Chinese
Following the episode, Bright's girlfriend, Weeraya S., retweeted a tweet that accused the virology lab in China of housing 1,500 species of animals, including bats, to test for vaccines.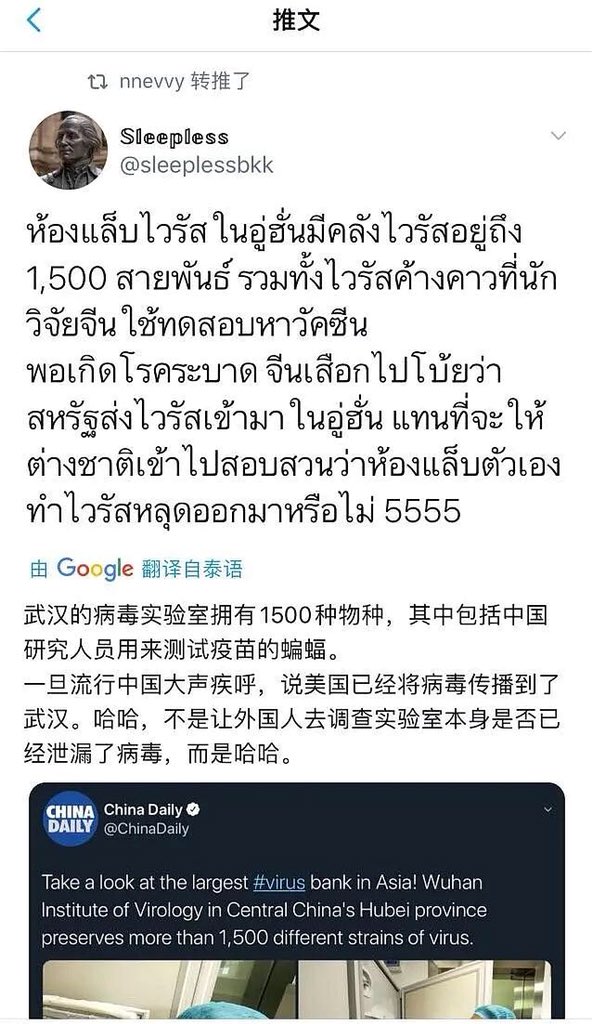 It further claimed that "when the Covid-19 outbreak started, China began claiming that the United States had sent the virus to Wuhan, but they refused to allow foreigners to investigate if the lab itself had leaked the virus out".
Weeraya has since set her Twitter account to private mode.
Comment taken as advocating for Taiwan independence
According to Global Times, Chinese Internet users also found fault with a comment Weeraya made on a 2017 Instagram post.
Bright had left a comment on her photo, taken in Taiwan, that said: "So pretty, just like a Chinese girl".
Weeraya then replied by saying "what?", a common Thai response when someone is being complimented.
In another comment, she had said "Taiwanese girl" -- a manner of speech among Thais in general to say that they are having fun in a different country or region.
However, her comment was taken by Chinese netizens to imply that "Taiwan is not part of China".
Chinese fans boycott the drama
2gether, the drama that stars Bright, then received considerable backlash in China.
The group subtitling and promoting the drama announced that it will stop playing the drama and providing subtitles for it.
It also proclaimed its love for China.
Chinese commenters flooded the post with supportive comments too.
"Alright, I'm just heartbroken for Win (the other lead actor in 2gether) to be caught in a disaster he didn't ask for."
---
A poll also revealed that Bright's fans would stop stanning him because of the incident with his girlfriend.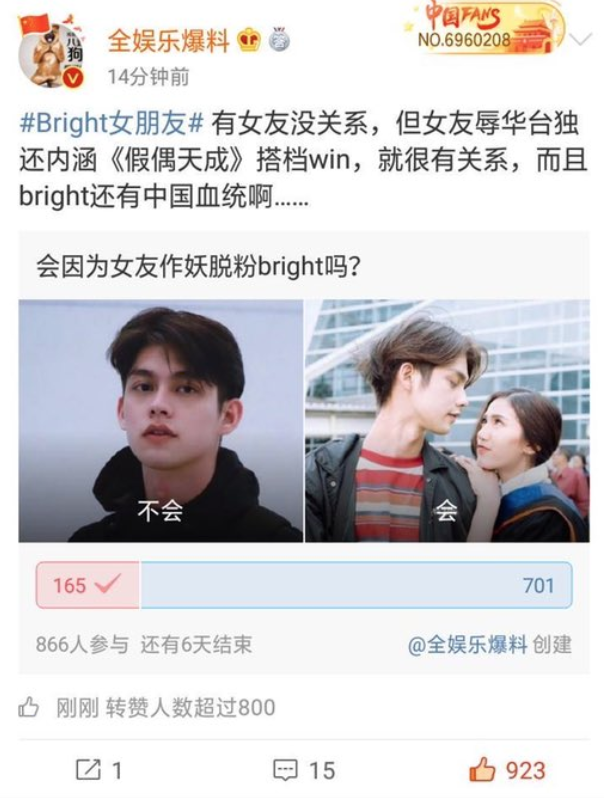 ---
Chinese commenters took to Twitter to express their outrage at Weeraya as well, even engaging in online exchanges with Thai Twitter users.

"As someone from Hubei, I'm so pissed."
---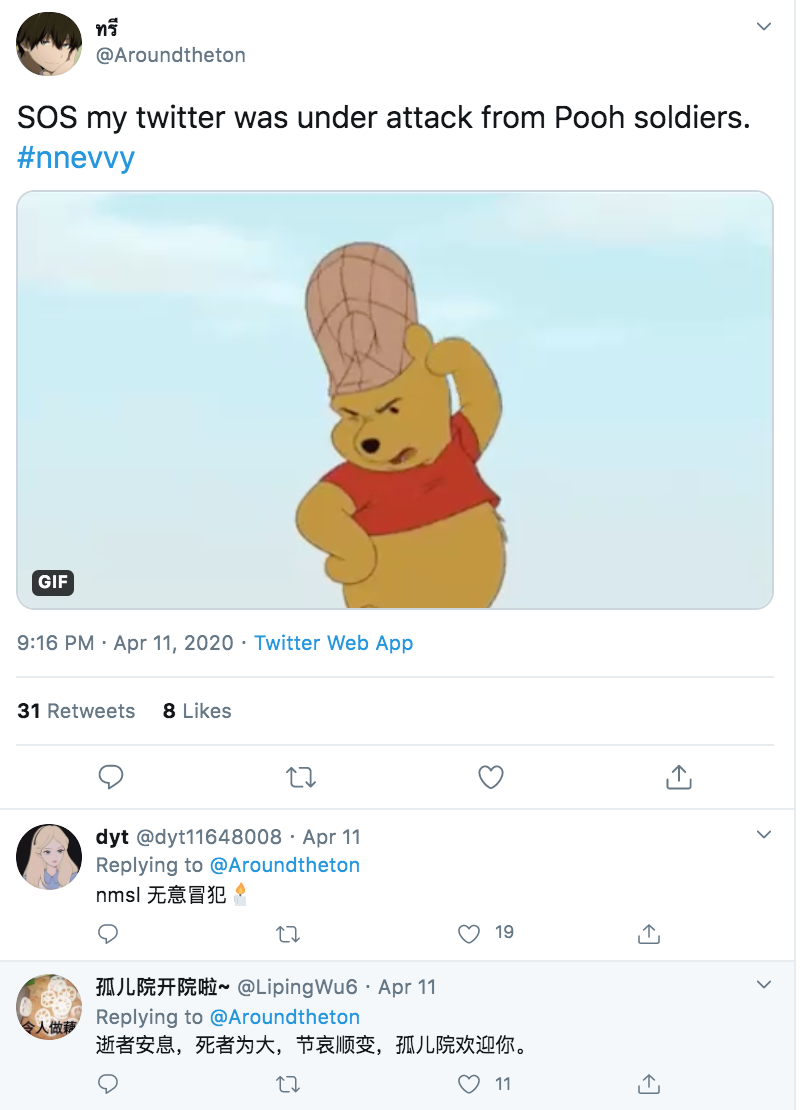 "NMSL (Your mum's dead) I don't mean to be offensive."

"The dead should rest in peace. They deserve the deepest respect. Take your grief in stride. Orphanages welcome you."
Thai Twitter users fight back
In response, Thai Twitter users trolled the Chinese netizens with mentions of rather politically sensitive issues in mainland China, such as the 1989 Tiananmen Incident, and saying that Taiwan and Hong Kong are not part of China.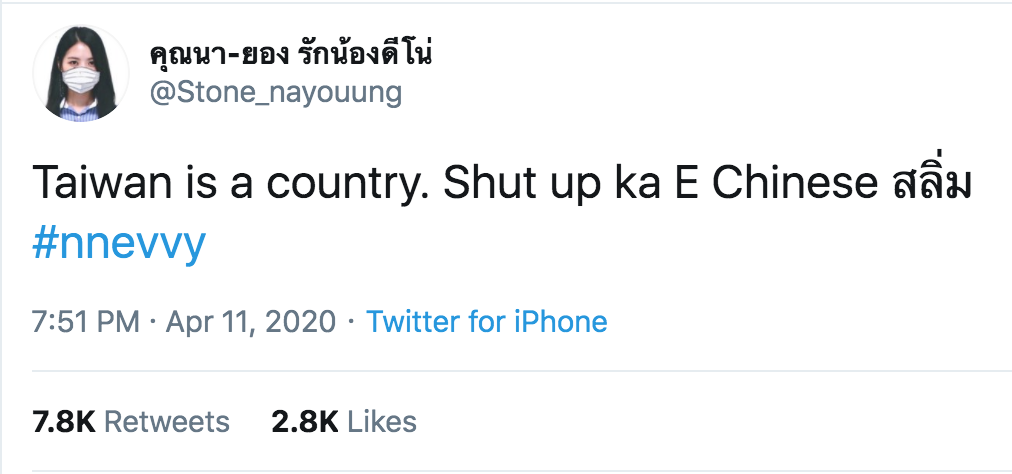 The Thai response, seen as being sarcastic as opposed to the other side that was perceived to be rather tone deaf, garnered praise from foreigners with the same political views.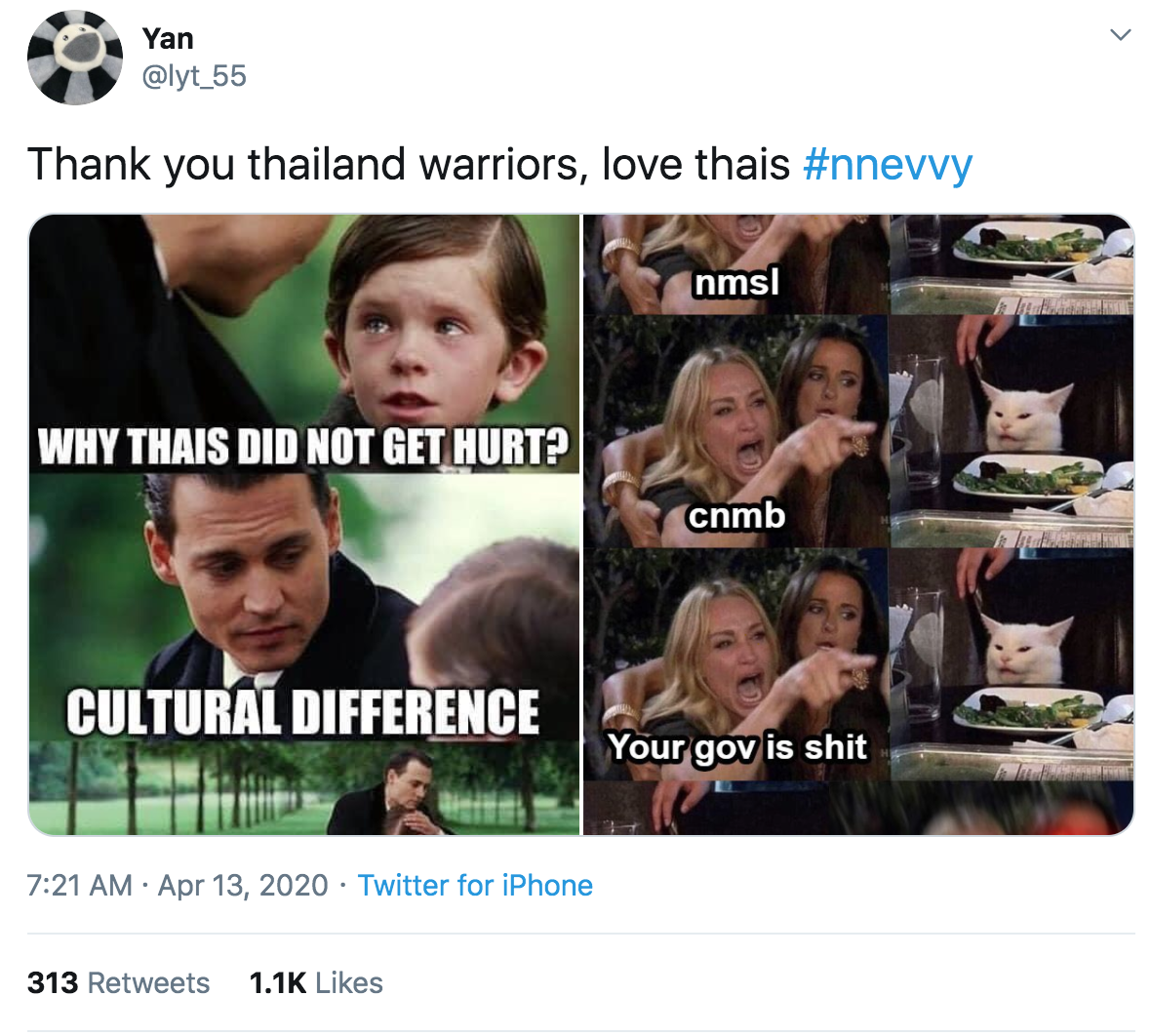 ---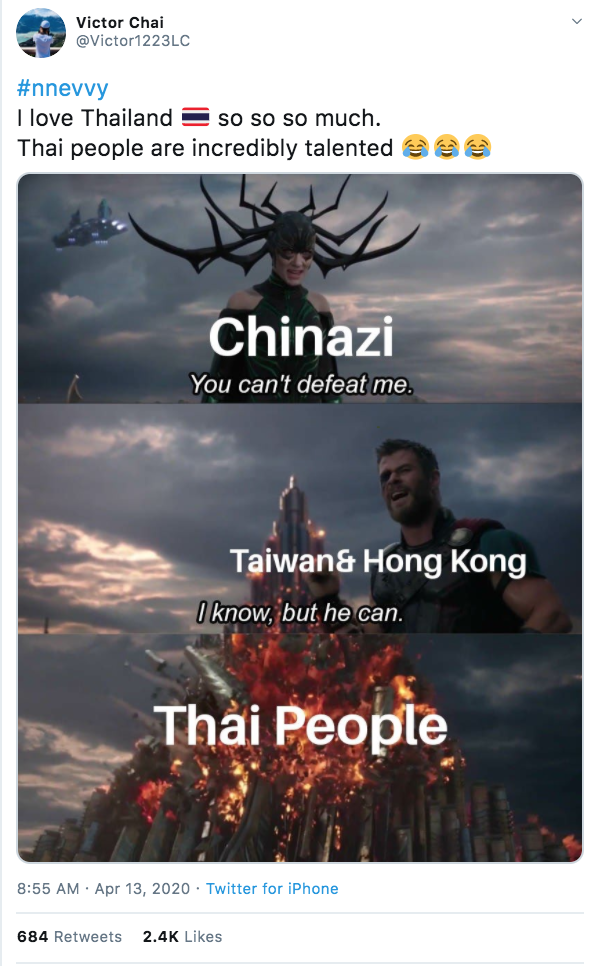 ---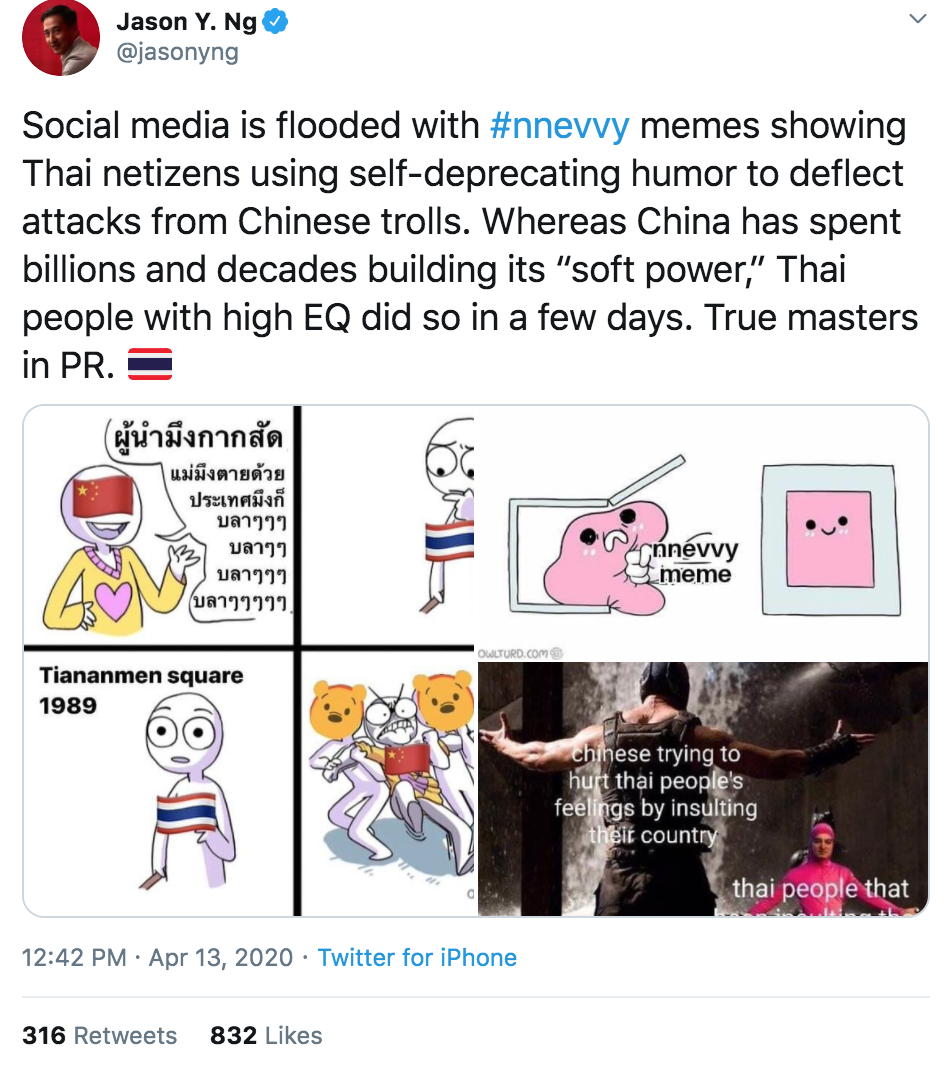 Taiwan politician & Hong Kong activists tweet their support for the Thais
Cheng Wen-Tsan, mayor of Taoyuan city in Taiwan, who is from the independence-leaning Democratic Progressive Party, tweeted his gratitude to the Thai netizens, referring to them as "friends".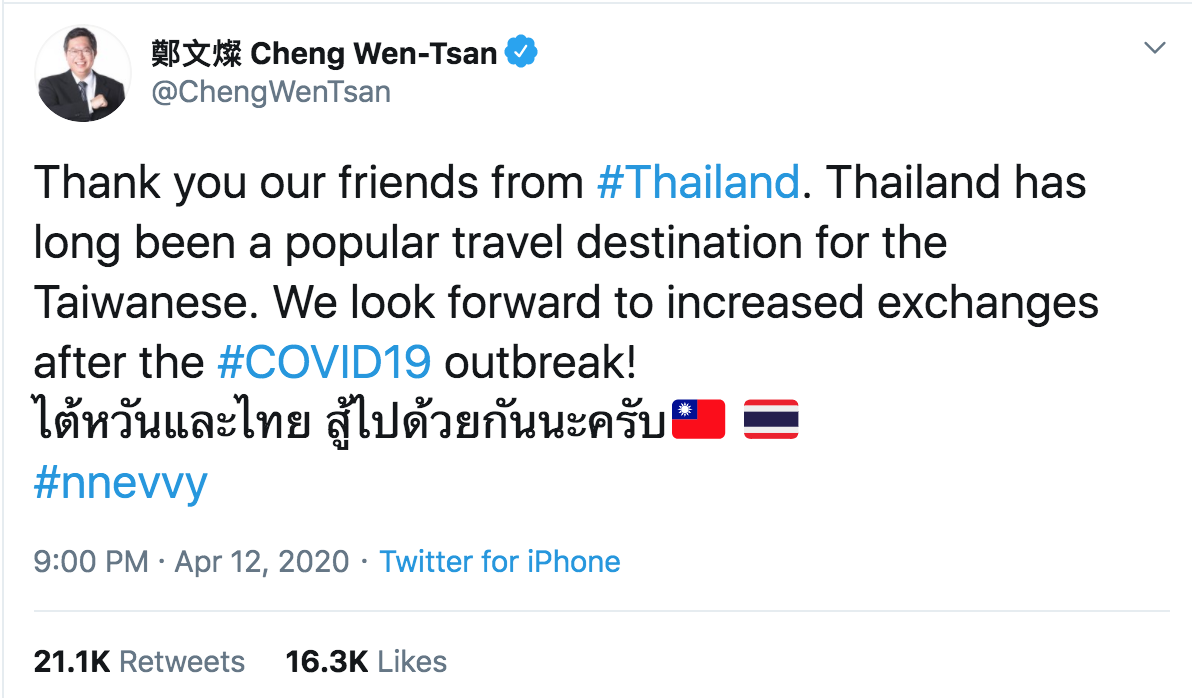 ---
Hong Kong pro-democracy activists have also jumped into the fray, voicing their support for the Thai netizens.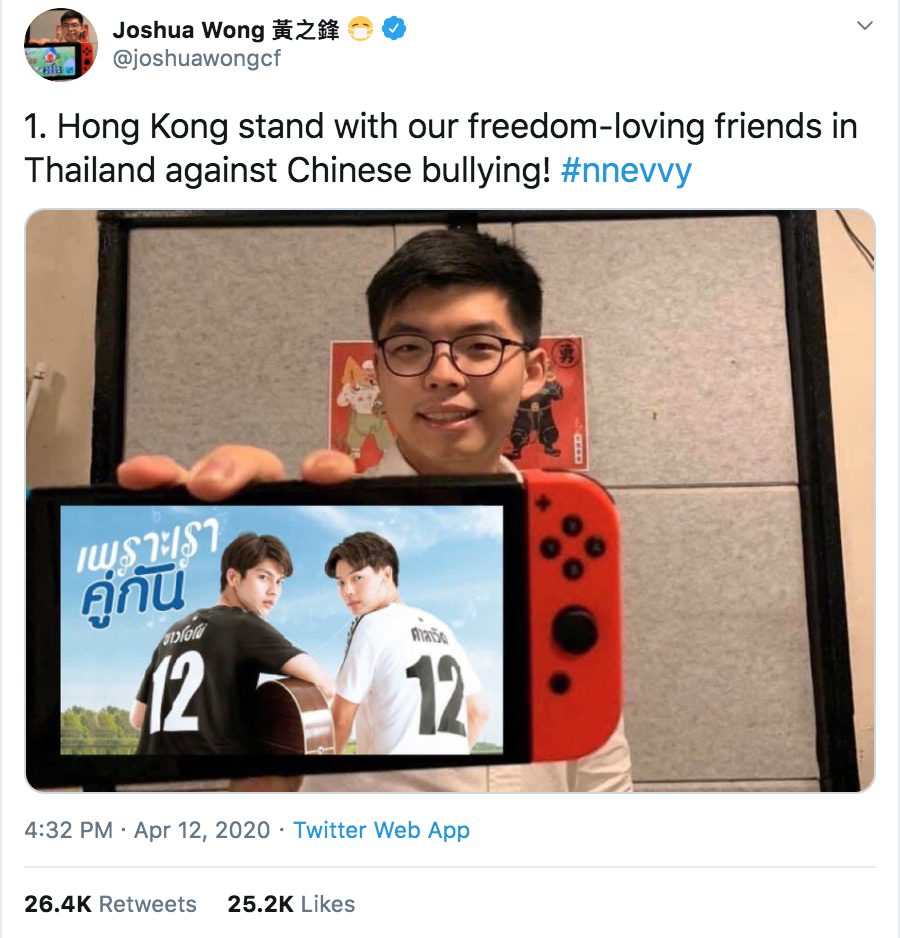 ---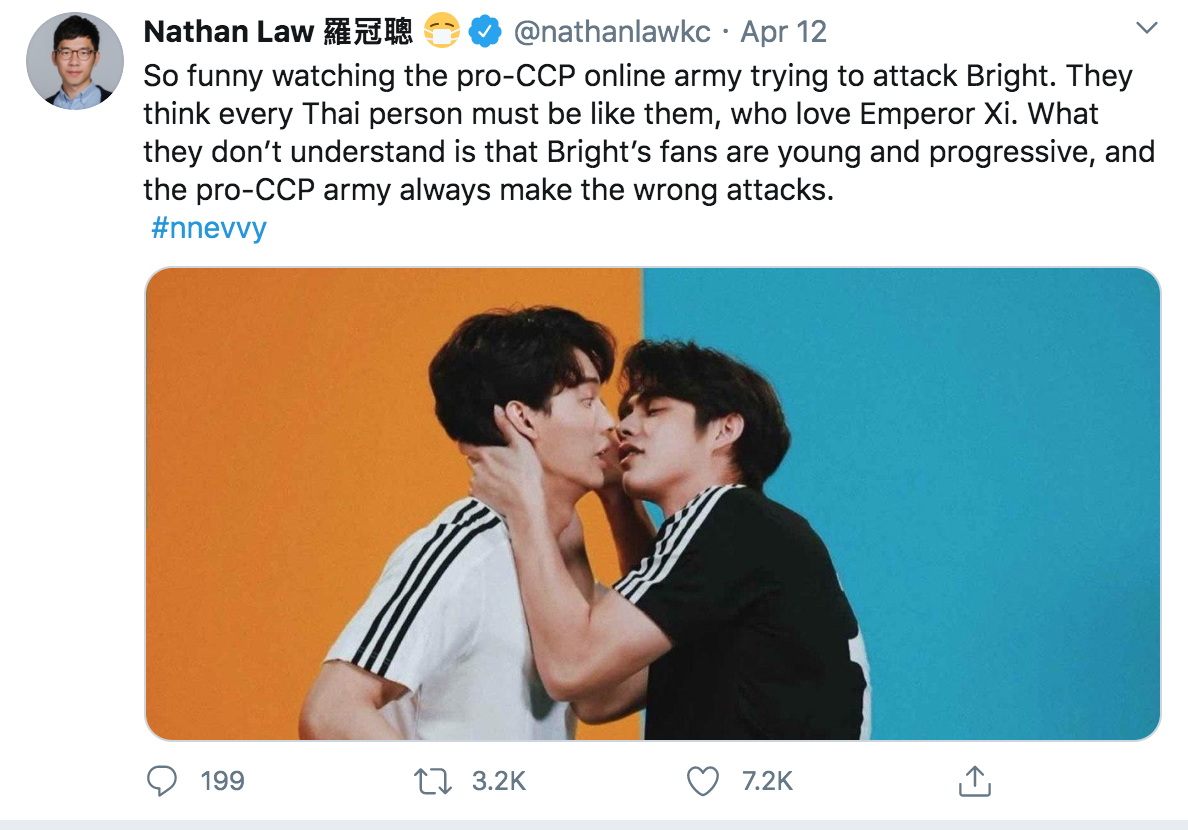 ¯\_(ツ)_/¯
Pitpimon Sukpanyatham in Bangkok contributed to reporting.
Thais voicing their dissent on Twitter:
Top image adapted via 2gether & Weeraya/IG
Content that keeps Mothership.sg going
---
👁️‍🗨️💻
Have you ever been cyberbullied?
🏠💼
We hate online meetings as much as you do.
If you like what you read, follow us on Facebook, Instagram, Twitter and Telegram to get the latest updates.