[Update on Jan. 17, 10:40pm: This article has been updated to reflect Memebao's response.]
A Singaporean web store attracted significant attention on Jan. 15, 2020 for selling "Woman Yelling at A Cat" red packets.
Here's the design from the store, Memebao:
It is selling at S$7.90 for a pack of five.
If it looks familiar, it might be because Malaysian designer Peter Chan released the same design on his Facebook page in December 2019.
Memebao has acknowledged that the design was created by Chan at the bottom of their page: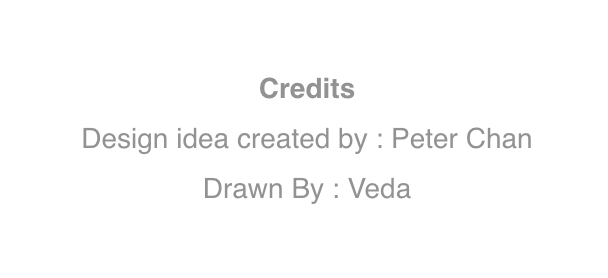 Designer's response
But it seems that Chan has not allowed Memebao to use his design.
Speaking to Mothership, Chan confirmed that he was the one who came up with the idea.
Even though the meme does not technically belong to anyone, Chan believes that his design should not have been copied.
While other brands are free to use the meme for their own products, he adds, he also asked that they do not make it "exactly" the same as his.
Chan says that nobody would be "ok" with their design being copied and sold, and even have their name on the competitor's page.
He reveals that a number of people have messaged him about Memebao, asking if he was behind it.
This resulted in some worry for him, as people might hold him accountable for any incident in the off-chance something bad were to happen.
He said:
"If they are pre-orders, I'm wondering who going print for them start next week? I'm just trying to warn people out there. If any bad thing happen, I am not responsible for it."
Instagram stories from Singapore seller
In a series of Instagram Stories on Jan. 15, an Instagram user @mrxianffy labelled Chan's design as "original artwork" and decried Memebao as "fake".
@mrxianffy is an acquaintance of Chan, who is helping the designer sell his products in Singapore.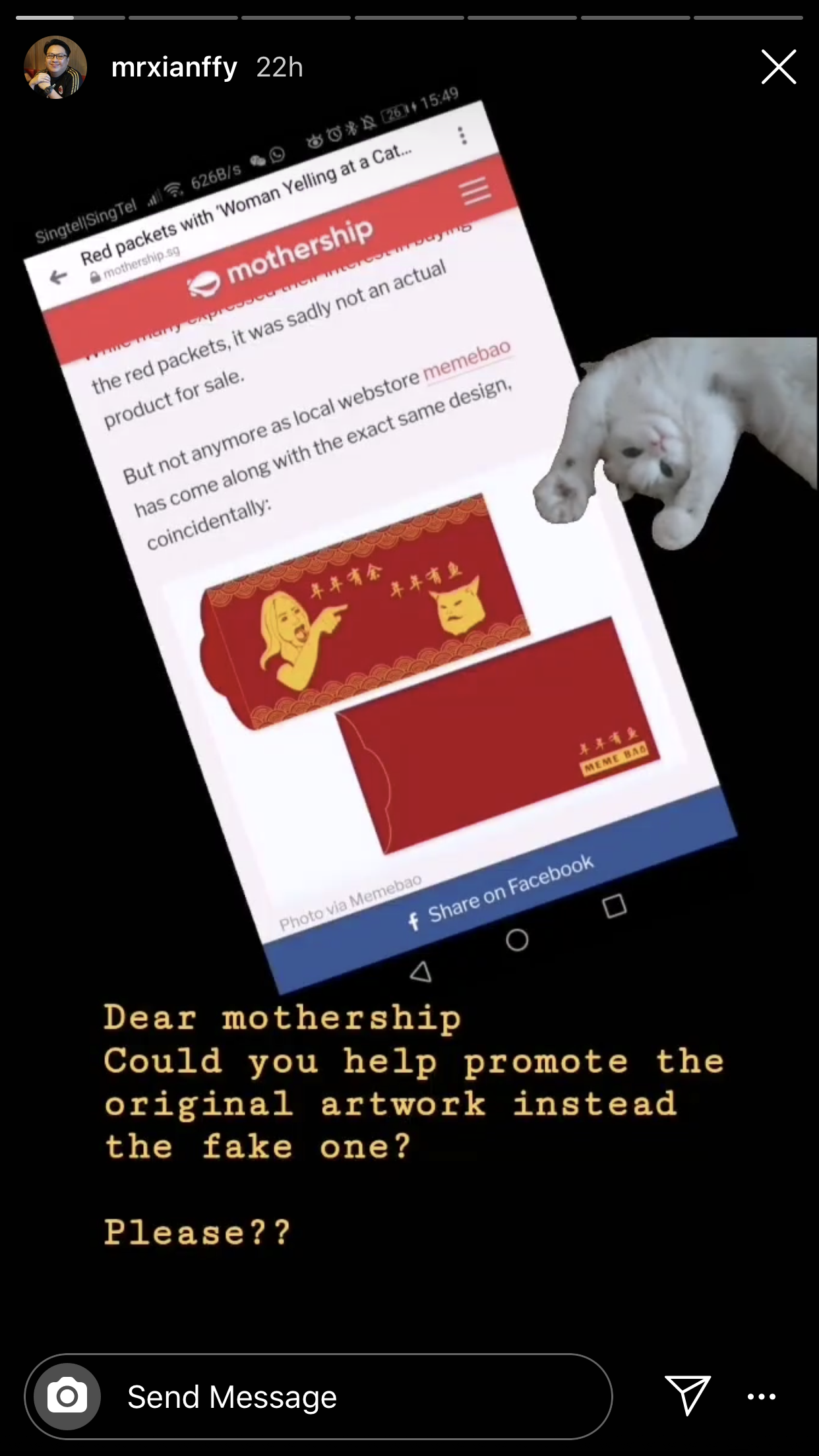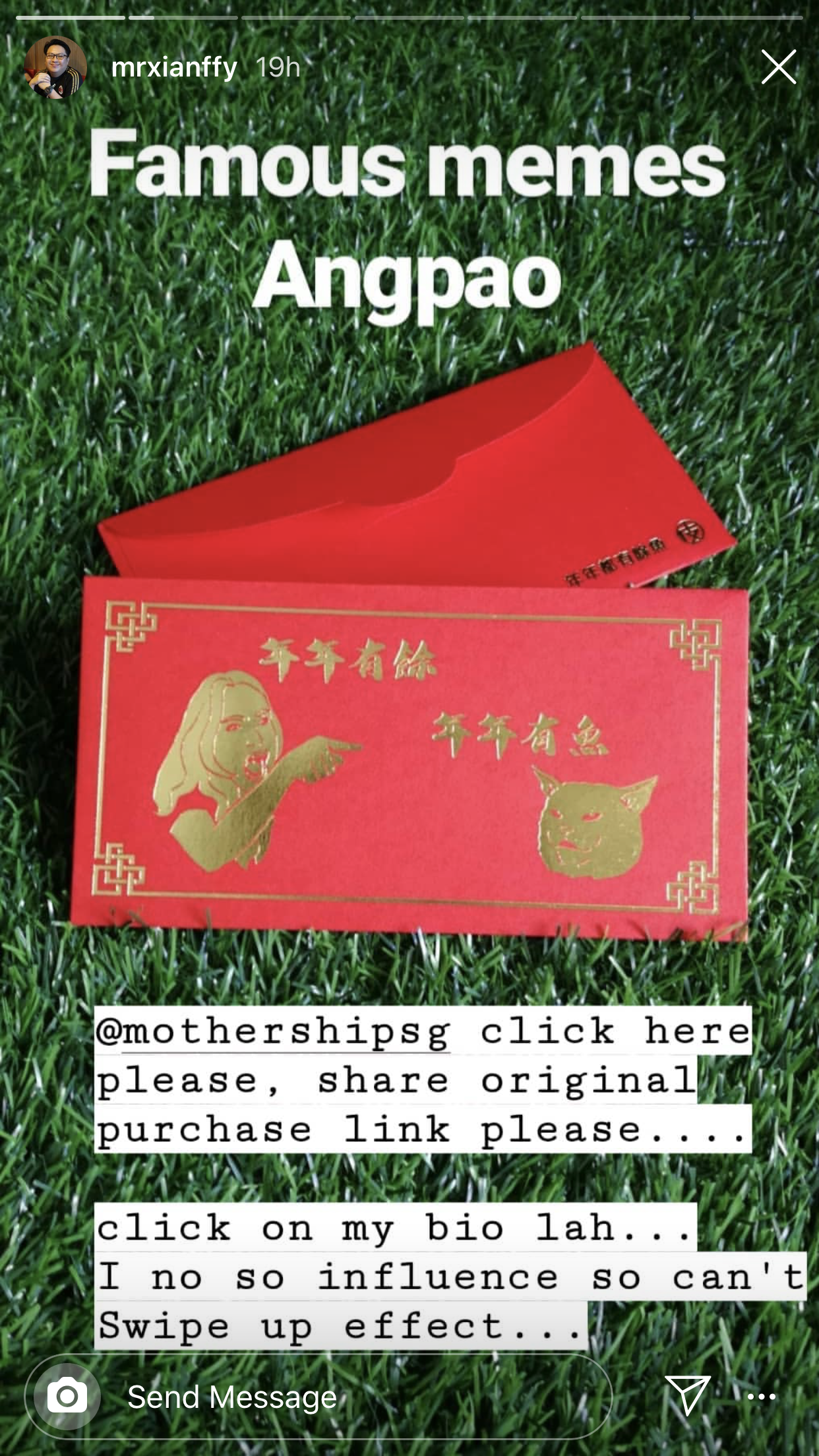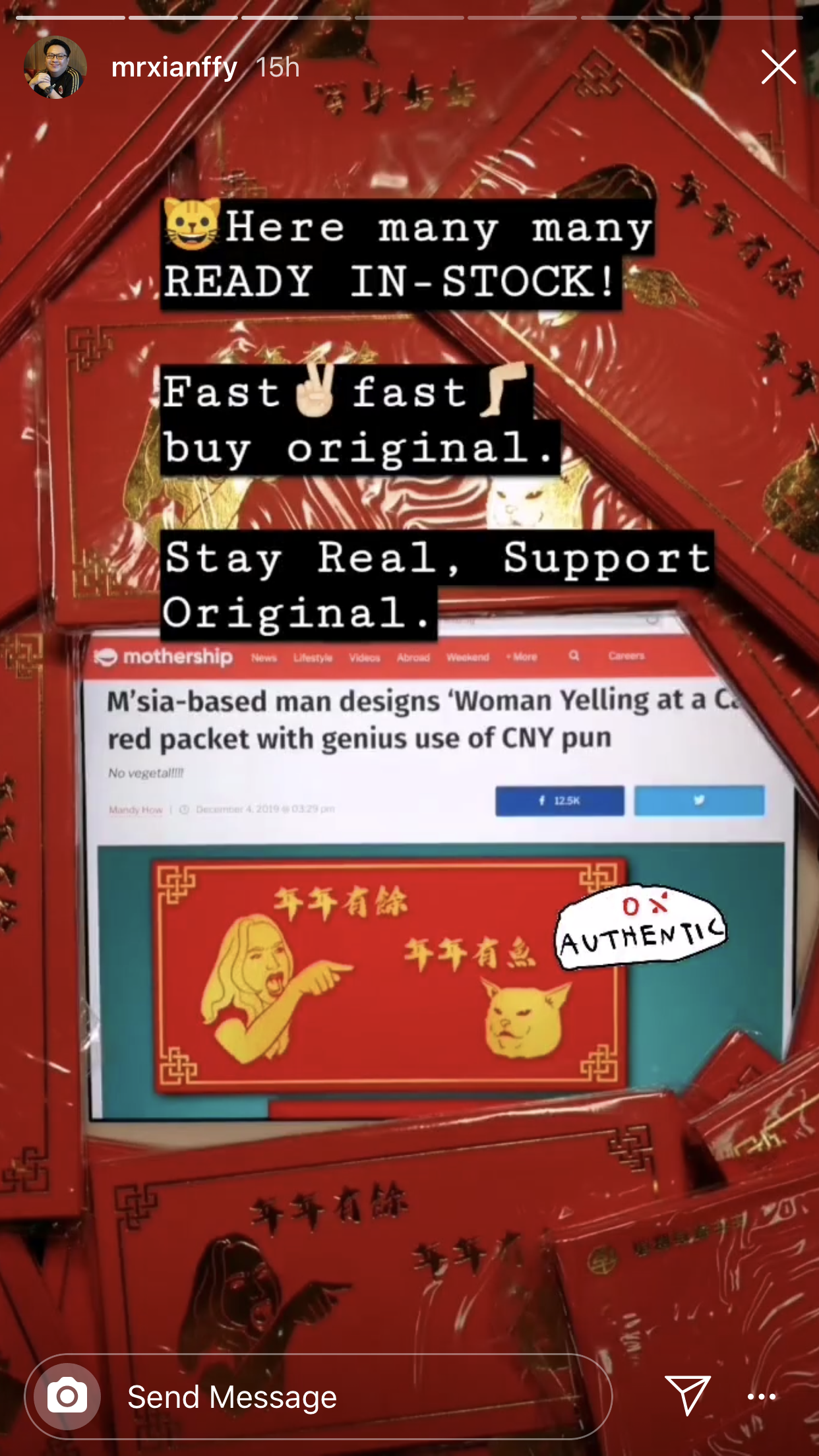 The seller also questioned why Memebao only had the red packets on a "while stocks last" basis when it was a pre-order.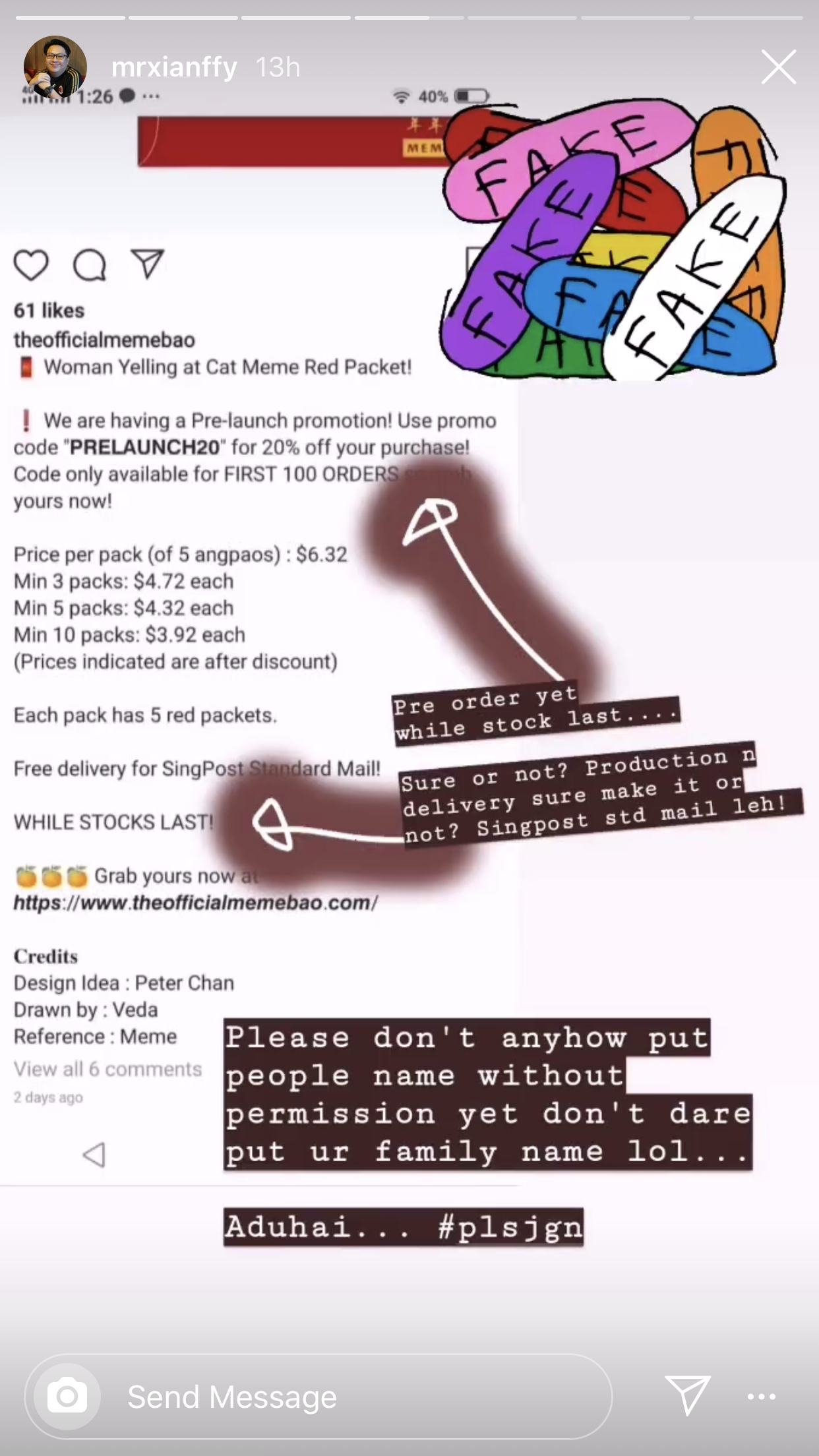 S$5 for a pack of 10
If you would like to buy from Chan, the red packets are available to Singaporeans on Carousell.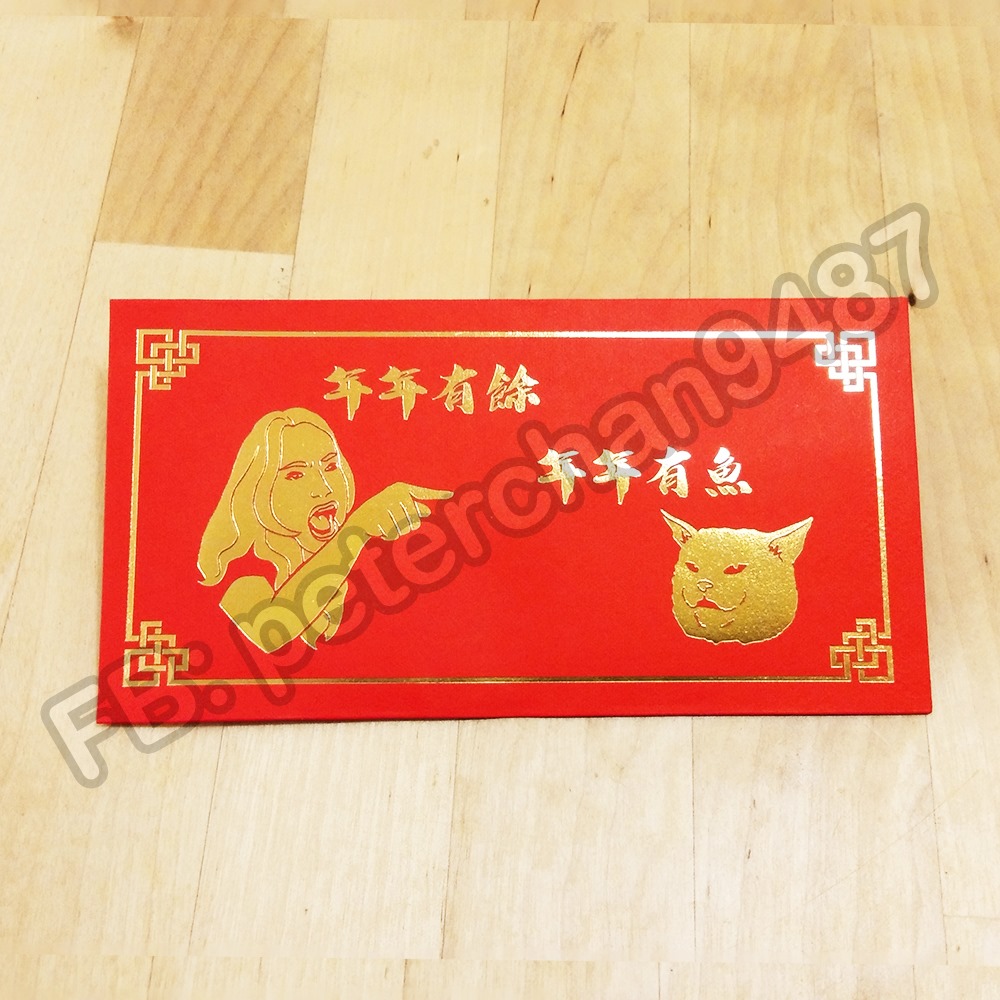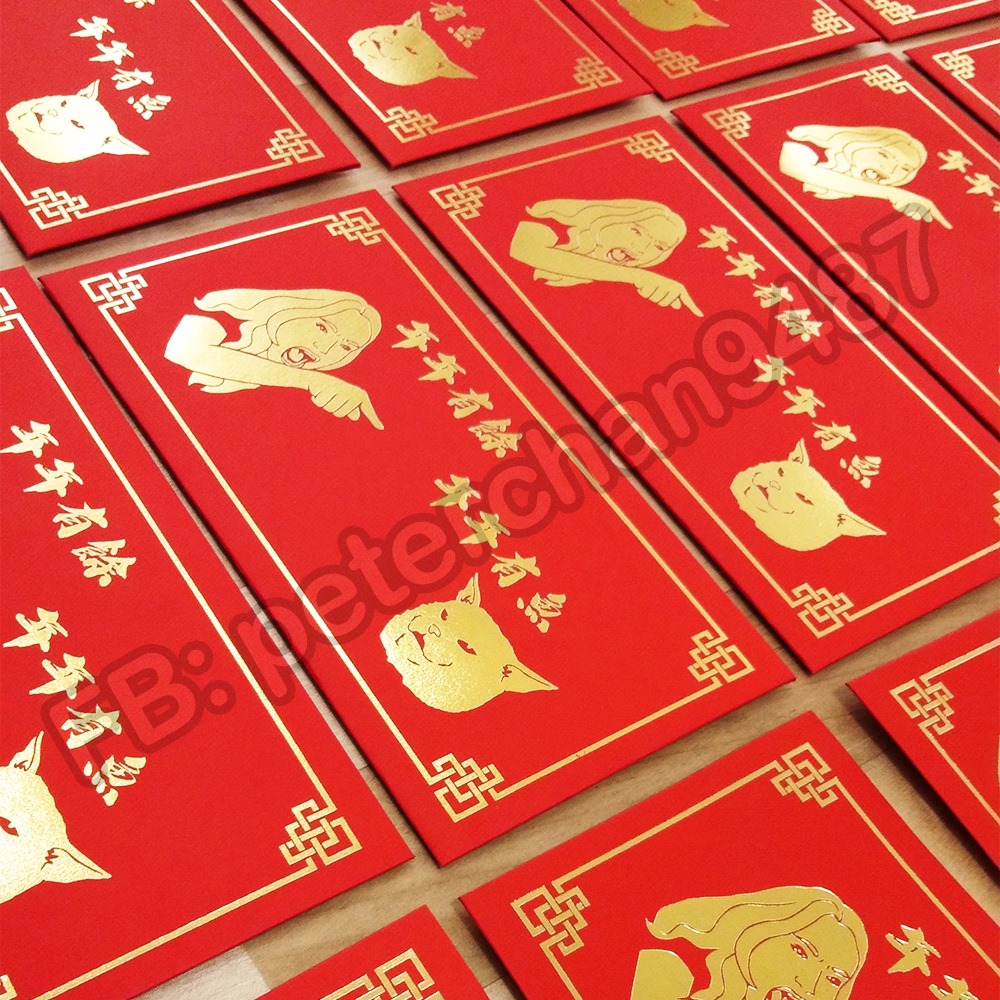 A packet of 10 is going for S$5, while three packets (30 pieces) will cost S$14.
An island-wide mailing fee of S$4.50 will be added to the price.
While there is stock ready, these will be on a while stocks last basis.
Never intended to "steal": Memebao
In response to queries by Mothership, Memebao clarified that they did not mean to steal Chan's profits.
Even though they were aware that Chan had designed it, the Singapore team did not know that he had turned it into a product for sale.
Memebao also explained the rationale behind acknowledging Peter on their page, even though they had drawn up "a new artwork from scratch":
 "To give credit where credit is due, we have credited both Peter for his initial idea as well as our artist, even though we believe that meme designs or derivative works of the original meme (a screen cap of The Real Housewives of Beverly Hills cast members) cannot be copyrighted."
Now that they know Chan is selling the red packets, Memebao adds, they have removed their postings on the retail platforms that Chan is using.
The team is also in the midst of launching their second design, which is "completely original".
They hope that members of the public understand that they are not here to "benefit off others".
Top image via @mrxianffy on Instagram
If you like what you read, follow us on Facebook, Instagram, Twitter and Telegram to get the latest updates.