In October 2019, Hong Kong Chief Executive Carrie Lam invoked emergency rule for the first time since 1967, banning face masks at public gatherings in order to prevent protesters from hiding their identities from police officers.
The ban was later lifted in December 2019 by a Hong Kong court, with the judges stating that the mask ban was unnecessary in dealing with the law and order situation in the short term.
Wearing masks currently remain a symbolic gesture for protesters.
Carrie Lam wearing a surgical mask
With the ongoing Wuhan virus being declared an "emergency" in Hong Kong, the Hong Kong leader was seen wearing a face mask herself during a press conference on Jan. 28.
During the conference, she announced several measures aimed at preventing the further spread of the novel coronavirus within the city.
This was following a separate meeting on Jan. 25, where government officials were seen without masks:
So Carrie Lam and her team finally got the memo about wearing masks. Top: Saturday 25 Jan; bottom: Tuesday 28 Jan pic.twitter.com/2tqzN9HN5C

— Mary Hui (@maryhui) January 28, 2020
However, eagle-eyed netizens pointed out that Lam may be out of touch with wearing face masks, as her face mask did not cover her nose throughout the entire press conference.
Here's a widely-circulated image of Lam.
someone needs a lesson on wearing masks pic.twitter.com/zOzWXWXFCJ

— Kris Cheng (@krislc) January 28, 2020
#CarrieLam, the Beijing-selected Chief Executive for an international city like #HongKong, fails even to wear her surgical mask properly for her govt's press conference on tackling #Coronavirus

1 more reason why #Hongkongers are demanding their right to choose their own leaders https://t.co/3S1fl1Sbiq

— Mandy 😷 (@MandyDUBHKG) January 28, 2020
https://twitter.com/joe_woodard/status/1222094093183942657
#CarrieLam wore mask wrongly during press conference. Did anyone tell her? https://t.co/3EtYIQtaNj

— Mingfung😷🖑☝ (@Mingfun26273762) January 28, 2020
And from Reddit: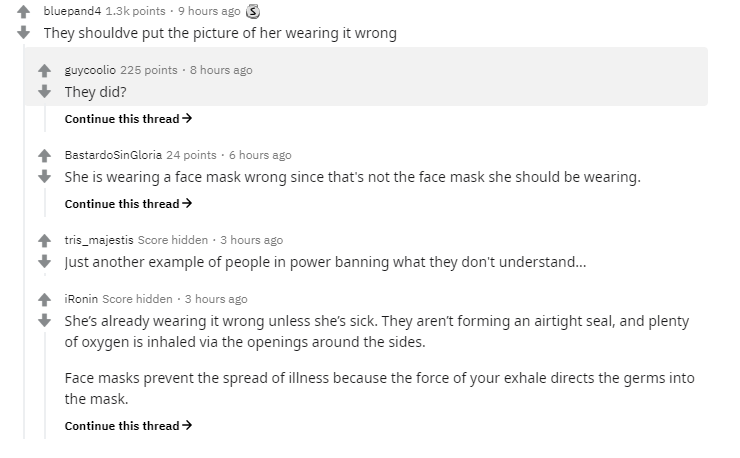 During the press conference on Jan. 28, the Hong Kong chief executive announced that high-speed trains and ferries across the border would be suspended, from Jan. 30 onwards.
A number of flights to China would also be halved, and personal travel permits, which are necessary for mainland Chinese to enter Hong Kong, would be suspended.
The Hong Kong leader previously announced on Jan. 27 that all travellers who have been to Hubei province in the last 14 days would be banned from entering Hong Kong.
However, Lam shied away from calls to implement an outright ban on everyone from Mainland China from entering Hong Kong.
Related Stories
Top image from Kris Cheng/Twitter.
Content that keeps Mothership.sg going
---
??
Quick!!! Cheap food, flights and activities here!
??
$1.50 unagi sushi?!? Don't say we bojio.
??
Technology can be scary for older folks, but it doesn't have to be.
If you like what you read, follow us on Facebook, Instagram, Twitter and Telegram to get the latest updates.