Arsenal football club midfielder, Mesut Özil, recently tweeted a criticism about the Chinese government's treatment of its Muslim Uyghur minority.
Condemned China's treatment of the Chinese Muslims
Özil tweeted his thoughts and feelings on the controversial topic in Turkish on Dec. 13:
#HayırlıCumalarDoğuTürkistan 🙏🏼 pic.twitter.com/dJgeK4KSIk

— Mesut Özil (@MesutOzil1088) December 13, 2019
As of the time of writing, the tweet has over 54,000 retweets and 139,000 likes.
He also posted the same thing on his Instagram account:
Özil, a Muslim and a German national of Turkish origin, referred to China's Xinjiang Uyghur Autonomous Region as "East Turkestan", a separatist term advocated by the UN-listed terrorist organisation East Turkestan Islamic Movement (ETIM).
Here is the full translation of his post via Ilmfeed: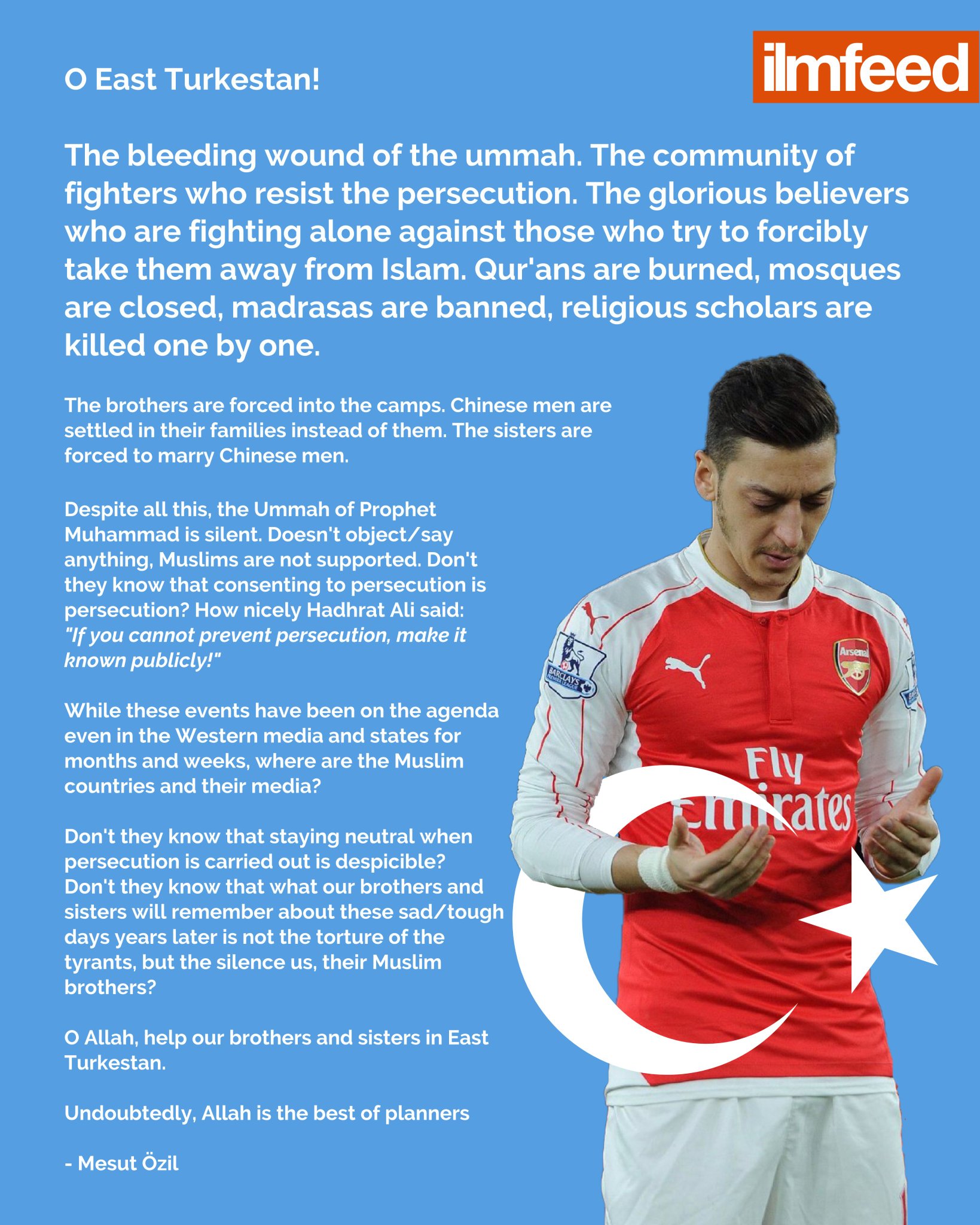 China removed broadcast of Arsenal's match
Following Özil's posts, the match between Arsenal and Manchester City was removed from the broadcast schedule of China Central Television (CCTV) on Dec. 14.
The match, which was scheduled for Dec. 16, was replaced by a replay of Tottenham Hotspur's match against Wolverhampton Wanderers instead.
Arsenal and Tottenham, both London-based clubs, have a long history of rivalry.
Arsenal distanced itself from Özil's views
According to the BBC, Arsenal had distanced itself from Özil's comments.
Here is the club's statement via BBC:
"Arsenal is always apolitical as an organisation.

Following social media messages from Mesut Özil on Friday (Dec. 13), Arsenal Football Club must make it clear that these are Mesut's personal views."
China denies all allegations
International media outlets such as BBC, New York Times and Washington Post have consistently reported on China's treatment of the Chinese Muslims in the concentration camps in Xinjiang, western China.
The Muslim men are allegedly indoctrinated, locked up and used for medical experiments, while the women are victims of gang-rapes.
China, however, has dismissed all allegations, saying that they are "fake news".
Top photos by Mesut Ozil/Twitter & Stuart MacFarlane/Arsenal FC via Getty Images.
Content that keeps Mothership.sg going
---
??
Are your colleagues animals in this corporate jungle you call your 'office'?
✈️?️
Want go Perth anot?
✋?
Have you ever felt like a boomer in your 20s?
If you like what you read, follow us on Facebook, Instagram, Twitter and Telegram to get the latest updates.