Perth is probably a familiar destination with most Singaporeans.
Which is why travellers might pass on it in favour of somewhere more exotic.
Here are six well-rounded places to visit in Perth and its surrounds, as recommended by a Singaporean studying in Perth.
Having lived there for a couple of years, it's safe to say that 23-year-old Tan misses home.
With a slower pace of life and its natural sights, however, Perth might be exactly what a holidaying Singaporean is looking for.
1. Swan Valley
Swan Valley is a region on its own, 25 minutes away from Perth.
Arrive in a thirsty state of mind, because you'll find a healthy number of wineries, breweries, and distilleries here.
In addition, buy your fill of locally-grown produce at roadside stalls packed with figs, melons, strawberries, asparagus, and tomatoes, plus handmade chocolate, fudge, truffles, ice cream and nougat.
Afterwards, visit cafes and restaurants, which serve up the entire range from brunch, pub grub, traditional high tea to fine-dining.
Steeped in Mediterranean history, Swan Valley is also where artists have also set up home with studios and galleries.
We're not just talking about painters, either; there's sculptors, potters, and furniture carvers as well.
You can even shop for antiques, as well as vintage collectibles in the form of fashion, furniture, home decor, and knick-knacks down Guildford's Strip.
Dr Russell's Imaginarium caught our eyes with its collection of curious objects, and reminds us of the quirky shops you would find at Haji Lane.
https://www.instagram.com/p/BsKrsdShmBn/
Here's a list of the galleries and shops available.
All in all, there are 150 attractions over the 32km loop.
2. Quokkas at Rottnest Island
To get away from the hustle and bustle of Perth's city life, Rottnest Island is easily accessed by a ferry ride from various ports in Perth.
If you're not familiar, Rottnest Island is abound with adorable quokkas and beautiful beaches.
These adorable marsupials are native to the island, and are extremely tame and camera-friendly.
They can often be found eating berries or hiding in the shade.
Many a tourist have taken a quokka selfie before — including Chris Hemsworth.
You probably won't get four million likes or make the headlines, but it still makes for a great photo.
Take note that visitors are not permitted to feed or touch them though, and can be fined S$150 by authorities for doing so.
Bored of the usual bike trails along East Coast Park? You'd be thrilled to find out that cycling is one of the most popular mode of transport on the car-free island and bicycles are conveniently available for hire.
With paved roads and a mildly hilly terrain that stretches along the island's 63 bays and sandy enclaves, it is undoubtedly the most scenic way to get around the island.
There are also free guided historic walking tours in The Settlement run by volunteer guides if you're itching to find out more about the island's aboriginal history and colonial-era.
And as always, food and shopping —  check out the island's pedestrian shopping zone and grab a midday pick-me-up at The Lane which serves up açai bowls and vegan burgers.
3. Serpentine National Park
Surrounded by scenic waterfalls, bushwalking trails, and a myriad of flora and fauna, Serpentine National Park is located on the Darling Scarp, an hour's drive away from the city's CBD.
Begin your visit to the park with lunch at Millbrook Winery, which offers house-made wines and gourmet Australian cuisine that can be enjoyed in the boutique winery's restaurant, tasting room or deck.
If you prefer a casual setting, the Jarrahdale Tavern has Australian steak meals and a beer garden in a heritage tourist town, a stone's throw away from the Serpentine National Park.
To walk off your meal, check out the iconic Serpentine Falls, dubbed the crowning jewel of the Serpentine National Park where you can also spot Western Grey Kangaroos.
https://www.instagram.com/p/BKklQTWgOfv/
Or if you'd like another challenge besides Bukit Timah Hill, hike up the Baldwins Bluff and soak in panoramic views of the park at its summit.
And yes, shopping can be done on the same day, with the city of Mandurah a 40-minute drive away (near by Australian standards)
4. Penguin Island
A 50-minute drive away from Perth is Penguin Island, home to a colony of about 1,200 penguins.
If you'd like to see the birds up close, head over to their Discovery Centre, where penguin feeding sessions will take place three times a day.
There are currently 10 penguins in the centre that were found as injured or orphaned chicks.
Although there are plenty of penguins in the wild as well, they can be difficult to spot, as they spend most daylight hours hunting at sea.
However, keep a keen eye for spots underneath the boardwalks, the back of the limestone caves, and secluded rocky outcrops, and you should be able to spy some of them.
https://www.instagram.com/p/B5T-d1cgjd9/
There are a plethora of other activities available to visitors on the island such as a sea kayak tour, kite boarding, and swimming with wild dolphins.
https://www.instagram.com/p/B49BeD0n9jK/
Singaporeans who like to take photos of their food can visit Pengos Cafe, which serves mermaid lattes and all-day bakery pastries.
If you're hungry, they have main courses like burgers and fish and chips too.
Here are more important visitor information.
5. Hutt Lagoon (Pink Lake)
https://www.instagram.com/p/B5VUnqyF9mc/
The famed Hutt Lagoon, also known as Pink Lake, draws visitors from all over the world — thanks to its dream-like views and milky pink waters.
Located in the town of Kalbarri along the Coral Coast, Hutt Lagoon is best visited between 10am and 2pm, while the sun hangs high in the sky to give the lake its most vivid shade.
Whilst Hutt Lagoon can be admired by strolling along Port Gregory, you could take your view to greater heights by choosing a scenic flight option offered by various charters.
https://www.instagram.com/p/B5Oiq20jLnU/
Alternatively, buggy tours around Hutt Lagoon's sand dunes are available as well.
Each tour brings an intimate group of five around, and lasts for an hour.
Keep an eye out for other attractions neighbouring the lake such as the Cindy Poole Glass Gallery, an impressive art studio and exhibition space with a cafe that serves gourmet hot chocolate and home-made cakes.
Note that this is a six-hour drive away from Perth, so you'll want to plan ahead to make full use of your day.
6. Busselton Jetty
One of Australia's most iconic eco-tourism spots, Busselton Jetty is about a three-hour drive from Central Perth.
The Jetty is run by a non-profit organisation which ensures that profits go towards the maintenance and conservation of the jetty and its marine life.
Visitors can explore the jetty's Underwater Observatory which brings guests eight metres below the ocean's surface to marvel at sub-tropical corals and other underwater inhabitants of Western Australia.
Singaporeans travelling on a budget will be thrilled to find out that Busselton Jetty also houses the Jetty Museum, which has free admission.
Recently refurbished, it offers visitors interactive systems as well as VR films of the jetty's marine life.
For the adventurous, there are also seabed walks and dive tours offered at the jetty where visitors can get up close and personal with the ocean's wonders.
Your meals are taken care of by the numerous eateries that dot the coast,  such as the Busselton Beach Shack Takeaway, The Urban Coffee House, and The Salt Kiosk & Babeque.
Bonus: Singaporean food in Perth
If you absolutely can't do without local food for extended periods of time, here are a couple of spots to visit.
1. Lepak Kopitiam
Lepak Kopitiam's menu features local delights such as The Pan Mee (ban mian) at AUD11.80 (S$10.30), as well as Roti Canai.
With a buttery and flaky texture, one reviewer on Zomato even dubbed it the "best" Roti Canai he's had.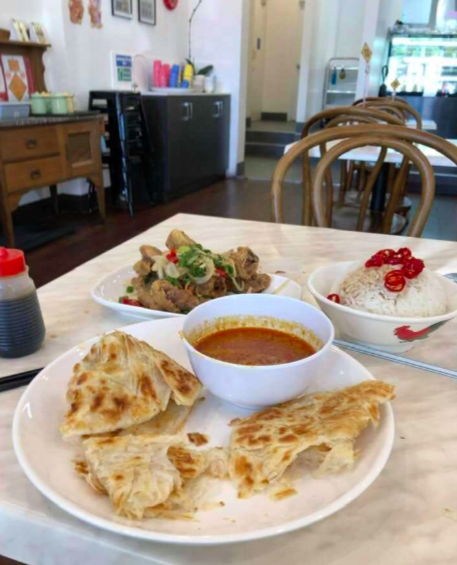 You can also get your Kopi and Milo fix here for less than AUD5 (S$4.70).
2. Aroma Selera
Aroma Selera is a halal-certified restaurant that offers diners Singaporean favourites such as Roti Prata, Mee Siam, Nasi Lemak, Satay, and Chicken Rice.
AUD5 (S$4.70) pratas aside, the rest of their food is relatively affordable.
You can check out the full menu here.
Five-hour flight
Fun things aside, there's something all travellers have to contend with: The actual flight there.
The good news is, Perth is only a five-hour flight away, and there are four daily flights from Singapore, via Singapore Airlines.
Click here for SIA's promotional fare
You're probably already familiar with our national pride, but these are just some recent accolades that the airline has won:
TripAdvisor Travellers' Choice 2019 Awards

World's Best Cabin Crew (Skytrax World Airline Awards)
There are also more than 1,800 on-demand entertainment options on the in-flight entertainment system, including movies, TV shows, music albums, and interactive games.
With the flight out of the way, you'll have to deal with another thing: Logistics, such as booking your hotel stay for the trip.
But after the opening of new and refurbished properties in the CBD and its surrounding areas, Perth now offers some of the best value hotel and short-stay accommodation in Western Australia.
Here are some nice accommodations, with various options under S$150 per night.
Cool.
Top image via @chloe_l27, @paigeemma_, @tabi_nouka, @fastedmedia, and @himannn112 on Instagram
This sponsored article makes the writer want to stop writing and visit Perth immediately. 
If you like what you read, follow us on Facebook, Instagram, Twitter and Telegram to get the latest updates.