Twitter users who share links to the rap video by Preeti and Subhas Nair have found their tweets blocked in Singapore.
Twitter user, Rooben (@ro_oben), shared a link to the video on July 30, but users in Singapore looking at his timeline will just see this message:

Twitter content withheld at authorities' request
Clicking the link will bring users to a Twitter rule and policy page, which explains that content may be "withheld" in certain countries if requested by the authorities:
"Many countries, including the United States, have laws that may apply to Tweets and/or Twitter account content.

In our continuing effort to make our services available to people everywhere, if we receive a valid and properly scoped request from an authorized entity, it may be necessary to withhold access to certain content in a particular country from time to time.

Such withholdings will be limited to the specific jurisdiction that has issued the valid legal demand or where the content has been found to violate local law(s)."
It added that the user will be informed of the decision where possible.
A screen shot of his original tweet was also shared in a follow-up:
This is what happens if tweet you view which is not siding the government. Are we really living in a democratic country, I still question myself. #preetipls #Hypocrisy pic.twitter.com/GAB1iINME8

— Rooben (@ro_oben) August 1, 2019
At least one other user was affected by this policy, as seen below:
Anyways check out this video out to be enlightened on what's going on in SGhttps://t.co/idXvNJcjL7

— シャ (@WatashiwaSya_) August 1, 2019
Clicking the link brings up this error message: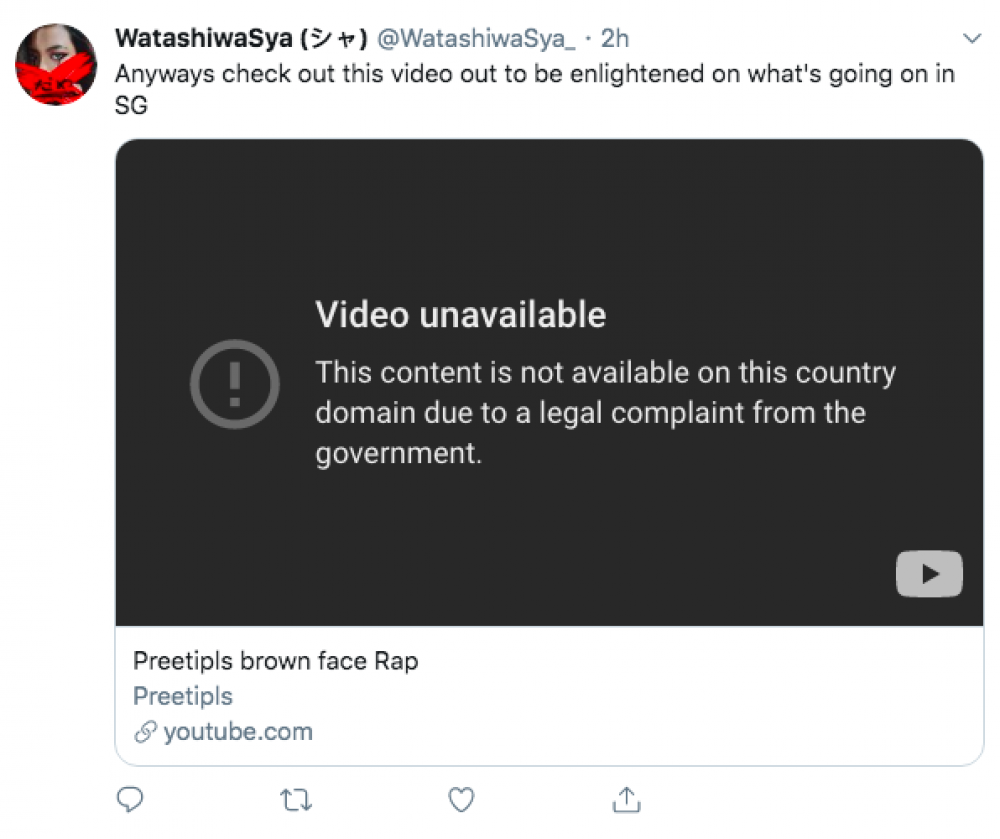 Take-down notice issued for videos shared on Facebook
Previously, Singaporean activists Roy Ngerng and Jolovan Wham wrote that the Info-communications Media Development Authority (IMDA) issued take-down notices to them to remove the rap video re-uploaded on their respective Facebook pages.
However, the difference was that Ngerng and Wham had to take down the videos by themselves, while Twitter users who shared the video found their tweets automatically blocked.
In response to "brownface" ad
The video by the Nair siblings was done in response to a controversial advertisement featuring a Chinese actor in "brownface", portraying ethnic minority characters.
However, the video by the Nair siblings was deemed to have crossed the line by the government.
Minister for Law and Home Affairs K Shanmugam said there was a "zero-tolerance approach" towards such videos.
Related stories:
Top image from @WatashiwaSya_'s Twitter page.
If you like what you read, follow us on Facebook, Instagram, Twitter and Telegram to get the latest updates.