A police report has been filed against the controversial "brownface" E-Pay ad.
On Wednesday, July 31, the police confirmed that a report has been lodged against the advertisement.
Who made the police report?
The police report against the ad was filed by Nabil Khairul Anwar, 25, a Public Policy and Global Affairs student from the Nanyang Technological University.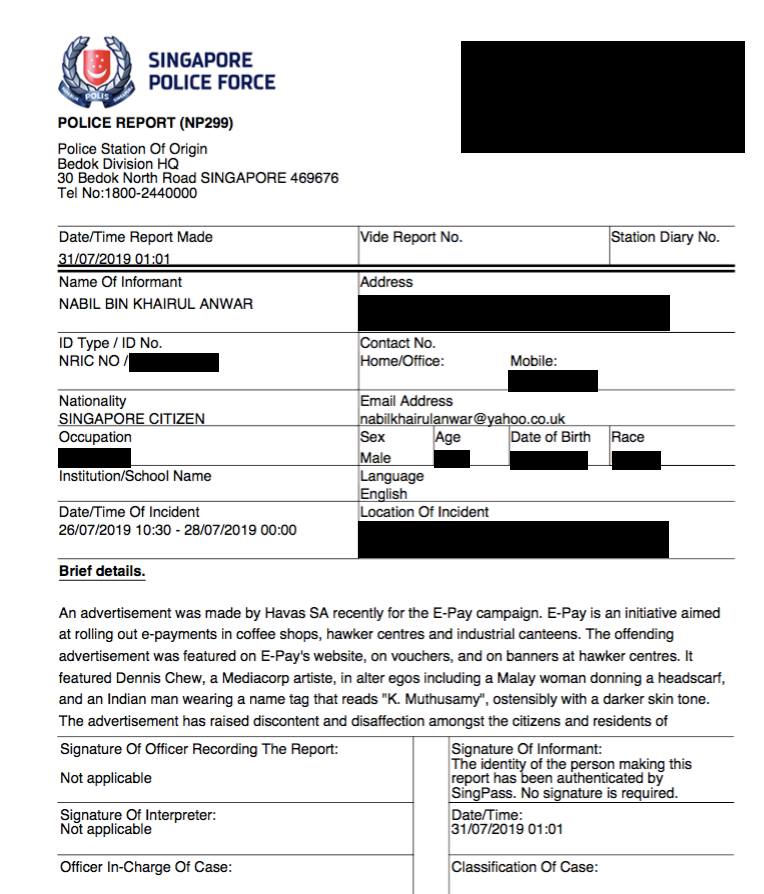 He told Today that he lodged the report as he believed that the publication of the advertisement has "seditious tendencies".
Nabil said: "I trust that the police will carry out the investigations in good faith."
In the Facebook post of his police report lodged on July 31 at about 1am, Nabil quoted Law and Home Affairs Minister K Shanmugam, who said in the wake of the vulgarity-laden rap response video by siblings Preeti and Subhas Nair that the public should not take matters into its own hands if they find something they don't like.
Shanmugam said: "If it was something you didn't like, then you ask for an apology. If you think it is criminal, you make a police report. You don't cross the line yourself."
Rap video reported to police first
Police investigations are currently ongoing as a report was filed against the rap video.
The police report was made some time between the video's publication on July 29 and the acknowledgement of the report by the police on July 30.
In a statement to the media acknowledging a report has been filed, the police said:
"The Police are aware of an online video that is directed against the E-Pay advertisement. A police report has been lodged against the online video for its offensive content and police investigations are ongoing.

The police will not tolerate any offensive content that causes ill-will between races."
If you like what you read, follow us on Facebook, Instagram, Twitter and Telegram to get the latest updates.