Swedish furniture giant IKEA is popular among Singaporeans for its meatballs, soft serves, and puzzle-like furniture.
With customers aplenty, what could go wrong?
Well, customer service, apparently.
Mass CC-ed email
On Aug. 2, 2019, one IKEA customer, Cherrylene Lee, received an email from informing her that she now qualifies for an IKEA rebate card.
Sounds good.
Unfortunately, 195 other email addresses were CC-ed in the same email.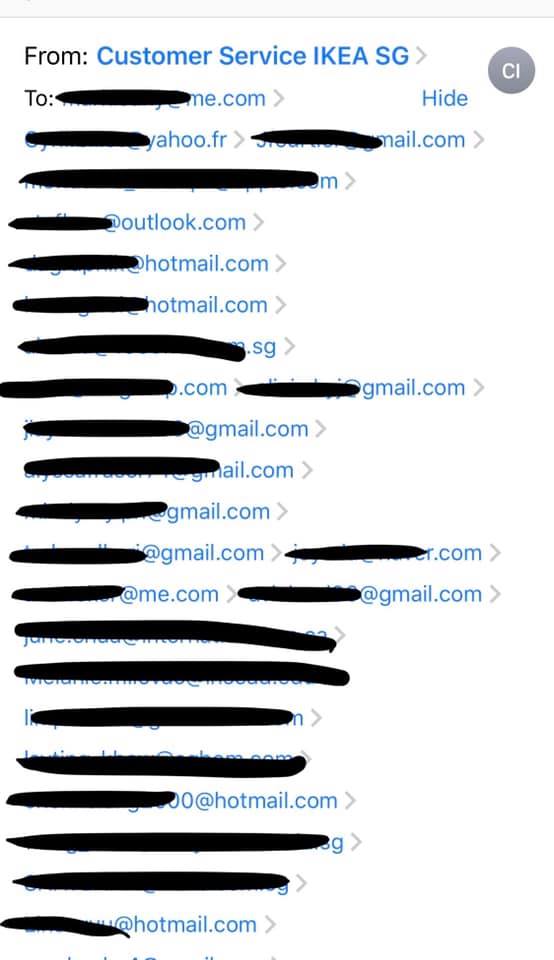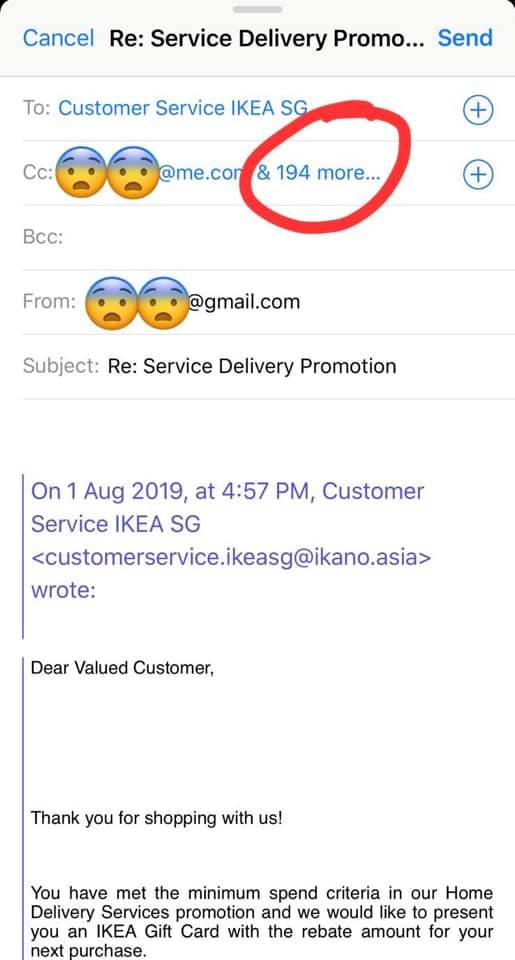 Not so good.
Lee's post, however, really helped to lighten things up.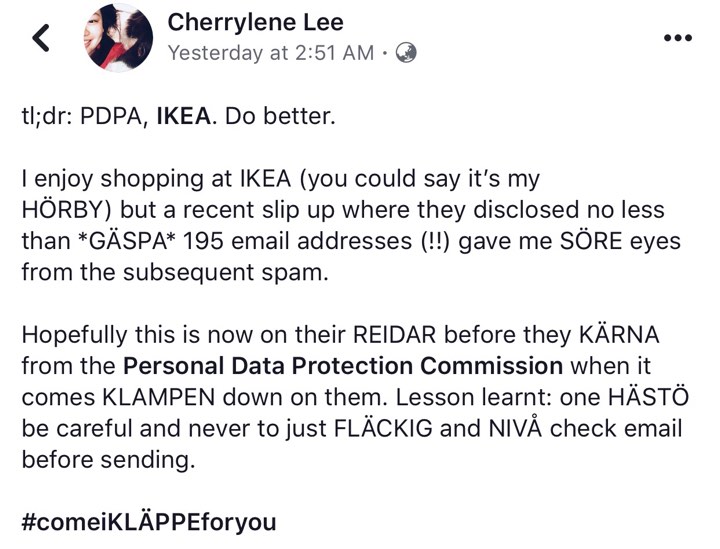 Very clever.
Personal Data Protection Act (PDPA) aside, one might have thought this would have been the end of the matter.
Apology issued
But good on them, IKEA decided to send out an apology to the affected customers.
However, that apology was so special that Lee created a second Facebook post just for it.
Here it is.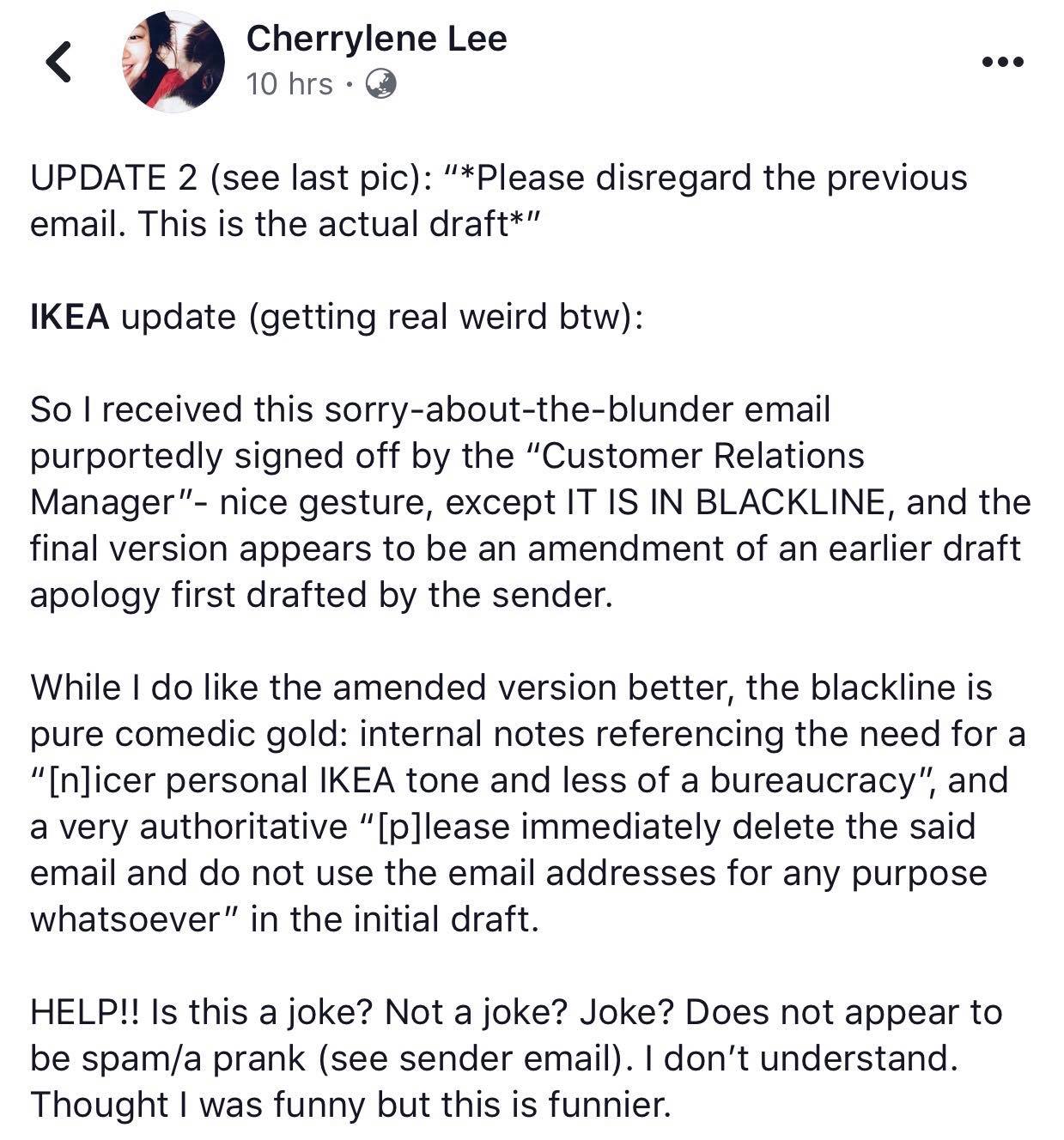 And here's the apology email: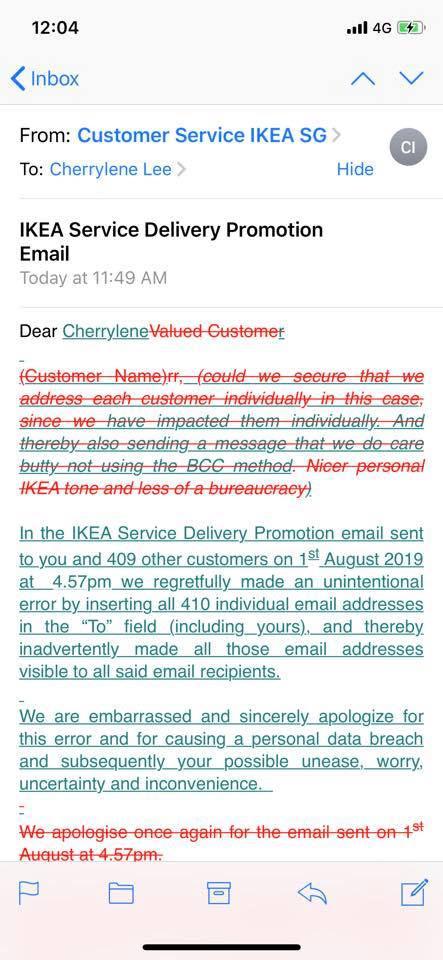 A very confused and puzzled Lee surmised that the version she was seeing was edited over an initial draft -- and then sent out by IKEA.
Lee highlighted the hilarious bits in the draft, such as "Nicer personal IKEA tone and less of a bureaucracy", and "Please immediately delete the said email and do not use the email addresses for any purpose whatsoever".
Cancelled parts of the email revealed that, in all, email addresses were sent to 410 customers, and explained that it was a human error on their part.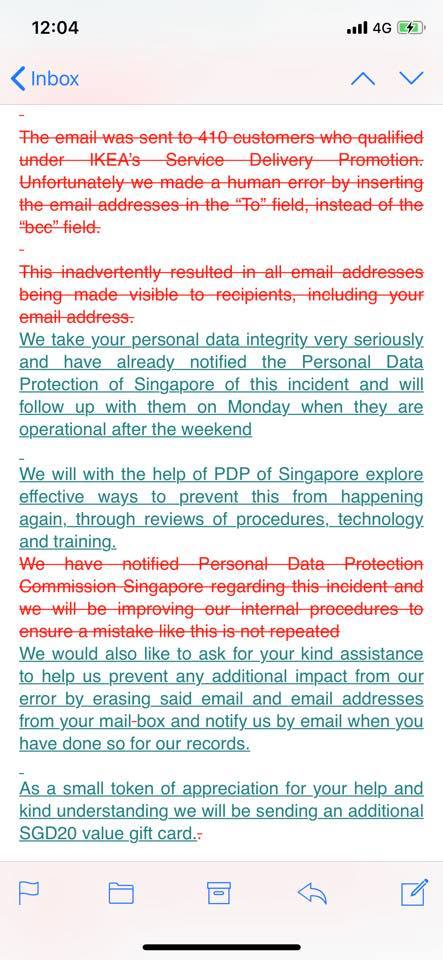 IKEA then requested that the customer delete the leaked addresses, and added that a S$20 gift card will be given out as a small token of appreciation.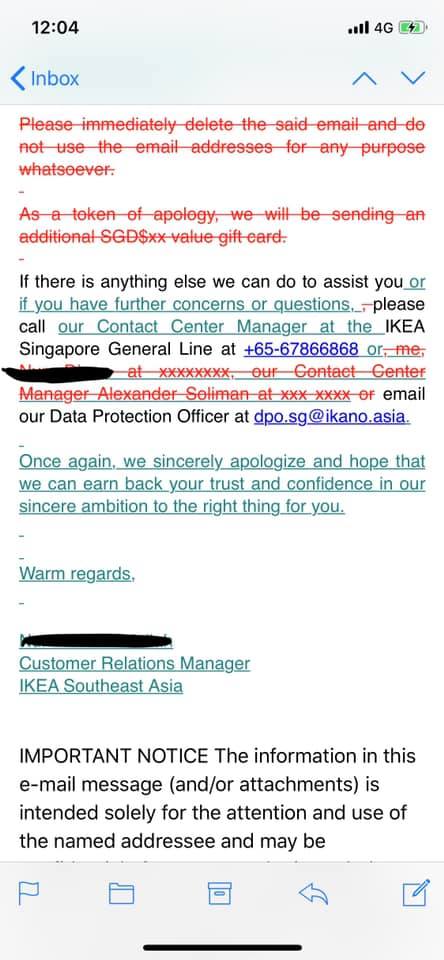 A second apology email was subsequently sent, indicating that this was the *actual draft*.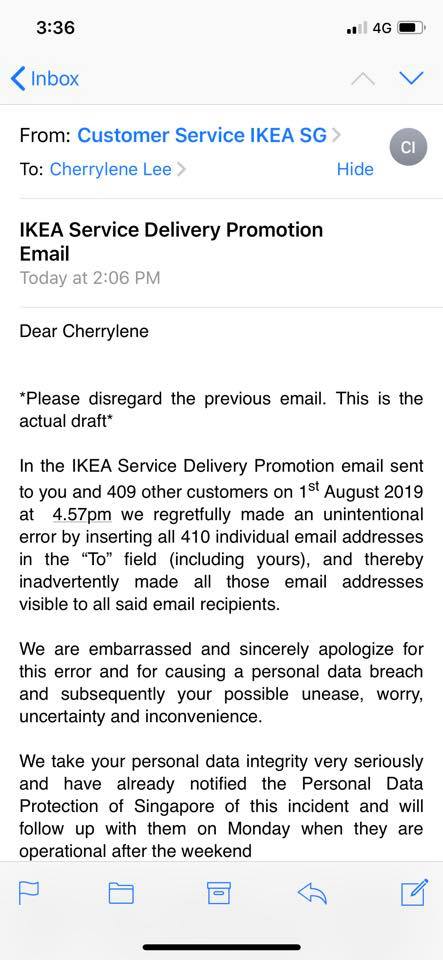 Lee was unsure if it was a joke/ prank, but the sender's address looked pretty legitimate.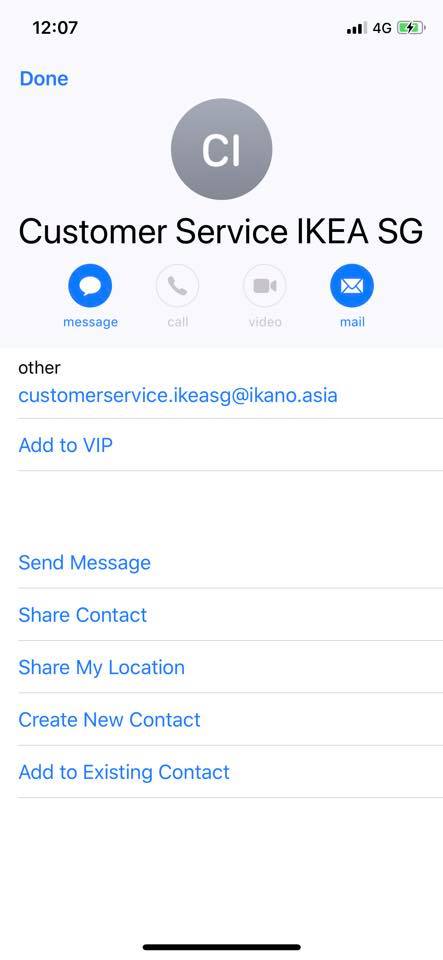 And legitimate it was.

Mothership has reached out to IKEA and will update this article when they reply.
Top image via Cherrylene Lee/Facebook
Update on August 4: In response to Mothership's queries, IKEA Singapore acknowledged the oversight on their part and said that they will be implementing "effective ways" to prevent it from happening again.
"On 1st August 2019 at 4.57pm, IKEA Singapore regretfully made an error of inserting 410 individual email addresses in the "To" field in an IKEA Service Delivery Promotion email sent to our customers and thereby making all those email addresses visible to the email recipients.

We take our customers' personal data integrity seriously and took immediate steps to inform all affected customers and notify the Personal Data Protection Commission of Singapore when this error was discovered.

In our haste to notify the customers as quickly as possible, we again made a mistake by sending half the recipients an internal draft of the apology notice instead, an oversight that we are embarrassed about.

We sincerely apologise for causing our customers unease and inconvenience with the email oversight. Confidence and trust in our company including our data protection policies is important to us and we will look at and implement effective ways to prevent this from happening again, through reviews of procedures, technology and training."
Content that keeps Mothership.sg going
---
???
National Day need to eat limited edition national day ice cream.
??️
Here's how to get more savings on your duty free shopping this National Day holiday
??
What happens if you forget your wallet but die also need to buy lunch because. Food.
??
Click here if you need some tear-jerking wholesomeness
?
This teaches you not to be bodoh and get scammed.
If you like what you read, follow us on Facebook, Instagram, Twitter and Telegram to get the latest updates.