A man seen in a video being tied by with cable ties by Hong Kong protesters in the airport, is reportedly a reporter for Chinese state-run media Global Times.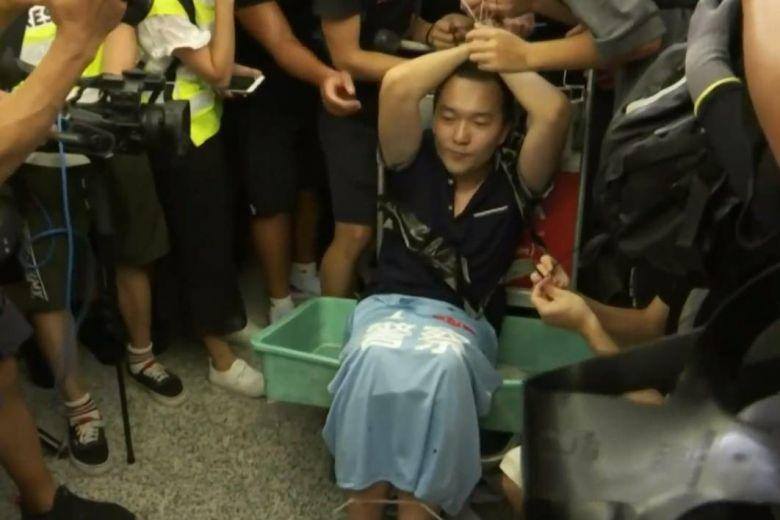 Hu Xijin, the editor-in-chief of Global Times, subsequently tried reaching out to both the Hong Kong protesters and western journalists to help negotiate the release of his colleague.
Twitter plea
According to a Twitter post Hu wrote in the early hours of Wednesday, Aug. 14, the man who was tied up by the crowd was positively identified as a Global Times reporter.
Fu Guohao, reporter of GT website is being seized by demonstrators at HK airport. I affirm this man being tied in this video is the reporter himself. He has no other task except for reporting. I sincerely ask the demonstrators to release him. I also ask for help of West reporters pic.twitter.com/sbFb0L3s92

— Hu Xijin 胡锡进 (@HuXijin_GT) August 13, 2019
The man, named Fu Guohao, has "no other task except for reporting", Hu wrote.
The editor then "sincerely" asked protesters to release the reporter.
In addition, Hu also sought the help of western reporters to intervene on his behalf.
Tied to luggage trolley
Suspecting that Fu was from the mainland police, the crowd of protesters surrounded him and started interrogating him.
In the midst of the chaos, Fu could be heard saying in English that he is "very hurt".
Protesters later tied his hands up using cable ties.
While doing so, he could be heard repeatedly saying, "Whatever".
He also requested those around him, presumably other reporters, to "call the police", and thanked them for doing so.
Protesters beat Fu up
New York Times reporter Austin Ramzy tweeted that protesters also rained blows on Fu.
Pan-dem lawmakers Fernando Cheung and Kwok Ka-ki are now negotiating with protesters who have tied the man to a luggage trolley. Very ugly scene pic.twitter.com/Xk578seTYL

— Austin Ramzy (@austinramzy) August 13, 2019
Fu has since been sent to the hospital via ambulance.
Suspicions of infiltration
The crowd of protesters had earlier suspected another man to be from the People's Liberation Army.
Protesters have increasingly become suspicious of cops infiltrating into their group.
This was so after the Hong Kong police admitted to disguising themselves as protesters and infiltrating the group to make arrests on Sunday, Aug. 11.
Global Times blamed Hong Kong protests on the West
Global Times is well-known for its hawkish stance on foreign affairs relating to China.
The media outlet had previously published a commentary that slammed the protests as the result of Hong Kong's opposition working in "collusion" with the West.
Global Times has been characterised by western media as a tabloid published by the ruling Communist Party's People's Daily.
Even though Global Times is not the official party mouthpiece, it is a window into the thinking of the party leaders and the possible positions held by the Chinese elite.
Top image adapted via Washington Post's live stream & @HuXijin_GT
If you like what you read, follow us on Facebook, Instagram, Twitter and Telegram to get the latest updates.