Airfares from Singapore to Hong Kong and back are quite affordable for now.
Cheap to fly now
For less risk-averse Singaporeans who don't mind the possibility of getting caught in large-scale protests that might potentially turn violent, you would be glad to know that you can fly to and fro from Singapore to Hong Kong for less than S$200.
Air tickets now cost S$168 for the period Sept. 19 to 25.
That is if you don't mind flying on a budget airline, of course.

A check on Google Flights for a round trip revealed that the prices for budget carriers remain low all the way to early November (prices in green mean they are lower than average).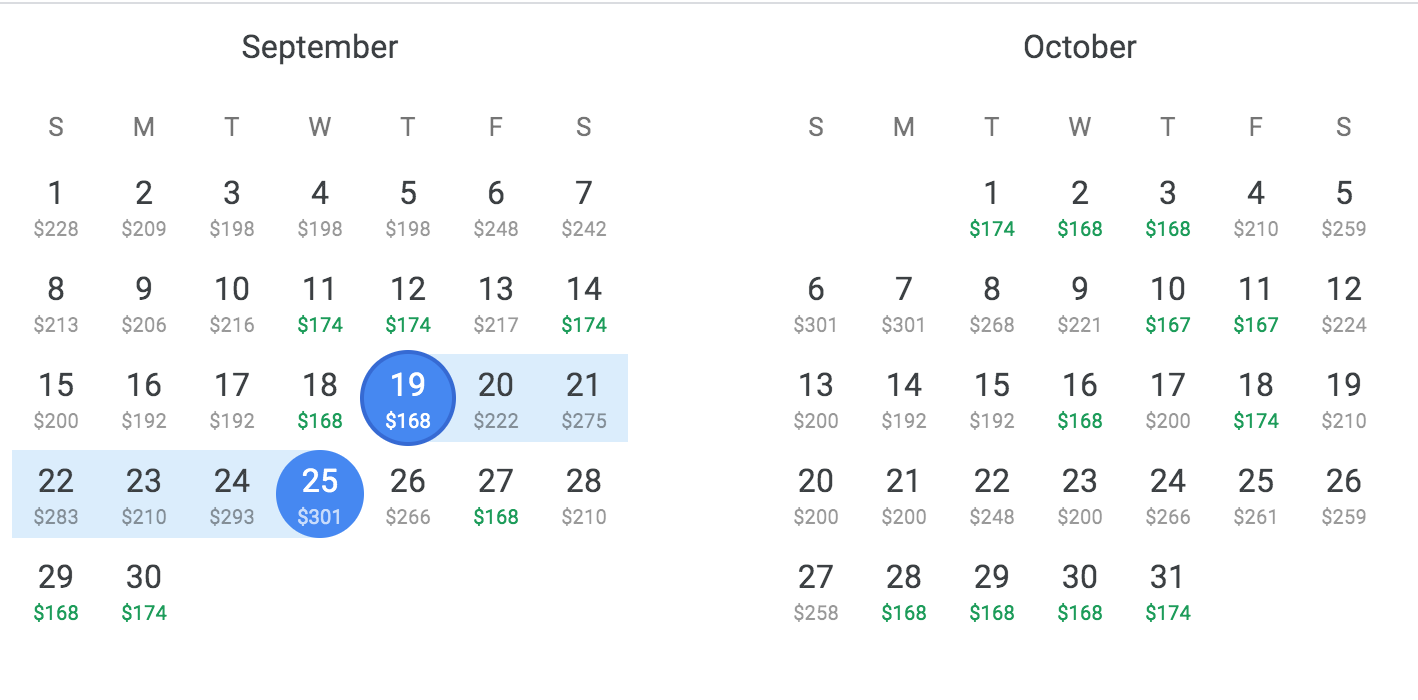 According to Google Flights, the prices are relatively low now for budget carriers like Jetstar and Scoot, as compared to other times.

The low prices might be due to a promotion Scoot is having now.

Unsurprisingly, flight prices in December will rise slightly higher, to about S$300 on average.
Prices are low for SIA too
The prices are relatively low for national carrier Singapore Airlines as well.
Round trip flight tickets from Singapore to Hong Kong cost S$266.

But this is perhaps due to an ongoing promotion.
According to the SIA website, travellers can fly from Singapore to Hong Kong for S$268 on a "Special Fare".

"Special Fare" prices are only for selected travel periods from Sept. 1 this year to March 31 next year.
Several factors affect flight prices, such as the availability of promotions, how soon the departure is at the time of booking, or a simple case of supply and demand.
Background
Operations resumed at Hong Kong airport
After two consecutive days of demonstrations at the Hong Kong airport, operations have resumed on Wednesday, Aug. 14.
Hong Kong's Airport Authority said in a statement on Wednesday morning that it has obtained an interim injunction to stop people from "unlawfully and wilfully obstructing" the airport's operations.
People are also not allowed to attend or participate in any demonstration in the airport other than the area designated by the airport authority.
Fewer tourist arrivals to Hong Kong
Hong Kong has seen a drop in visitor arrivals from the second half of July.
The number of flight bookings to the Special Administrative Region has dropped too.
Protests in the city have persisted into its 10th consecutive week, with last weekend seeing the worst clashes between protesters and the police since the 1997 handover.
On Monday, Aug. 12, the Hong Kong airport cancelled all flights after thousands of protesters flooded the premises to stage a rally.
Protesters returned for a second day of protests on Tuesday, Aug. 13, and caused all check-in services to be suspended.
Protests turned ugly
As the protests dragged into the night, at least two violent altercations happened.
The first involved an alleged Shenzhen police officer who was beaten up by protesters after disguising himself as a protester and infiltrating the group.
Paramedics carrying him were later stuck in a standoff with the crowd of protesters who refused to let them through.
While some protesters pleaded with the rest to let them leave, the crowd could not agree on what to do with the man.
Shortly after he was sent to the hospital, protesters found another mainland Chinese who had also allegedly infiltrated them.
The man, who was later revealed to be a reporter from Chinese state media Global Times, was beaten up and had his hands tied up using cable ties.
After protesters found a t-shirt that said "I love Police" in his belongings, as well as a name card of a Hong Kong police officer, they draped the t-shirt over his lap as he remained tied to a luggage trolley.
He has since been discharged from the hospital.
Global Times reporter #FuGuohao, who was illegally seized and brutally assaulted by rioters at HK airport Tuesday midnight has been discharged from hospital as of Wednesday noon. https://t.co/FiyuCejfwQ #香港 pic.twitter.com/hBsK0KHxNS

— Global Times (@globaltimesnews) August 14, 2019
Locals and foreigners in Hong Kong not involved in the protests are still trying to lead normal lives:
Top image via PETER PARKS/AFP/Getty Images
If you like what you read, follow us on Facebook, Instagram, Twitter and Telegram to get the latest updates.