And it is back in business.
Singapore Herald back as Singapore Hereld
An anti-establishment website, Singapore Herald, has been resurrected and made accessible to the masses in Singapore.
This was after it changed its URL name from "singapore-herald" to "singapore-hereld" -- a deliberate misspelling to side-step the Singapore authorities blocking access to the site from Singapore.
Keep changing names
The history of how it has come to this is fairly straightforward.
It all started with anti-establishment website, States Times Review -- which is run by Alex Tan, a Singaporean in Australia -- being blocked by the Info-communications Media Development Authority (IMDA).
Nov. 9, 2018: States Times Review blocked.
Tan claimed he helped to set up Singapore Herald, which is allegedly run by a person in Toronto, but does not write for it.
Dec. 15, 2018: Singapore Herald blocked.
Dec. 19, 2018: Singapore Herald launches Patreon fund-raiser, received about S$23 thus far.
Registered shortly after Singapore Herald blocked
According to WHOIS, which records the registrant responsible for a domain name or an IP address, the website www.singapore-hereld.com was created on Dec. 22, 2018 -- mere days after Singapore Herald's fund raising attempts yielded little fruit.
The articles on singapore-hereld.com are still being propagated via a Facebook page named States Times Review, but has a "https://www.facebook.com/SingaporeHerald/" vanity URL.
Reach substantial
The newly-resurrected Singapore Hereld site's current reach is still substantial.
One of its latest articles on its version of Manpower Minister Josephine Teo's comments on CPF payouts published on Jan. 15 has been read more than 97,000 times.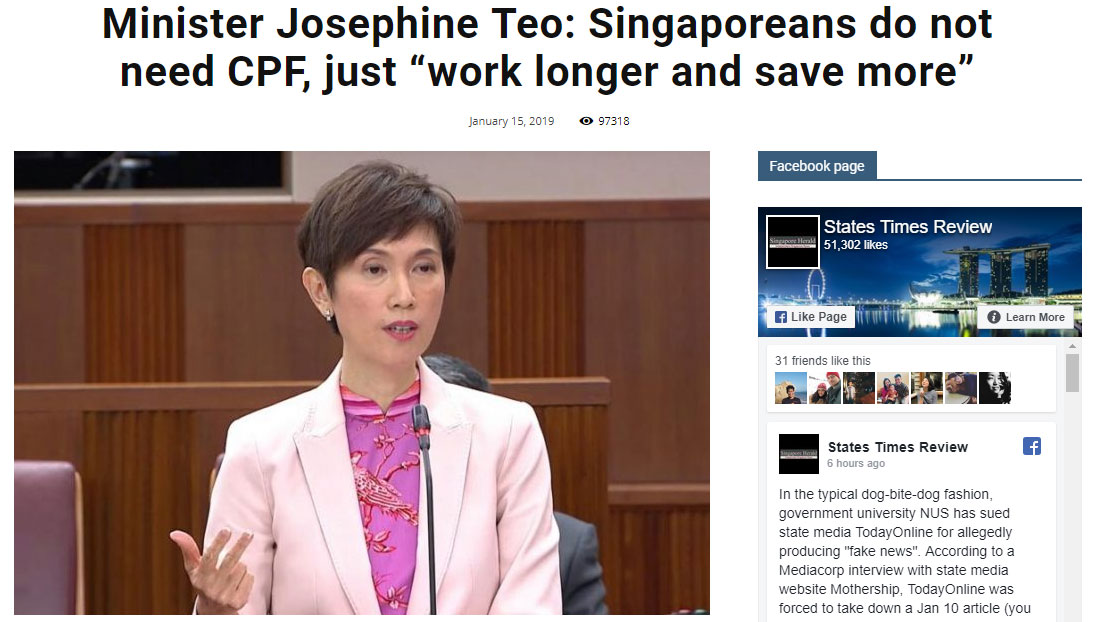 If you like what you read, follow us on Facebook, Instagram, Twitter and Telegram to get the latest updates.