The English Premier League (EPL), one of the world's richest football leagues, has a bone to pick with certain fans in Singapore.
On Jan. 14, the EPL announced that it has set up its first international office here.
According to a statement on its website, the office will provide a base for the Asia-Pacific region, and its main objective is to "fight the piracy" of Premier League content while supporting broadcast partners.
Interview with EPL director of legal services
In an interview with Channel NewsAsia, Kevin Plumb, the EPL's Director of Legal Services, said that the league is "actively" working with local telco SingTel to combat piracy.
He also welcomed the High Court's ruling in November 2018 for internet service providers to block access to TV box applications, and the impending amendments to the government's Copyright Act.
Among the proposed changes include making it a crime for people to sell devices that provide access to content from unauthorised sources.
Plumb said that this will help to address the "top two reasons" why Singaporean football fans turn to pirated content in the first place, namely that it is seen as "low-risk" and also socially acceptable.
Don't watch pirated content, not reliable
Plumb also said that the average person who watches pirated content in Singapore is an "affluent, middle-class young male" who supposedly can afford to pay to watch football.
When asked if high costs may have contributed to piracy, he seemed to deflect the question, and said that it is up to broadcasters to set the price.
Said Plumb: "(High) costs should not tip you over to illicit content; it is not a binary concept."
Plumb also said that illegal streams were not very reliable, and said that fans were at risk of missing out on special moments:
"Can you imagine if you watched the 2012 match of Manchester City playing Queen's Park Rangers on the stream and in stoppage time (Mario) Balotelli passes to (Sergio) Aguero...and the stream cuts off?"
Fans don't seem to agree
So what do football fans here think of Plumb's comments?
Judging by the comments on CNA's Facebook page, most don't seem too impressed.
Some took issue with Plumb's less-than-satisfactory answer on the high prices fans must pay to legally watch football: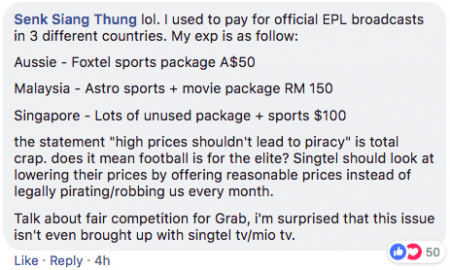 Others pointed out that it was difficult for a football fan to just watch football.
You had to sign up for a package, bundled with shows that you might not want to watch:

Aguerooooo [Delayed]
And still others pointed out that the official broadcast wasn't 100 percent foolproof either.
In fact, Plumb could have chosen a better example than Sergio Aguero's legendary, title-winning goal for Manchester City in 2012.
Several fans chimed in with their experiences of watching that same goal -- which was delayed:



In Feb. 2013, then-Media Development Authority slapped Singtel with a huge, $180,000 fine for disruptions to the live telecasts of EPL matches on May 12, 2012 (May 13, Singapore time).
The 3-2 thriller between Man City and QPR was one of the matches shown live that day -- but the live feed to thousands of devices in Singapore was unstable as the broadcast ended up stalling.
Singtel said that a reason for the disruption could be the unusually high number of viewers switching channels between the live matches at the time.
Related stories:
Top image from Live Nation Football on YouTube.
If you like what you read, follow us on Facebook, Instagram, Twitter and Telegram to get the latest updates.