On November 7, Facebook user Zavier Lim posted this on Facebook.
In case you can't see the video.
[video width="480" height="848" mp4="https://static.mothership.sg/1/2018/11/10000000_185283795714810_7780007025316857621_n.mp4"][/video]
There are a lot of things that shouldn't have taken place in this video.
So let's run through them.
An unseen incident
The video starts off, ironically enough, when all the action had already taken place.
There are four main people involved in this debacle.
The boy with the fixed-gear bicycle (typically with no gears, no brakes, and no freewheel mechanism)

An offscreen mandarin-speaking man who is in support of the boy

The man with slippers riding what appears to be a Brompton foldable bicycle

The man's female companion filming the incident as well
Just as an aside, you shouldn't ride a bicycle on an overhead bridge, or for that matter, kick someone.
Here is their exchange.
*EDM music playing loudly*
Boy listening to EDM(BLE): Jiao (Chinese for call)
Man wearing slipper(MWS): Lai ah.
BLE: Jiao ah, Jiao jing cha (Call Police)
Off-screen man (OM): (In Chinese) So fierce for what, so fierce for what? Why you do this neh? Bully a child. Bully a child.
*Music stops abruptly*
MWS: You cycle on the bridge and you run over my leg. You can call…
BLE: Accidentally, you must kick me ah?
MWS: Don't need to say anything, I don't need to talk to you.
OM: It's ok let them go, let them go. Let them go, let them go
*MWS attempts to move away, but turns around at the "let them go" remark.*
MWS: What let them go?
BLE: English, don't understand. You must kick me meh? Stupid…
MWS: Eh come over here la, what you wanna say, say?
BLE: You shout until no voice already ah?
MWS: What you wanna say, say
BLE: Shout until no voice already ah?
MWS: You are the one who run over me you know or not?
BLE: Accidentally right?
OM: You never give him chance to say sorry
MWS: You cycle on the bridge, and...
Woman with phone: He didn't apologise
OM: You never give him chance.
BLE: (To unseen person) He kick me you know?
MWS: You cycle on the bridge and hurt my leg
BLE: Accidentally you don't understand ah? Must you kick me?
*MWS pushes bike into the sunset*
MWS: That means you did it.
OM: You never give him chance to say sorry, and you kick his bike.
MWS: Run over my leg
OM: Ok never mind never mind.
*Unintelligible audio till video ends*
Cycle
Lim appears to be riding a fixie which typically does not have any brakes, a factor that might have led to him running over the man's slippered foot.
Lim also appears to be part of a cycling group called "MMCxKamikaze Sprinters".
Lim has indicated on his Facebook that he might be thinking of lodging a police report.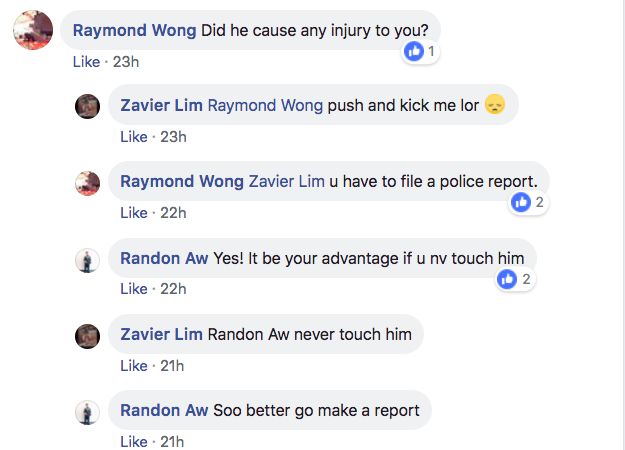 Oh no.
Content that keeps Mothership.sg going
---
??
Ever wondered what train drivers think of you? Wonder no more.
??
Here's an easy way to have a cultured and sophisticated weekend.
?
Damn cheap movie tickets - great for budget outings and dates.
?⏳
If you shop on Carousell, save time; save money with this new service.
If you like what you read, follow us on Facebook, Instagram, Twitter and Telegram to get the latest updates.