George Yeo was Singapore's Foreign Minister from 2004 to 2011. He is currently the chairman and executive director of Kerry Logistics. This commentary was first published on Lianhe Zaobao on Monday, Nov. 12.
When Deng Xiaoping died in February 1997, Lee Kuan Yew visited the Chinese Embassy in Singapore to pay his last respects.
He made a deep bow but remarked to some of his colleagues later that it was not as deep as the one Tung Chee Wah made in Hong Kong.
What Lee Kuan Yew wanted to tell us was that while Singapore had close relations with China, we were, unlike Hong Kong, not a part of China.
Relatives, but not family
Singapore's relationship with China is that of a relative. We are not family, but we get pulled into the family's conversation from time to time.
We cannot avoid being affected by the grand drama on the Chinese mainland. Singapore's involvement in the affairs of China goes back to the last days of the Qing Dynasty.
Long history between China and Singapore
Ravaged by western and Japanese imperial powers, China was in turmoil. Rival factions sought supporters among Chinese living in Singapore.
Kang Youwei could not bring himself to revolt against the Qing. Sun Zhongshan saw a republican revolution as the only way to save the Chinese people from colonisation.
Six months after the Tongmenghui was inaugurated in Tokyo in August 1905, a branch was established in Singapore.
Singapore, together with Penang, became Sun's external base to organise revolts against the Manchus.
The first flag of the Republic of China was designed and sewn together in Singapore.
When Deng Xiaoping passed through Singapore in 1920 on his way to Paris, he would have felt the keen sense of kinship between Singapore Chinese and China.
The May 4th movement reverberated among ethnic Chinese in Southeast Asia and had a big influence on the anti-colonial movement in Singapore.
Chinese schools based on the new nationalist curriculum were established. Chinese business associations felt a deep sense of responsibility for the larger good, a tradition which persists today.
Chinese newspapers published a supplement on Sundays devoted to the betterment of society, which continues in Lianhe Zaobao's Fukan.
When Japan invaded Manchuria in 1931, and the Chinese heartland in 1937, Singapore Chinese rallied to support China.
They attended Xu Beihong's exhibitions in droves to show their support and raise money. Singapore's role in the anti-Japanese struggle was carefully noted at that time in Japan.
When plans for the conquest for British Malaya were drawn up by the Japanese Imperial Army in Taipei, they included the listing of thousands of Chinese community leaders who were to be neutralised once the Imperial Army occupied Singapore.
The massacre of Singapore Chinese by the Kempeitai in 1942 stiffened the resolve of an entire generation across a wide political spectrum to fight for independence.
Communism and Southeast Asia
Many were inspired by the establishment of the People's Republic of China in 1949.
As part of the Cold War, the Chinese Communist Party supported insurrection by communist parties throughout Southeast Asia. The Malayan Emergency (which included Singapore) lasted from 1948 to 1960.
Lee Kuan Yew had to fight local communists and their sympathisers before achieving full power in Singapore.
For many years, Singapore's links with Communist China were cut off. Until the 80s, only old people were allowed to visit the Mainland.
As a 29-year old SAF officer, I had to apply for special permission to visit China with my parents in 1983.
Deng Xiaoping's visit and the beginning of modern day S'pore-China relations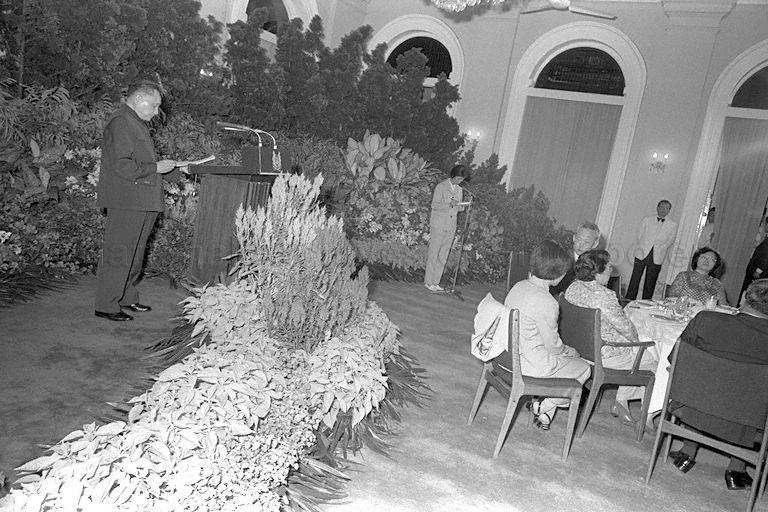 It is against this historical backdrop that Deng visited Singapore in November 1978.
Singapore did not inspire him because of its level of development. If that were his priority, many cities in Japan or the West would have impressed him more.
Singapore was special because it represented the achievement of an estranged relative. Nowhere else outside China was there a country with ethnic Chinese in its majority.
Lee Kuan Yew told him that if Singapore Chinese who were the descendants of poorly-educated coolies could make good, how much better mainland China could be if the right policies were adopted.
Pointedly, Deng did not use the special spittoon which Lee Kuan Yew provided for him in the Istana.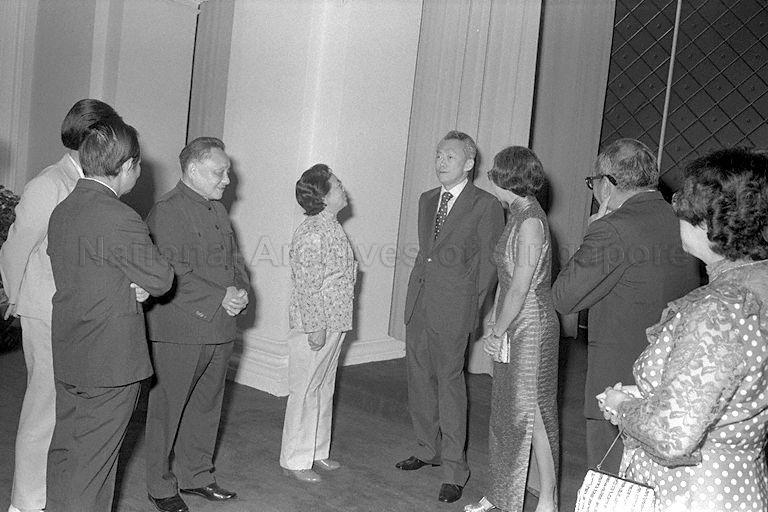 When Deng asked how China could work with Southeast Asian countries to thwart Vietnam's ambition in Indo-China, Lee Kuan Yew told him gently that while China saw Vietnam as the common enemy, these Southeast Asian counties sometimes saw China as the common enemy.
Taking Lee's advice, China weaned off its material support to fraternal communist parties in Southeast Asia.
After visiting Thailand, Malaysia and Singapore, Deng made a historic visit to the U.S. where he intimated to President Carter China's intention to "punish Vietnam".
For 10 years, from 1979 to 1989, Singapore worked closely with China to free Cambodia from Vietnamese control.
On the economic front, China studied Singapore's developmental experience to glean lessons for itself.
In 1985, China appointed Dr Goh Keng Swee as advisor on the development of Special Economic Zones. Step by step, bilateral relations on all fronts improved.
So too the level of comfort when ministers and officials from both sides met.
Considering carefully a response to Tiananmen
When the Tiananmen Incident broke out in June 1989, Singaporeans were shaken.
I remember arguing about the politics with my mother who grew up in China and only came to Singapore at the age of 19 after marrying my father in 1937.
Once the Goddess of Democracy statue appeared in the square, she saw the hands of Taiwan and the U.S. behind the students' uprising.
Before a Cabinet meeting, Lee Kuan Yew met a few senior colleagues to discuss the Singapore government's response.
Though the statement expressed shock and disappointment, the tone was in sorrow, not in anger.
I knew Lee Kuan Yew had in his mind the reaction of Deng to Singapore's position. Later, Lee Kuan Yew said that the Singapore government could not be silent; we would not have liked ourselves.
But, both publicly and privately, Lee Kuan Yew defended Deng's action against the students as necessary. Both publicly and privately, he advised the Chinese to develop modern methods of managing demonstrations with minimum force without the need to use tanks and live bullets.
In early 1992, President (George H. W.) Bush and (then-Chinese) President Yang Shangkun visited Singapore within a few days of each other. I was privileged to be Lee Kuan Yew's notetaker for both meetings.
Bush asked Lee Kuan Yew to convey a message from him to Yang. Bush wanted China's help to normalise bilateral relations again.
S'pore and China learning from each other
Deng was reported to have told Chinese leaders that, two years from June 1989, the reform process was to be put back on track.
It did not, or at least not fully. Despite his age (he was then 88 years old), Deng went on his momentous southern tour in February 1992. He was determined to give a final push to the reform and opening up of China.
While in Zhuhai, he invited top business magnates from Hong Kong to see him. Among his many utterances, Deng said that, for social management, China should strive to be better than Singapore.
We did not realise at that time that Deng's words on Singapore were not casual remarks but a direct instruction to China's officials to learn from Singapore.
It was like the Pope speaking ex cathedra.
Deng's visit to Singapore in 1978 had left an indelible imprint on his mind. That year, some 400 delegations from China visited Singapore.
I saw the repeat of an old pattern on the mainland: in agriculture, learn from Dazhai; in industry, learn from Daqing; in social management, learn from Singapore.
Some departments in Singapore complained that they were not staffed to handle so many visits and were being distracted from their work.
Lee Kuan Yew learned of this and thought that there must be a better way for China to abstract lessons from Singapore's experience. That was how the Suzhou project started.
Lee Kuan Yew then proposed to China's leaders for both sides to work jointly on the development of an industrial township in Suzhou. Singapore would help train Chinese officials.
We heard on the grapevine that an ailing Deng was informed of the project and approved. The Suzhou project turned out to be much more difficult than Lee Kuan Yew expected.
Unlike Singapore, China is a big country with many layers of government. For a project to succeed, it was not enough for there to be top-down support. The interest of intermediate layers had all to be aligned.
After many years of hard work and experimentation, Suzhou has become a shining icon of successful bilateral cooperation. As much as China learned from Singapore, Singapore learned from China.
Opening up the Chinese internet space
Throughout the 90's, bilateral relations grew from strength to strength. I was then Minister for Information and the Arts and hosted the visit of two important leaders from the Propaganda Department.
In 1992, Director of the Central Propaganda Department Xu Weicheng visited Singapore. After interviewing Lee Kuan Yew, Dr Goh Keng Swee (then retired) and others, he wrote a book on Singapore which was widely circulated in China.
In 1996, Politburo Member in charge of Propaganda, Ding Guangen, who was Deng Xiaoping's old bridge partner, spent a full week in Singapore with a senior delegation which included two or three ministers.
They studied Singapore's media management (TV, radio, film, theatres, newspapers, libraries, cinemas, Internet) with such intensity, I felt, at the end of the week, that they knew aspects of Singapore more than I did.
Only later did I find out that they were preparing the release of China's policy on the Internet and had come to Singapore to make some final checks.
I remember telling Ding and his colleagues that the important Internet websites could always be controlled or censored. In fact, as a matter of policy, we always kept a list of 100 proscribed websites.
Ding could see that, despite being relatively open to western influence, Singapore's core remained Asian.
China's decision to open up the Internet within China, but keeping the internal universe separate from the universe outside, proved of decisive importance. But for that critical policy move, the vibrant cyberspace we now see in China could not have come about.
There was even value in Michael Fay for S'pore-China relations
One event which raised our standing in China's eyes was unexpected. In 1994, a young American, together with a few other foreign youths were charged and convicted for vandalism and theft. The penalty involved caning.
Despite strong objection from President Clinton himself, the Singapore government carried out the sentence (with one-third reduction in the number of strokes).
For a few years, PM Goh Chok Tong was not welcomed at the White House.
The Michael Fay affair was widely reported in China. Even in my parents' village in Chaoshan, there was admiration for the Singapore government's courage in standing up to the Americans.
But I was embarrassed because this was not an honour we sought. Having good relations with the U.S. was an integral part of our foreign policy. But the law was the law and we could not buckle.
Managing complexities
Even though Singapore and China are politically separate, the historical and cultural ties are enduring.
As a relative, and not merely a friend, Singapore has to manage unavoidable complexities in the bilateral relationship.
As a relative, we were able to provide a neutral but friendly venue for two historic encounters across the Straits of Taiwan — the Wang-Koo talks in 1993 and the Xi-Ma summit in 2015.
When Taiwan broke an undertaking to keep confidential a visit by then-DPM Lee Hsien Loong in 2004, Singapore's relationship with the mainland took a nosedive. It was a hot potato on my plate when I took over as Singapore's Foreign Minister in August 2004.
Happily, with goodwill on both sides, relations were rapidly restored on the basis of Singapore's unwavering One-China policy.
More learning from both sides
Since the Asian financial crisis in 1997-8, China's economy has developed from strength to strength. At the end of 2000, Premier Zhu Rongji proposed a free trade agreement between ASEAN and China.
Today, China is already the number one trading partner for every country in ASEAN. With the Belt and Road Initiative, Singapore's nodal role for China in Southeast Asia will become even more important.
For many years, Singapore was an inspiration to China and China continues to study aspects of Singapore from time to time.
Increasingly, however, Singapore has also much to learn from a China that is breaking new grounds in many fields.
There is enough similarity in our social substrate for us to believe that what works in one country can often work in the other especially at the municipal level.
China is now in a creative phase of its social and economic development. With so many cities, China is constantly experimenting with new forms and ideas. For those that work, the experiences are summarised and propagated.
Learning from linking China, HK & Macau
It behooves Singapore to take part in the experimentation that is taking place on a continental scale. Singapore's brand name sometimes gives us a privileged position in China which we should make full use of.
For example, the manner in which China is linking up cities in Guangdong Province with Hong Kong and Macao into a Greater Bay Area should be carefully studied by Singapore.
The Greater Bay Area is likely to become a major economic pole not only for China but for the global economy. Singapore should naturally participate in its development.
The twinning of Singapore and Hong Kong will become even more important in the years ahead.
In addition, Singapore should also think through how a similar concept of development can be actualised around Singapore in partnership with Malaysia and Indonesia.
China's development should encourage us to think big also in Southeast Asia and break through old nationalistic mindsets.
We need a refreshed Growth Triangle linking Singapore to Malaysia and Indonesia for the 21st century.
On mainland Southeast Asia, partly in response to China's Belt and Road Initiative, new growth triangles are gradually taking shape.
China's big data approach to healthcare
Healthcare is another area where we should closely follow developments in China. With big data analysis, China's healthcare experiences will benefit the world.
After my youngest son's life was saved by a bone marrow transplant at St Jude Children Research Hospital in the U.S., my wife started a foundation for children with cancer in Singapore in 2006 called VIVA Foundation.
Following my relocation to HK, my wife established a China VIVA Foundation for children with cancer in Hong Kong in 2014 to help improve cure rates in China with the help of knowledge from St Jude Hospital.
5,000 children with leukaemia from 20 hospitals across China are enrolled on the programme. The initial results show significant improvement.
China's advantage is a relatively centralised system which facilitates quick decision-making and the ability to analyse masses of data.
Learning from the China experience, VIVA Foundation in Singapore may organise a similar multi-hospital programme for ASEAN so that similar improvement in leukaemia cure rates can be achieved in Southeast Asia.
S'pore's role in ASEAN-China (& also China-U.S.) relations
Singapore can help improve cooperation between ASEAN and China in many areas. Close cooperation for mutual benefit between ASEAN and China is absolutely essential for our future well-being.
We must try to play a positive role in containing the escalating tension between China and the U.S.
Singapore's close relations with both China and the U.S. can sometimes put us under pressure to choose sides. But it also enables us to play a helpful role, occasionally and judiciously.
For example, we did not volunteer to provide the venue for the remarkable summit between President Trump and North Korea's President Kim in June this year.
During that summit, China was the unseen third player. All three saw Singapore as neutral and friendly.
And when we were asked to provide the venue, we gladly agreed and made sure that everything was properly done to facilitate a good meeting.
Singapore's ability to make such a contribution was the result of our historical and cultural position, and long years of consistent foreign policy.
As Foreign Minister, I remember meeting Politburo Member Yang Jiechi in 2007 when he was on a visit to Singapore, before we knew he was to become China's Foreign Minister.
He remarked privately that "there is considerable mutual affection" between China and Singapore. That "mutual affection" is precious and had an important beginning 40 years ago.
Top image from the National Archives of Singapore
If you like what you read, follow us on Facebook, Instagram, Twitter and Telegram to get the latest updates.