Two children in Singapore were left "dripping in blood" after they tried to open a door of tempered glass screen, which shattered on them.
The incident happened on Oct. 28, 2018, around 5pm.
It is believed have taken place in a condominium apartment.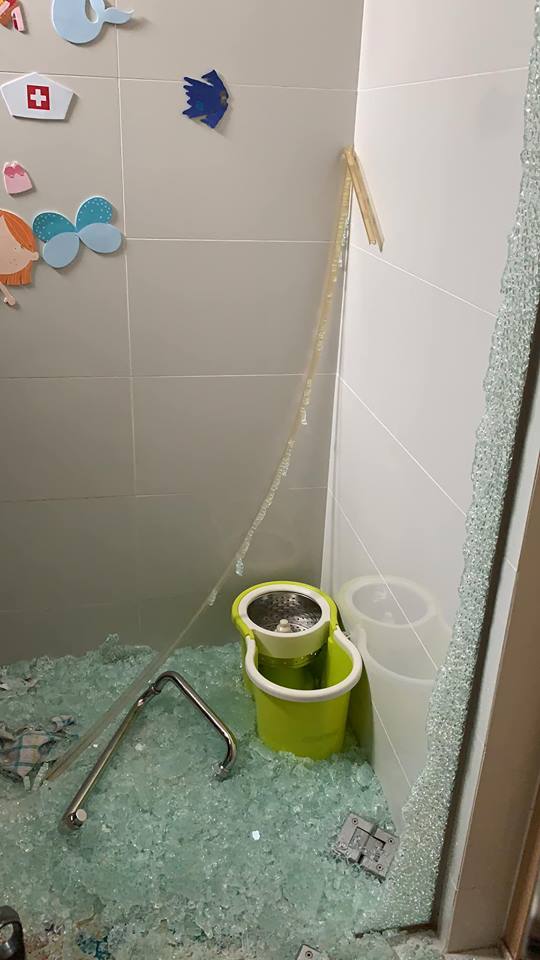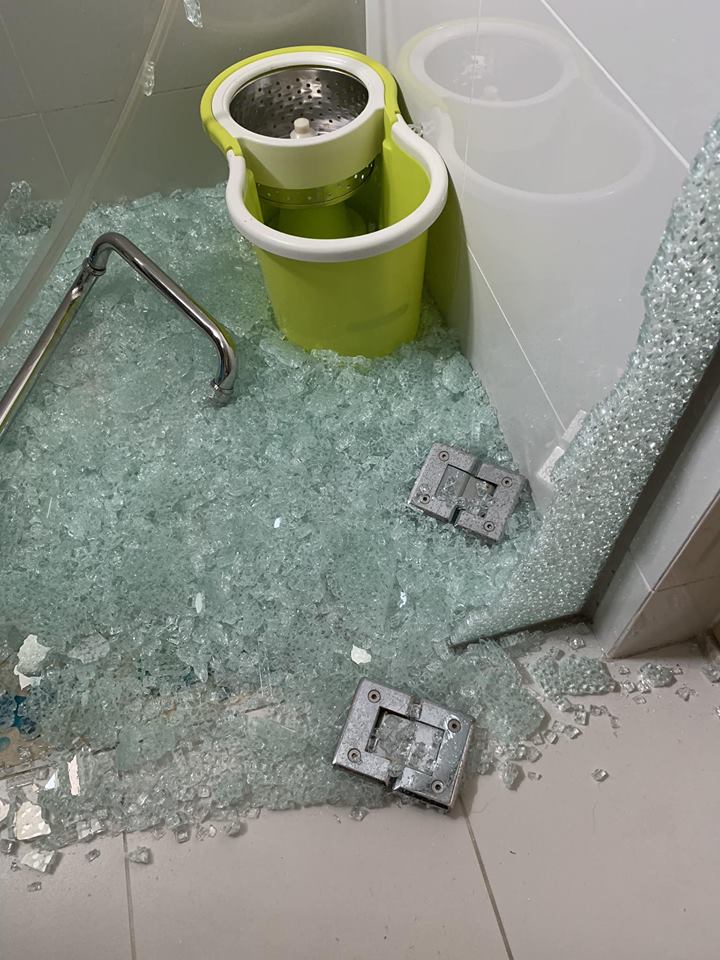 The children's mother, known as Tan, shared about the traumatic incident on Facebook, where she hopes to warn other users about the dangers of tempered glass.
However, the post has since been removed, less than a day after it was posted.
At time of removal, it had more than 3,700 shares.
Big hole on the shoulder
It started when Tan heard a loud noise, followed by screams.
However, when she saw her children, covered in blood, Tan couldn't figure out where the cuts were.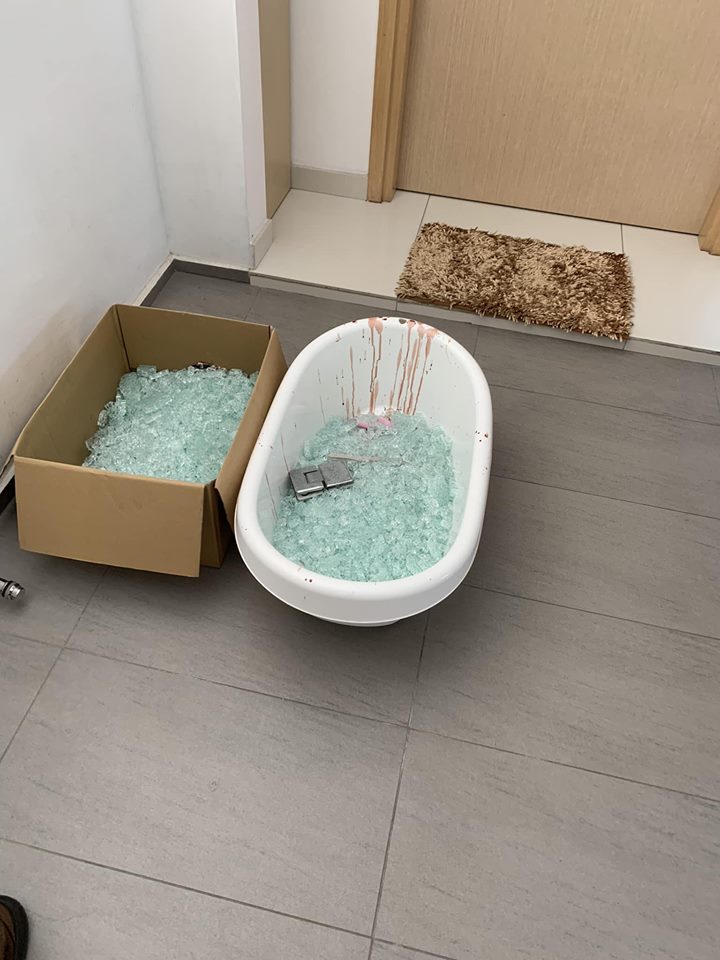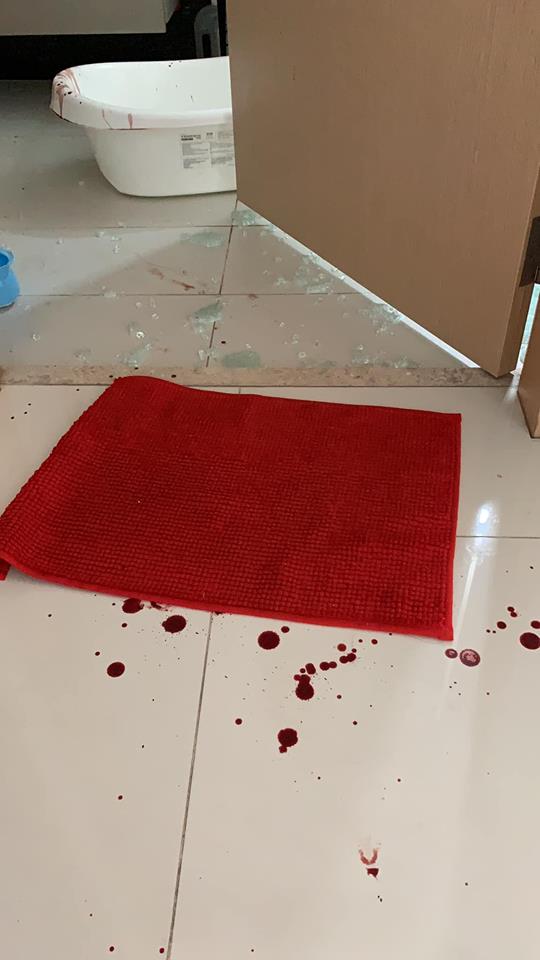 One child even had a "big hole" on her shoulder.
Having taken first aid classes before, Tan knew that it was serious, and quickly administered first aid on the children before calling for an ambulance.
While waiting, the severely injured child's blood continued to soak through the gauze despite the applied pressure.
When the paramedics arrived, Tan noted that they were shocked to see the bloody towels.
Tan wrote that she teared as the ambulance rushed the wounded children to the hospital.
Seen by eight doctors
At KK Women's and Children's Hospital (KKH), Tan learned that the situation was bad for the child, and a total of eight doctors attended to the child.
The girl received stitches on her shoulder, back, and hand.
Her tendons were not injured.
As the second child was standing behind her severely injured sister at the time of the incident, she was mostly shielded from the glasses, and only sustained cuts to her feet.
"Warranty over"
Tan, however, was disappointed with the building's management after telling them about the accident.
According to her post, the responses she received from them were allegedly, "Oh Warranty is over" and "Carton box you can take from recycling bin".
The developers reportedly gave the same "warranty over" response, while the Building and Construction Authority (BCA) stated that they look mainly at structural concerns.
BCA allegedly added that the choice of materials (i.e.tempered glass) was stated in the sales and purchase agreement, which had to be signed by homeowners.
However, Tan has clarified that is she not looking for compensation or for someone to blame -- rather, she does not want another person to go through what she did.
"Yes, tempered glass may be considered safer but when it comes "raining" on someone, the damage done is irreversible. Ariel didn't cry after the incident, she sobbed quietly when the doctors explained the procedures. She thought about her school, her friends and her responsibilities. And her maturity pains my heart ?
She ended her post asking other homeowners to reconsider using tempered glass.
Not the first time
This is not the first time tempered glass has injured a child:
Tempered glass is a kind of glass processed by heat or chemical treatments to increase its strength.
Barring scientific jargon, this means that if the glass breaks, it will crumble into small granular chunks, instead of jagged shards that could more easily cause serious injuries.
Tempered glass is commonly used for vehicle windows, shower doors, and even plates and cookware.
Original post: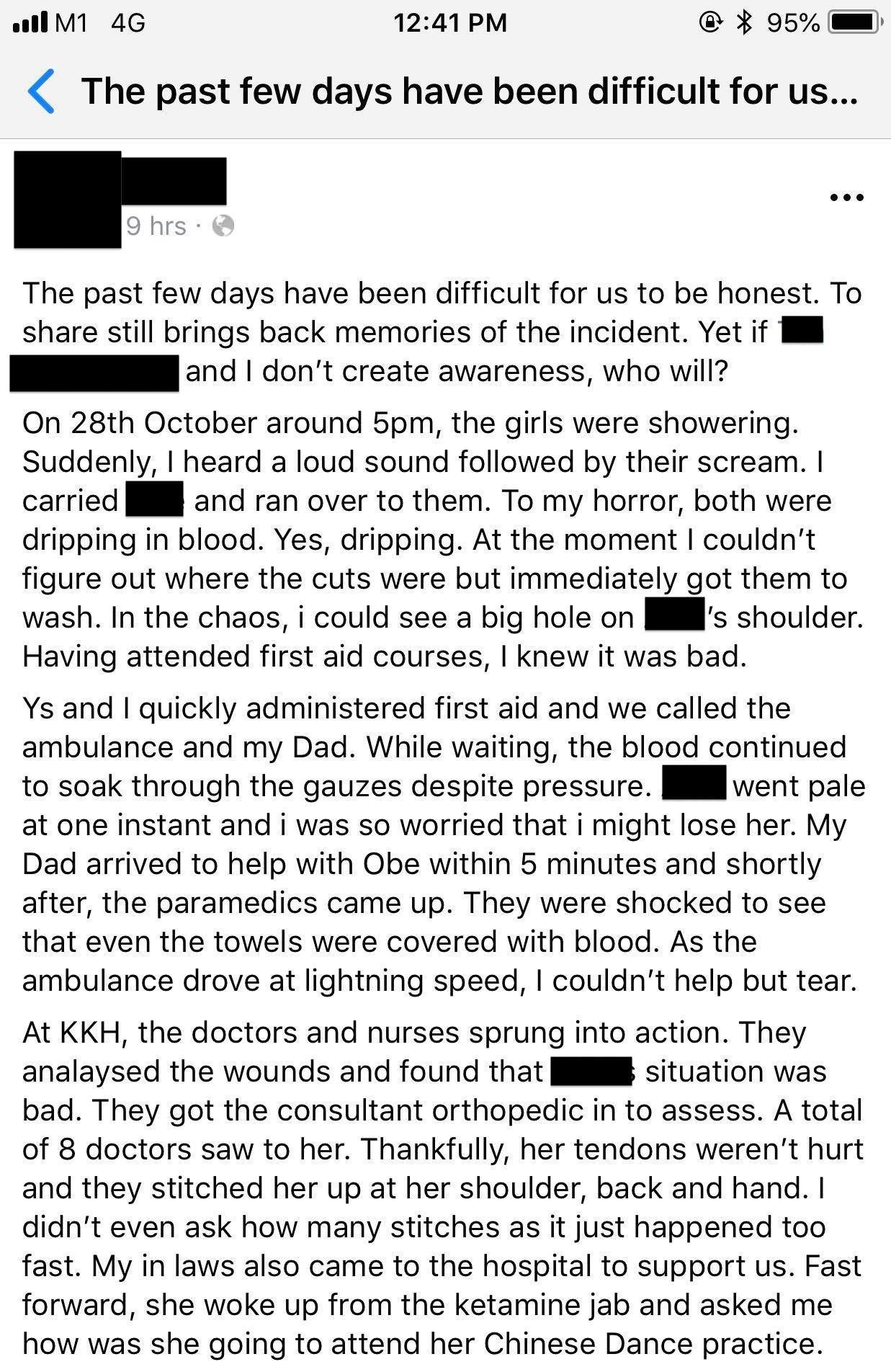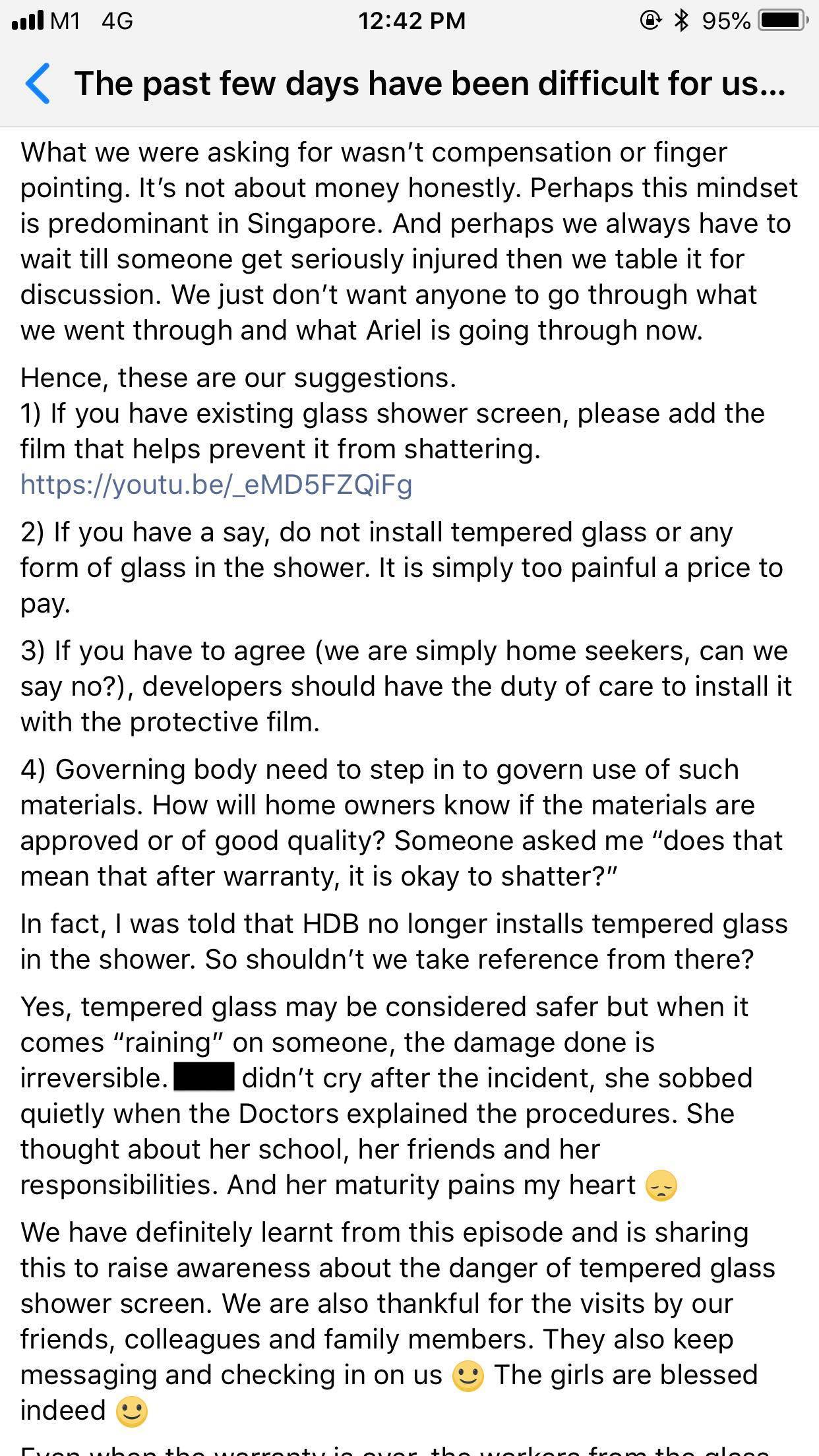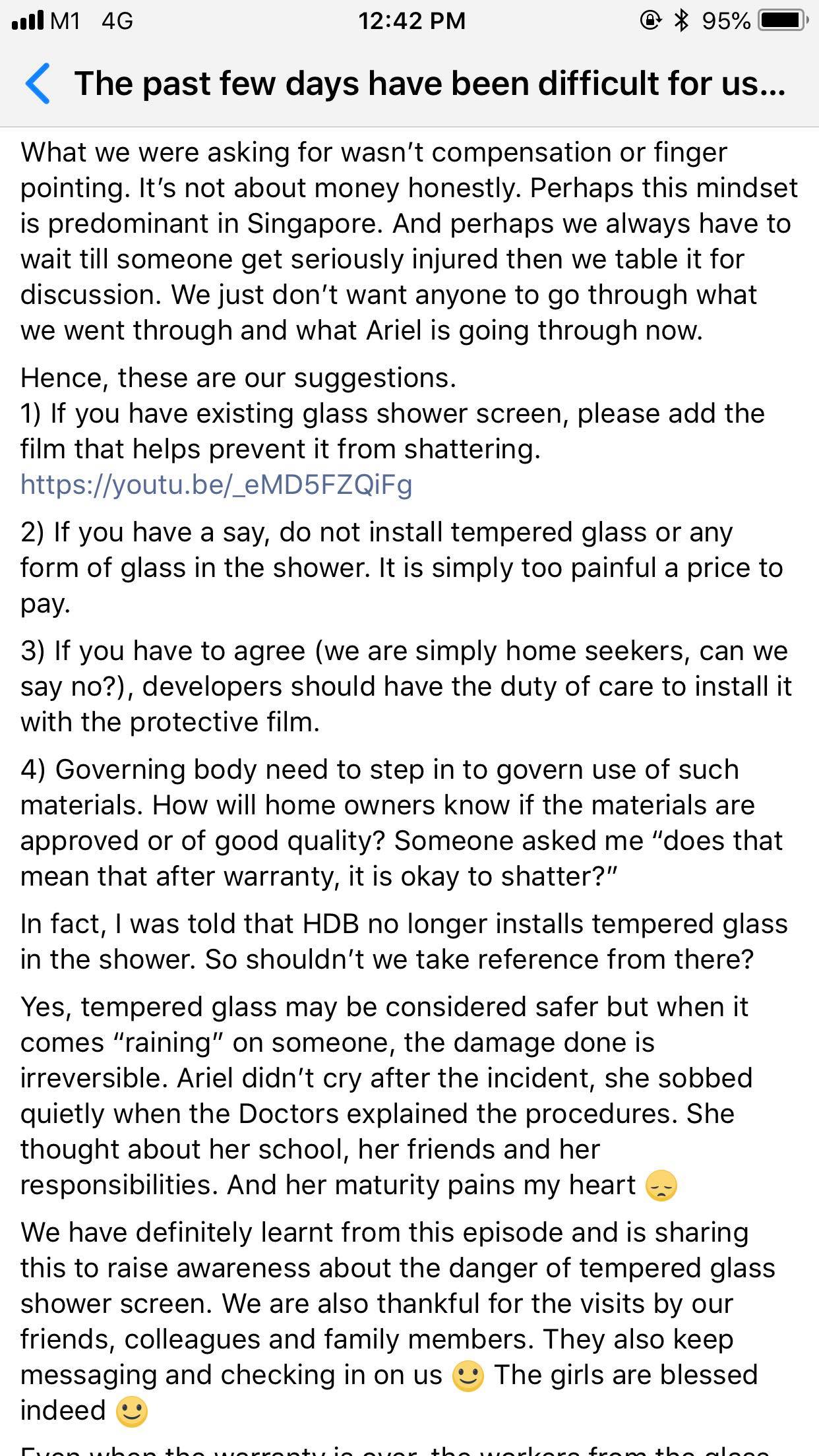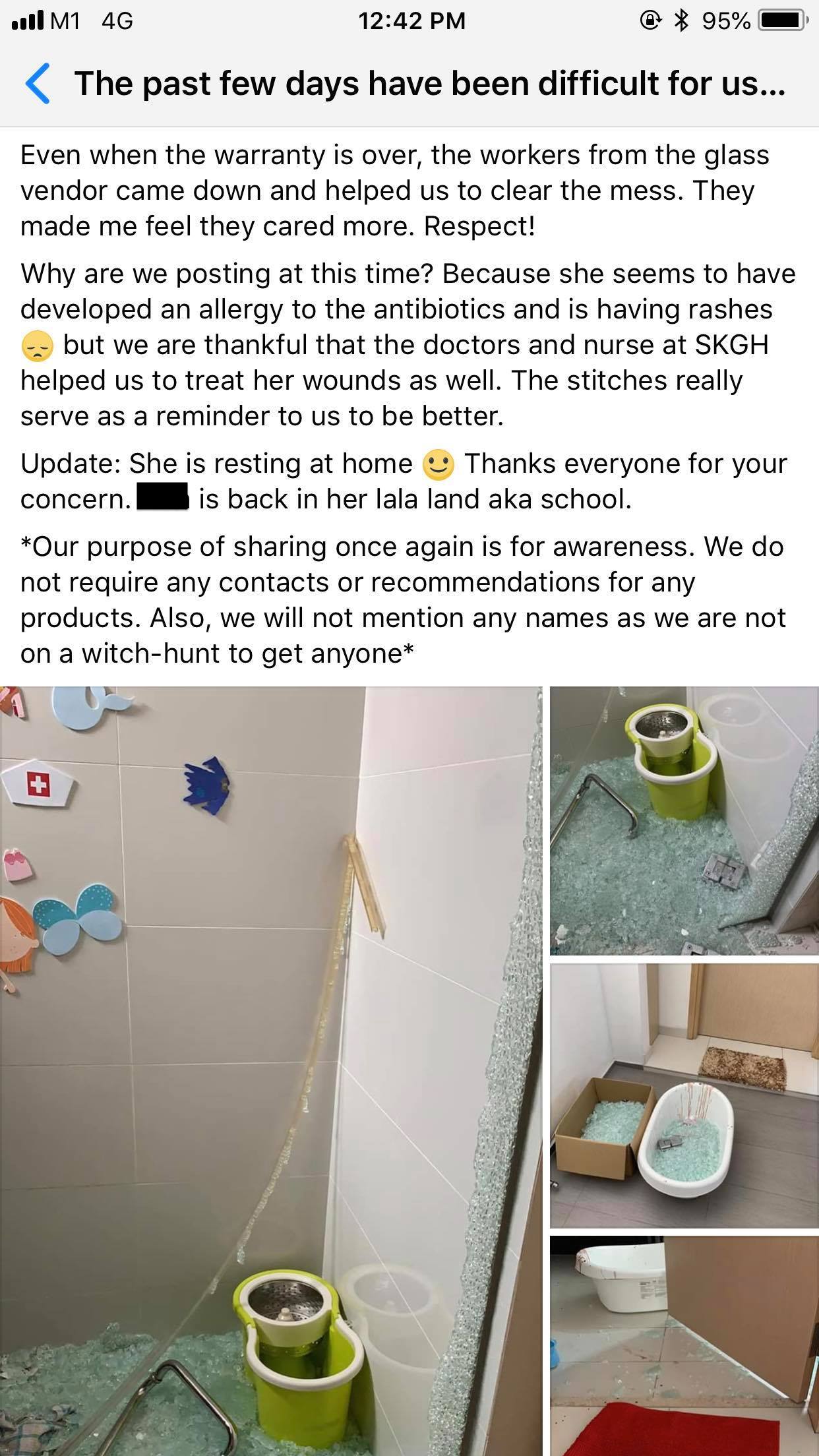 [related_story]
Top image from Facebook
Content that keeps Mothership.sg going
---
??
My news feed got messed up. I want my life back.
???
Earn some karma points here. Say real one.
? vs ?
You're on the MRT. Do you read or surf?
Why not both??
?
Damn cheap movie tickets here.
If you like what you read, follow us on Facebook, Instagram, Twitter and Telegram to get the latest updates.