Hong Kong Chief Executive Carrie Lam has been compared to Piglet, unwittingly perpetuating the running narrative where world leaders who come into contact with Chinese leader Xi Jinping are also suddenly also from the Hundred Acre Wood.
This was after she was photographed beside Xi on Oct. 23, at the opening ceremony of the Hong Kong-Zhuhai-Macau Bridge.
Lam was walking side-by-side with Xi, who has long been likened to Winnie the Pooh.
Pink suit
Thanks or no thanks to Lam's pink suit, she automatically qualified as Winnie's dearest friend, Piglet, who is coloured a fleshy, vulnerable pink.
The uncanny resemblance was first noticed by Leung Pak-kin, a well-known lyricist, in a Facebook post:
To add to the A. A. Milne universe, Macau Chief Executive Fernando Chui has been likened to Eeyore, as other Facebook users piled on the comparisons.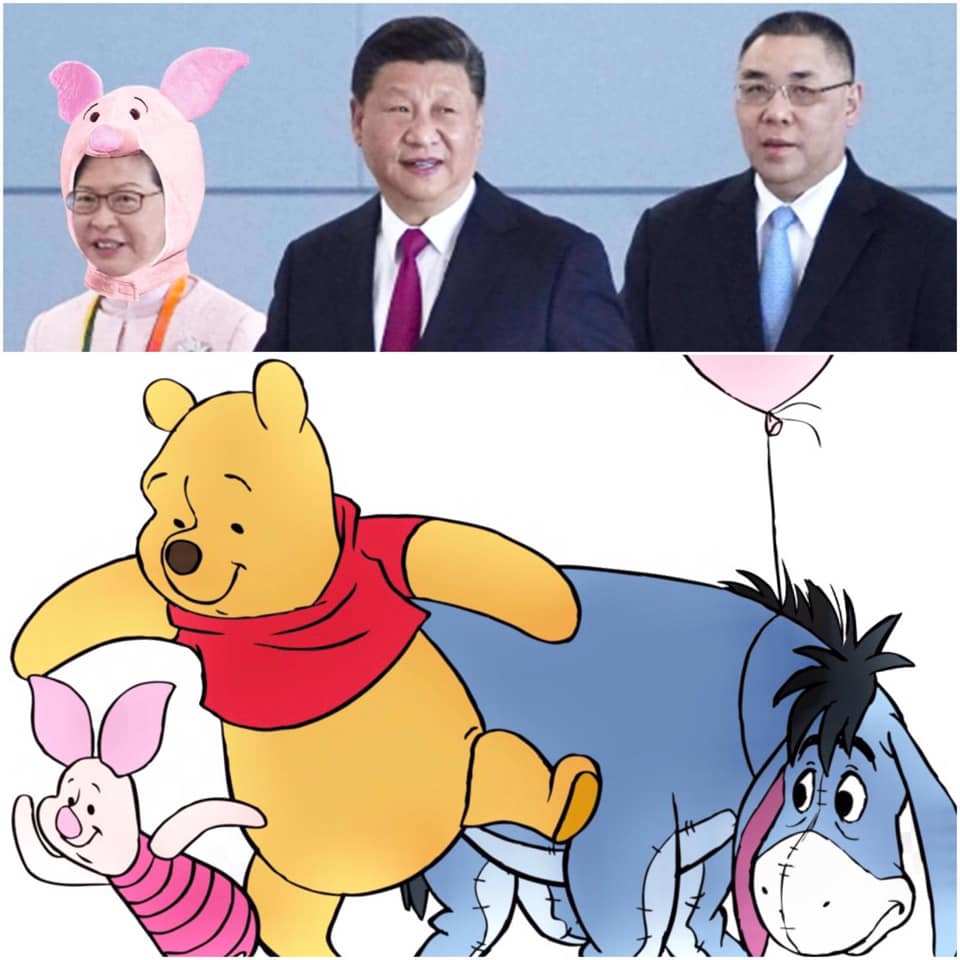 Obama is Tigger
Xi's Winnie the Pooh resemblance was first noticed in 2013 when he was photographed during an outdoor stroll with US President Barack Obama at the Sunnylands Estate in California.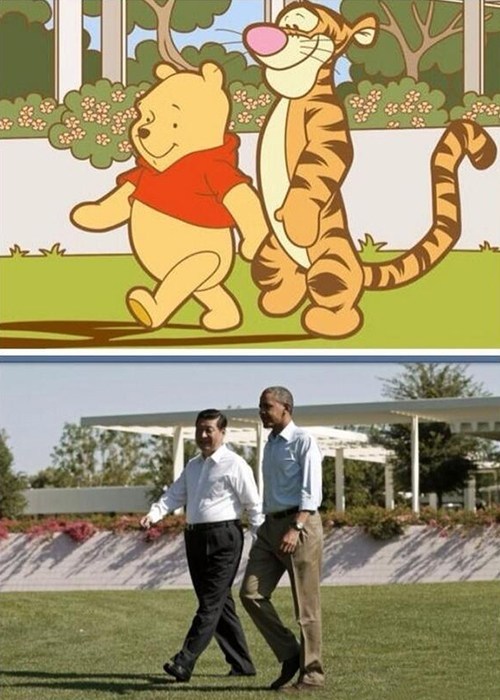 In 2014, Chinese internet users could not help but see Winnie the Pooh engage in an extremely uncomfortable handshake with Eeyore, who is a splitting image of Japanese Prime Minister Shinzo Abe.

Winnie the Pooh blocked in China
Winnie the Pooh gets banned in China often.
Censors tend to go into overdrive as usage of the Winnie the Pooh reference is seen as a form of subversion and resistance to the all-powerful Chinese leader.
The live-action Christopher Robin film didn't get a China release in 2018, as many suspected it could be due to Xi's sensitivities.
In June, Chinese authorities blocked HBO after Last Week Tonight host John Oliver made an episode that touched on Xi's sensitivity over being compared to Winnie the Pooh.
Oliver said on the show: "Clamping down on Winnie the Pooh comparisons, doesn't exactly project strength. It suggests a weird insecurity [in Xi]."
Oliver's name was censored from Weibo after that.
[related_story]
H/T Shanghaiist
Content that keeps Mothership.sg going
---
? vs ?
You're on the MRT. Do you read or surf?
Why not both??
Qn: What happens when the struggle of arranging your Carousell meetup is real?
Ans: You literally can't deal.
⛔?
Life's a beach sometimes but these girls really shouldn't be in swimwear...
?
Have a little money but can't help being kinda lazy? You can still invest using this.
?
It's a hairy situation. See what went through and learn from him.
If you like what you read, follow us on Facebook, Instagram, Twitter and Telegram to get the latest updates.