Singapore has topped HSBC's annual Expat Survey as the best place to live and work for the fourth year running, according to Bloomberg.
John Goddard, the head of HSBC expat, was quoted by Bloomberg as stating:
"Singapore packs everything a budding expat could want into one of the world's smallest territories".
On how the score came about, the HSBC Singapore Report notes that Singapore's ranking is a result of coming in third for Economics, fifth for Family and sixth for Experience -- the three categories that the Expat Survey uses to score countries.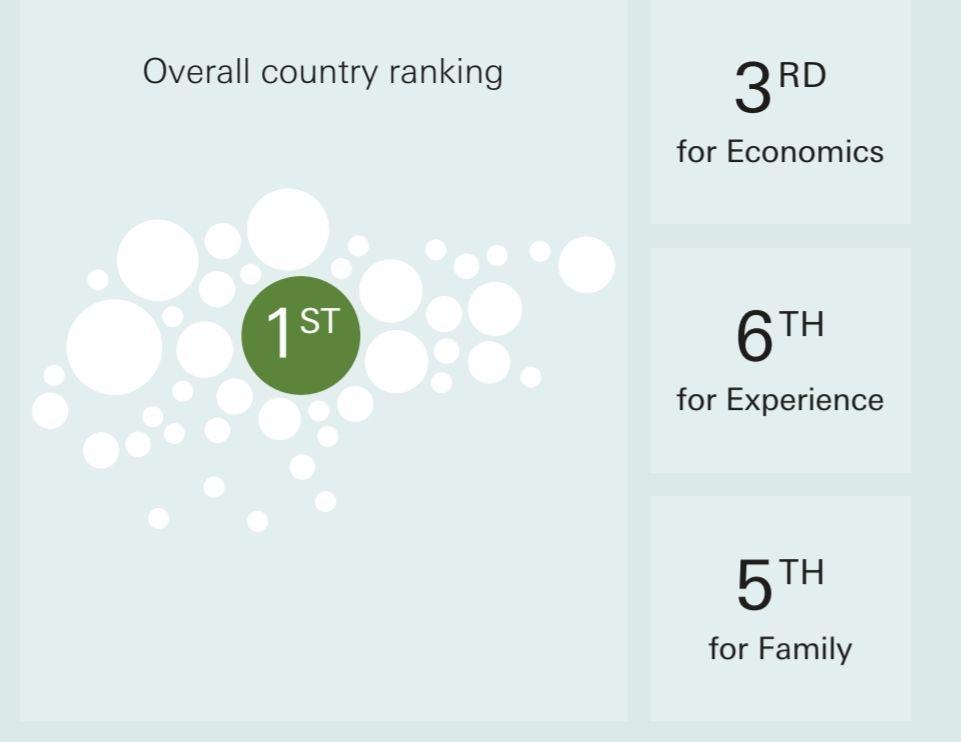 Screenshot from HSBC Singapore Report
The report was conducted among 524 expats, with 41 percent of them having children, 26 percent of them owning property in Singapore and an average annual income of S$221,522.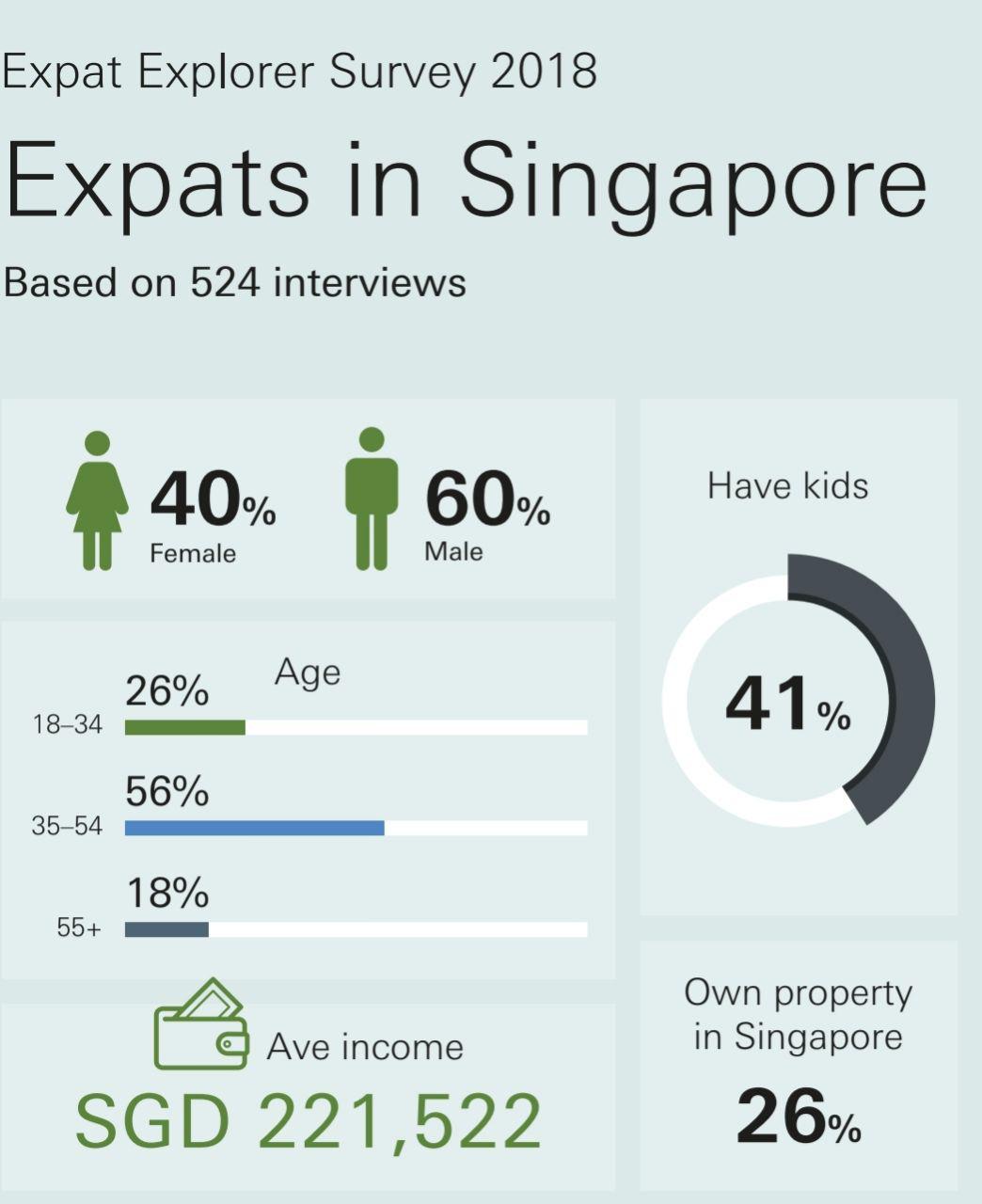 A good place to work and raise children despite increased stress
The three categories of Economics, Experience, and Family are in turn broken down into nine smaller categories each, according to a survey chart.
At a glance, the survey chart for Singapore reveals that generally, Singapore is a good place for expats to work and raise children.
In terms of Economics, Singapore came in the top ten for every sub-category, with the exception of work/life balance where Singapore came in 23rd and job security where Singapore was 16th.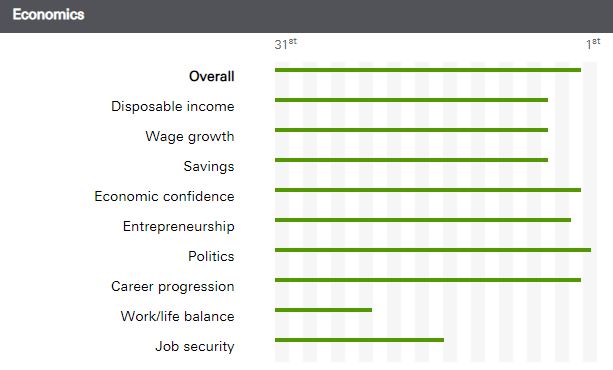 With regards to work/life balance, it's worth noting that the HSBC Singapore Report states that more than half of all full-time expats working here have said that "their work/life balance is the same or worse than it was at home".
The report also highlights 46 percent of all full-time working expats pointing out that "levels of stress at work are higher than (what) they experienced in their home market."
In terms of Experience, Singapore came in 20th and below for three sub-categories -- Culture (20), making friends (24) and integration (23) while all other sub-categories were in the top ten.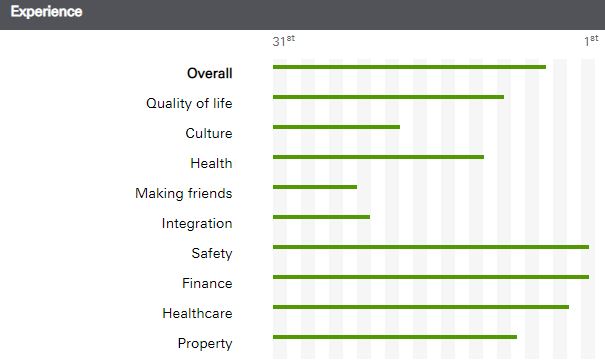 Despite attaining number nine for property, the HSBC report states that "there's no escaping the high cost of living" with two out of four expats being unable to buy a home here and choosing to buy a home back in their home country instead.
In terms of Family, Singapore ranks highly in most sub-categories except for overall cost of children where Singapore came in at 29th.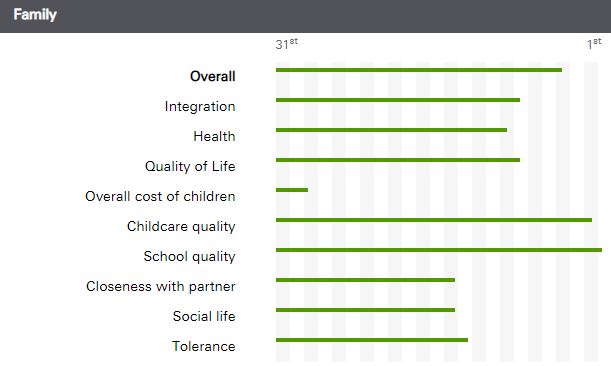 Screenshot from HSBC 
Despite the high cost of children, Singapore comes in at of number 2 for childcare quality and 1 for school quality, which explains why the HSBC report highlights family benefits as one of the biggest draws for expats to Singapore.
Many expats consider childcare and education here superior to their own countries and up to 60 percent of expats have agreed that "their children's health and wellbeing has improved."
What's more, almost three quarters of expats with families "say their children's overall quality of life(in Singapore) is better."
These factors are some of the main reasons why, despite the increased stress, up to 78 percent of the expats surveyed would recommend Singapore to anyone thinking of moving abroad.
What about Singaporeans who become expats abroad?
The report also touches briefly on Singaporeans themselves who move abroad to find work, with 169 Singaporeans interviewed.
In this case, while few Singaporeans "feel the economics of their host country match up to the one they've left behind", up to half said they found more personal fulfilment at work. A better work/life balance was also acknowledged.
[related_story]
The report further noted that more than two-fifths of Singaporeans who moved overseas did so to progress their career and that up to 51 percent of them felt that the experience made them more adaptable, compared to 39 percent as the global average.
The full HSBC report can be found here.
While the full HSBC survey score breakdown for Singapore can be found here.
Top image from Urban Redevelopment of Singapore
Content that keeps Mothership.sg going
---
??
My news feed got messed up. I want my life back.
???
Earn some karma points here. Say real one.
? vs ?
You're on the MRT. Do you read or surf?
Why not both??
?
Damn cheap movie tickets here.
If you like what you read, follow us on Facebook, Instagram, Twitter and Telegram to get the latest updates.