Sungei Road Market, also known as the Thieves' Market, closed down on July 10, 2017.
The closure was to make way for the opening of Jalan Besar MRT station, as well as future residential and commercial development in the area.
With the closure of Singapore's oldest flea market, the vendors were dispersed.
However, some 11 months after the closure and eviction, it seems some of these displaced vendors are experiencing déjà vu as another MRT project is forcing them to pack up their makeshift stalls and make way again.
Displaced vendors always on the move
The closure of the Sungei Road Market forced vendors to look for alternative sites to carry on with their trade.
One option was the rooftop car park at Golden Mile Tower.
But contractual agreement talks with the car park owner broke down and fell through.
While the National Environment Agency (NEA) offered the displaced vendors permanent brick-and-mortar shops at Golden Mile Food Market and Chinatown Complex, a majority did not take it up because of the relatively exorbitant rental fees and lack of human traffic that the old flea market used to command.
Since then, vendors have been moving from place to place setting up makeshift stalls at the itinerant pasar malam that operates for a few weeks at most and moves from one estate to another.
A few months ago, some of the displaced vendors were lucky enough to find vacancies at places such as Kreta Ayer Weekend Market.
An ideal location
Kreta Ayer Weekend Market is ideal for several reasons.
Its central location means that vendors can access it without much difficulty.
The weekend market is also a regular feature that draws a certain crowd, especially the bargain-hunters.
Lastly, the weekend market sees a high amount of human traffic from locals and foreigners who visit the heart of Chinatown.
Kreta Ayer Weekend Market closing down for MRT and HDB works
The Kreta Ayer Weekend Market at Sago Lane operates on weekends.
But it will be closed on July 1, 2018 for improvement works by the Land Transport Authority (LTA) and Housing and Development Board (HDB).
LTA will be building sheltered walkways along part of Sago Lane to the Maxwell MRT station as part of the Walk2Ride programme.
HDB will also be closing another part of Sago Lane to upgrade Smith Street blocks 335A and 335B under the Home Improvement Programme.
There is no word on how long the construction/ upgrading works will take, nor any indication on whether the Kreta Ayer Weekend Market will open after that.
A letter circulated to Kreta Ayer Collectors Society (an interest group under the Kreta Ayer Community Centre) members informed them about the closure of the weekend market: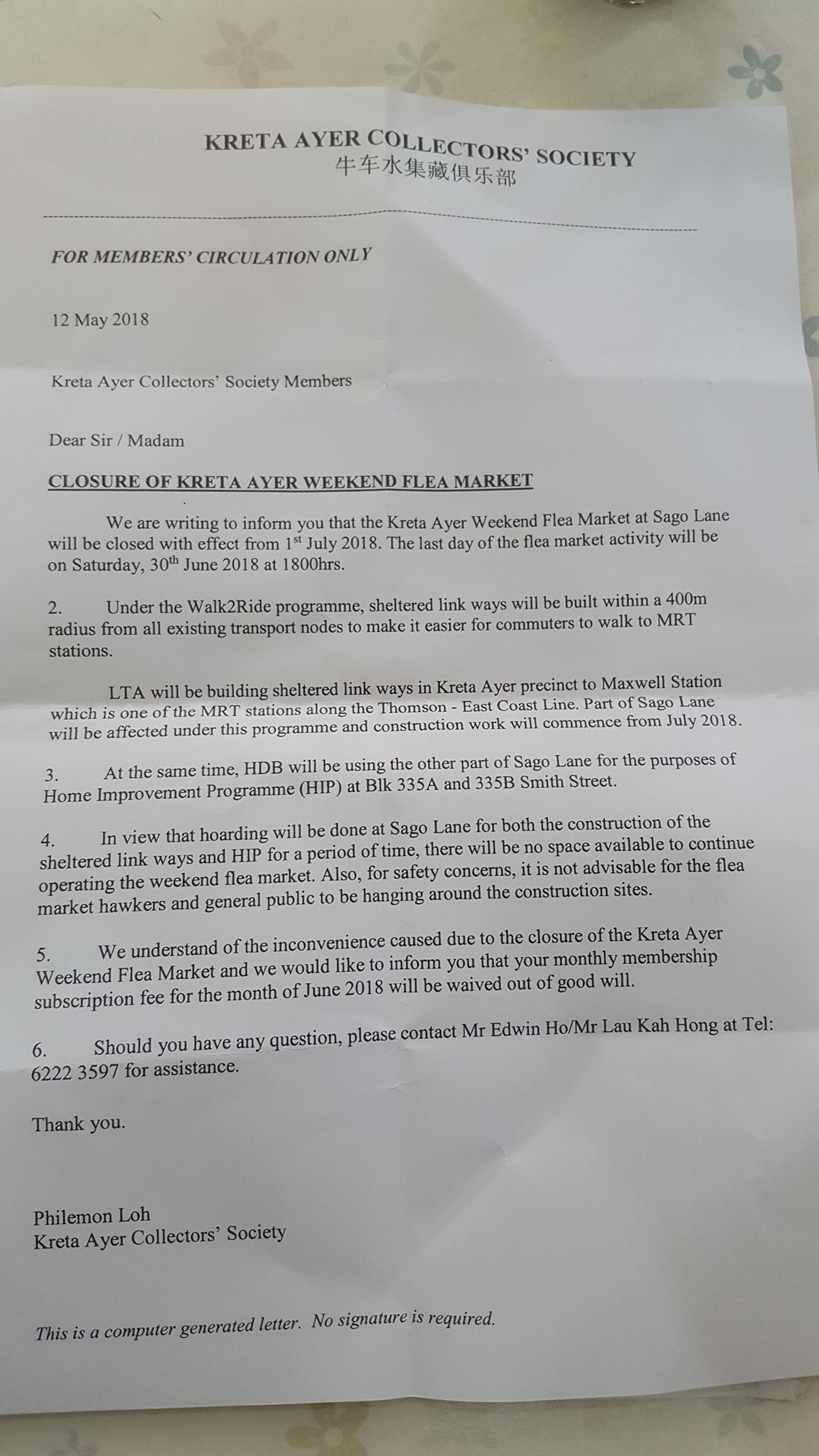 [related_story]
Caught off guard
Vendors at the Kreta Ayer Weekend Market were definitely caught off guard, as seen in these videos put up by the Save Sungei Road Market Facebook page.
Ah Leng, an ex-Sungei Road vendor said: "I was hoping to continue here (after months of selling at pasar malam) but was shocked to be told that it is closing end of June".
Another vendor is hoping that his Member of Parliament (MP) can help to delay the closing for a few more months so that the vendors can clear their stock.
He said: "Some of us have stocked up our goods for the next few months. Now suddenly tell us cannot sell, then we are stuck. It's very difficult... I couldn't sleep, and I'm not the only one - the other vendors too".
NEA cracking down on unlicensed hawkers
Compounding the problem is NEA's stepped up enforcement against unlicensed hawkers in the area.
According to Save Sungei Road Market, enforcement officers went down to Kreta Ayer Weekend Market on a public holiday telling unlicensed hawkers to shut their businesses or face a S$300 summon.
The weekend market used to operate on weekends and public holidays. It stopped operating on public holidays from December 2017.
In response to Mothership's queries, the Kreta Ayer Collector's Society said that members were informed that the market will cease operating on public holidays from December 1 2017.
However, it seems that some vendors didn't get the memo, resulting in situations like this below.
The elderly vendor claimed that he has been hawking his goods on public holidays for the past 20 years and now he was being told to pack up without any official letter:
The enforcement action occurred as there had been complaints by Kreta Ayer residents who raised objections to the haphazard image of the market and increased amount of trash that appeared since more unlicensed hawkers joined the weekend market.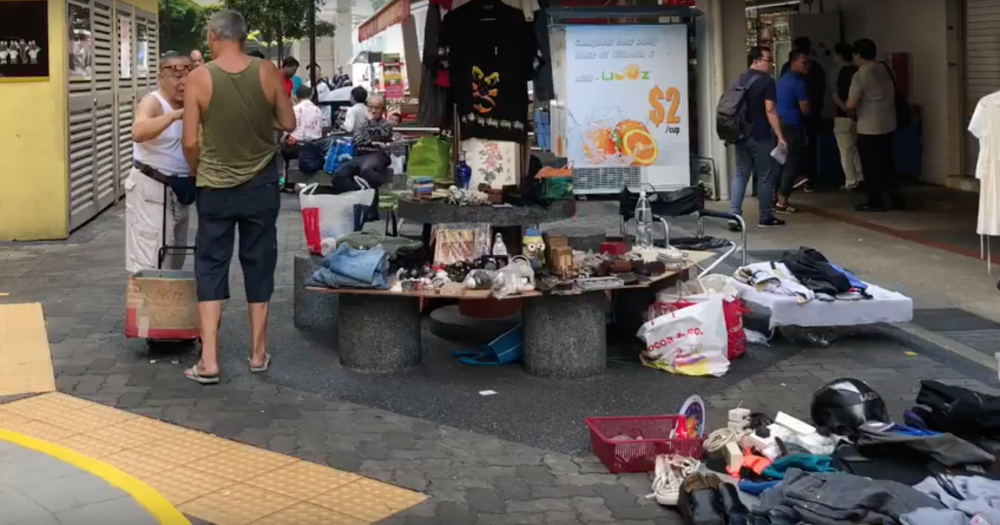 However, when vendors allegedly tried to apply for licences with the Kreta Ayer Community Centre (CC), they were referred to NEA, which in turn referred the vendors back to the CC.
For many of the vendors, being referred to back and forth became too much to handle and they resorted to hawking illegally at the weekend market, which was what the authorities set out to prevent.
In response to media queries from Mothership about the process of procuring a licence to operate at the weekend market and if the market will reopen after the improvement works have finished, the Kreta Ayer Collector's Society responded with this statement:
The Kreta Ayer Collectors' Society is an interest group under the Kreta Ayer CC. We started the Kreta Ayer Weekend Flea Market located at Sago Lane in 1999 so that like-minded people could gather. Every month, the CC helps us collect the fees from the vendors, which goes into paying for cleaning and other services.

When the Sungei Road Flea Market was closed last year, we took in as many of the affected vendors as the space could take.

With the construction of a sheltered link way and Home Improvement programme (HIP), we were told that it is no longer safe to operate in that area. So, we will end the Flea Market on 30 June 2018. We informed all 40 of the people who operate at the flea market about this closure in early May 2018.

We are happy that any of our vendors who need help following the closure can approach government agencies.
The fate of the Kreta Ayer Weekend Market is uncertain at this point. Unfortunately, it means that these vendors are forced to wander and, if lucky enough, find another spot.
Until another development project evicts them.
[Edit: This article was updated to correctly reflect that the statement is attributed to the Kreta Ayer Collectors' Society]
Top image via Facebook
If you like what you read, follow us on Facebook, Instagram, Twitter and Telegram to get the latest updates.