Sungei Road Thieves' Market fans, all is not lost with the closing of the original flea market in Singapore.
Making the rounds offline is news that an alternative location has been secured for the market, thanks to the efforts of the Association For The Recycling of Second Hand Goods chairman Koh Eng Khoon.
The relaunch will take place on July 15 on sixth floor of Golden Mile Tower's carpark, opening from 12pm to 7:30pm,.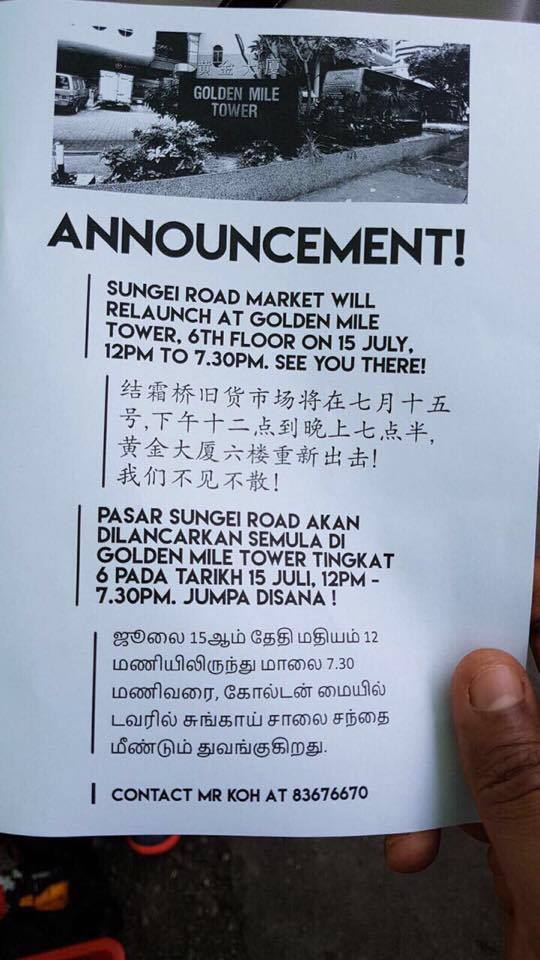 The market will be renamed Golden Mile Tower Sungei Market.
Vendor registration for a spot at the new site will take place on Wednesday, July 12.
However, the venue is not free-of-charge. Monthly rental for the whole place is a whopping S$10,000. Rent starts from S$5 daily for association members to S$10 for non-members.
On top of that, a S$100 security deposit along with a one-year commitment is needed from vendors to secure a spot at the Golden Mile Tower Sungei Market.
The deposit will be confiscated if littering takes place, or if illegal merchandise is found to be on sale, or when fighting takes place in the market.
This is a far cry from the original market known for its haphazard but method in madness approach, where vendors could operate on a first-come-first-serve basis while accommodating one another, with almost no rules and no rent, so long as no one got hurt or cheated.
Here are totally unrelated but equally interesting articles:
Top 8 moments from short local films that will make you proud of our film industry
These are the most difficult things a Singaporean employee has to learn
[related_story]
If you like what you read, follow us on Facebook, Instagram, Twitter and Telegram to get the latest updates.