In a video uploaded onto Instagram on May 24, Singaporean blogger Brenda Tan spoke out against sexual harassment Tumblrs in Singapore.
Tan runs a blog called Wordweed, and has an Instagram account with the same handle.
This is the Instagram video by Tan:
Sexual harassment Tumblrs
Tan was appalled by the amount of Tumblrs featuring photos and videos of Singaporean women and underaged girls, as young as 12.
These include illegally obtained spy cam and upskirt videos, leaked sex tapes and nudes, as well as photos that are digitally modified in a crude and sexual manner.
Others feature photos that have been obtained from their social media, misappropriated and posted without their knowledge and consent in a highly sexualised and suggestive way.
"They get off on the fact that you didn't give them consent," Tan said in the video. "It's so scary and so disrespectful...It's fundamentally wrong."
Many of the posts are also accompanied by lewd captions that may reveal details of their personal information, such as their names and contact numbers.
Some also reveal their faces.
Violating Tumblr guidelines
On May 24, Tan posted an Instagram story calling for everyone to "start tackling these sites one by one" by reporting them.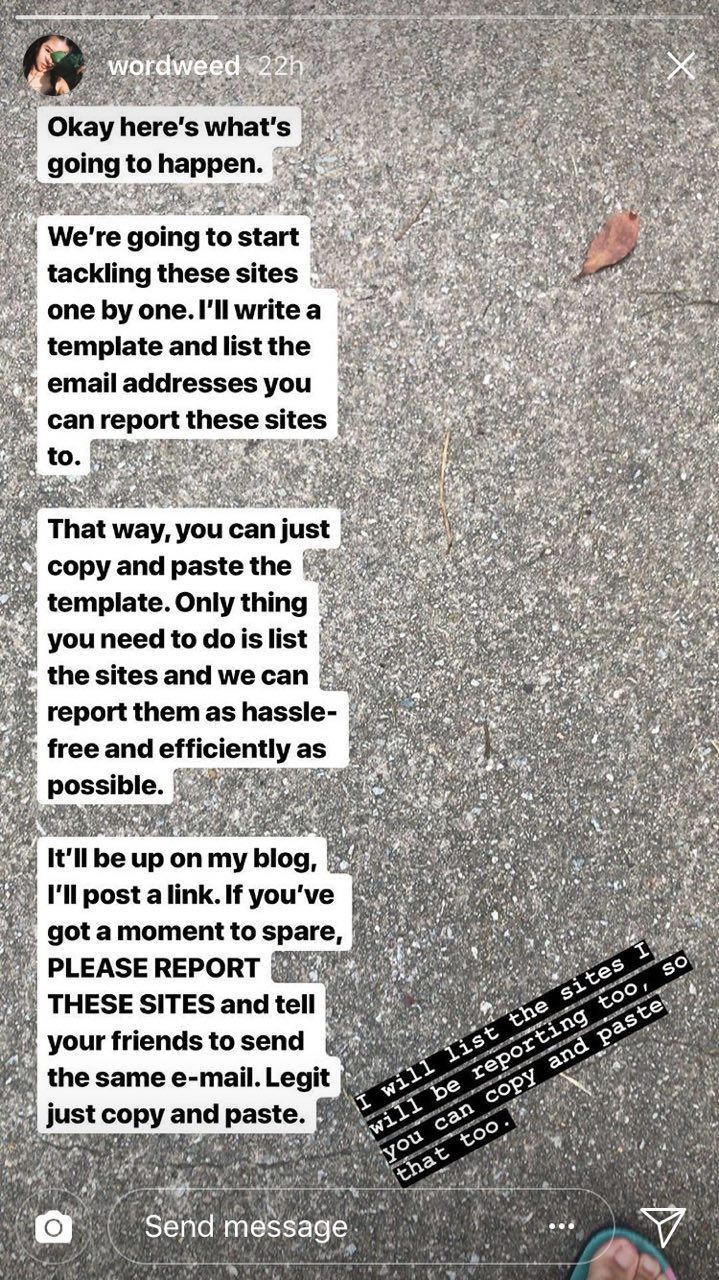 We're going to start tackling these sites one by one.  I'll write a template and list the email addresses you can report these sites to.

That way, you can just copy and paste the template. Only thing you need to do is list the sites and we can report them as hassle free and efficiently as possible.

It'll be up on my blog.
According to her, there are two ways to go about reporting a Tumblr - A user may report the post for copyright infringement, or report the entire blog for violating Tumblr's Terms of Service.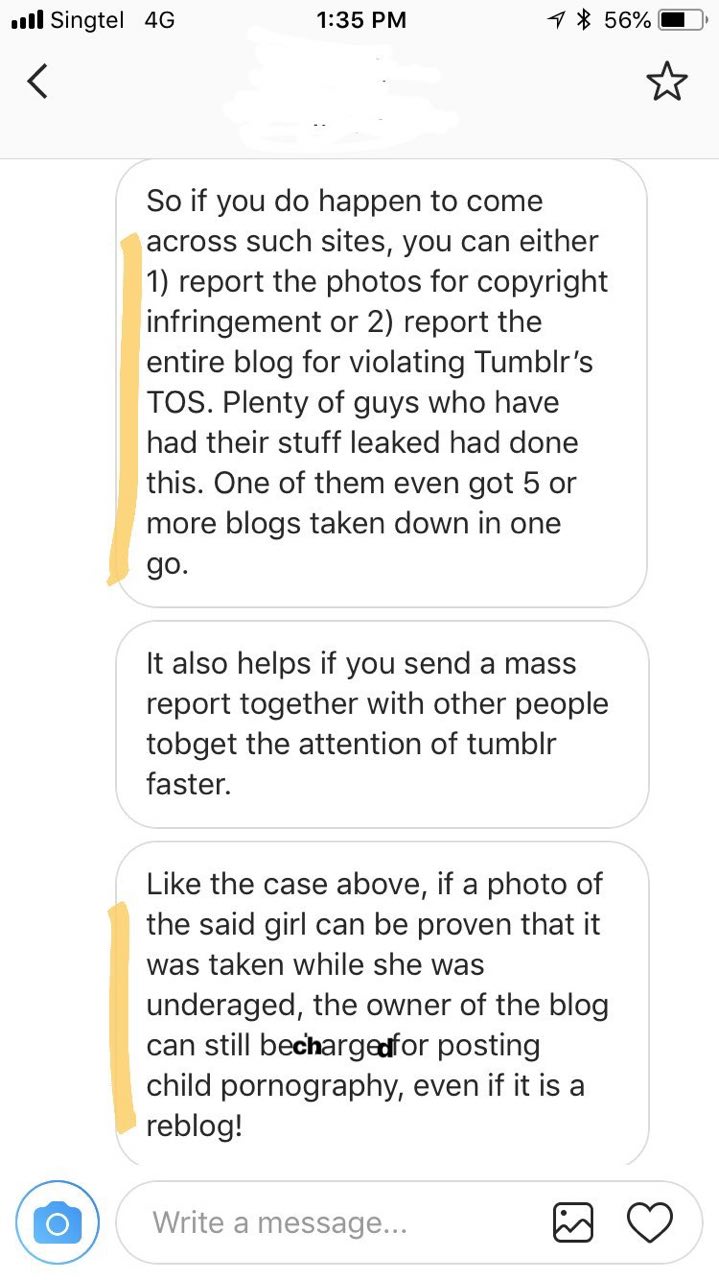 If you do happen to come across such sites, you can either 1) report the photos for copyright infringement or 2) report the entire blog for violating Tumblr's TOS. Plenty of guys who have had their stuff leaked had done this. One of them even got 5 or more blogs taken down in one go.

It also helps if you send a mass report together with other people to get the attention of Tumblr users.
According to Tumblr's Terms of Service, blogs should not infringe copyrights, violate privacy, or cause harm to minors.
With regard to copyright infringements, Tumblr uses "a three-strike system to evaluate the standing of a user's account, where, generally, each valid copyright infringement notice constitutes a strike, and three strikes results in the termination of a user's account."
Violating the law
Apart from just getting the content/entire Tumblr removed, the people who run these blogs can possibly be charged for harassment, cyberbullying and online defamation according to Singapore laws.
They can also be charged for insulting a woman's modesty under Section 509 of the Penal Code.
According to Section 509, perpetrators shall be punished with imprisonment for a term which may extend to one year, or with fine, or with both.
How to report?
As promised in her Instagram story, Tan wrote a separate blog post on this issue on May 25.
In her post, Tan addressed several points:
#1: Different from NSFW sex-positive blogs
She clarified that the blogs she is targeting are different from NSFW (not safe for work) sex-positive blogs.
The latter features a community of people who are aware of the kind of attention they receive in the creation and circulation of their content.
This makes all the difference, she wrote.
"Our purpose here is solely to report and take down the blogs using the photos and videos of girls and women which are illegally obtained (spy cams, upskirts) and without consent."
#2: Applies also to boys and men
Tan acknowledged that the bulk of these sites are focused on girls and women.
However, there are similar sites that do the same for boys and young men. She urged people to report these as well.
[related_story]
#3: How to report the Tumblrs
Tan also wrote a step-by-step process on how to go about reporting these Tumblrs.
For people who find photos/videos of themselves:
Take screenshots of these photos (including details like username, URL and timestamp) and compile them as evidence to make a police report

Apply for court orders under the Protection from Harassment Act

Submit a copyright claim to Tumblr under "Copyright violation"
For those who find others' photos/videos on these sites:
Take screenshots of these photos (including details like username, URL and timestamp)

Submit a report to Tumblr either under "Privacy violation" (for posts that reveal personal information or feature unethically obtained content) or "Harm to minors" (posts with girls below the age of 18)
Tan even provided a ready 'template' for users to copy and use in their report, and an extensive list of Tumblr URLs that people can report.
Call to expose perpetrators
Tan's blog post also claims that there is a Telegram chat regarding the upskirts and spycams.
Despite admitting that it's a long shot, she shared a link to a Google documents file for people to anonymously expose details of the chat group members.
"I know this is a shot in the dark but to anyone who is in that telegram chat with all the upskirts and spy cams; if you want to do us all a huge favour and earn major good karma points, maybe redeem yourself a bit - there's a completely anonymous google docs here.

Feel free to upload screenshots of the chat and/or details of the members of the group here. This is an outlet for you to expose those who hide behind keyboards, screens and spy cameras in a safe way without consequences."
At the time of writing, the document is empty.
Top photo from Wordweed & Instagram.
Some unrelated but equally interesting stories:
How to train to be a ninja warrior, in your office
Watch a concert with your ears only at this Esplanade concert in the dark
If you like what you read, follow us on Facebook, Instagram, Twitter and Telegram to get the latest updates.