Influencers in Singapore have a hard time influencing Singaporeans sometimes:
They can be on the receiving end of brickbats from the public who call out their antics and even attract the attention of the taxman:
Other issues involved
Which is why when an influencer in Singapore allegedly went missing in action after being engaged to do sponsored posts, there was a bit of drama online.
Trixie Khong, founder of local jewellery brand By Invite Only, wrote an April 13 Facebook post calling out the influencer Elaine Heng's behaviour.
Khong wrote that Elaine Heng also known as Elaine Jasmine (a.k.a. @xelainejasmine on Instagram) had received payment and pieces of jewellery but did not post about it.
Here's a quick summary of Khong's post:
• Khong approached Heng to promote her brand on Instagram.
• Everything was good until Khong paid Heng the quoted price.
• Heng allegedly went missing in action for three to four weeks.
• The first Instagram post was supposed to go out on March 6, but the influencer forgot to do so.
• Khong contacted Heng via e-mails and text messages, but Heng apparently did not reply.
• Khong left a comment on Heng's Instagram, asking the influencer to get back to her.
• In a WhatsApp screenshot, Heng then texted Khong to apologise and asked if she could post it next week instead.
• Khong said she eventually gave up and asked for the products and money back.
• There was no response from Heng.
• Khong then used Instagram to get Heng's attention, and Heng immediately texted Khong saying she will refund the payment soon.
• On April 14, one day after Khong's post, Heng texted Khong asking her to remove the post. She also transferred the money in the same morning.
• Khong says she will not be removing the post as she wants to warn others.
[related_story]
Here are screenshots of the text conversation between them:
This was after the incident had blown up online: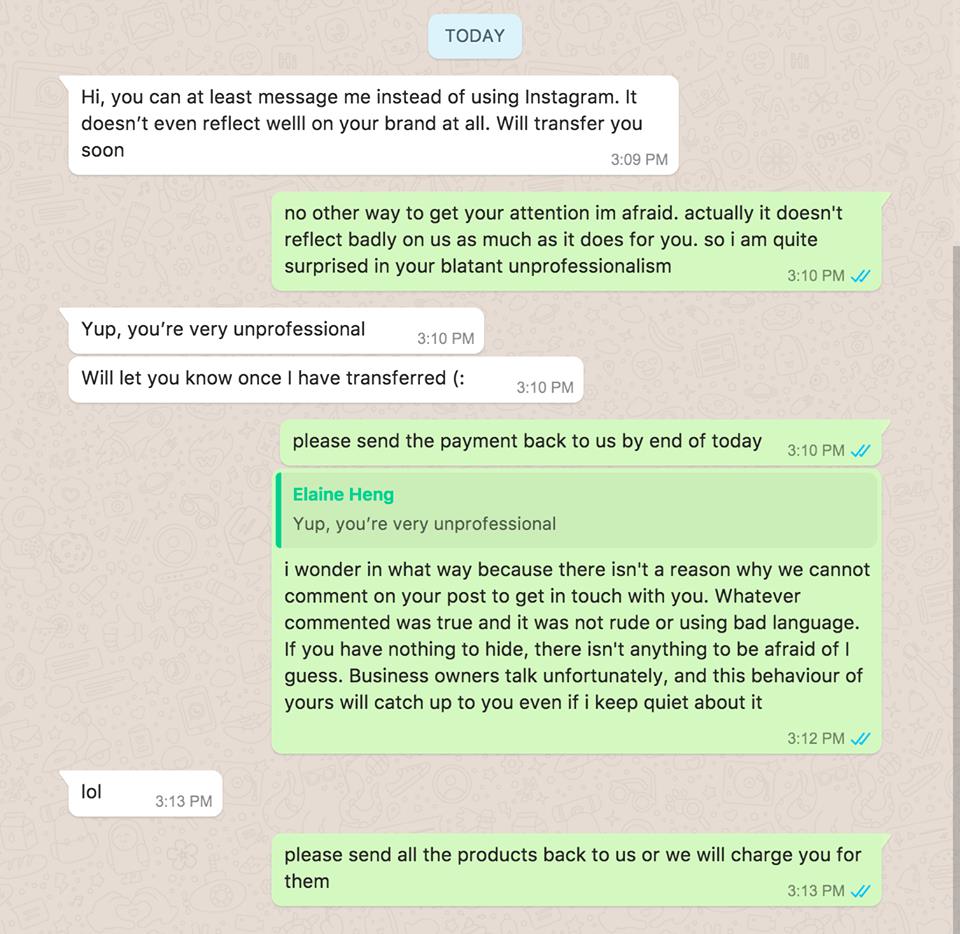 And here are screenshots of the entrepreneur and the influencer about two months ago, when they were discussing work: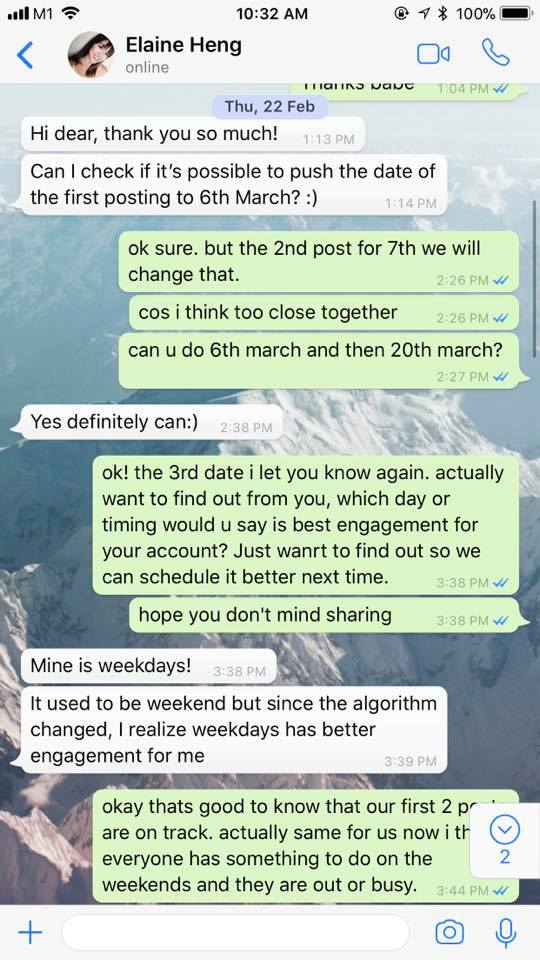 Khong elaborated on each screen shot in her Facebook post to give the context about the situation:
Original text when she agreed to post for us on Mar 6. Post didn't happen although the date was suggested by her. No mention of the quality of our products, not 'shit' at this point.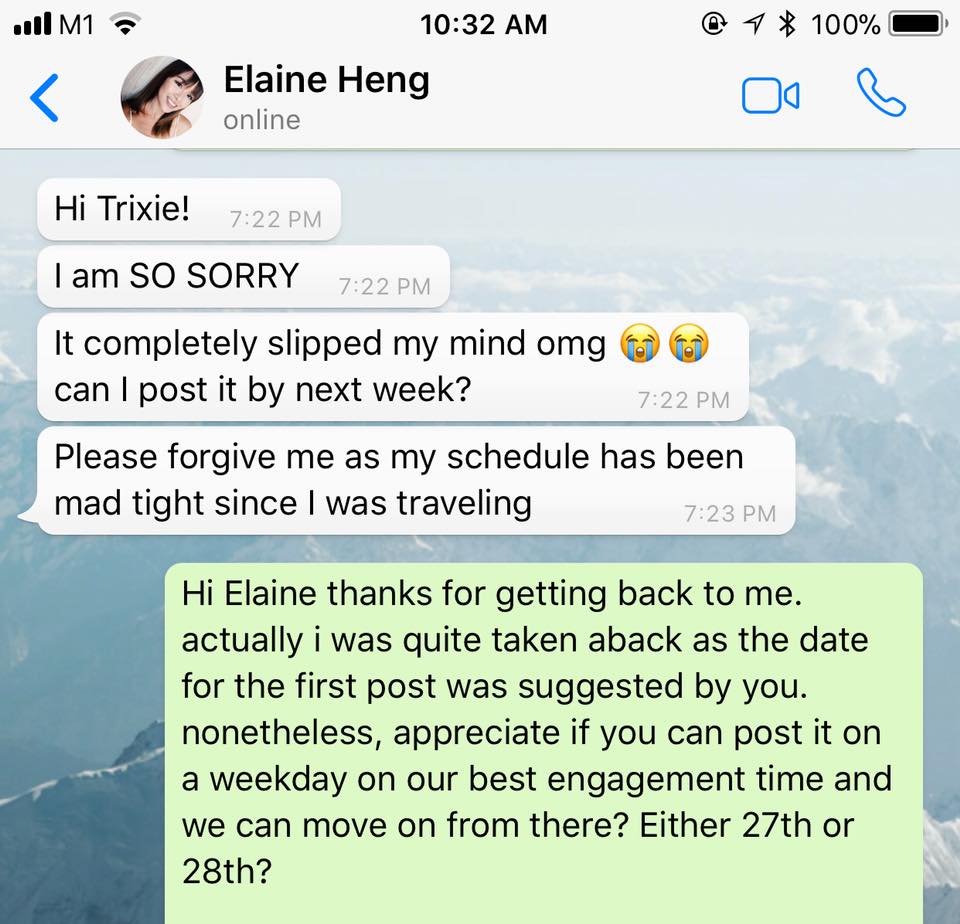 After chasing her multiple times via email and text, we left a comment on her post on IG saying something like "Elaine can you please get back to us..." She came back saying sorry and it slipped her mind. At this point still willing to post for us. No mention of quality of the product. Still not 'shit' at this point.
This morning 14/04. The day after I posted this Facebook expose. She did say she will refund me but that was on 3rd April, about 2 weeks ago.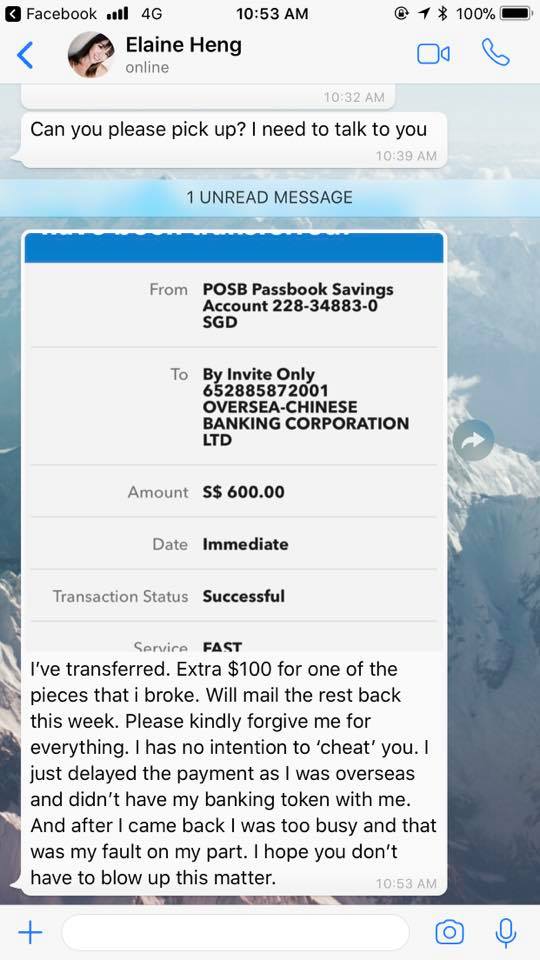 I didn't reply her. She immediately sent me the payment of $500 back plus $100 for the products. We actually made a profit on this?.

She said sorry and to be honest, it ended there for us. I got back my money, I got to warn others. Win win! But she just went on her social media to say our products are 'shit' that's why she wouldn't want to post. Totally respect that, everyone has a right to their own opinion. If you think our products are not great, we have a 2 week no questions asked exchange policy! #hardsellabit
When Heng eventually refunded Khong, the influencer transferred S$500 (for the quoted price) + S$100 for the products.
Khong noted that she ended up making a profit on this.
Influencer films live video about her side of the story
On the night of April 14, Heng proceeded to film a live Instagram story explaining her side of the story after she had refunded the money to Khong.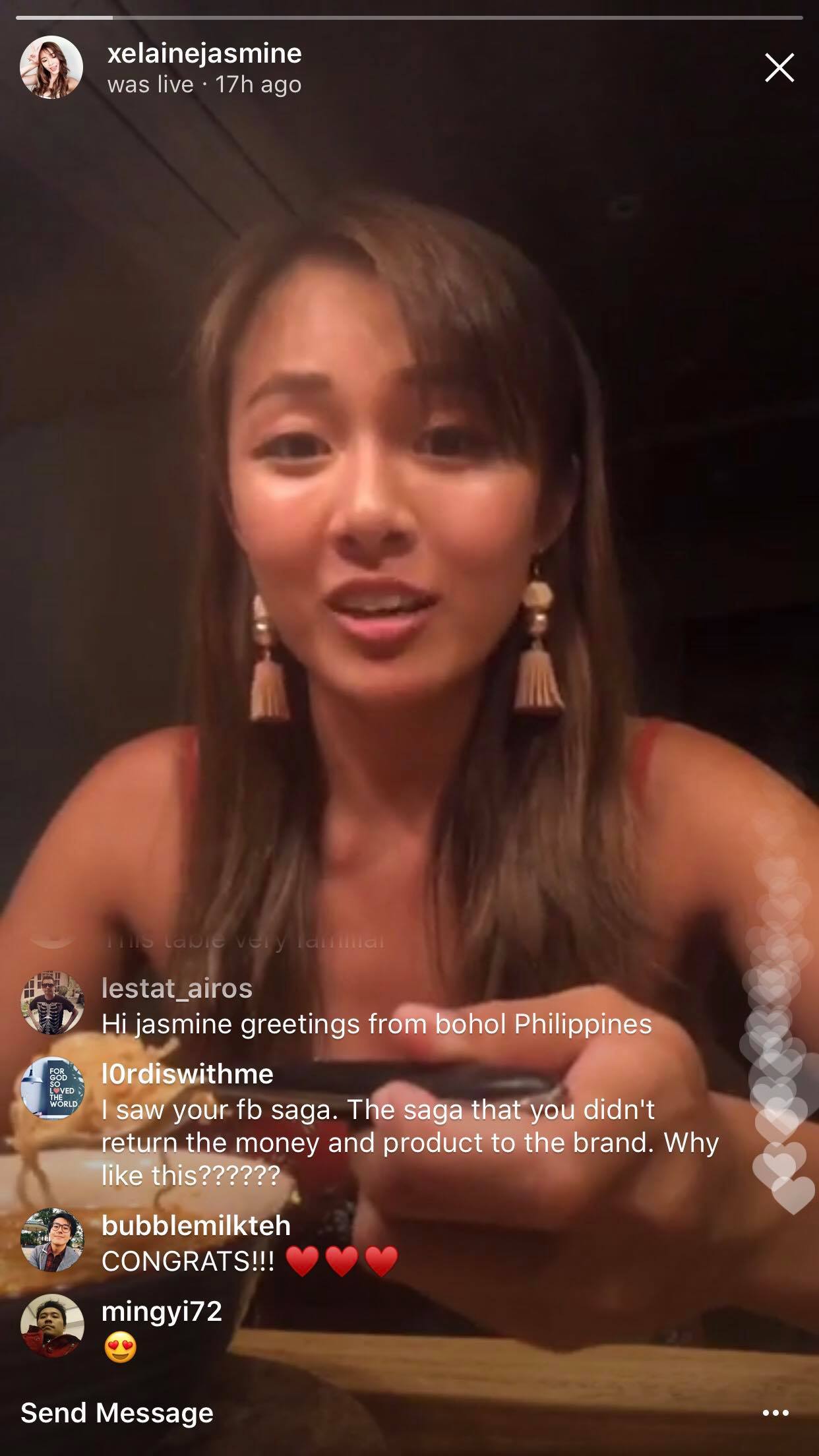 Here's the gist of it: 
• Heng starts by saying she will not name the brand as she didn't want to "stoop to their level and defame them", as she feels it's "childish".
• When Heng received the products, she was "very shocked" because the products were, according to her, very poor in quality.
• The jewellery was flimsy and the earrings hook were bent.
• Heng then said she "value(s) the trust" of her followers and therefore did not want to promote the products.
• Heng told Khong that she doesn't like the products and wont be posting it. Instead she will do a refund and return.
• Khong did not respond, but sent her a bank account number a few days later.
• However, Heng was rushing for a trip overseas and did not manage to transfer the money before she left Singapore.
• She also explained to Khong that payment will be delayed as she was overseas.
• Heng came back from overseas but forgot to refund the money. Here, she repeatedly acknowledged that it was her fault.
• She then flew off to Bali for another two weeks.
• Khong texted her non-stop when Heng had no Wifi at Komodo Island.
• Once she had Internet, Heng replied. This was three days later.
• She transferred the money when she came back to Singapore
• Khong apparently used her brand's account to leave negative comments, but Heng deleted it.
Other business owners speak up
In the comment section of Khong's post, other business owners have spoken up about working with Heng in the past: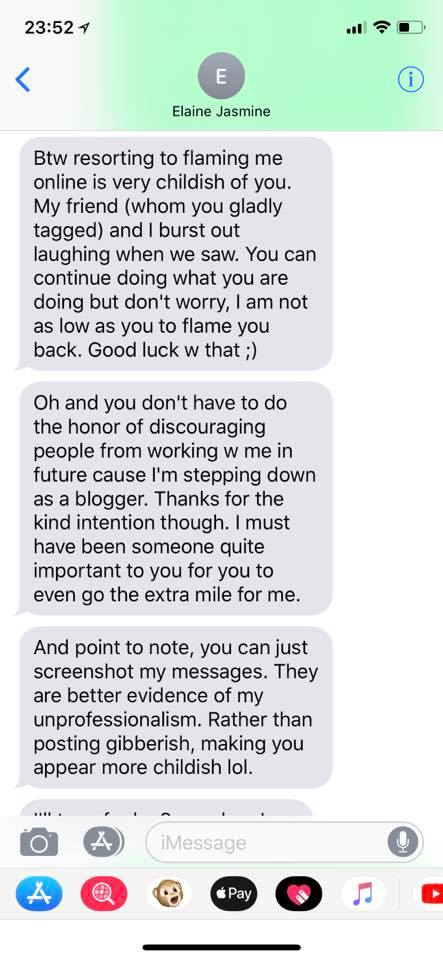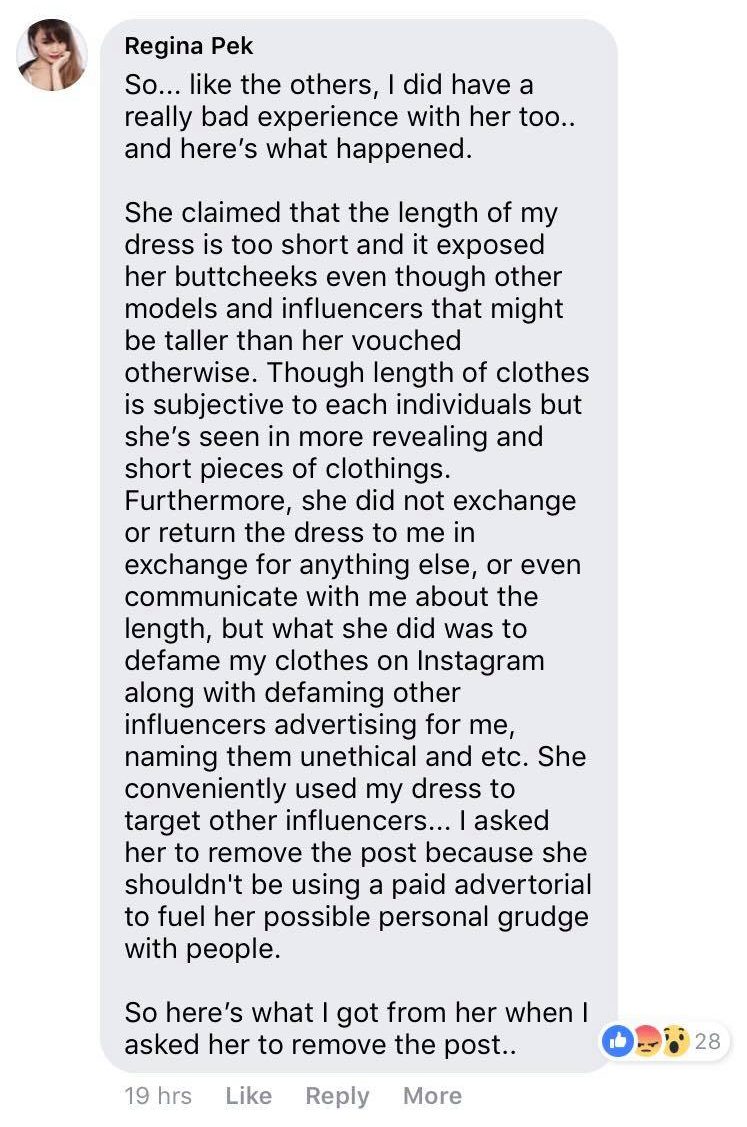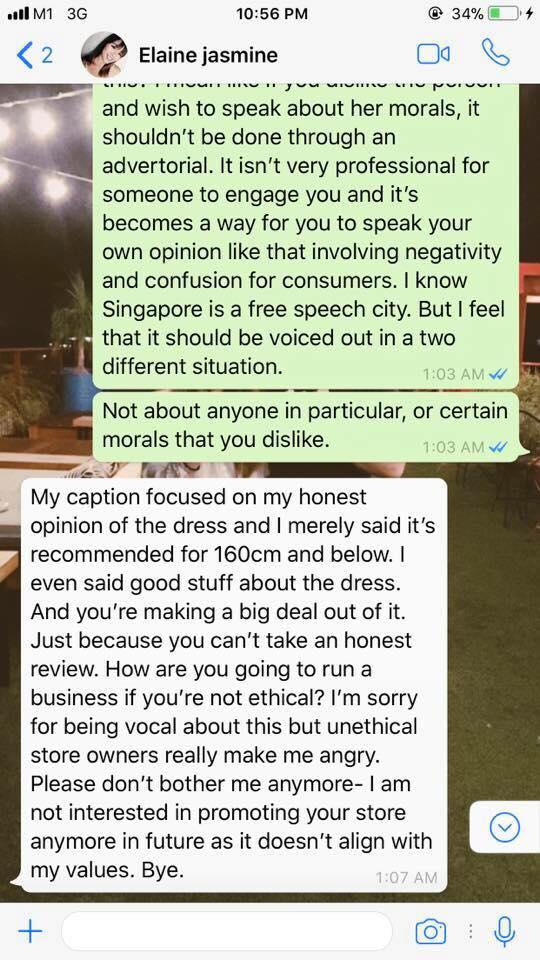 If you're interested, you can see the above-mentioned screenshots here.
Content that keeps Mothership.sg going
---
?Here's how S'pore town was planned some 200 years ago
✈️ 79 Frappes, that's all you need to stop spending on to save enough for a plane ticket to London
?Book your free ice-cream on this app if you'll be at Orchard on Apr 20-22
If you like what you read, follow us on Facebook, Instagram, Twitter and Telegram to get the latest updates.