Highly-anticipated upcoming movie Crazy Rich Asians has been gathering hype in Singapore since the initial announcement that it will be made.
Based on Kevin Kwan's novel of the same name, the plot centres around American-born Chinese Rachel Chu, who finds out that her Singaporean boyfriend is super, super, super high-SES (aka rich AF).
Despite the hype, the movie has received some flak for its inaccurate representation of Singaporeans and Southeast Asians in general, when the trailer was released on April 23.
Here's a look at the trailer first:
Concerns with Asian representation
Local playwright Alfian Sa'at was among those who spoke up, calling the film's characters "white people wannabes" after watching the trailer's pre-trailer, which was released before the trailer proper.
He quoted a conversation between Chu and her boyfriend as evidence of how problematic the movie is:
[related_story]
Voicing some more opposition is well-known opposing voice, Kirsten Han.
She took issue with the fact that the trailer did not feature any non-East Asians or Singaporean accents, despite the film being set in Singapore:
I just watched a trailer of a film set in Singapore (twice, just in case I missed something) and there was not a non-East Asian person nor a Singaporean accent to be found https://t.co/jdcxRPaHfW @CrazyRichMovie

— Kirsten Han 韩俐颖 (@kixes) April 23, 2018
In a follow-up tweet, Han wrote about her mixed feelings:

In the same thread, however, another Twitter user argued that it's not entirely inaccurate that the affluent do not have friends of any other race in their immediate circle.
Furthermore, there might be more beyond the trailer:

Even a non-Singaporean audience pointed out that some locals are concerned about the sidelined minorities (i.e. No Malays and Indians are properly portrayed in the trailer):
https://twitter.com/sehof/status/988610660274614273
Another tweet differentiates between Asian-Americans, and Singaporeans/ Asians in Asia:
The problem with Crazy Rich Asians: A win for Asian-Americans isn't the same as a win for Singaporeans or Asians in Asia. https://t.co/rNhqRYEiaM

— Dhevarajan Devadas (@historyogi) April 24, 2018
Caricatures of the rich
On Twitter, another user explained the motivations behind the book's (and perhaps, film's) direction: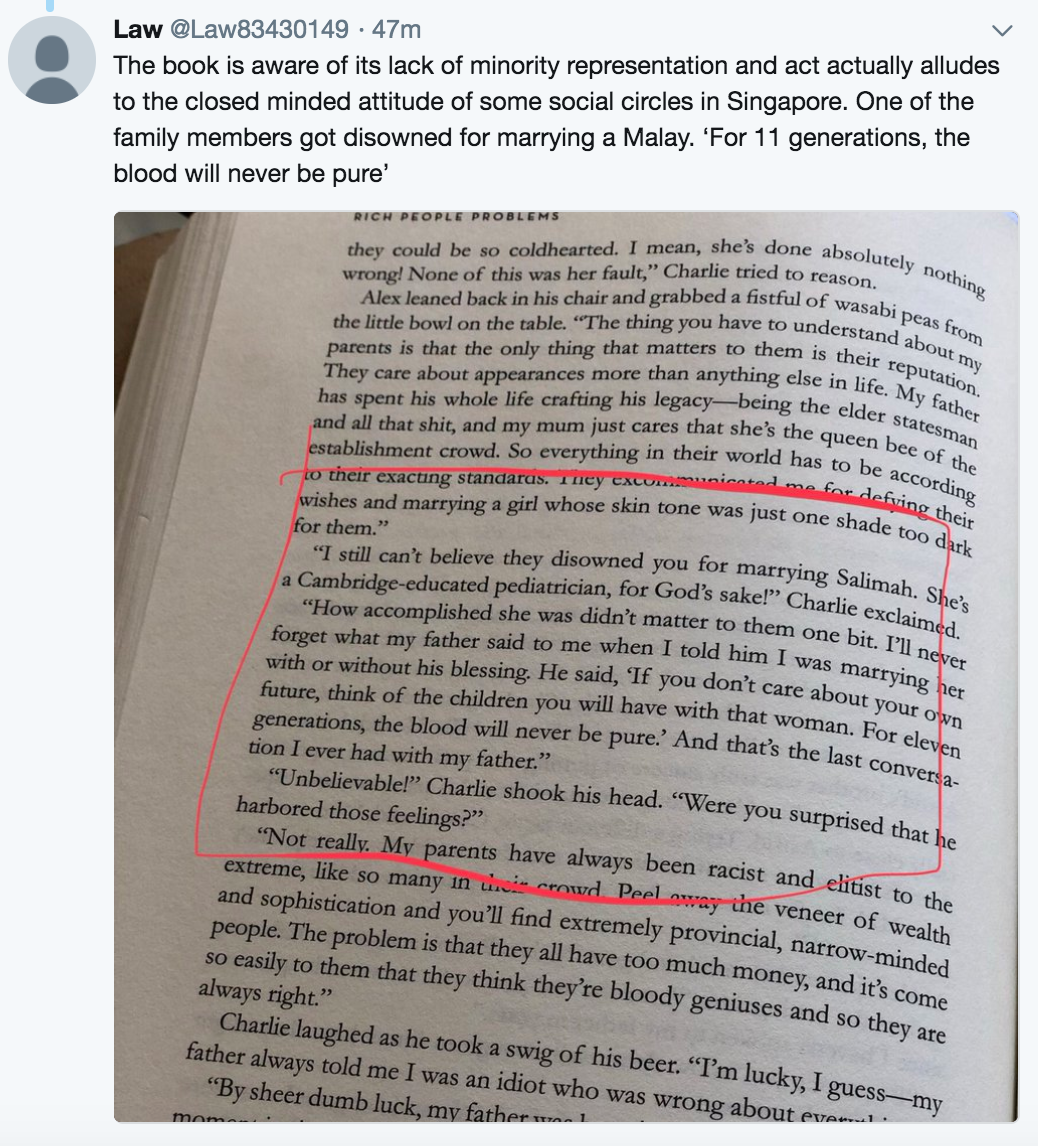 In essence, the depictions of these Singaporeans are caricatures, designed to showcase the worst qualities of the supposed elite.
One could also take it as a compliment that none of the minorities were caricatured to make a point.
But all these discussions are premature until the movie is released.
If you like what you read, follow us on Facebook, Instagram, Twitter and Telegram to get the latest updates.